Gatland signs new deal
Warren Gatland has revealed he has a gentleman's agreement with Welsh Rugby Union boss Roger Lewis to be released if asked to coach the British and Irish Lions in 2017.
Six Nations. Click here to bet.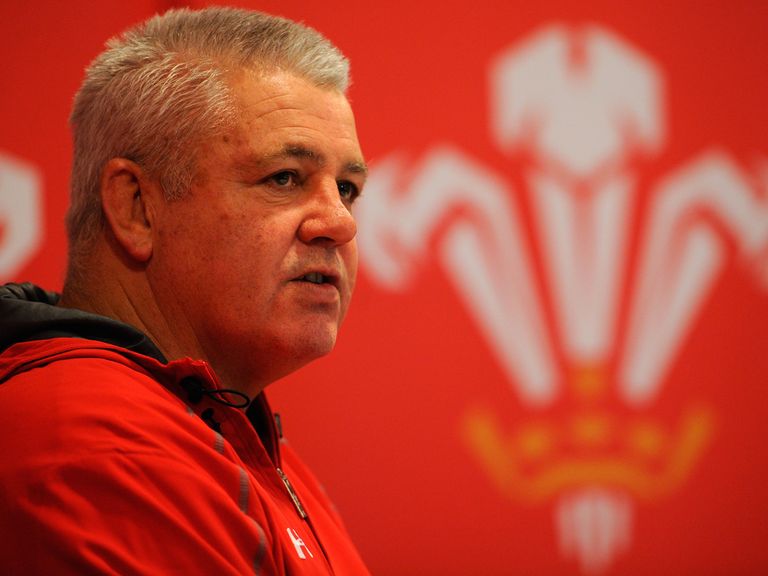 Wales head coach Gatland signed a new six-year contract on Monday, committing his long-term future to the WRU.
The 50-year-old is already Wales' longest-serving coach, but this new deal will extend his tenure to 12 years, taking in both the 2015 and 2019 Rugby World Cups.
Former Ireland and Wasps coach Gatland said there is no clause written into his new contract that allows a sabbatical to coach the Lions.
But the series-winning 2013 Lions coach said WRU chief executive Roger Lewis has pledged to do "everything he can" to help Gatland lead the best of British in his native New Zealand in 2017.
Gatland handed the Wales reins to Robert Howley for the 2012 season, as he prepared for the Lions' 2013 tour to Australia.
And it looks likely the former Waikato hooker could do exactly the same in 2016.
Gatland said: "The contract this time is exactly the same as what I had last time.
"And I've spoken to Roger Lewis.
"If I had the opportunity to be involved again, that's going to be because of Wales being successful in the next couple of years.
"If my whole focus and contemplation is on Wales then if Wales are successful then you put yourself in the frame.
"Then after that it's potentially maybe the Lions approaching you, then it's negotiating release with the WRU.
"And that's exactly what happened in 2012 before the Lions this year.
"So nothing's changed with regard to that, and Roger's said to me even though there's not a release in my contract he will do everything he can to help support me, and to hopefully make it happen if I did happen to get offered that position again.
"But it's not something that I'm contemplating at the moment or thinking about, my whole focus is on Wales doing well.
"If Wales do well then potentially other opportunities open up."
Keen to be involved in a third Lions tour, Gatland said coaching Britain's top stars has a reciprocal benefit for his Wales job.
He said: "You're involved with other people, people come from different environments and it's always about the sharing of ideas.
"That's what's special about the Lions, and the chance to work with the top players in the Northern Hemisphere.
"It's incredibly stimulating for coaches and players, and everyone involved.
"And that's what you want to have a chance for, to be able to challenge yourself to be involved at the highest level.
"I've been very fortunate to have been involved in the last two tours, as assistant and then as head coach.
"So it is a stimulus that you look forward to, but you get a huge amount out of as well."
Gatland's new deal is a rare positive development for Welsh rugby amid unrest from the four regional sides still agitating to create a breakaway Anglo-Welsh league, and the continued exodus of top stars.
WRU chief executive Lewis revealed this new deal has taken more than a year to come to fruition, and marks a shot in the arm for Welsh rugby.
Lewis said Gatland deserves credit for installing a "meticulous and professional coaching structure".
Lewis said: "By signing him for a further four years we have ensured that the systems now in place will continue to develop for the future of the international game in Wales.
"It is so important that we achieve continuity at the highest level which is why we have negotiated our Wales international touring fixture schedule right through until 2019.
"The process which led to this moment began in earnest more than a year ago and it has taken an incredible amount of hard work and negotiation to make sure we got this right for Wales and for Warren."
---
Wales 2/1 with Sky Bet to win the 2014 Six Nations
---
Warren Gatland Factfile:
1963: Born September 17 in Waikato, New Zealand
1986: Made his debut for Waikato in the New Zealand provincial championship as a hooker, having switched from a number eight at the age of 21.
1988: Helped Waikato beat the touring Wales team and won his first All Blacks call-up, for the tour to Australia in 1988 and became a regular in the squad.
1994: Retired from playing having made a record number of appearances for Waikato (140) and 17 for the All Blacks, although he never won a Test cap, with his path blocked by Shaun Fitzpatrick.
1996: Coached Connacht for two seasons.
1998: Appointed Ireland head coach.
2001: Appointed Wasps director of rugby and kept the club in the Premiership.
2003: Wasps won Premiership title and Parker Pen European Shield.
2004: Wasps won Premiership title and the Heineken Cup.
2005: Wasps won Premiership title.
2006: Coached Waikato to the New Zealand provincial championship.
2007: Appointed Wales head coach, replacing Gareth Jenkins after Wales had crashed out in the pool stages of the World Cup.
2008: Coached Wales to the Six Nations, including their first win against England at Twickenham for 20 years.
2009: Appointed British and Irish Lions forwards coach for the tour of South Africa. The Lions were beaten 2-1.
2010: Signed a new four-year contract with the Welsh Rugby Union that included a sabbatical to cover the summer of 2013.
2011: Coached Wales to the semi-finals of the World Cup, their best performance since the inaugural tournament in 1987.
2012: Wales won their second Grand Slam in Gatland's tenure.
September 4 - Confirmed as British and Irish Lions head coach for 2013 tour of Australia.
2013: July 6 - Victory in Sydney sees the British and Irish Lions claim a 2-1 Test series win over Australia under his supervision.
December 4 - Named coach of the year at the 2013 UK Coaching Awards.
December 16 - Commits his future to Wales until after the 2019 Rugby World Cup by signing a new long-term contract.
---
New Sky Bet customers: Free £30 matched bet
---