Montpellier a massive price
Toulon will be looking to defend their Heineken Cup crown this season but the value lies with another French side to lift the trophy.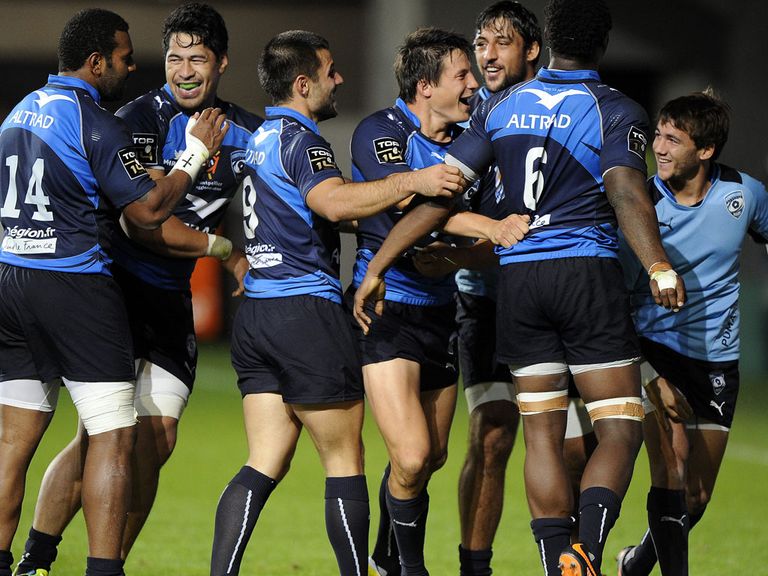 Looking at the betting for the 2013/14 tournament (which could be the last in its present guise), our expert George Primarolo thinks Montpellier are a massive price to come out on top, while he's also keen to get with Saracens and Northampton in the pool stages.
Here's his pool-by-pool guide to this season's competition, which gets under way on Friday night.
Having won the Heineken Cup in both 2011 and 2012, the spotlight was always going to be on Leinster last season but injuries and retirements meant that they were always going to struggle to make it a hat-trick. In the end, they failed to qualify as one of the best runners-up, having been steamrollered by the Clermont express and their aim for this season will surely be to reach the knockout stages once again. Trying to topple them will be Northampton, who look to be their main rivals. Saints have bought tremendously well over the summer and this has already borne fruit in the Premiership, where Jim Mallinder's men currently lie second behind Saracens. Northampton have hit the ground running this season and they have a strong chance of stealing a march on Leinster if they win their first couple of matches. However, they will have to beat Castres in the first round of matches if they are to do so and this might be easier said than done. Such is the nature of the Top 14 this season, Castres are fourth from bottom but actually only seven points off top spot so it would be dangerous to write them off completely. The quartet is completed by the Ospreys who are currently third in the PRO12 tournament after a typically solid start to the season. The Welsh outfit are going to be tough to beat at home but they looked a step behind the Top 14 and Premiership sides last year and those two divisions have hardly gone backwards. While Leinster will be tough to beat, they don't look much value at 4/5 and I would much rather be with Northampton. If the Irish province make their usual slow start to the season, they could just be playing catch-up against Saints and this pool is a lot more competitive than the odds suggest.
Last year's winners Toulon will be taking nothing for granted this time around but it's very difficult to see them finishing anywhere other than top of this pool. All their opponents can be tricky on their day but the French side have far too much firepower at their disposal to be consistently tested by the other three sides. Punters who like their stakes big and odds short should consider the champions as good things to top this group but the rest of us will view this group as redundant for betting purposes. If Toulon are to be beaten at all in Pool Two, it could come at the hands of Glasgow who have made a great start to their PRO12 campaign and currently sit on top of the table with 20 points in the bag. However, they will have faced nothing of the calibre of Toulon so far this season and it is very difficult to see them beating them twice, which they will need to do in order to top the group. Exeter managed two Heineken Cup victories last season and have made another solid start to their domestic campaign. They may see their resources stretched again this season but could easily win more than two and should certainly finish no worse than third. Bottom spot in this pool could well go the way of Cardiff who have made an unspectacular start to their PRO12 season and who will have to improve very quickly if they are to figure here.
Despite this being a two-horse race on paper, it's a very intriguing group to try to weigh up and it's not surprising to see some layers favour Toulouse while others side with Saracens. The latter have made a storming start to their domestic campaign and currently lead the chasing pack having won five from five. The French side are currently third in the Top 14 but are on the same points as the two sides above them. A lot will depend on which side performs best away from home and I've got a feeling that it could be Saracens as several sides have been below par at the new Allianz Park with its unique synthetic surface. While Toulouse should be able to adapt quickly, Saracens could easily put points past them in the first 20 minutes which could make the difference. If Sarries can get a losing bonus point at the Stade Ernest Wallon, then it could be enough to see them sneak past as pool winners. They look the side who can score the necessary points too against the weaker sides which could easily make the difference. The other two teams that make up this group, Connacht and Zebre, are far too weak to be considered credible opponents to the market leaders which should see both Saracens and Toulouse qualify with preference for the latter to go through as pool winners.
Such is the dominance of French rugby at the moment that nearly every one of their seven Heineken Cup contenders (with the exception of Castres who are 10/1) are priced up in single figures to win their respective pools. Therefore, it would not come as a great shock to have several French sides in the knockout stages and an all-French final could easily be on the cards again. Last year's losing finalists, Clermont, are the red-hot 1/2 favourites to top Pool Four with their Parisian counterparts, Racing Metro, deemed to be their nearest rivals by the majority of layers. This will surprise some fans of Stoop-based Harlequins who are only third favourites at 5/1 but the slow start that Conor O'Shea's men have made to the Premiership season tempers any enthusiasm that Quins supporters may have had in regards to a successful European campaign. The quartet is made up of Welsh outfit Llanelli, who should struggle against these three rivals and have definitely drawn the short straw when it comes to the six pools. As with Toulon, it is very difficult to see past Clermont in this particular pool but both Harlequins and Racing Metro will be waiting in the wings to capitalise on any slip-ups and they're not the most bomb-proof 1/2 shot I've ever seen. Vern Cotter's men posted a perfect six from six last season and while it may not be as straight-forward this time around, I still expect them to come out on top.
Both Leicester and Ulster are masters at qualifying for the knockout stages of the Heineken Cup but with Montpellier also in this group, it is more than likely that the side which progresses to the last eight will have to finish top of the pile. Out of the three contenders, it is probably Montpellier who have made the brightest start to the season and they are currently just behind Top 14 leaders Toulon on points difference. However, Leicester and Ulster haven't been bad either and both are just behind the league leaders in their respective divisions. Though Leicester always make sure they qualify, they are quite often slow starters in Europe but this year they will have to really spring from the traps, otherwise they could find themselves left behind. Ulster are a dab hand at winning their home games and Ravenhill is often a devilishly tricky place to get an away victory. Hence, the value could well lie with Montpellier in this pool. They pushed Toulon all the way in Pool Six last year and there's no reason for thinking Fabien Galthie's men cannot qualify for the knockout stages again. The pool is made up of Italian outsiders Treviso who are not a pushover but will surely be outclassed in this group.
Pool Six is probably the most open of the bunch and it's easily conceivable that Munster, Perpignan or Gloucester tops the table come the end of the group stages. The former head the betting but they're not quite the force of old and if they put their best foot forward, then Perpignan should be the ones that come out of top. However, the men from the Stade Aime Giral never quite seem to get it altogether in this tournament and quite often a stellar performance at home is followed by a poor one away from the Catalan region. Gloucester are another side who looked like they could have a good season but have yet to show it and their Premiership performances can only be described as 'mixed' to date. Even group outsiders Edinburgh cannot be totally discounted, hence Pool Six has a very open look to it. It's not a group I've got a massive opinion on but if pushed, I'd take Perpignan to top it. However, they have never been a side to trust implicitly so this is a pool that's well left alone from a punting perspective.
After the all-French final of last year, it is likely that the Top 14 will provide the lion's share of the final eight in the knockout stages. While Toulon and Clermont have the deep squads needed to fight a war both domestically and in Europe, their performances so far in the league suggest they may not be as far ahead of their rivals as they were last year.
It's difficult to see why Montpellier should be the same sort of price for Heineken Cup glory as the Ospreys given their performance in the tournament last year. While it's true that they have a tricky group to get through, I can see them finishing at least second at the expense of Ulster and they could easily usurp Leicester at the top of the pile if the Tigers don't start as strongly as people expect.
I think they're overpriced to get out of Pool Five and are hence too big to lift the trophy. Their recent Top 14 performances suggest they are better than ever and I think they can improve on last year's quarter-final exit. Northampton are another side who are clearly better than last year judged on their league matches so far and they look a little too big to top Pool One at the expense of Leinster, who I think are on the wane since their back-to-back triumphs in this tournament a couple of years ago.
My final recommended bet is on Saracens to top Pool Three. Anyone who has seen Sarries this season will not have failed to have been impressed by the manner in which they are clinically putting their rivals to the sword and they should have a big say in this tournament. They have two very easy sides to beat, both home and away, and they should get bonus-point victories in both. Pool Three will come down to which side out of Toulouse and Saracens performs better away from home and I think the relatively new Allianz Park surface will have a big say in this. Although some layers have Toulouse as slight favourites to top this group, I'd personally have Saracens as jollies.
---
New Sky Bet customers: Claim free £5 bet every week
---