Cruden thrives on the pressure
Aaron Cruden insists he's thrived under the pressure of filling Dan Carter's shoes and has set his long-term sights on becoming New Zealand's starting fly-half at next year's World Cup.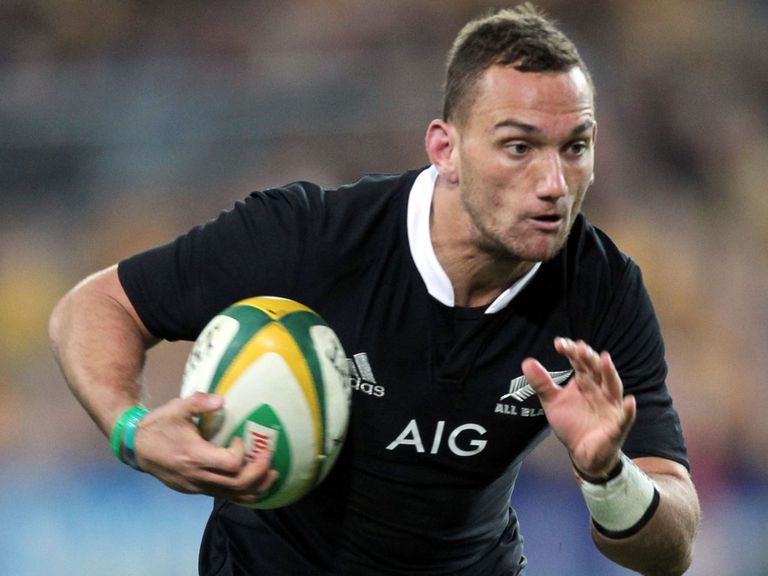 In the absence of All Blacks talisman Carter, who has taken a sabbatical from all rugby since limping off against England at Twickenham back in November, Cruden has been given more opportunities to impress in the number 10 jersey.
His last-gasp conversion in Ireland ensured his side ended 2013 with 14 consecutive victories and he's now helped New Zealand open up an unassailable 2-0 series lead over England with just one Test to play this weekend in Hamilton.
The 25-year-old, who has now won 31 caps, is certainly no stranger to the attention and pressures of this role having stepped into the breach during their successful 2011 World Cup campaign on home when Carter suffered a tournament-ending injury and now he's widely regarded as his long-term successor.
Cruden does face competition from the likes of Wellington Hurricanes fly-half Beauden Barrett but having signed a new three-year contract with New Zealand Rugby Union earlier this week, he can now look forward in earnest to their defence of the Webb Ellis trophy as well as the 2017 British and Irish Lions tour.
"As a rugby player, you're always hoping to be in the starting team regardless of other players. For me, I've got goals and want to be there at the World Cup as the starting number 10."
Aaron Cruden
He said: "I'm really excited to have resigned for New Zealand Rugby. I've still got a lot of goals and ambitions I want to accomplish in New Zealand so for me the decision was pretty easy.
"I'm happy to now have that bit of stability for the next few years and can't wait to rip into it and keep getting better and performing well.
"I'd like to think I bring my own style and type of game to the All Blacks jersey and really enjoyed the opportunities which I've been given. Hopefully that continues.
"Whenever you're in an international sports team, especially with the All Blacks, there's always a high amount of pressure to deal but we try and use it as a positive rather than a negative and that's certainly the case for me.
"I can't wait to have the number 10 jersey again this weekend and play my own game in front of my home fans."
Carter, 32, began his rugby comeback for club side Southbridge in Christchurch last week and will be expected to be back in the All Blacks line-up for this year's Rugby Championship barring injury.
But Cruden, who has won back-to-back Super Rugby titles with the Chiefs, is intent on winning back the jersey when the World Cup comes round.
He told sportinglife.com: "As a rugby player, you're always hoping to be in the starting team regardless of other players. For me, I've got goals and want to be there at the World Cup as the starting number 10.
"But I guess if I get caught up with thoughts like that then it could be where I slip up so for me, it's just worrying about the processes, my job and trying to perform to the best of my ability week in week out. Things like selection will then take care of itself."
His immediate concern this weekend is helping his team wrap up a clean sweep over England and getting them in the record books.
New Zealand now have 16 consecutive Test wins and on Saturday night they have the chance to equal the record mark of 17 shared by the All Blacks side of 1965-69 and the South Africa team of 1997-98.
As big as an achievement this would be for the current crop of stars, Cruden maintains the focus is purely on producing the best performance possible.
He said: "There's been quite a lot of talk in the media and even here in our camp about the world record which is a possibility and for us it would be great if we can achieve that.
"But it's not what's driving us this weekend. We are only focused on putting in our performance which our fans and the country can be proud of and to do that we have to play well for 80 minutes because we know how hungry England will be to get a win before they head home.
"It's going to be another cracking game on Saturday night with both sides keen to play positive brand of rugby once again."
Aaron Cruden was speaking on behalf of AIG, the official insurance partner of New Zealand Rugby. Join the conversation @AIGRugby