O'Shea: O'Driscoll the greatest
The first time Conor O'Shea trained with Brian O'Driscoll his jaw dropped.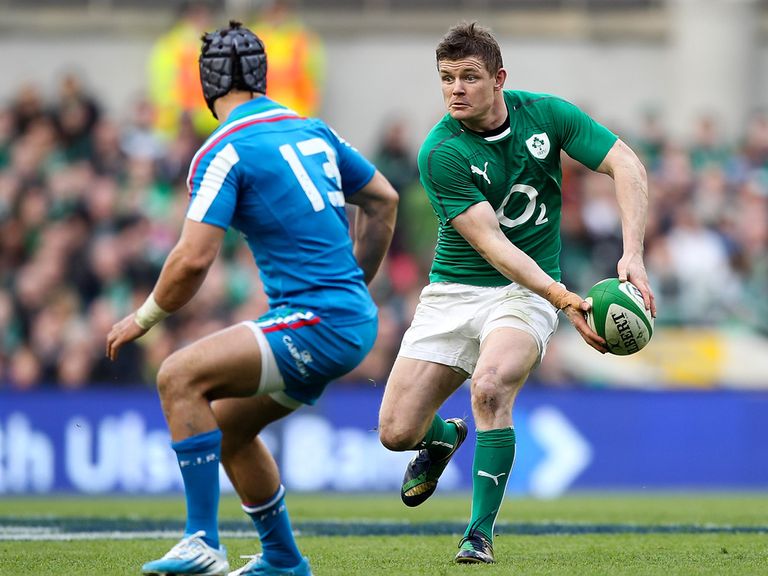 The first time O'Shea played with O'Driscoll his jaw broke.
On both occasions Harlequins' director of rugby remembers being spellbound by a centre he believes will go down as "the greatest player of his generation".
"It was 1998 going into 1999 and Warren Gatland brought two young players down to a training session in Galway: Brian O'Driscoll and Gordon D'Arcy," said O'Shea.
"Warren took four or five of the senior players aside, and said 'will you look after these kids, I wouldn't mind you telling me what you think of them'.
"After the session he came up to us and said 'what did you think?'
"And we said, 'can you play them now please? Because they're miles better than we are'.
"They were just incredible, the two of them.
"Gordon took a little bit more time to get there. But D'Arcy and O'Driscoll, as a centre pairing for Leinster and Ireland, you talk Horan-Little, you talk about those great centre pairings - Guscott and Carling - D'Arcy and O'Driscoll will definitely go down in that company."
O'Driscoll will extend his world-record Test appearance tally to 141 in his final Ireland bow against France in Paris on Saturday, before retiring in the summer.
The 35-year-old made his international debut in Ireland's 46-10 defeat to Australia in Brisbane on June 12, 1999.
O'Shea lined up at full-back that day, breaking his jaw and winding up eating through a straw thanks to surgical re-wiring.
The former London Irish flyer might have been dazed and confused by his injury, but admitted he was dumbfounded by the natural talent in front of him as O'Driscoll embarked on his path to greatness.
"All I remember is the lads bringing burgers and leaving them outside my room after the game, knocking on the door because they knew I could only have liquidised food," joked O'Shea.
"Straight away you knew with Brian, that he was something special.
"And all these years on, he has become the greatest player of his generation: unequivocally.
"He's just incredible.
"That bloke is still at the very top of his game.
"He's had 15 years of shoulder surgeries, being targeted, being the man everyone wants to have a go at.
"He's won the Grand Slam, Heineken Cups, RaboDirect Pro 12 titles, the Amlin Challenge Cup.
"You can never compare eras, I think that's unfair, but of his era, I can't think of a better rugby player, and also a nicer bloke.
"If you want to go out have a few beers and meet someone who hasn't got above themselves, then I don't think you can go too far wrong with Brian."
O'Driscoll and D'Arcy will extend their world-record international centre partnership to 56 appearances as Ireland chase the Six Nations title in France.
Leinster stalwart O'Driscoll's hat-trick shocked the continent when Ireland edged out France 27-25 in Paris in March 2000.
O'Shea backed the departing modern great to produce a performance to rival that landmark showing at the Stade de France on Saturday night.
"O'Driscoll and D'Arcy are a pair you would go to war with," said O'Shea.
"I loved that New Zealand game in November, their performance just rolled back the years, it was just these two warriors standing up.
"It's almost fitting Brian's last game will be in Paris.
"I wouldn't put it past him to do something special there, because it's where he really signalled his arrival on the world stage with that hat-trick.
"And who's to say he won't finish off with something special out there again."
O'Driscoll surpassed George Gregan's 139-cap Test appearance record in the seven-try Italy blitz.
Former Wallabies scrum-half Gregan admitted he was pleased it would be a stalwart like O'Driscoll to pass his record milestone.
Gregan played for Australia in O'Driscoll's Ireland debut in 1999, aware straight away the wily centre was a star in the making.
Zambia-born Gregan believes All Blacks flanker Richie McCaw will eventually overtake O'Driscoll's caps record, the 33-year-old already boasting 124 international appearances.
"You could tell early on he was a player of high quality, and a genuine game-breaker," said Gregan.
"That has continued throughout his entire career.
"It was always going to be broken by someone like Brian, and even Richie McCaw, he looks like he will pass it too.
"They are both wonderful players of world rugby, who've always displayed consistency, resilience and a high level of performance.
"So I couldn't be happier it is Brian to move past the record.
"Brian has always had that burning desire, and so it is only fitting he will end up with his name in the history books."
Brian O'Driscoll's best moments:
FRANCE 25 IRELAND 27, SIX NATIONS, PARIS, MARCH 2000
O'Driscoll became the eighth Irishman to score an international hat-trick, dragging his side to their first win in France since 1972.
Hooker Keith Wood was Ireland captain that day, and firmly believes that treble from the 20-year-old changed the face of Irish rugby forever.
"I had felt all the hidings we'd had from France, and I remember that day, watching from about 30 yards away on my knees as he held the ball up in one hand," said Wood of O'Driscoll completing his hat-trick.
"And I remember thinking 'anything is possible now', thanks to this young kid who had come on and suddenly had a bit of magic about him.
"That was the change for me, it was the change for me as captain, but it was a change for the team too, because suddenly there was a belief that actually if things weren't going so well you could still have somebody who could score three tries."
O'Driscoll himself admitted he had no idea what he had done, until returning to Dublin thrust perspective his way.
"I didn't realise the enormity of it until we got back home, it was nice to live all the craziness of it with my friends and family," he said.
"I don't think it was me who changed things, it was a generation of players, with the likes of Ronan O'Gara and John Hayes, who were not used to losing and refused to accept it."
AUSTRALIA 21 BRITISH LIONS 23, FIRST LIONS TEST, THE GABBA, BRISBANE, JUNE 2001
"Waltzing O'Driscoll" was born as the Leinster centre danced round Wallabies full-back Matt Burke to score one of the greatest British Lions tries of all time.
O'Driscoll scythed home from halfway for a try that elevated the Ireland centre from European to world renown.
England fly-half Jonny Wilkinson later revealed his admiration for O'Driscoll's nerveless confidence on that Australia tour.
The Wallabies edged the series 2-1 in the event, but Wilkinson admitted O'Driscoll's supreme faith in his own abilities left a lasting impression.
"Give me the ball and I'll score", World Cup-winner Wilkinson recalls O'Driscoll telling the Lions backline in the midst of match action: a pledge on which he delivered.
AUSTRALIA 17 IRELAND 16, RUGBY WORLD CUP, TELSTRA DOME, MELBOURNE, NOVEMBER 2003
Not even a rare drop-goal from the outside centre and skipper could drag Ireland to victory over the tournament hosts.
O'Driscoll produced an inch-perfect finish into the left corner for a fine try to bamboozle the Wallaby defence.
The drop-goal summed up his refusal to admit defeat, desperate for Ireland to win any which way.
George Smith's try, three penalties from Elton Flatley and a George Gregan drop-goal edged Australia home.
Despite the defeat this was another Herculean O'Driscoll performance, further illustrating his world box-office status.
WALES 15 IRELAND 17, SIX NATIONS, MILLENNIUM STADIUM, CARDIFF, MARCH 2009
Captain marvel O'Driscoll steered Ireland to their first Grand Slam since 1948 with a superlative, try-scoring performance.
Stephen Jones' four penalties kept Wales firmly in the hunt, but O'Driscoll and Tommy Bowe produced vital second-half scores.
Wales pilfered a 15-14 lead in the dying stages through fly-half Jones' drop-goal, only for Ronan O'Gara to drop a goal of his own to clinch the dramatic overtime victory.
O'Gara's big-match temperament had been called into question in the build-up to the clash, but the Munster fly-half's late strike secured the clean sweep, sending Ireland into raptures.
O'Driscoll can eschew the acclaim all he likes, but without his talismanic, stubborn and driven leadership Ireland could still be waiting to break that Grand Slam duck.
IRELAND 24 ENGLAND 8, SIX NATIONS, AVIVA STADIUM, DUBLIN, MARCH 2011
O'Driscoll's 25th Ireland try broke Scotland wing Ian Smith's tournament scoring record that had stood since 1933.
Just a short-range dart across the line, but O'Driscoll still had the presence of mind to fling himself lower than England's whitewash defenders.
The arch-poacher scooped up a loose ball 15 metres from the line, whipping home before Nick Easter and the like could set themselves to offer sufficient resistance.
Few begrudged a 78-year tournament record tumbling at the hands of a genuine world power.
---
New Sky Bet customers: Free matched bet up to £30
---