Burgess relishing Bath switch
Sam Burgess has declared his decision to switch rugby codes was "an opportunity I had to pursue".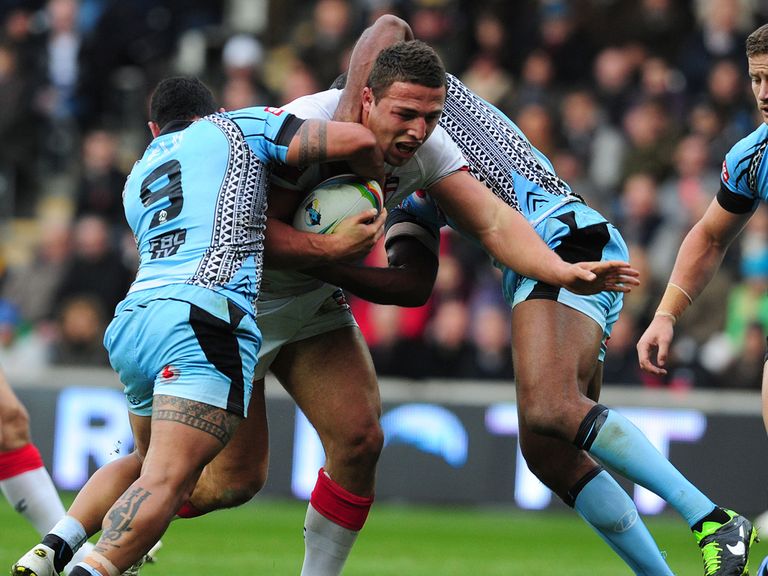 The Great Britain and England rugby league international has agreed a three-year deal to join Aviva Premiership club Bath.
He will move to the west country from NRL side the South Sydney Rabbitohs later this year.
Yorkshireman Burgess will remain with the Rabbitohs for the Australian rugby league season before making the switch to Bath and rugby union in October, with the ambition of going on to become a dual international for his country.
Bath claimed Burgess had turned down "far more lucrative offers from elsewhere" to move to the Recreation Ground.
It is thought a transfer fee in the region of £500,000 has been met to secure Burgess' release from his Rabbitohs contract.
The Rugby Football Union, with an eye on the 2015 Rugby World Cup, was thought to be willing to part fund a move that would buy Burgess out of the remaining two years of his contract with the Australian side.
But Bath, whose chairman is multi-millionaire businessman Bruce Craig, appear to have found the money elsewhere after confirming Burgess' signing.
Burgess looks set to challenge for a midfield place when he arrives at Bath, and he could forge a centre partnership with former St Helens half-back Kyle Eastmond.
Burgess said on the Rabbitohs website: "I'm happy this has all been sorted out before the start of the season so that I can concentrate on my game and the team without any other things in the way.
"An opportunity presented itself to head back home to England and to pursue a chance to represent my country in two different sports.
"With 2015 being a Rugby World Cup, it was an opportunity I had to pursue, and I thank the Rabbitohs for allowing me to make this move and start the next chapter in my sporting career."
Burgess, who has scored seven tries in 13 appearances for England, left Bradford Bulls for the Rabbitohs in 2010 and he had three years left on his contract with the NRL side.
He added: "This has been a tough decision for me to make, as I've loved my time in Sydney with the Rabbitohs. However, I'm very excited about the challenge that this move offers me.
"Bath are a very ambitious club, who have a talented young squad, brilliant coaches and a world class set-up and ethos, and I can't wait to get my head down and start learning the game."
The 25-year-old admitted it was difficult keeping the news to himself as the deal went through, and he tweeted on Monday: "Been a tough few weeks having to stay quiet.
"Thanks for everyone's support. Now down to business and playing this weekend, can't wait."
The Rabbitohs said they had negotiated "an undisclosed release fee" and had also secured a clause in Burgess' release giving them "first and last" offer on his services should he return to rugby league at any point.
In a statement posted on their official website, Bath said: "Bath Rugby are excited to confirm that English rugby league sensation Sam Burgess has chosen to sign a three-year deal with the club, which will see him cross codes and arrive at the Recreation Ground this October.
"At 6ft 5in and 18st, power and strength are obvious qualities, however he is also known for his deft handling and as a strong leader."
And Bath head coach Mike Ford added: "I've known Sam since his rugby league days in England, and he is an exceptionally talented athlete.
"He's hard working, a huge presence both on and off the field, and an ambitious young Englishman, all of which are qualities that we are building our squad around.
"I've no doubt Sam will fit in seamlessly here at Bath and we're looking forward to having him join us and start making the transition."
England head coach Stuart Lancaster has welcomed Burgess' cross-code switch to rugby union, predicting he will be a "great asset".
"Sam's carrying game will be easily transferable," Lancaster said.
"His understanding of running lines and defence are skills that he'll be able to transition, although I wouldn't say it's easy.
"The big difference comes in and around the breakdown and the difference in gap between the defensive lines, which is obviously closer in rugby union, so timing is obviously an issue.
"In terms of overall rugby skill set, he has a very strong skill set.
"So I think he'll be a real asset, but there's a lot of learning to be done as well."
So far Burgess' move has been bankrolled by Bath only, but Lancaster has confirmed that the Rugby Football Union might yet have a financial involvement in a player who could yet feature at next year's World Cup.
"I think there are discussions ongoing still," Lancaster said.
"There have been none over the actual move itself. It has all drifted above my head, but I think there are discussions ongoing."
Burgess' most likely position is thought to be inside centre, although Bath are also considering number eight as a possibility.
"It's probably not my decision," Lancaster said.
"The easiest way to start is without the complexity of the line-out and everything that goes with it - where there's work to be done on lifting and line-out and everything in the back row.
"But whatever position he plays, he will a great asset."
---
New Sky Bet customers: Free matched bet up to £30
---