Woodward: England lost chance
Sir Clive Woodward shone the spotlight on Stuart Lancaster and insisted England should have been better prepared going into the 20-14 defeat to Australia.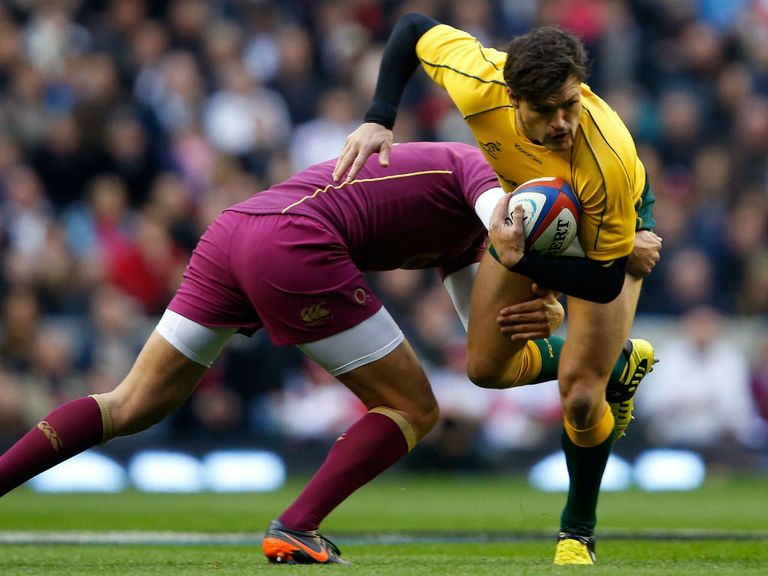 Woodward described the result as a huge missed opportunity for England, who he criticised for not taking the points when they were on offer in the second half.
Captain Chris Robshaw opted for line-outs and quick tap penalties in the belief Australia's defence were at breaking point but England failed to score the try.
Woodward believes the source of those incorrect calls was not down to the players in the heat of battle - but the fact they had not been schooled to think clearly under pressure - or 'TCUP', as Woodward's famous mantra would have it when he masterminded England's World Cup triumph.
The move that led to Jonny Wilkinson's drop-goal in the last minute of the 2003 final had been rehearsed time and again on the training field.
"The biggest thing is trying to be smart ahead of the game," Woodward told BBC Radio Five Live's Sportsweek programme.
"If you sat down on a Thursday night and gave the players the situation - you are 20-14 down with 22 minutes to go, you have a penalty, the ball is slow, what do you do? - the right decision is to kick for goal and reduce the points to just three.
"If you go for the line-out or go for the try you have to score and if you don't you give huge momentum to the defending team, in this case Australia.
"The key thing is not making decisions in the heat of battle, it is getting these things in players' heads before you go on the pitch, so you know what is going to happen in every single situation.
"That is the secret to coaching."
Woodward suggested this could be a defining week for Lancaster.
England now face the daunting prospect of trying to recover from this setback against South Africa and then New Zealand, the top two teams in the world.
Woodward insists England must "toughen up" as well as smarten up - and that Lancaster should park his team-building plans and pick a side capable of beating the Springboks on Saturday.
The likes of Tom Wood, who made an impact off the bench, and fit-again prop Alex Corbisiero will all come into consideration for starting places next week.
But Nick Easter, the rugged Harlequins number eight who Woodward named in his preferred England side for the autumn, is unlikely to. Toulon's Steffon Armitage will definitely not.
"There is a big opportunity for Stuart Lancaster to make his mark as a coach this week," Woodward said.
"He has to turn this around and go into South Africa, when they will be underdogs, to see if they can put in a performance.
"You don't get many chances to beat Australia. They were short of six or seven frontline players. This was a big chance lost.
"They now have a week to put this right. They have a big chance to bounce back.
"Hopefully history looks back and this (Australia match) will be a big learning and a big reality check for the whole team.
"England have to understand international rugby is a very tough business. He (Lancaster) has got to pick a tougher team.
"International rugby is a tough, uncompromising game and you have to win those battles."
---
Click here for completely free £10 bet with Sky Bet & £5 free every week
---