Post-match reaction to Ireland's 28-6 victory over Scotland in the RBS 6 Nations on Sunday.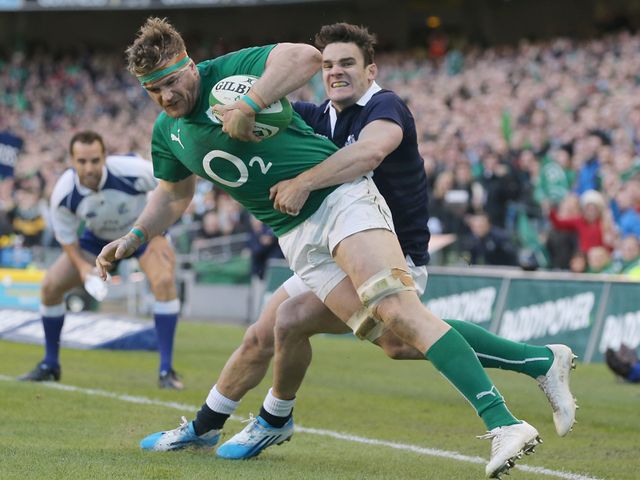 Ireland must make "huge improvements" to have any chance of beating Wales on Saturday, according to stand-in skipper Jamie Heaslip.
Leinster loose-forward Heaslip, Andrew Trimble and Rob Kearney claimed the tries as Ireland saw off Scotland 28-6 in the RBS 6 Nations opener in Dublin on Sunday.
Number eight Heaslip admitted it was a "big shock" to discover captain Paul O'Connell had contracted a chest infection during the course of Saturday night.
Ireland boss Joe Schmidt only found out about O'Connell's illness seven hours before kick-off against Scotland.
The Munster lock called upon Ireland's team doctor at 4.30am on Sunday, having been completely fine on Saturday night.
Dan Tuohy stepped into the starting line-up, while Ireland had to call Rhys Ruddock to jet back into Dublin to act as 24th man.
Despite Ireland's three-try win, Heaslip conceded head coach Schmidt had ripped into his men after the final whistle.
"Huge improvements will be needed for next week," said 61-cap Heaslip.
"Joe had a couple of choice words for us in the changing rooms afterwards, and I'm sure there will be more on Monday night.
"Our poor analysts will be working on that and won't see the Super Bowl!
"It will be a huge challenge to go up against a team that's won this championship two years in a row.
"It was a big shock to us about Paul, we watched line-outs at seven o'clock on Saturday night with him.
"Paul had given us really good direction during the week, so we had the knowledge and then we had to bring the physicality and intensity, and we managed to do that.
"It's a big shame to lose a character like Paul, a great leader and an inspiration.
"But credit to Dan [Tuohy] who had a great game, and will give Joe a good headache."
Ireland boss Schmidt expects O'Connell to recover in time to face Wales next weekend.
"The day probably didn't start too well: I had a phone call at eight o'clock to say that Paul O'Connell had a chest infection and hadn't had much sleep.
"I had no idea before that: he was fine on Saturday night, I was talking to him then and he was pretty chipper.
"The doctor had been to see him at 4.30 on Sunday morning.
"There's no way he could have played a Test match after not sleeping.
"I'd be really surprised if he's not [back for the Wales match].
"He should be back by Tuesday, for training, and hopefully he can train fully on Thursday. I would be really confident of that."
Scotland dominated possession and territory in the first half until a searing Johnny Sexton break swung the momentum.
Captain Heaslip had a try ruled out for a foot in touch from that break, before Trimble nipped in moments later.
The hosts took total control after the break, even if Scotland wilted too easily.
Hailing the performances of brothers Rob and Dave Kearney, Schmidt said it was a "relief" to ride out the loss of O'Connell.
"It's a real relief to me that we've got through the game and got a win on the board," he said.
"The try for Andrew Trimble was fantastic because it came at the right time.
"We'd really been under the pump, with them having two thirds of territory and possession.
"Rob Kearney's try capped off a really good game for him, and his brother impressed there too."
Naivety cost Scotland any chance of victory, according to head coach Scott Johnson.
"We may have to go to some dark places and bring some torches; we may have to do that," said Johnson.
"There's a naivety that will get there by having some time in the saddle.
"This is where it's my job to see a silver lining.
"There's inexperience in that backline, they are still growing as lads. They don't understand they are doing the hard bits quite easily, but it's the finishing off.
"They were up against some wily customers who have been about around the block a bit."
Johnson admitted the false assumptions of inexperienced operators tend to cost dearly in the Six Nations, but vowed to keep faith with his young squad.
"You get frustrated but that's what happens when you're teaching younger players," said Johnson. "Things they take for granted they can get away with at different levels, you just can't get away with it here.
"Of course you get frustrated, and the coaching box took a bit of a pounding.
"But they will get better, and we will persevere with it."
Scotland move on to entertain England at Murrayfield on Saturday, with replacement wing Max Evans admitting there will be scant opportunity to lick wounds.
"You want to start with a bang, and even if you don't win you want to put in a good performance," said Evans.
"And it kind of left a bitter taste in the mouth, because it wasn't the performance we were looking for.
"We weren't as good as we could have been at the set-piece and that cost us.
"If you've pushed the opposition to the wire then losing is easier to take, but we didn't do that and that's the frustrating thing.
"There was an element of naivety, and there were parts of our game where we looked like we could have beaten anyone.
"And then there were parts of our game which weren't very good.
"It's about consistency, that's the general message."
Sean Maitland suffered concussion during the course of Scotland's lacklustre loss, with Johnson admitting medics will monitor his progress throughout the week.
Evans hopes the powerful wing will be back in action without delay though.
"It did look nasty, it was right by the subs' bench," said Evans. "So you could hear the hit and see how he fell, and it looked a bit uncomfortable.
"But hopefully it's not as bad as it looked."
---
New Sky Bet customers: Free £30 matched bet
---