Head coach Jim Mallinder conceded Northampton did not deserve to progress to the knockout stage of the Heineken Cup after their campaign was ended with defeat at Glasgow.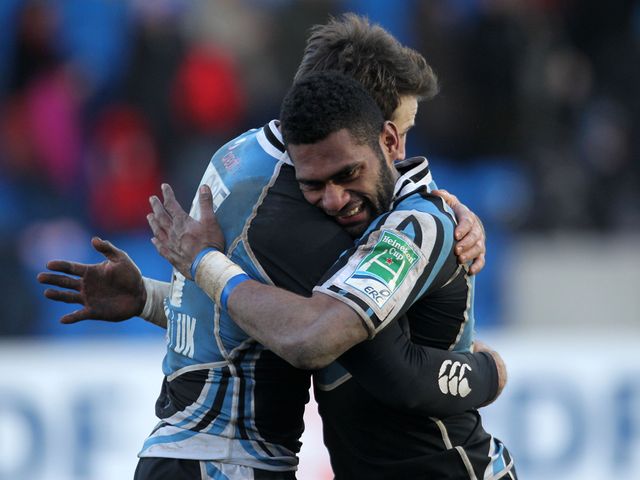 Saints headed north of the border needing a bonus-point victory to have any chance of going through but Peter Horne's last-gasp try instead condemned them to a 27-20 reverse.
Victory was the Warriors' first in the competition this season and left Mallinder to reflect on a campaign that never truly got off the ground.
"We showed that when we want to we can get performances; the win at Ulster away - the only visiting team to win at Ravenhill this season - was magnificent for us," he said.
"But to win these competitions you need to be more consistent.
"We won three games and lost three games and that isn't good enough.
"We came up here to try and get to the quarter-finals of the Heineken Cup. We knew it was an outside chance, we needed four tries. We were close, but we weren't close enough."
Northampton had threatened to get the points they needed when Ben Foden crossed over late on for their third try to make it 20-20.
But Horne snatched their hope away when he ran the length of the field.
Northampton will now turn their attentions back to the Aviva Premiership, where they stand fifth, and Mallinder believes they have reason to believe they can push up the table.
"We'll take positives in terms of possession and attacking play," he said.
"We said at half-time that we were in the game. We only had one try but we had the wind in our favour and the slope in our favour.
"We were confident of getting the win, and the three tries, but it wasn't to be."
Glasgow began the day knowing they could not progress but head coach Gregor Townsend, who was up against his former club, was at least able to get a win to exit the competition on.
"We've shown what we can do at times in every game," he said.
"We went down to Northampton - who were Premiership leaders at the time - and we were 15-0 up. We were leading for 75 minutes over at Castres, so we've shown it, we just haven't had the 80 minutes and the winning performance until now."
As for the match itself, Townsend was upbeat, saying: "For the second half we had a lot of the ball, which was good, and we were moving the ball around well.
"I thought at times we could've had a few more penalties when we were attacking and trying to play quick ball, but it was great to see that passion and to get the win."
The match will most likely be remembered by the 4,000 or so spectators for the wonderful try from Horne, who was unsurprisingly happy to recount his score after the match.
"Alex Dunbar gave me a great offload and I managed to get on a support line and pick up the ball," he said.
"I tripped myself up a couple of times but I got myself over the try-line. After the first dummy I thought I'll just see what happens but then I got to the 22 I started to realise I might actually makes this.
"I was just delighted to get the try."
Horne admitted Glasgow's performances had not been good enough this season, but was glad to finish with a win.
"It was great to get the win and finish on a high," he said.
"It by my no means makes up for all of the losses, but it does gives us a few positives to take in for our form in the league season."
---
Click here for completely free £10 bet with Sky Bet & £5 free every week
---