Post-match reaction to Exeter's 12-12 draw with Bath.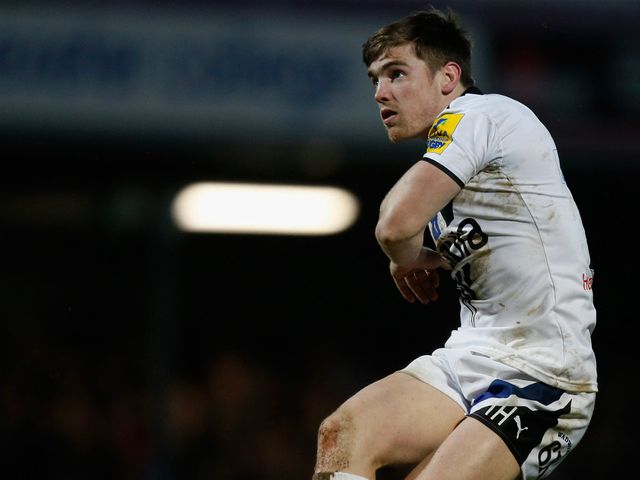 Exeter boss Rob Baxter was disappointed not to end 2012 with a win following their 12-12 draw at home to Bath.
The Chiefs looked on course for a narrow victory but Bath replacement fly-half Tom Heathcote converted a penalty try three minutes from time to ensure the spoils were shared.
The result left Baxter a little frustrated as his side have still to record a victory over their west country rivals since the Devon side were promoted to the Aviva Premiership but they remain in the top half of the table.
Baxter said: "Whenever a team peg you back that late in the game, specifically when you have quite good control of things, it feels tough.
"But there is a reality, I don't think we played well enough in the first half and I don't think our forwards were right on the money.
"That changed pretty dramatically in the second half and ultimately they gave us the control to really pull away. Then we kind of did what we did in the first half, which was doubled-up a couple of errors and a couple of penalties.
"All of a sudden we were defending in the corner and the penalty try happens and the game has gone from you. That is a little frustrating but this is the best result that we have had against Bath and it shows that we are getting a lot of things right.
"We are still unbeaten at home in the Premiership and we are still collecting points as we need to. We are in the top half of the league which is where we want to be.
"We have to pull our socks-up next week [against Northampton] as we have had a couple of tough fixtures. There was the two point loss at Gloucester where they came back at us relatively late and now a draw here.
"We have to say mentally that we are doing a lot of things right to be so competitive in the league against sides from the top half of the table then towards the end of the game things are going wrong."
Bath first-team coach Brad Davis was once again missing from the touchline, his third game in a row.
Speculation continues at the club where the former rugby league player has been.
"As far as we understand things, he is coming back and we have just carried on coaching and leave the upper management to deal with that. As far as we are aware he is coming back and it is just a question of when," said another of Bath's first-team coaches Toby Booth.
The draw ends Bath's run of two Premiership defeats, away to Leicester and at home to Saracens but they remain in the bottom half of the table at the turn of the year.
Booth added: "The resilience and bounce back from last week was really important because it is a test of character. It is that character that get you through the dark months and get through to the other side.
"There was a bump in the road last week and we knew this game would be a massive test of character and we have come through that test.
"We kept our resolve and our determination to establish field position. To keep the ball for long periods of time and then capitalise on it was important.
"Everyone talks about how well Exeter attack, and they do, but we out-scored them two tries to nil and that is a good tick in the box for us."
---
Click here for completely free £10 bet with Sky Bet & £5 free every week
---