Scotland head coach Andy Robinson felt a marked improvement in discipline and their tackling was the key to the transformation of their play around the 50-minute mark of their 21-10 defeat by South Africa.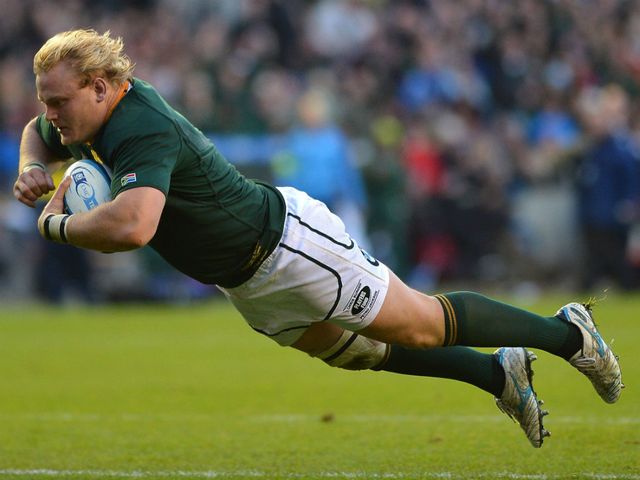 Scotland had only had one attack of note by the time Adrian Strauss crossed for his second try in the 46th minute to help the tourists to an 18-point lead.
But Robinson's men put the Springboks under sustained pressure for the remaining half hour, after replacement scrum-half Henry Pyrgos had crossed over following a well-worked lineout in the 51st minute to reduce the deficit.
Ultimately their efforts proved too little, too late to avoid a second defeat of their EMC Test series, but they had enough chances to equal their three-try haul during last weekend's 51-22 defeat by New Zealand.
Robinson had warned his side they would face a different threat today thanks to the South Africans' physical strength and direct approach, and he felt they had given a "masterclass" in kicking to gain control of the game early on.
But he was frustrated with the way his side allowed South Africa to play the vast majority of the first period inside the Scotland half.
Robinson said: "The last 30 minutes was very pleasing but what happened in the first 50 minutes was hugely frustrating.
"We faced a different threat today. Last week we faced speed and this week we were facing physicality - they are probably the toughest team to play against. It showed the gulf and where we are.
"We can't afford to give penalties away in the way we did. We need to improve our discipline because we gave them field positions and the ability to build their maul in the first half.
"In the second half we didn't give penalties away so our defence was on the front foot. In the first half we allowed SA to get momentum by tackling high.
"After half-time we tackled low, which stopped their momentum and we played inside their half."
South Africa had already threatened to cross from a maul, Irish referee George Clancy pulling them up for obstruction, before Strauss crossed over from the same tactic.
Greig Laidlaw's solitary penalty and one decent attack after forcing a lineout from another free-kick, which ended when Al Kellock was penalised near the line, was all Scotland had to show until the 50th minute.
Pyrgos, on for Mike Blair after the scrum-half's pass had been intercepted by Strauss to score his second, touched down after running inside Kelly Brown at a lineout and taking his instant pass.
Scotland then forced the Springboks back but a mixture of poor decision making, some crucial decisions by Clancy, and some desperate defending, kept them out.
"Henry brought some real energy to the game and it was set-piece pay that worked really well," Robinson said.
"It was great to see him go under the posts. There was real energy there to the way we played in the second half.
"But you have to take your chances and when we were battering away at South Africa's line, the quality of defence we faced in terms of the physicality was probably a step-up from last week, but also we ran in ones which allowed them to make the hit.
"We have to have that clarity to be able to run in twos and threes when you are up against such a physical defence."
Two particularly dangerous attacks fell down when Laidlaw and Ruaridh Jackson tried to break down the visitors with some close-range kicks over the top.
"That was part of the plan early on in the game, to change and to put it behind them," Robinson said. "That was part of the reason for doing that but once you have done it once you have got to have a balance to the way you play the game.
"With the physicality of their defence, it just put our decision-making under that little bit of pressure."
South Africa head coach Heyneke Meyer also felt discipline was the key to the sudden swing in momentum, but praised his side for keeping Scotland out in the last half hour.
"I'm really disappointed with the second half," he said. "I thought we played tactically very well in the first half. The plan was to put them under pressure and I thought at 14-3 at half-time we could move on from there.
"The second half we just gave away too many penalties. I just checked the stats quickly but it was seven penalties just from scrums.
"But I'm very happy with the character of the players, our defence was awesome. Also Scotland deserve a lot of credit, they really came at us in the second half.
"I thought we were in control and then there was a pretty huge swing in the momentum. But that's how you win trophies and World Cups and we will learn from that because we were under huge pressure and kept them out.
"It's frustrating because we pride ourselves on discipline and we gave away 17 penalties, and that's unacceptable at this level."
---
Click here for completely free £10 bet with Sky Bet & £5 free every week
---