Rhinos snap up Cuthbertson
LLeeds Rhinos have received a major boost for next season with the signing of Newcastle Knights prop Adam Cuthbertson on a four year contract.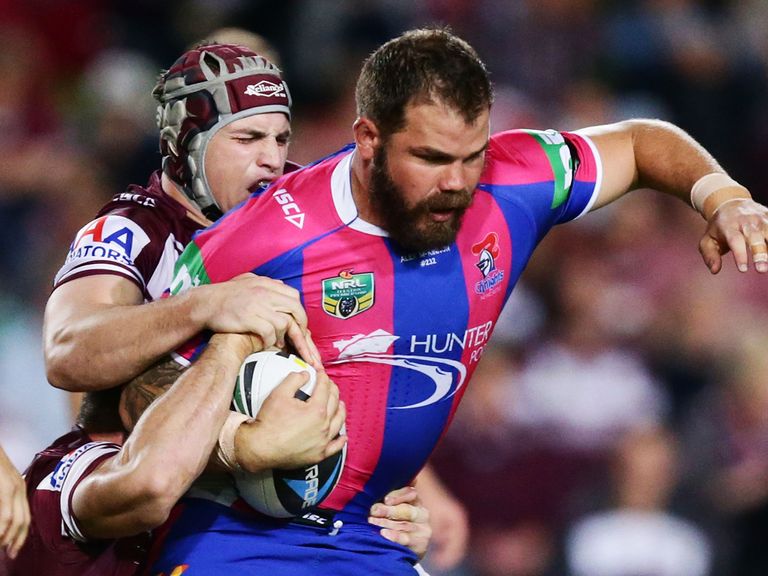 Cuthbertson, whose family are from Warrington, has been the Knights top performer this season. He originally started his career with Manly, where he appeared in a Grand Final and played against Leeds in the 2009 World Club Challenge at Elland Road.
He moved to Cronulla and then St George, where he first worked under Wayne Bennett. His form saw him recalled to the City side for the traditional City v Country game in 2011. When Bennett moved to the Knights in 2012, he took Cuthbertson with him and he has now played 127 NRL games.
This season he has produced 18 offloads and nine tackle breaks while averaging 30.6 tackles and 126.3 metres per game in a Knights team that has endured a tough season to date.
 
Commenting on signing for the Rhinos from 2015, Cuthbertson said: "I am really pleased to be joining the Rhinos and excited about the challenge of joining a new competition in Super League. Leeds have been a top club for the last decade and I know I am joining a very competitive squad who have a great work ethic, that is evident from the success they have had. I have been to Leeds in the past and really enjoyed the City. My dad is from England so my family are also excited about me coming over too."

Commenting on the signing Chief Executive Gary Hetherington said: "We are delighted to have signed Adam. He is a player we tried to sign three years ago when he was leaving St George but he opted to go with Wayne Bennett to Newcastle.
"This is a major coup for the Rhinos and Super League as a competition and reverses the trend in recent years. At 29, Adam is at the peak of his powers as a prop and he has agreed a long term contract with us, showing his commitment to coming to Leeds and our competition. Adam will effectively replace Ben Jones-Bishop in our senior 25 man squad which means all our players are now contracted for next season."

Head Coach Brian McDermott added: "Having spoken with Adam, I was impressed by how much he is looking forward to the challenge of joining the Rhinos next season. As an experienced NRL professional, not only will he add quality to our group but he will also help our younger players develop and realise their full potential with his knowledge from the NRL competition.
"Given the state of game in Australia and in particular the demand for front rowers over there, this is a massive boost for the Rhinos and big decision for Adam however he has a passion to play in our competition and for Leeds. The club spoke to Danny Buderus about him also and he had nothing but good to say about him both as a player and an individual which is especially important to us."