Grand Final Player Ratings
How the players rated in the Super League Grand Final at Old Trafford between Warrington and Wigan.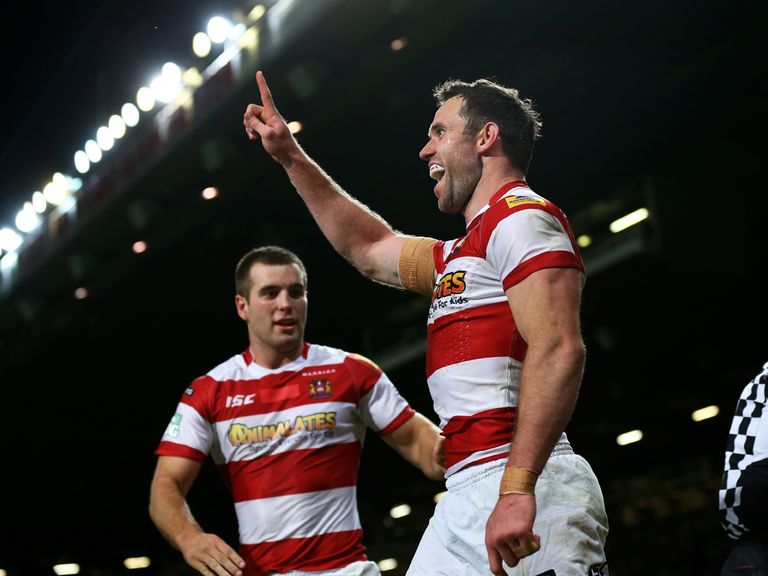 WARRINGTON
STEFAN RATCHFORD - Not too solid under the high ball early on but settled down before limping off in the second half after a heavy hit. 6
CHRIS RILEY - Some smart defence early on kept Wigan out and he muscled up to drag Josh Charnley in touch, but when he was switched to full-back he paid the price for dithering as Charnley scored. 5.
CHRIS BRIDGE - Centre was unable to have too much of an impact on the game. 5.
RYAN ATKINS - Centre lent his ample muscle to a number of tackles to smother Wigan close to the line in the first half but made little contribution in the second. 6.
JOEL MONAGHAN - Free-scoring winger opened things up when he jumped higher than Pat Richards for a 28th try of the season, but he knocked himself out cold with a poor tackling technique before the break and left the field on a stretcher. 7.
LEE BRIERS - The master tactician set-up the first try with a kick and then put Ben Westwood in with a fine delayed pass, but ended the game in disarray at full-back as Warrington lost their way. 6.
RICHARD MYLER - Scrum-half was unable to find a way to get his men back in the game once they went behind as Wigan's defence smothered him. 6.
PAUL WOOD - The prop's bravery in losing a testicle during last year's final was well documented but there were no headlines for him tonight. 6.
MICKY HIGHAM - Early penalty allowed Wigan to take the lead but he settled down after that. 6.
CHRIS HILL - England prop was outstanding during the first half and ran Wigan down. He faded, though, as did his team. 7.
BEN WESTWOOD - Divisive forward could perhaps have been sent off inside three minutes for punching Blake Green in the face as he lay on the floor. He was put on report and scored Warrington's third try, but had to watch as Green won the game - 6.
SIMON GRIX - Dragged himself over for a well-worked second Warrington try but his influence on the game was limited. 6.
BEN HARRISON - Ireland forward impressed early on but was unable to have too great an influence on proceedings. 6.
REPLACEMENTS
ADRIAN MORLEY - Warrington's veteran captain is headed for Salford now and there was no glorious Super League farewell for him. He leaves a three-time Challenge Cup winner. 6.
MICHAEL MONAGHAN - Hooker failed to add any spark to Warrington when they needed it the most. 6.
GARRETH CARVELL - Another departing prop, Carvell heads to Bradford without a Grand Final win. He worked hard. 6.
MIKE COOPER - Replacement forward may find he has not heard the last of this season. Awful late hit on Pat Richards went unpunished but looked horrendous. 6.
WIGAN
SAM TOMKINS - Super League's main man signed out in style with a second Grand Final win. The full-back failed to add his standard try but defended brilliantly and looked for the ball often - setting up Darrell Goulding's crucial try. A fitting end before he goes to New Zealand. 7.
JOSH CHARNLEY - Super League's leading try scorer was quiet until he sniffed out an opening to give Wigan the lead. He beat Riley to Darrell Goulding's kick and finished brilliantly, although he should have had a second. 7.
DARRELL GOULDING - Gave Wigan hope with a try on the stroke of half-time and then produced a smart kick to send Charnley in for his. 7.
IAIN THORNLEY - Wasted a great overlap opportunity when Wigan were within two points but it mattered little. 6.
PAT RICHARDS - The Australian winger will be remembered as a Wigan great. This was his last game in their shirt and although he had a horror first half - conceding a try to Monaghan and making an error for another - he goes out a winner after dotting down a crowing late try. 7.
BLAKE GREEN - The stand-off required oxygen after being punched by Westwood with three minutes gone but had the last laugh as his wonderful solo try clinched Wigan's win. Harry Sunderland trophy for man of the match. 8.
MATTY SMITH - Wigan's expert kicker was subdued in the first half but had more of an impact in the second, clearly growing in confidence and adding a drop goal. 7.
GIL DUDSON - Failed to give Wigan the platform they needed in the first half but returned with vigour in the second. 6.
MICHAEL MCILORUM - Gave Wigan a real fighting chance when he spied and exploited a gap seven minutes after half-time. The try proved critical. 7.
LEE MOSSOP - Made his 100th and final appearance for the Warriors, with Parramatta his next stop. Like his team-mates, he proved his worth in the second half. 7.
HARRISON HANSEN - Grafted hard for his side and ended up a winner. 6.
LIAM FARRELL - Forward was quiet in the first half and dropped the ball when well set in the second, but he contributed well. 6.
SEAN O'LOUGHLIN - Wigan's captain's fitness was a talking point of the build-up and he lasted until the 50th minute before being withdrawn. He returned, though, and gave Richards the perfect send off with a fine pass. 7.
REPLACEMENTS
JACK HUGHES - Made it on for the last 10 minutes to join the celebrations - 6.
BEN FLOWER - Performance typified his season. Hard-working and hard-hitting. 7.
SCOTT TAYLOR - Was relied on heavily by his coach and did not let him down. 7.
DOMINIC CROSBY - One of the rising stars of the Super League and made use of his ample frame with a good stint. 6.
---
Sky Bet Free Bet Club: £10 free bet - £5 free every week
---