Saints seek home comforts
St Helens will be hoping the best home record in Super League will be enough to get them over the line as they close in on their first trophy for six years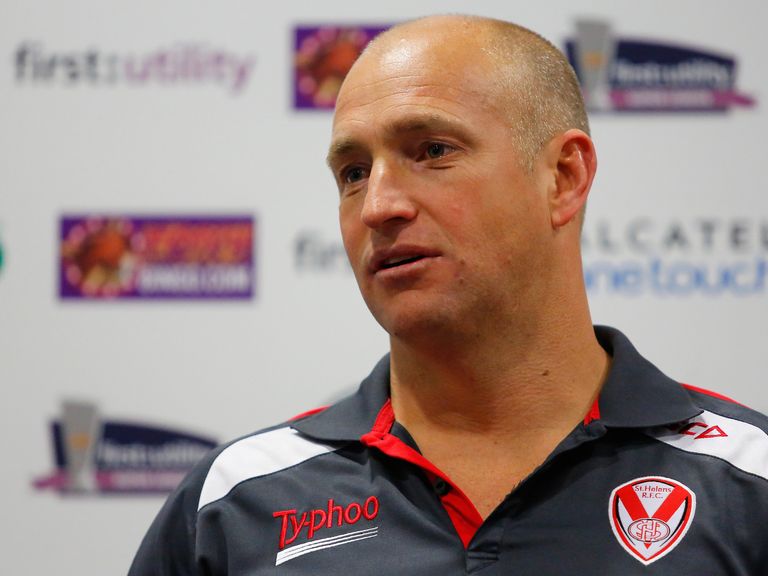 Nathan Brown's men will be presented with the League Leaders' Shield if they take at least a point from their derby with Warrington in Thursday night's last game of the regular season at Langtree Park, where they have lost just once this year.
Saints won the shield four years in a row from 2005 but the trophy cabinet has been bare since their last success in 2008 and it is eight years since they were crowned Super League champions for the fifth time.
"Six years is obviously a long time for St Helens to go without picking up silverware," said Brown, who is coming to the end of his second season with the club.
"Taking the League Leaders' Shield would be a good reward for the playing group for sticking together and having belief in times of adversity.
"It would be good for the fans too. There are three trophies available and to get one of them would be a good start for the club moving forward."
Only Castleford can stop St Helens finishing top after Brown's men pulled off a 13-12 win at Leeds last weekend, when three of the other top six teams all dropped points.
They will be especially keen to wrap up the Shield ahead of a tricky final match at Huddersfield on Friday week but there is no shortage of incentive for Warrington, who have not given up hope of a top-two finish and would love to spoil their arch rivals' party.
In the most closely-contested competition since the advent of Super League in 1996, sixth-placed Leeds could still swap places with second-placed Castleford.
"There have been a lot of twists and turns in the league so far and I think there's a lot to go yet," Brown said.
"The top six sides have all looked likely at different stages. The competition is more open than ever before."
St Helens have managed to stay top of the pile despite losing influential players Luke Walsh, Jon Wilkin and Jonny Lomax with season-ending injuries but they look to be stumbling over the finishing line and the bookmakers have both Wigan and Leeds ahead of them in the betting for the Grand Final.
Brown has been forced to reshuffle his side to offset the key absentees and he remains optimistic that they can finish the job by going on to lift the big prize at Old Trafford.
"The reality for us is in the past four weeks we have changed the way we have played and it is all about getting better so when we come into the play-offs we are as prepared as we can be," he added.
"We've had a lot of injuries - there aren't many worse than us really - and we have found ways to win."
Warrington reached Old Trafford from second place in both 2012 and 2013 and coach Tony Smith says his team still have the incentive of the runners-up spot.
"We hope to spoil their party for at least another week," Smith said. "I'm sure that they're determined to finish as high up the table as they can and so are we.
"We're going to be trying our best. We still feel it's possible for us to finish in that second position and there is not a whole lot to choose between one and two."
St Helens will be without goalkicking centre Mark Percival after he was concussed at Leeds but Warrington winger Rhys Evans has made a remarkable recovery from the horrific head injury he sustained in last week's draw against Huddersfield.
"There was concern about his neck after what we've called at training the 'face plough into the ground' and that's why the medical staff were so cautious with it," Smith said.
"He was up and walking around in the changing room when we got there and he's trained fully all week so he's in good nick."
Smith has recalled former New Zealand Test prop Roy Asotasi, who was dropped last month after losing his form.
"He's got another chance to prove himself, "Smith said. "It's been a tough season for Roy and he's accepted that but he's worked hard and hopefully we'll see that work come to fruition."