New TV deal for Super League
St Helens chairman Eamonn McManus believes Super League's new television deal should end the clubs' financial woes and guarantee solvency "at a stroke".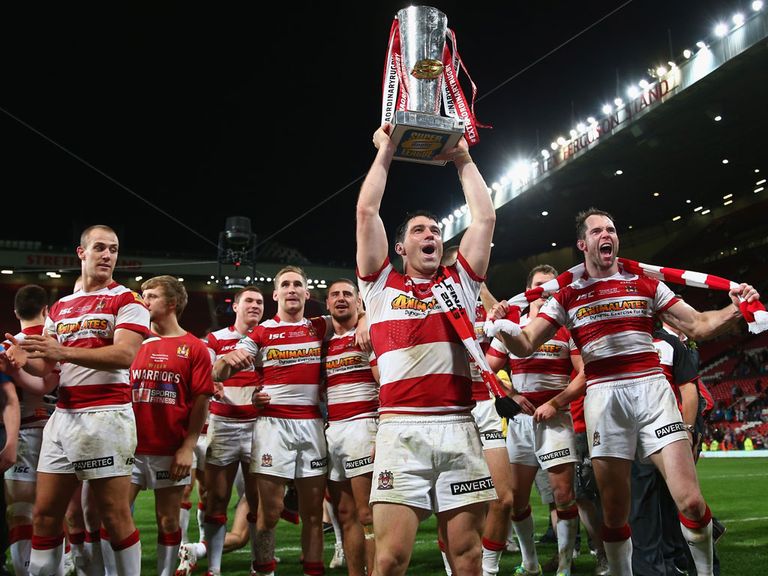 Super League will remain on Sky Sports until the end of 2021 after a new five-year deal was announced on Thursday.
Although no figures have been divulged, it is thought the new agreement represents a considerable increase on the £127million five-year deal signed in 2011.
"This is a triumph for our sport and in particular for its premier competition," McManus said. "It is certainly a total endorsement of the new league structure adopted for 2015 onwards.
"The new system will improve the competitiveness and quality of competition throughout the season and the new media valuation clearly recognises and reflects that unequivocally.
"At a stroke this ensures solvency for all Super League clubs for the foreseeable future and provides confidence to fans and sponsors in equal measure. They have a lot to look forward to as long as clubs take a disciplined and realistic approach to their cost bases.
"We at St Helens have invested some £45million in permanent equity investment over the last decade to cover operational deficits and the construction of our fantastic new stadium, Langtree Park, free of debt.
"It is, therefore, of great comfort to us that Sky have recognised the value of our sport and consequently the investment of its leading clubs."
The new deal was welcomed by the 14 Super League clubs at a meeting on Wednesday and they are now expected to give the go-ahead for an increase in funding for the Championship clubs ahead of the new league structure.
Three Super League clubs have been in administration over the last three years while Wakefield and Bradford are currently having to cut costs after discovering £400,000 holes in their budgets for 2014.
Sky has held exclusive live rights to Super League since paying £87million in the spring of 1995 in a deal which included a hefty sweetener to smooth the way to a switch to a summer season.
Subsequent deals fell in value until a five-year agreement worth just £63million to run from 2004-08 was struck, although that was renegotiated upwards in November 2007 when, amid interest from Setanta Sports, the RFL and its deal negotiators IMG secured around £50million in a new three-year Sky contract to run from 2009-11.
In the summer of 2011, the league announced a new five-year deal thought to be worth around £127million and taking the clubs' annual pay-out to more than £1million a year for the first time.
That contract does not run out until the end of 2016 but the new agreement ends speculation that BT could claim the rights.
With Sky pledging to once more screen matches from the Championship from 2015, it also puts a question mark over the role of Premier Sports, whose deal to televise the second tier of the professional game runs out this year.
The BBC has the rights to international rugby league for the next three years but Thursday's announcement will strengthen the game's links with Sky, whose coverage of Super League will extend into a fourth decade.
The announcement comes just a week after a new structure for the domestic game was ratified by the Rugby Football League's board of directors.
Coming close on the heels of a successful World Cup and the unveiling of a three-year Super League sponsorship deal with First Utility, thought to be worth £750,000, the deal significantly strengthens the position of RFL chief executive Nigel Wood.
Wood, who is also chief executive of Super League, said: "I am delighted that we have been able to agree a new contract with Sky Sports that will extend our hugely successful partnership until the end of the 2021 season.
"The association with Sky Sports has enabled rugby league to realise many of its ambitions over the last two decades and this new contract will allow the whole sport to grow still further as we enter an exciting chapter in our history.
"Throughout our negotiations it was clear that Sky were genuinely excited by the league structures that we are putting in place from 2015 onwards.
"Whilst the new contract does not come into effect until 2017, it allows for the return of live Championship action to Sky Sports from next year which will complement their first class coverage of the First Utility Super League and capture the thrills and drama of new-look competitions where every match matters.
"Following on from the success of Rugby League World Cup 2013, the forging of significant commercial partnerships around the First Utility Super League and the decision by the clubs to embrace the new league structures, this is another momentous day for the sport."
Sky, which revolutionised rugby league with its £87million exclusivity deal in 1995, will show 80 lives matches this season, increasing to over 100 a year from 2015.
It will also increase its coverage of Catalan Dragons home games from this season.
---
New Sky Bet customers: Free matched bet up to £30
---