Zak Hardaker targets stability
Leeds Rhinos full-back Zak Hardaker is looking to cement a spot in the team having played in a number of positions during his career.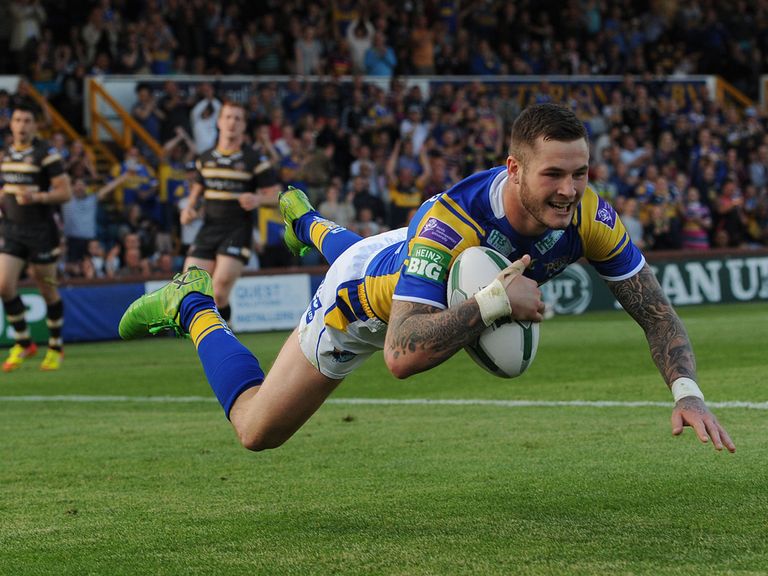 The 22-year-old signed for the Rhinos from Featherstone in 2011 as a virtual unknown but has since gone on to make a name for himself as one of the best young players in the league.
Despite the arrival of Tom Briscoe, Andy Yates and Paul Aiton during the off-season, Hardaker believes the competition for places can only be a good thing for the Rhinos.
"It's really exciting. The additional signings we've made are really good for the squad so it means everyone can fight for their place and everyone will give 110 per cent in training.
"If everyone is doing that then hopefully everyone is learning off each other and that improves you as a player.
"Sadly somebody is going to be dropped, not just in the backs but in the forwards as well, so hopefully it's going to be drilled in to the players to give their best through the week.
"That's what we are all about at Leeds. We want to win something this year so it's good for competition and everyone is fighting for their position. At the moment everything has been really good."
Having started his Rhinos career on the wing, Hardaker has also played at centre; stand-off and most recently at full-back.
However when questioned at the Rhinos' pre-season media day, the England international was quick to joke about his position for the up and coming season.
"Put me at prop and I'll give it a go but I'm not sure I'll be any good. If Peacock gets injured then I'll have to put a bit more weight on and get up front. I'll play anywhere.
"When I was at Featherstone I was only small so I played full-back and then the opportunity came on the wing for me so they put me out wide. Obviously I scored a few tries and Leeds snapped me up."
"When I first arrived the starting wing was injured, the reserve wing was injured and the reserve reserve wing was injured so I played against St Helens and scored two tries which was brilliant for me.
"Obviously I got injured after that but when I was coming back some of the centres like Kallum Watkins were out so I played the remaining 12 games at centre and scored in the Grand Final so it was an overwhelming first year for myself.
"You need a bit of luck in this game and I certainly got it that year.
"The second year I started at centre but Brent Webb got injured so I slotted in at full back and then at the start of the third year I got the number 1 shirt. Luckily I've stayed in there for a long period of time but like I say I'll play anywhere."
Reflecting on his time at Leeds, Hardaker was keen to bring up the 2012 campaign, when he won the Super League Young Player of the Year award as well as the Rhinos Supporters Player of the Year prize after making 37 appearances and scoring 21 tries.
"I was initially supposed to be on loan to Featherstone for the full season so I couldn't even play for Leeds but right at the last minute it got changed because of some of the injuries we had.
"We won the Grand Final backed up by beating Manly in the World Club Challenge in 2012, I've had some really good years at Leeds and there have only been three of them.
"I've got a little trophy cabinet at home, I got the idea off Ryan Hall when I went to his house a couple of years ago. I've got my World Club Challenge medal, my England cap and some Featherstone Rovers memorabilia in there as well.
"Sadly we didn't get anything last year which we need to put right this time around but with all the team meetings we know what we need to do to improve and to win stuff this year. We're all on board with that and ready for this year."
One of the big talking points in Super League at the moment is the proposed new structure for the domestic game which will see two teams relegated at the end of the 2014 season and Hardaker is hoping it gives an added incentive for the teams at the bottom.
"Any team on their day can win. For everyone in the Super League it's going to bring more completion and hopefully it improves the teams and clubs.
"It's just going to get harder and harder and that can only bring more viewers, more investors and bring the profile up like everybody wants it to do.
"I want it bigger than football so if we can get it really tight I'm sure the viewers and investment will come."
However what will really draw in the crowds is the battle at the top and with so many teams in contention, it is set to be one of the tightest title races in recent history.
"It's hard to put anyone down to be fair. I think the same as last year you know you've got Wigan who've got a formidable team; Warrington and St Helens have made some really good signings. You've still got Hull KR and Bradford to come so it's hard to say one team is going to be better than the other this year.
"Salford have made some terrific signings, big New Zealanders as well, so they've got some massive players there now. They've got Rangi Chase and Tim Smith who are the half-backs and control very well and then your leader Adrian Morley upfront who you wouldn't really want anyone better I don't think apart from Jamie Peacock.
"They've also got an ambitious owner, everybody loves Marwan Koukash. I follow him on Twitter and think he's brilliant. Obviously they've also got a great coach in Brian Noble so I can't see them being there or there abouts."
The Rhinos have been dealt a tough opening to the campaign and will travel to Hull KR for their season opener on Sunday February 16.
Hardaker believes early season form could be crucial for potential Super League winners.
"The first four games are really tough for us so it'll be these first few games that'll be a good telling of where each team will be in the Super League.
"I know it'll only be early days but it'll be really tough for the first quarter of the season."
---
New Sky Bet customers: Free matched bet up to £30
---