Koukash targets top four
Salford owner Marwan Koukash will be "disappointed" if the Red Devils do not claim at least a place in Super League's top-six this season.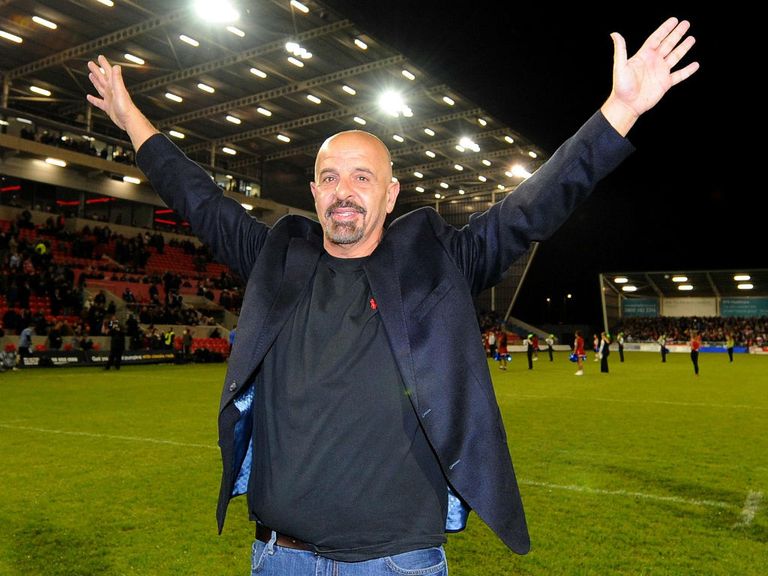 The millionaire racehorse owner has ploughed well over £1million of his own money into a bid to transform last year's wooden spoonists into potential champions and has set his sights high in 2014.
"I'd be delighted with the top four and disappointed if we're not in the top six," said Koukash. "When you are in the top four, you have an outstanding chance to compete for a trophy.
"It would be a wonderful achievement if we could do that. I'm not aware of any British sports team to finish last one season and to win the trophy the following season. That would make the players absolute legends."
This week marks the anniversary of Koukash's takeover of a club that was on its knees 12 months ago and an influx of 14 new faces, including internationals Harrison Hansen, Adrian Morley and Rangi Chase, has given rise for genuine optimism.
"This team can compete with anybody," Koukash said. "Gone are the days when you played the likes of Wigan and you hoped they weren't going to beat you by more than 40 or 50 points."
Head coach Brian Noble and his new-look squad returned last week from a 10-day training camp in South Africa and Koukash says no stone has been left unturned to ensure the team will be fully prepared for their opening game against Wakefield at the A J Bell Stadium on February 16.
Koukash, 55, a one-time Palestinian refugee who was introduced to rugby league through a chance meeting with Rugby Football League chief executive Nigel Wood on a flight to Dubai, initially drew plenty of criticism over his brash entry into the game, particularly over an audacious £1million bid for Sam Tomkins, but he believes he has demonstrated his long-term commitment to the Salford club.
"I know I've convinced our fans," he said. "I talk to our fans more than any other chairman talks to theirs. I socialise with them.
"I'm fully committed for the long term - I'm not here today, gone tomorrow - I've invested in the team and I am determined to succeed."
Koukash, who personally attends Super League meetings, has fallen in love with rugby league in the way that horse racing gripped his imagination and his forthright views have ruffled plenty of feathers.
He was among the six Super League club representatives who voted against the planned re-structuring of the game at last Friday's crucial meeting and he has been a fierce critic of the salary cap which he argues is preventing him luring top names like Sonny Bill Williams and Billy Slater to Super League.
"The salary cap is only one issue," he said. "At the end of the day, it's my money that goes into Salford, it's Simon Moran's money that goes into Warrington and I could go on.
"We all put serious money into the game and, the way I see it, we are entitled to at least have a say in the way Super League is run and how it develops its commercial activities.
"I've only been in the sport for a year so I'm not an expert but, coming from outside, you can see this is a big sport and it's under-sold and under-marketed.
"I think there has always been a conflict of interest between the RFL and Super League and you can't have the same CEO running both."
Koukash concedes he is not yet experienced enough to have a direct input into the running of the game and, in any case, has his hands full running his own business, a corporate training company, and turning around the fortunes of the Red Devils.
The club have sold almost 3,000 season tickets, which Koukash says is disappointing but understandable.
"They are increasing all the time," he said. "They are more than 300 per cent up on last year.
"When you make a comparison with the likes of Saints, Wigan and Warrington, they are disappointing but people have been sold false promises before and maybe they are saying 'let's see how you go'.
"There will be an awful lot of fans coming for the Wakefield game and hopefully we will be able to retain them.
"There will be a lot going on around the game. We'll have the Red Devils parachuting into the stadium and other entertainments lined up to attract new people who are watching rugby for the first time."
---
New Sky Bet customers: Free matched bet up to £30
---