Grand Final: Key match-ups
Super League's Grand Final opponents Warrington and Wigan look as evenly matched as any in recent Old Trafford showpieces.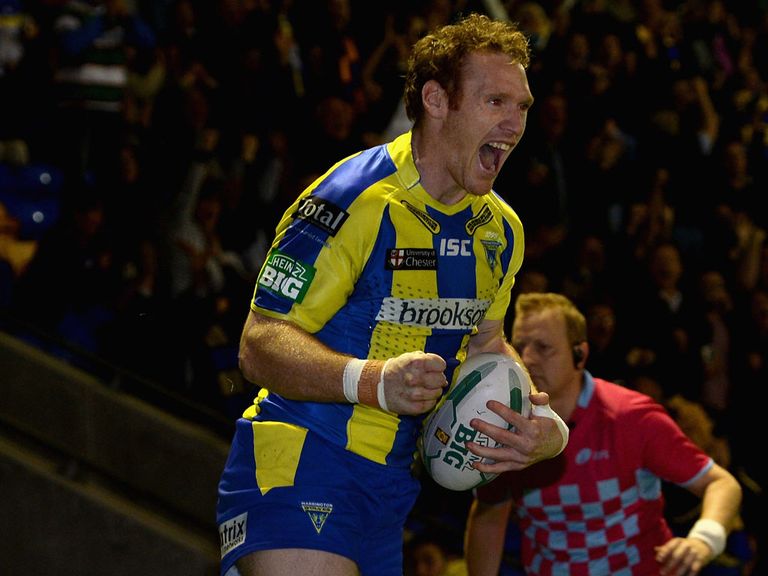 Here Nigel Askham analyses four key on-field battles which will go a long way towards deciding the 2013 champions and suggests where your money might go.
Position: Full-back
Stefan Ratchford (Warrington) v Sam Tomkins (Wigan)
They won't come head-to-head that often but they both have so much to offer their sides from the back of the field.
Tomkins hasn't quiet had the impact across the season as he has in previous years as speculation over his future dragged on for months.
But with the game's worst kept secret finally out - and a 3-year mega-deal with New Zealand Warriors in his back pocket, he will no doubt be keen to go out with a bang at the 'Theatre of Dreams'. His ability to chime into the line can be devastating and if the Wolves can keep him quiet they will be half-way there.
Ratchford has played mainly at half-back and centre but an injury to Aussie veteran Brett Hodgson has seen him switch to the back where he has underlined his versatility. He can expect to come under some pressure from the high-ball but, while lacking the searing pace of Tomkins, is deceptive and strong with the ability to create for others.
Man of the Match - Ratchford 12/1, Tomkins 9/2
First try scorer - Ratchford 16/1, Tomkins 17/2
Anytime try scorer - Ratchford 7/4, Tomkins 5/6
Position: Wing
Joel Monaghan (Warrington) v Josh Charnley (Wigan)
Very contrasting styles but as Super League most prolific try scorers they are critical to their side's chances.
Aussie Monaghan has an incredible strike rate since his somewhat controversial switch from the NRL. He's not electric in terms of speed but a great finisher who has the ability to quickly assess the best route to the line and pin back his ears. Monaghan is a towering figure under the attacking kick to the line.
What Charnley lacks in inches in comparison with Monaghan he makes up for in speed off the mark and elusiveness. The competition's top scorer with 33 and once he's through the first line of defence he doesn't get caught.
Man of the Match - Monaghan 16/1, Charnley18/1
First try scorer - Monaghan 6/1, Charnley 7/1
Anytime try scorer - Monaghan 8/11, Charnley 8/13
Position: Stand-off
Lee Briers (Warrington) v Blake Green (Wigan)
Thirty-five-year-old Briers holds the key to the Wolves' chances of their first Grand Final triumph.
Put simply, when he is on his game everything else in coach Tony Smith's game plan seems to drop into place.
On his day he's probably on a par with newly-crowned Man of Steel Danny Brough, as the most devastating tactical kicker in the game. Monaghan is the main beneficiary with his ability to snatch the high ball but his grubbers to the line are equally effective.
Aussie Green has been a steady achiever since his surprise close-season switch from Hull KR where he didn't set the world alight. But he seems to have benefited greatly from having better players around him and has formed a fruitful partnership with Matty Smith.
Man of the Match - Briers 9/2, Green 14/1
First try scorer - Briers 25/1, Green 22/1
Anytime try scorer - Briers 3/1, Green 11/4
Position: Second-row
Ben Westwood (Warrington) v Liam Farrell (Wigan)
A classic confrontation is one the cards between the two great workhorses of the respective packs.
Westwood's no-nonsense approach has made him a vital cog in the Wolves successes of recent years both in defence, where he constantly tops the tackle-count and shakes up the opposition, and in attack where he is a raw-boned handful.
Farrell, the cousin of former Great Britain and Wigan skipper Andy Farrell, has really come into his own this season with some all-action performances making him a shoe-in , along with Westwood, for Steve McNamara's England World Cup squad announced earlier this week.
Man of the Match - Westwood 14/1, Farrell 16/1
First try scorer - Both 20/1
Anytime try scorer - Both 9/4
Nigel's Best Bets:
Ben Westwood (Man of the Match) - 14/1
Joel Monaghan (1st try scorer) - 6/1
Warrington to win by 1-10 points (alternative margin) - 15/8
---
Sky Bet Free Bet Club: £10 free bet - £5 free every week
---