Ellis relishes Super League opener
Former Leeds favourite Gareth Ellis will take centre stage on Friday night when he goes back to Headingley as captain of the visitors.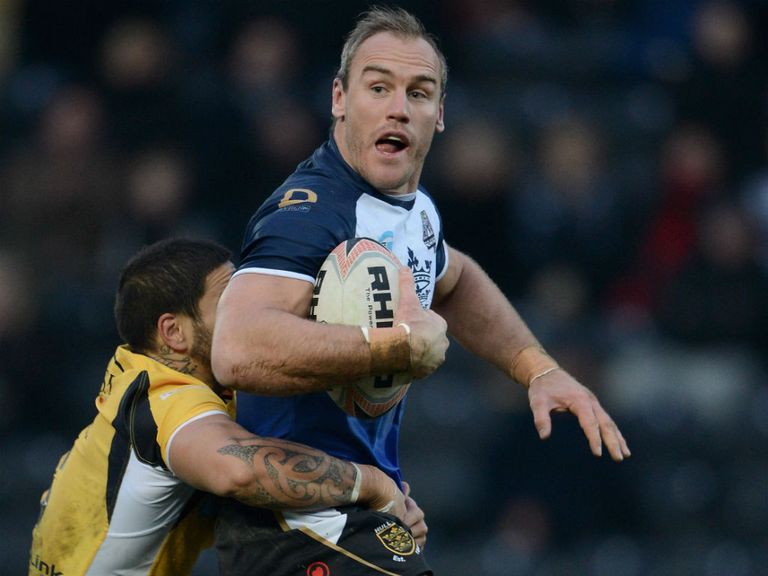 The clash between the reigning champions and an ambitious Hull side led for the first time by Ellis on his return to Super League promises a mouthwatering start to the new season.
"When I found out it was Leeds in the first game I was really excited," said Ellis, who has taken over the Hull captaincy from Andy Lynch.
"I've got fond memories and great friends there. I think it's quite a fitting way to return to Super League."
The 31-year-old second rower's last appearance in Super League was in the 2008 Grand Final at Old Trafford, where he helped the Rhinos retain their crown before leaving for Australia.
Ellis' decision to end his four-year stay at Wests Tigers, where he was player of the year in each of his first three seasons, sparked a mass clamour for his signature involving every one of the 14 Super League clubs.
He looked certain to return to Leeds and held talks with chief executive Gary Hetherington but, after agonising over his decision, he eventually opted for a fresh challenge in east Yorkshire, where owner Adam Pearson has big plans to challenge the big four.
"My first thought was to go back to Leeds," he said. "But the more I thought about it, I wondered if it was because it was the easiest decision for me.
"In the past, making the step up from Wakefield to Leeds brought the best out in me and so did moving from Leeds to Wests Tigers.
"As much as they are uncomfortable, challenging situations seem to bring the best out in me.
"Sometimes it's not the right thing to go back. I've no doubt I would have enjoyed going back to Leeds but where I am now is something different, something challenging for me at this point in my career."
Leeds coach Brian McDermott admits he was initially excited at the prospect of obtaining the services of the tough-tackling forward and is expecting him to make an impact with his new club.
"It (a return to Leeds) was on the cards but a decision was made," he said. "We decided not to go that far down the line with him on contract talks and he decided to go to Hull.
"Good luck to Gareth. He's an outstanding player and it seems he's already having a big influence on Hull.
"All the noises coming out of there suggest he's influencing everybody around him, which is good news for the game, that we have another club that is potentially going to be stronger and challenging for honours.
"I'm sure it's going to be a massive game to open up with."
The capture of Ellis, allied to six other close-season signings, has raised expectations in west Hull and the Black and Whites are seen as the major threat to the big guns of Leeds, Warrington, Wigan and St Helens.
Joe Arundel, Jason Crookes, Ben Galea, Daniel Holdsworth, Paul Johnson and Shannon McDonnell will also make their Hull debuts alongside the new skipper, who says Friday's game will provide an early yardstick of the team's potential.
"There's been a lot of hype about us and coming up against the current champions is a great opportunity for us to put a bit of a marker down and see where we're at," Ellis said.
"Hull are a very ambitious club. They want to be a Leeds or a Warrington or a Wigan. We're probably where they were five or six years ago in starting out developing a winning culture.
"Time will tell whether it's this year, next year or the year after but I really believe where the club is going and, with the support of (chairman) Adam Pearson, we're going places." Leeds captain Kevin Sinfield goes into the game needing five points to draw level with Headingley legend Lewis Jones in eighth place in the list of rugby league's all-time leading pointscorers.