Leeds' players were left licking their wounds as Melbourne wrestled the World Club Challenge crown from them at a sold-out Headingley tonight, with coach Brian McDermott accepting it would take his players some time to get over it.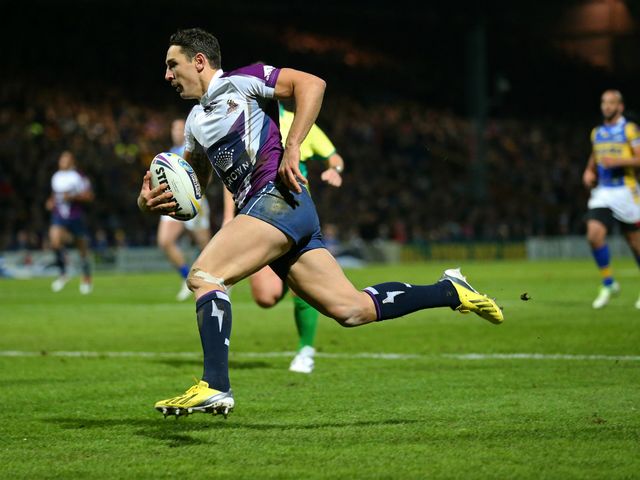 The Storm travelled halfway around the world to beat the Rhinos 18-14 in a bruising encounter that ended with the home side handing over the trophy they so manfully won against Manly a year ago.
Leeds were far from disgraced in defeat, though, only undone by a quickfire double from Jesse Bromwich and Tohu Harris at the start of the second half, and their performance would have surely been too good for any of their domestic opponents in the Super League.
Melbourne's granite-like defence stopped them retaining the trophy, however, and McDermott admitted that despite pride in battle, his men would take some time to recover from the loss.
"I thought they had a massive dig. We care about that and we also care about losing," he said.
"Melbourne are very good and they snuffed us out, but we don't like losing. The whole package was hard, it took so much out of us to try and break them down that we didn't take our chances at the other end.
"When you look at the tries we conceded they might look simple, but they are on the back of a lot of pressure we have soaked up.
"But this isn't a 'never mind' feeling and I don't feel like smiling. We're not far off one of the NRL's best teams but this will take a while to get over.
"It's not a two-day thing, we have plenty of bruised bodies in their as well as egos."
McDermott's thoughts were echoed by his captain, Kevin Sinfield, who for once was unable to get his hands on the trophy at the end of the 80 minutes.
He has lifted six Grand Finals as the Rhinos' leader and three World Club Challenges but, despite continuing his own brilliant form with the boot - his last 39 kicks at goal have been successful - he was not able to finish a winner.
"We had chances but we couldn't prise them open, we have nothing left and we couldn't give any more. I am so proud of them all, but we weren't good enough," said the England skipper.
"I have faced some good teams in my time and they are right up there with them, but we just weren't good enough on the night."
Often in the past the Australian sides, still in pre-season training ahead of a March league start, have been accused of treating this game as a high-profile friendly match.
That is not a charge that can be levelled at the Storm, though, who were as resilient in defence as they were brilliant in attack, becoming the first Australian side to win this trophy three times.
"That is an indication of how well we treat this game. It's well known that some clubs don't take this seriously, but we're not going to come all this way to take it easy," said their coach, Craig Bellamy.
"We didn't come here to treat this as a trial game, this was important to us. If we are going to come to England we want to win and I can't fault the players.
"We were here with the right attitude, they've not complained about the cold once or anything like that, and we know we have taken pride in our performance on behalf of the NRL."
Melbourne's star half-back Cooper Cronk narrowly shaded the brilliant full-back Billy Slater to take the man-of-the-match award, with his short, sharp passing ripping Leeds to shreds at times.
He admitted adapting to life in the cold north of England had been tough, but felt their efforts had been validated.
"The weather, the journey, the 10-day camp has all been worth it," he said.
"It's been a real pleasure. We hold this in high regard and this was the best two teams in the world going at each other. We had to tough it out in the end."
---
Click here for completely free £10 bet with Sky Bet & £5 free every week
---