England coach Steve McNamara reflected on a job well done after his side put the lid on the 2012 season with arguably the most expected win of the year.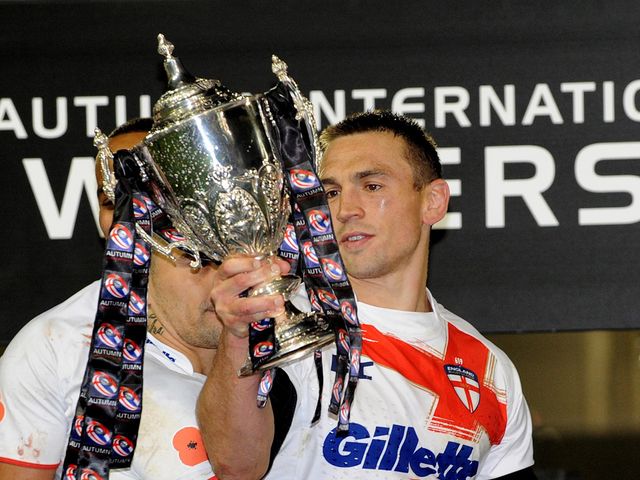 Their 48-4 Three Nations final success over a weakened France at Salford may well have been what everyone in the game knew would happen, but despite the naysayers, it at least allowed England to get their hands on some silverware a year out from the World Cup.
That this win came 40 years to the day since England last won the game's biggest prize merely added to the importance of what McNamara's men have gone through this autumn.
Shorn of serious opposition owing to Australia and New Zealand's decision to rest ahead of 2013, they were forced to place importance on their own performances rather than the margin and nature of their victories.
And, despite their 172-22 aggregate victories over the course of the last three weeks suggesting a winter off may well have been a better option, McNamara will head into the off-season a happy man.
"We have had 24 players who have been outstanding," he said, recalling a month-long spell with his squad which started with a training camp in South Africa.
"We have some outstanding young players and everyone has been strong, even those who haven't really played. Everything we have done has been very important.
"We are a very united group, a very strong group and we have all enjoyed it, staff and players.
"We were red-hot favourites and expected to do well, so the players have been exceptional and a credit to the Super League.
"I'm not saying what we're doing will guarantee us success, but it will give us the best opportunity. You can't put a price on what this has done for us."
Having beaten France 44-6 at Hull last weekend, England were expected to beat the same opposition by an ever greater scoreline this time out, especially as the Tricolors had six part-time players in their squad.
But whether owing to national pride or another factor, France were a more robust outfit this week and, in half-back William Barthau, had one of the game's best contributors.
"France made it difficult, they really rolled their sleeves up," McNamara added.
"It was a difficult game as far as trying to get some momentum going. France controlled the speed of the game a lot better this week than last."
While France were heavily depleted, England, for all their comparative riches, also had a absent list, with a number of players based in the NRL not available.
Star forwards Sam Burgess and James Graham will be back in a year's time, as will centre Jack Reed and half-back Gareth Widdop.
"Another good thing about this is that the 17 players we have used in every game are Super League-based players," McNamara said.
"This is a Super League England team and when you add the players from the NRL, it'll be tough to pick a team next year."
Lifting the trophy at the end of the night may have been an unfamiliar sensation for England, but not for captain Kevin Sinfield. The Leeds skipper is fresh from winning a sixth Super League title and owing to his brilliance at club level, was appointed as national leader last month.
The 32-year-old has not missed a second of any game available to him this season - 40 in total - and will deserve an end-of-season break more than most.
"Not really," he said, though, when asked if he was looking forward to a rest.
"It will be sad waking up in the morning knowing I can't see these guys for a while. When you're playing your best rugby, you want to carry on."
England's next appointment will be a mid-season clash with the Exiles next summer, an occasion that is likely to present more of a challenge than the last month.
It is clear France have a fair way to go ahead of the World Cup, but coach Aurelien Cologni could at least take solace from an improved showing.
"We have improved some of the things we missed, but we still made some errors," he said. "Our kicking was better, as were a lot of things."
---
Click here for completely free £10 bet with Sky Bet & £5 free every week
---