Mal Boyle's Placepot picks
Our Placepot expert Mal Boyle reveals his selections ahead of Sunday's meeting at Leicester.
Kempton. Click here to bet.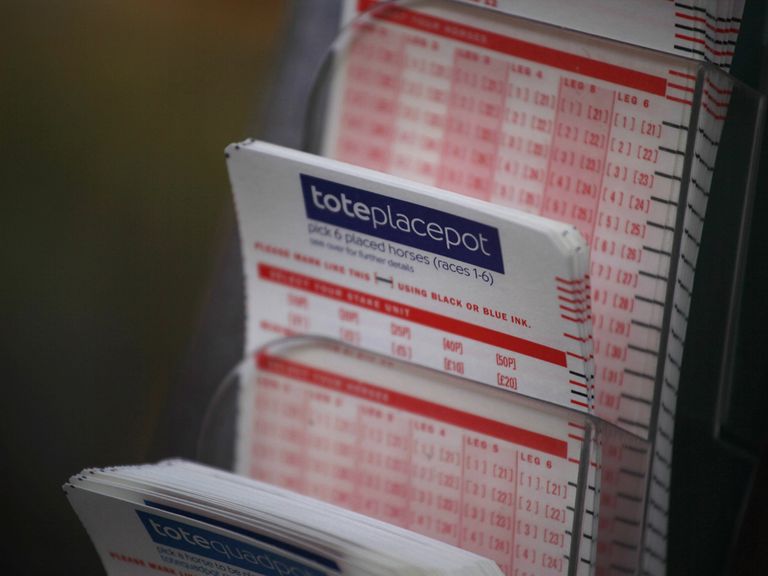 Each day Malcolm Boyle, the author of 'How To Win at the Tote Placepot' and a former odds compiler, will give his unique analysis of the feature meeting from a Placepot perspective.
His general preview for the following day's racing will appear at around 1700 GMT the day before with the actual selections available around two hours before the first race on the day of racing so factors such as non-runners and going conditions can properly be taken into account.
Add selected horses to your free My Stable tracker!
Leicester Selections
Race 1 (1.10pm): 8 (Unforgettable), 6 (Arthurs Secret) & 5 (Sands Cove)
Race 2 (1.40pm): 2 (Relic Rock), 1 (Aso) & 4 (Horsehill)
Race 3 (2.10pm): 1 (The Musical Guy), 5 (Fairy Rath) & 3 (Highway Code)
Race 4 (2.40pm): 3 (Persian Herald) & 2 (Boston Blue)
Race 5 (3.10pm): 1 (Melodic Rendezvous) & 3 (Killala Quay)
Race 6 (3.40pm): 9 (Bladoun), 2 (Desert Recluse) & 11 (Gud Day)

Last year's corresponding toteplacepot dividend:

2013: £19.30 (6 favourites: 5 winners & 1 unplaced)

1.10 This meeting is the subject of an 8.15 inspection on Sunday morning whereby you might excuse a slightly briefer analysis than you are used to reading. Peter Bowen has his team in much better form now and UNFORGETTABLE gets in here off a low eight which could witness the eleven-year-old reaching the frame at rewarding odds. More logical winners in the line up include ARTHUR'S SECRET and SANDS COVE.

Favourite factor: Last year's inaugural 15/8 favourite duly obliged.

1.40 Four and five-year-olds have (equally) secured six of the eight contests between them and if the trend is to be extended, ASO, SUMMER SOUNDS and HORSEHILL look likely types in a race which should not prove difficult to win. Six-year-old RELIC ROCK is the potential joker in the pack.

Favourite factor: Six of the eight favourites won during the last decade, the other two gold medallists having scored at 5/2 and 10/1.

2.10 Eight-year-olds have won four of the last five renewals and THE MUSICAL GUY, HIGHWAY CODE and FAIRY RATH all boast toteplacepot claims. The other vintage representative cannot be entirely ruled out of the equation off bottom weight, namely SMART CATCH.

Favourite factor: Market leaders have secured two of the last seven contests during which time, only one of the other five favourites additionally secured a toteplacepot position.

2.40 Six-year-olds have won three of the last five renewals and PERSIAN CATCH is the pick of the two vintage raiders on this occasion. BOSTON BLUE and PROUD TIMES might offer most resistance at the business end of the contest.

Favourite factor: Favourites come to the gig on a hat trick with all six winners having scored at a top price of 10/1.

3.10 MELODIC RENDEVOUS has been re-routed from Kempton's Saturday card with an obvious chance in this (four runner) win only event. Just short of Champion Hurdle class over timber, MELODIC RENDEZVOUS is expected to step up on his debut effort over the larger obstacles when scrambling home at Bangor. KILLALA QUAY is the alternative call at the overnight stage.

Favourite factor: This is a new race on the Leicester card.

3.40 Six and seven-year-olds have (equally) secured four of the last five contests, with course and distance winner BLADOUN expected to get the better of fellow relevant raiders GUD DAY and DESERT RECLUSE.

Favourite factor: Market leaders have won the last three renewals of the toteplacepot finale. Five of the seven favourites have finished in the frame (exact science).

** = joint favourite; *** = co-favourite (where applicable).

Trainers with their relevant number of runners on the Leicester card on Sunday

3--Tony Carroll
3--Sue Smith
3--Nigel Twiston-Davies
2--Caroline Bailey
2--Zoe Davison
2--Tom George
2--Charlie Longsdon
2--Henry Oliver
2--Richard Phillips
2--Matt Sheppard
2--Oliver Sherwood
2--Ali Stonge
2--Paul Webber
2--Venetia Williams
1--Michael Appleby
1--Kim Bailey
1--Michael Blake
1--Peter Bowen
1--Barry Brennan
1--Ben Case
1--Sarah-Jayne Davies
1--David Dennis
1--Conor Dore
1--Claire Dyson
1--Brian Ellison
1--John Ferguson
1--Nick Gifford
1--Alex Hales
1--Richard Harper
1--Robert Johnson
1--Kenneth Kellett
1--Richard Lee
1--Charlie Mann
1--Donald McCain
1--Anabel K Murphy
1--Fergal O'Brien
1--Jonjo O'Neill
1--David Pipe
1--Jackie Du Plessis
1--Jeremy Scott
1--Tom Symonds
1--Peter Winks/p> 59 declared runners

2014 average toteplacepot returns thus far (1402 meetings):
Favourites failing to reach the frame in all six races: £13,515.85 (6)
1 race with at least one favourite in the frame: £1,279.94 (32)
2 races with at least one favourite in the frame: £973.17 (148)
3 races with at least one favourite in the frame: £487.01 (372)
4 races with at least one favourite in the frame: £194.46 (417)
5 races with at least one favourite in the frame: £69.83 (302)
All 6 Placepot races with at least one favourite in the frame: £15.43 (125)

All references to placed horses on these pages are based on an exact science regarding general place terms offered by bookmakers and totepool.com

Biggest toteplacepot dividends in 2014:
Cheltenham--£44,616.30--Friday March 14
Pontefract--£26,272.90--Tuesday April 8
Sandown--£20,601.40--Saturday July 5
Redcar--£9,925.20--Tuesday September 9
Wetherby--£8,998.70--Friday October 31
Warwick (NH)--£6,946.60--Sunday March 9
Ripon--£6,876.30--Saturday August 16
Doncaster (flat)--£6,810.90--Saturday August 16
Redcar--£5,730.00--Wednesday July 30
Bath--£5,358.00--Sunday October 19
Wolverhampton--£5,122.30--Friday April 11
Southwell (NH)--£4,820.20--Thursday January 22
Warwick--£4,655.30--Thursday December 11
Chester--£4,495.50--Saturday September 13
Redcar--£4,473.30--Tuesday November 4
Hamilton--£4,433.40--Friday August 22
Brighton--£4,199.50--Monday December 1
Brighton--£4,086.10--Tuesday October 7
Wolverhampton--£3,703.10--Friday October 17
Doncaster (flat)--£3,701.90--Friday April 25
Lingfield (Mix Turf/AW)--£3,620.50--Saturday June 28
Newmarket (Rowley Mile)--£3,201.20--Saturday October 11
Wetherby--£3,148.90--Thursday May 29
York--£3,065.20--Friday August 22
Bath--£3,032.20--Friday August 1
York--£2,892.80--Saturday June 14
Wincanton--£2,871.50--Thursday May 8
Yarmouth--£2,868.90--Monday April 21
Newmarket--£2,867.90--Thursday July 11
Fontwell--£2,743.60--Tuesday June 10
Salisbury--£2,701.70--Wednesday October 1
Southwell (A/W)--£2,677.90--Thursday December 18
Stratford--£2,571.90--Saturday March 22
Uttoxeter--£2,507.80--Thursday June 12
Newmarket (July)--£2,433.40--Saturday August 2
Cheltenham--£2,414.40--Thursday April 17
Windsor--£2,390.20--Monday August 4
Fontwell--£2,374.70--Friday May 2
Lingfield (A/W)--£2,320.10--Saturday March 22
Yarmouth--£2,176.60--Sunday August 24
Hamilton--£2,172.70--Monday September 29
Stratford--£2,142.70--Tuesday July 1
Catterick (NH)--£2,105.50--Wednesday January 1
Bath--£2,090.60--Wednesday June 25
Kempton (A/W)--£2,044.20--Thursday October 23
Brighton--£2,008.10--Thursday August 7
Doncaster (Flat)--£2,002.40--Sunday March 30

All-weather venues:
Total A/W meetings (£229.29--310 meetings)
Kempton (£126.93--87 meetings)
Kempton NH Bumper (£134.05--2 meetings)
Lingfield (£181.98--74 meetings)
Lingfield NH Bumper (£27.70--1 meeting)
Southwell (£195.18--48 meetings)
Southwell NH Bumper (£17.00--1 meeting)
Wolverhampton (£301.18--95 meetings)

National Hunt venues:
Total NH meetings (£390.70--528 meetings)
Aintree (£443.16--8 meetings)
Ascot (£107.82--8 meetings)
Ayr (£330.61--11 meetings)
Bangor (£236.50--13 meetings)
Carlisle (£315.24--12 meetings)
Cartmel (£126.89--7 meetings)
Catterick (£340.20--9 meetings)
Cheltenham (£3,171.02--16 meetings)
Chepstow (£148.13--13 meetings)
Doncaster (£288.51--11 meetings)
Exeter (£264.41--14 meetings)
Fakenham (£171.02--10 meetings)
Ffos Las (£297.44--16 meetings)
Fontwell (£362.44--19 meetings)
Haydock (£533.68--7 meetings)
Hexham (£360.54--14 meetings)
Huntingdon (£122.27--15 meetings)
Kelso (£291.00--11 meetings)
Kempton (£113.04--9 meetings)
Leicester (£237.73--9 meetings)
Lingfield (£126.87--3 meetings)
Ludlow (£110.90--14 meetings)
Market Rasen (£156.95--19 meetings)
Musselburgh (£260.48--10 meetings)
Newbury (£338.98--10 meetings)
Newcastle (£333.09--10 meetings)
Newton Abbot (£203.77--18 meetings)
Perth (£262.16--16 meetings)
Plumpton (£281.65--13 meetings)
Sandown (£529.72--7 meetings)
Sedgefield (£204.95--19 meetings)
Southwell (£491.65--19 meetings)
Stratford (£346.15--17 meetings)
Taunton (£110.34--13 meetings)
Towcester (£908.78--15 meetings)
Uttoxeter (£249.92--21 meetings)
Warwick (£1,028.89--10 meetings)
Wetherby (£846.38--16 meetings)
Wincanton (£324.99--15 meetings)
Worcester (£190.23--21 meetings)

Mixed Flat and NH venues:
Ffos Las (£168.90--1 meeting)
Haydock (£311.40--1 meeting)

The average toteplacepot dividend in 2014 stands at £396.33 (1402 meetings) up to and including Thursday December 25