Mal Boyle's Placepot selections
Our Placepot expert Mal Boyle brings you his analysis ahead of Saturday afternoon's card at Haydock Park.
Haydock. Click here to bet.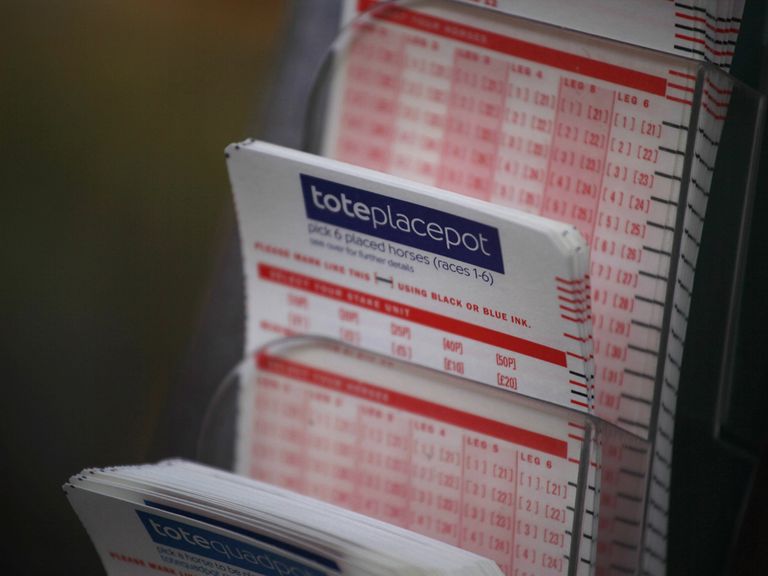 Each day Malcolm Boyle, the author of How To Win at the Tote Placepot and a former odds compiler, will give his unique analysis of racing's most popular pool bet.
He'll post his overnight Placepot analysis here around 1700 BST each day with final selections published at approximately 1000 BST on race day.
New Sky Bet customers: Free £50 matched bet!

HAYDOCK – MAY 23

Last year's corresponding toteplacepot dividend:

2014: £154.00 (6 favourites: 3 winners & 3 unplaced)

1.25 11 of the 15 toteplacepot positions to date were secured by horses carrying weights of 8-10 of more, stats which includes all six (7/1-9/2-9/2-2/1-2/1-11/10) winners. Unfortunately only Brotherly Company can be left out of the occasion on this occasion according to the weight stats, leaving NOT NEVER, FABRICATE and SUBCONTINENT to carry my toteplacepot cash in all probability.

'Favourite factor': Only two favourites (winners of their respective events) have secured toteplacepot positions via six renewals thus far.

2.00 Regular readers will know that marathon events are not my favourite races by any means as what 'media experts' conveniently ignore is that such races contests were devised for horses who basically lack pace. That fact makes such races a lottery from my viewpoint but I appreciate that this is purely my opinion and others are entitled to theirs. Upwards and onward in positive mode by suggesting that WILLIAM OF ORANGE, NOBLE SILK and TOTALIZE should take us safely through to the third leg of our favourite wager. The reserve nomination is awarded to SHE'S LATE who was (interestingly) given a spin over hurdles a month ago.

'Favourite factor': Last year's inaugural 7/2 favourite (frustratingly) finished fourth of 11 for investors who simply select the 'favourite option' when placing their wagers. The punters who had opted for either of the non runners would also have lost their cash of course, with the ruling in place that non runners automatically transfer onto the returned favourite. In the event of two or three favourites being returned, the horse with the lowest number (four as opposed seven as an example) is returned as 'favourite' as far as tote bets are concerned.

2.35 The last seven winners of the 'Silver Bowl' have carried a maximum of 9-2 and the pick of the 10 'qualifiers' via the weight trends here include MUTARAKEZ, MUTASAYYID and STORM ROCK. I would home in on the first named pair should I have to reserve more permutation options for other races on the card. Indeed, I find it difficult to separate MUTARAKEZ and MUTASAYYID, two highly progressive types.

'Favourite factor': Four favourites have won since the turn of the Millennium with 13 of the last 14 winners having scored at 15/2 or less, which is a remarkable stat given the competitive nature of this contest. That said, the last four market leaders have finished out of the money.

3.10 Three-year-olds have won five of the last eight contests of this fillies event, whilst vintage representatives have secured 12 of the last 21 available toteplacepot positions via just 35% of the total number of runners during the reduced period. It therefore defies belief that EXPLOSIVE LADY is the only vintage representative on this occasion, with Karl Burke's Alfred Noble filly a certainty for my toteplacepot/Scoop6 permutation. Others of interest include DIVINE, INTERCEPTION and PERFECT BLESSINGS.

'Favourite factor': Two favourites have prevailed via the last 10 renewals, whilst just four of the last 10 market leaders have secured toteplacepot positions.

3.45 My leading sentences for this race last year; This Group 2 event sums up the poor standard of sprinting in this country in my book, which definitely needs an injection of interest whereby I hope some junior raiders come good at Ascot next month to shake up this sector of the sport. That said, I'm pleased that two three-year-olds are among the declarations, namely HOT STREAK (won at 9/4) and JUSTICE DAY (4th at 14/1). I stand by my statement that sprinting events in this country have fallen several notches short of former years, whilst a lack of junior raiders this time around sums up my frustration twelve months on. Upwards and onward however by declaring my short list contenders as the same two horses as last year, namely HOT STREAK and JUSTICE DAY, alongside PRETEND.

'Favourite factor': Five of the last 12 renewals have been secured by favourites.

4.20 I sometimes think that we become too technical when looking at races, or at least the people 'in control' are guilty of such 'mistakes' in my book. This race is a fine example because there are only three renewals quoted in most lists, mainly because the handicap ratings of horses concerned. This used to be a race for 0-85 horses but is now a 0-90 event and because of that (as far as I can gather) we (supposedly) have to ignore previous events. I might lose readers by keeping the results included in my records but there we are. Four-year-olds have generally held sway and vintage representatives that catch the eye this time around include BUSHCRAFT, DISTANT PAST and CANYARI.

'Favourite factor': Four favourites have obliged alongside two 20/1 winners, 33/1 & 16/1 gold medallists and an 11/2 chance. Two of the five beaten favourites additionally secured toteplacepot positions.

** = joint favourite; *** = co-favourite (where applicable).

Trainers with their relevant number of runners on the Haydock card on Saturday

7--Richard Fahey
4--Brian Ellison
3--Michael Appleby
3--Karl Burke
3--Clive Cox
3--Jim Goldie
3--Kevin Ryan
2--Charlie Appleby
2--David Barron
2--Ralph Beckett
2--Marco Botti
2--Mick Channon
2--Robert Cowell
2--Michael Dods
2--David Evans
2--Eve Johnson Houghton
2--Paul Midgley
2--David O'Meara
2--John Quinn
2--Chris Wall
1--Eric Alston
1--Michael Bell
1--David Brown
1--Declan Carroll
1--Keith Dalgleish
1--Harry Dunlop
1--Mick Easterby
1--David Elsworth
1--Kevin Frost
1--David C Griffiths
1--Richard Hannon
1--Michael Herrington
1--Dean Ivory
1--David Lanigan
1--Edwad Lynam
1--Heather Main
1--Phil McBride
1--Martyn Meade
1--Brian Meehan
1--Rod Millman
1--Ismail Mohammed
1--Hughie Morrison
1--William Muir
1--Jonjo O'Neill
1--Hugo Palmer
1--Lydia Pearce
1--Sir Mark Prescott
1--Bryan Smart
1--Tommy Stack
1--James Tate
1--Lucy Wadham
1--Ed Walker
1--Charlie Wallis
1--Ian Williams 86 declared runners

2015 average toteplacepot returns thus far (524 meetings):
One meeting with no favourites in the frame: £1,196.50 (1)
1 race with at least one favourite in the frame: £1,812.26 (13)
2 races with at least one favourite in the frame: £1,010.41 (44)
3 races with at least one favourite in the frame: £455.30 (152)
4 races with at least one favourite in the frame: £399.62 (169)
5 races with at least one favourite in the frame: £63.60 (108)
6 races with at least one favourite in the frame: £19.94 (36)
One meeting was abandoned after two races - left out of these calculations

All references to placed horses on these pages are based on an exact science regarding general place terms offered by bookmakers and totepool.com

Flat venues:
Total Flat meetings (£388.86--100 meetings)
Ascot (£453.53--3 meetings)
Ayr (£341.20--3 meetings)
Bath (£128.15--4 meetings)
Beverley (£183.00--4 meetings)
Brighton (£250.16--4 meetings)
Catterick (£767.20--3 meetings)
Chepstow (£7.55--2 meetings)
Chester (£325.57--3 meetings)
Doncaster (£461.98--7 meetings)
Epsom (£78.90--1 meeting)
Goodwood (£132.40--2 meetings)
Hamilton (£1,517.95--2 meetings)
Haydock (£801.60--1 meeting)
Leicester (£745.40--3 meetings)
Lingfield (£423.60--3 meetings)
Musselburgh (£1,110.77--4 meetings)
Newbury (£84.75--4 meetings)
Newcastle (£889.80--4 meetings)
Newmarket (Rowley Mile)--£151.00--7 meetings)
Nottingham (£341.86--7 meetings)
Pontefract (£103.73--3 meetings)
Redcar (£117.39--4 meetings)
Ripon (£342.07--4 meetings)
Salisbury (£81.50--2 meetings)
Sandown (£372.55--2 meetings)
Thirsk (£164.70--4 meetings)
Wetherby (£29.70--1 meeting)
Windsor (£127.91--6 meetings)
York (£1,269.33--3 meetings)

All-weather venues:
Total A/W meetings (£347.30--155 meetings)
Chelmsford (£390.66--25 meetings)
Kempton (£235.66--22 meetings)
Lingfield (£523.13--36 meetings)
Southwell (£431.65--26 meetings)
Wolverhampton (£191.89--46 meetings)

National Hunt venues:
Total NH meetings (£404.62--268 meetings)
Aintree (£400.42--4 meetings)
Ascot (£264.97--3 meetings)
Ayr (£413.90--9 meetings)
Bangor (£1,675.49--7 meetings)
Carlisle (£122.35--6 meetings)
Catterick (£95.21--6 meetings)
Cheltenham (£257.30--9 meetings)
Chepstow (£318.67--9 meetings)
Doncaster (£161.87--6 meetings)
Exeter (£419.99--10 meetings)
Fakenham (£136.03--8 meetings)
Ffos Las (£125.07--7 meetings)
Fontwell (£94.89--7 meetings)
Haydock (£469.17--4 meetings)
Hexham (£139.70--5 meetings)
Huntingdon (£110.49--7 meetings)
Kelso (£84.84--6 meetings)
Kempton (£70.29--8 meetings)
Leicester (£82.10--5 meetings)
Lingfield (£85.65--2 meetings)
Ludlow (£131.99--9 meetings)
Market Rasen (£260.90--8 meetings)
Musselburgh (£98.40--6 meetings)
Newbury (£153.73--7 meetings)
Newton Abbot (£5,964.85--6 meetings)
Newcastle (£201.99--7 meetings)
Perth (£100.87--5 meetings)
Plumpton (£404.27--10 meetings)
Sandown (£321.09--6 meetings)
Sedgefield (£101.72--10 meetings)
Southwell (£39.21--7 meetings)
Stratford (£295.64--5 meetings)
Taunton (£248.98--12 meetings)
Towcester (£80.08--7 meetings)
Uttoxeter (£980.85--7 meetings)
Warwick (£1,135.76--10 meetings)
Wetherby (£755.60--7 meetings)
Wincanton (£575.61--10 meetings)
Worcester (£49.90--1 meeting)

Mixed NH & Flat meeting:
Haydock (£1551.00--1 meeting)

The average toteplacepot dividend in 2015 stands at £408.26 (524 meetings) up to and including Thursday May 21