Kevin Ryan hailed Hot Streak as "the best I've trained" after he came of age with an exhilarating display in the Betfred Temple Stakes at Haydock in the hands of teenage sensation Oisin Murphy.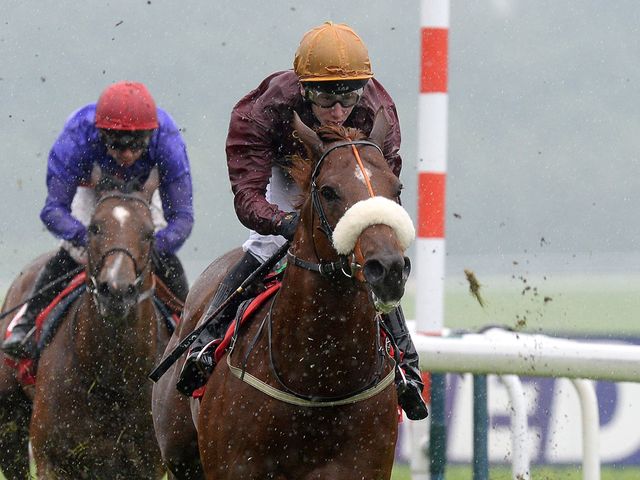 The Iffraaj colt showed quality form as a two-year-old and his comeback third against his elders in the Palace House Stakes at Newmarket suggested he was ready to make his presence felt in top-level sprints this year.
With Palace House winner Sole Power withdrawn on account of the deteriorating conditions on Merseyside, Hot Streak was sent off the 9/4 favourite for his Group Two assignment and his supporters were treated to a dominant performance.
The three-year-old showed dash to take the field along for much of the five-furlong journey and produced devastating acceleration once popped the question to leave some talented speedballs toiling in the Merseyside mud.
Pearl Secret was the only one able to make inroads, quickening up well when the gap came on the far side of the track, but he was half a length down at the line.
It was a great result for Qatar Racing, owners of the first and second, and further evidence of 18-year-old Murphy's rising reputation, given the apprentice was booked for the plum ride, despite the fact he was unable to use his 3lb claim.
Ryan said: "He's an awesome horse. He's the best I've trained, without a shadow of a doubt. We know there's more improvement from him and it's on to Royal Ascot now.
"I would imagine it will be the King's Stand (Royal Ascot), but we'll talk to Sheikh Fahad (owner), David Redvers (racing manager) and see what they want to do.
"He's just one of those real good horses that can cope with everything - a special horse."
Murphy added: "He travelled like a superstar and he's won easily.
"I had my first ride around this time last year and my first winner last June. It's been a brilliant year, but I can't emphasise enough how important it is to get on the good horses.
"Earlier in the week, I was told there was a chance I could be riding Pearl Secret. When declaration time came on Thursday, I was jocked up on Hot Streak and I've had a couple of sleepless nights since. I might have a sleepless night again tonight!
"This is my biggest win by far and he's the best horse I've ever ridden."
Bookmakers Sky Bet responded to the victory by cutting Hot Sreak from 8/1 to 6/1 to win the King's Stand Stakes at Royal Ascot next month.Pearl Secret's trainer David Barron also registered his satisfaction with the outcome, although once again there was a slight feeling left that the cards hadn't entirely fallen right for him as he was left to make his challenge on the far rail.
"It was a great run, he obviously handled that ground well and we're delighted to get him back on track," said Barron.
"It was a shame he couldn't race with the winner. We were trying to get through a gap on the far side and the winner was gone, but he finished well and we're happy.
"I would imagine that (Royal Ascot) will be the plan, but we'll speak to the owners and see what they want to do."
Chris Richardson, racing manager for Kingsgate Native's owners Cheveley Park Racing, said: "It was touch and go whether we ran him because of the ground, but he's run really well.
"He slipped a bit coming out of the stalls and was a bit uptight after that, but we're happy with the way he performed on ground which didn't suit him. He could go for the July Cup next."