Owner Sabena Power and trainer Eddie Lynam completed the remarkable feat of winning both of Royal Ascot's Group One sprints with two different horses.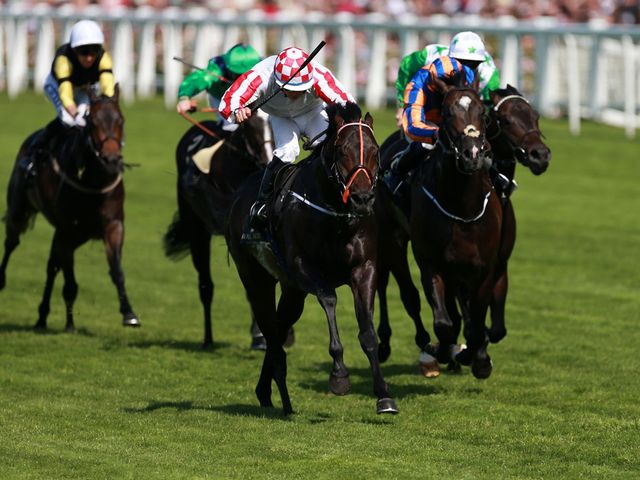 Sole Power had been quickly ruled out of the Diamond Jubilee Stakes after being tired from his success in Tuesday's King's Stand, but the two years younger, but unrelated, Slade Power was more than ready to step into his shoes.
The only difference was it was Wayne Lordan in the saddle rather than Richard Hughes, and the 7/2 favourite was ridden more prominently and to less dramatic effect than the fast-finishing Sole Power, but it was the same outcome as he strongly repelled Due Diligence and obliged by a length and a half.
As Sole Power is the five-furlong specialist and Slade Power has his first top-level victory at six, it would appear easy for Lynam to keep them apart, but they will meet once again in next month's Darley July Cup at Newmarket.
The junior member took third and the old man fifth in last season's renewal.
It prompted joyous celebrations for Irish bookmaking family the Powers, with this ranking as a similar achievement to that of the Australian Choisir, who collected both races in 2003, a year after the Diamond Jubilee had been promoted to a Group One.
The family have just a small handful horses at Lynam's County Meath stable, while the trainer had also won Wednesday's Queen Mary Stakes with Anthem Alexander.
"This one's very special as we bred him," said Lynam.
"They're special owners, and I'm lucky to have special staff, special horses and a great family to back me up. It's just a coincidence, I've got two very good horses and they'll both run in the July Cup.
"Sole Power will wear the first colours as he's the elder statesman and the stable pet.
"Trainers get 10 per cent (of prize-money) for a reason - it's only 10 per cent to do with us.
"It's been a great week and there is nowhere I like winning more than here. I love the place."
Power's son, Paddy, said: "This is the family week of all time. Two Royal Ascot winners - it just doesn't happen. We were quite confident he'd come on from his first run at the Curragh. It's very special."
They had to wait to celebrate as a stewards inquiry was called but the result then quickly confirmed.
The 14-runner field split into two groups, but it soon became evident that the quintet on the near side were always chasing the game and Due Diligence's jockey, Ryan Moore, was aware of this and nudged towards the middle of the track with three furlongs to run.
The War Front colt was snatched up by the winner very late in the piece, but it made little difference to the outcome, while reborn sprinter Aljamaaheer finished a head head away in third.
Lordan, who got a one-day careless riding ban (July 6), said: "He travelled real well, I got there a little bit soon and he rolled around with me, but I had plenty left and I'm delighted.
"From early in his career he gets a little bit warm (before a race). If he wasn't doing it I'd be worried.
"It feels great. We don't come across these horses too often that can come and compete and when they win it's even better."
It would appear the second and third will also be bound for Newmarket on July 12.
Due Diligence is a very lightly-raced American recruit for trainer Aidan O'Brien, who said: "It was his first time with the older sprinters and really we couldn't be happier.
"We would have preferred the field to have stayed together. He was a little bit lonely out there and Ryan said he was wanting to drift towards them, but we're delighted.
"His last two runs were against three-year-olds and they have to step up against the hardened sprinters. We felt he would learn a lot today and hopefully he did.
"We look forward to him next time. The lads will discuss it, but it (July Cup) looks the obvious thing for him."
Roger Varian was delighted with the effort of Aljamaaheer and said: "I wished it had been six and a half furlongs.
"I believe he will have his day. It was a good run and we're now thinking of the July Cup and the Maurice de Gheest at Deauville.
"It was only his second run of the year. It was a good run, but he hasn't quite got that sprinters' mentality."
The Henry Candy-trained Music Master finished fourth, having raced away from the main group for much of the contest, while the well-backed French runner American Devil was fifth.
Sky Bet were suitably impressed with the winner, cutting him to 7/2 favourite from 5/1 for the July Cup, while Due Diligence is 6/1 and Aljamaaheer 7/1.