Sire De Grugy raised the decibel level at Cheltenham to a height which will be hard to top for the rest of Festival week with a conclusive and joyously-celebrated victory in the BetVictor Queen Mother Champion Chase.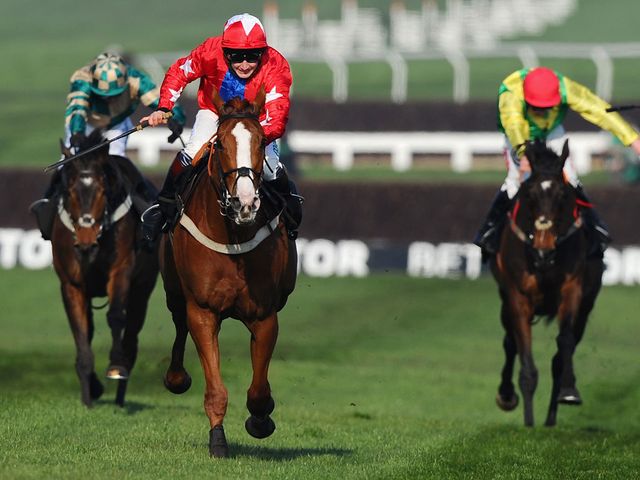 The groundswell of public affection towards the Moore family caused an eruption in the stands as loud as any Irish banker, and their standing in the British racing community could be measured by seeing nearly every one of the jockeys not involved in the race lining up next to the winner's enclosure to welcome them back.
If the chestnut needed to offer any more proof of his position as this season's top two-miler, it came with yet another demonstration of neat jumping, speed and courage as he crushed Somersby and Module by six lengths.
Jockey Jamie Moore is a chip off the old block of his father and Sire De Grugy's trainer Gary, both popular through their approachability and modesty, but neither accustomed to success at anywhere near this class.
The horse himself was an inexpensive purchase and belongs a lower-profile owner than most rubbing shoulders in a Queen Mother in Steve Preston, who had never owned a horse before and was only coerced into the exercise when his friends and family secretly deposited money into a bank account for his 50th birthday.
They wildly waved their red and blue scarves, while trying his best to melt into the background but smiling proudly nonetheless was Jamie Moore's brother Ryan, the world-renowned Flat jockey.
Sire De Grugy will always be dogged by the fact last season's champion Sprinter Sacre has been sidelined, but he could have done no more during the campaign but roll off Grade One victories at Sandown and Ascot, as well as win the Desert Orchid Chase at Kempton in which Sprinter Sacre capitulated.
He was sent off a surprisingly generous 11-4 favourite, with dissenting voices hanging on his defeats in two previous course starts, but in essence it was a straightforward march to the line as Moore hung back from the fierce pace set by Special Tiara, Somersby and Arvika Ligeonniere and let fly at the second-last.
Cheltenham Festival: Day 2
"It annoys me that people don't give him the credit he deserves. It was all about Sprinter Sacre and someone wrote the other day that this race should be done under the trade descriptions act because the Queen Mother Chase isn't right," said Moore snr.
"There's a lot of people who deserve thanks for this. I have never had so many text messages - it started at six o'clock this morning - and at half six I got a call from the champion Flat trainer-elect (Richard Hannon jnr) wishing me good luck. I am just glad he has won for them as much as anyone else.
"It's Jamie's first Festival winner and the guard of honour the lads gave to Jamie meant a lot. It just proves what a popular person he is. And seeing Ryan (Moore) there as well. It probably has been done before but I haven't seen it done for a long time."
On future plans, Moore added: "We'll see how he is over the next few days, but I wouldn't mind running him at Sandown in April."
Gary Moore's father Charlie was also a trainer, and he worked from ramshackle premises in Brighton before moving to more upmarket Horsham.
He was, for once, visibly emotional and had no real idea why he had caused such a popular result.
He went on: "I don't know really, I'm a horrible person. I suppose I'm quite honest. As a rider, I wasn't anywhere near - I only rode here three times, and as a trainer I won a handicap with Tikram and had a few places, but there's nothing like a big winner.
"The horse is such a professional and very easy to train. He did tread on a stone 10 days ago, which was a bit of a worry, but he was right the next day."
Preston was mobbed by well-wishers.
"It's unbelievable," he said.
"Everyone wanted this horse to be beaten for the last two weeks and he's proved them all wrong. He's shown he's top-class."
Jamie Moore said: "I love this horse - apart from my family, he's next best. These days don't come around for a jockey like myself and today it has done.
"Everybody in racing works hard - we all stick the shift in. We're a very close family and I'm glad I can tell my daughters that I've achieved something."
Ryan Moore let his guard down, too, and said: I'm just delighted for Jamie and for Dad as this means everything to them.
"The horse was very good and I thought Jamie gave him a most beautiful ride. They've put a lot of hard work into him and he's done so well."
Somersby's trainer Mick Channon was happy with second, and said: "Dom (Elsworth) gave him a great ride and he ran a cracker. He just got beat by a very good horse of Gary's."
Tom George was equally delighted with Module, who is likely to head to Aintree.
---
Open a Sky Bet account through us and claim up to £150 in free bets!
---