Rarely has the Queen ever been known to show such spontaneous joy as when watching Estimate win her a first Gold Cup on the Royal Ascot afternoon which quite simply delivered everything.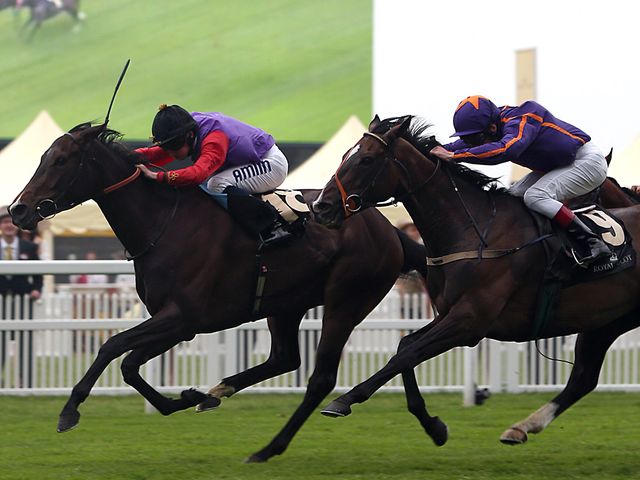 It was the first time in its 206-year history that one of summer's most prestigious contests has been won in the colours of the reigning monarch.
And Her Majesty could be spotted willing on her plucky filly during an enthralling final furlong before breaking out into a huge smile.
Estimate had already earned a moment in the spotlight when galloping clear in the Queen's Vase 12 months earlier, but this success required immense fortitude over an extra half-mile as jockey Ryan Moore forced her home a neck ahead of the Irish runner Simenon.
The four-year-old had been prominent in the ante-post markets since she started off at the same course in May and took the Sagaro Stakes, even if trainer Sir Michael Stoute believed an improvement in the form book was required.
Patriotic support from a packed Ladies' Day crowd elevated Estimate to the position of 7/2 favourite and only the most ardent of republicans would have avoided flocking to the winner's enclosure to join the celebration.
There had been a moment of great poignancy just half an hour earlier in the Ribblesdale when Riposte delivered her epitaph to the career of Sir Henry Cecil, who died only last week.
The manner of Estimate's victory only heightened the sense that a special day was unfolding, with Moore in an advanced position behind the leader Earl Of Tinsdal and seemingly ready to make history with a couple of furlongs of the two and a half miles remaining.
But she was caught amid a number of challengers, with last year's hero Colour Vision taking the gauntlet first, before Top Trip and Simenon appeared on the outside.
Inspired to break the oppression of the grey clouds above, Moore somehow managed to get Estimate past the line in front and Berkshire erupted.
Stoute said: "She had to show a lot of courage as she had to beat one and then stave off another. Watching, it was tense and very long.
"I really felt it was a seriously tough task for her, I couldn't be confident at all taking on the boys that are proven over this trip and she can be a pain in the backside at times."
Stoute is one of the most decorated of all trainers but this achievement clearly meant a huge amount.
"It's a special thrill for the Queen," he said.
"She said it gave her great pleasure and she thanked everyone involved. She really loves this game and it's a great recreation for her. The Queen has such a love for her breeding programme and this will have been a bigger thrill to win with a filly, rather than a colt.
"It's the Gold Cup at Royal Ascot and it has been done for a lady who, never mind being the Queen, loves racing and is so good for British racing. It's as big as any."
Estimate, a gift to the Queen from the Aga Khan, is bred to win the race being a half-sister to the Aga's 1999 winner Enzeli.
"Her preparation had gone well and she was bred to have a big chance of getting the trip but she had to step up from the Sagaro to beat these boys," Stoute said.
"She's so full of guts and so courageous, and she's very relaxed in her races. I think she'll have a good rest now, as that was a very hard race.
Moore got a two-day careless riding ban (July 4 and 5) after a messy final couple of furlongs, while Johnny Murtagh (Simenon) got four for using his whip above the permitted level and in the wrong place and Mickael Barzalona (Top Trip) three for careless.
The ban will not have mattered to the triple champion jockey though, who said: "We've always had this race in mind, she won well.
"It's fantastic to ride a winner here for the Queen and in the Gold Cup, it's very special. She was holding them."
Willie Mullins, the trainer of Simenon and better known for his exploits in the National Hunt sphere, said: "He's run a career best, which I said he might have to, and we're very pleased.
"It's probably a fantastic result for racing. I would have loved to have won and I'll probably never be in this position again - hopefully one day.
"The stands just erupted from about the furlong marker and everyone was rushing from the front of the stand as everyone wanted to get a position.
"We want to take our horse to the Melbourne Cup. It's going to make November a little busy."
Top Trip's trainer, Francois Doumen, said: "I would have preferred a diplomatic incident and [to have] won the race!
"The winner is magic. Our horse has run well the first time at this distance he'll go for the Prix du Cadran at Longchamp in late September."
Colour Vision held on for fourth.
---
Click here for completely free £10 bet with Sky Bet
---