Ebor runner-up Royal Diamond won a thrilling Gain Horse Feeds Irish St Leger for Tommy Carmody and Niall McCullagh.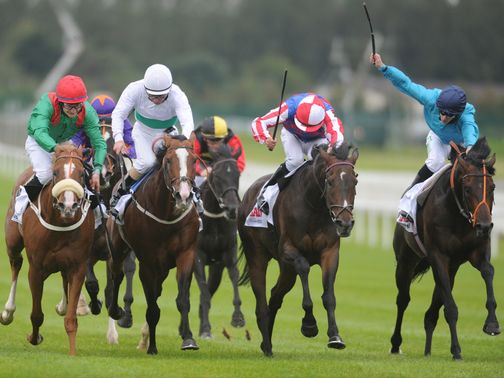 Fame And Glory set out to make every yard of the running and held a two lengths advantage with a quarter-of-a-mile to run. However he was to fade into fifth as four horses battled it out for Group 1 glory inside the final furlong.
It seemed Massiyn (13-2) had made the decisive move when edging ahead 100 yards from the post but there was still time for a late thrust from the 16-1 winner to gain the day in the final strides.
Brown Panther (10-3) was close-up in third, just ahead of fellow British raider Aiken.
Carmody, one of the jump jockeys around in his day, said: "This is fabulous, much better than riding them!
"When you ride them you just come in, say your piece and then you're gone but when you're training them you live and sleep with them. We have a great team at home and Niall rides out regularly along with Ben Curtis, and Johnny Murtagh comes in to ride work when he can.
"We have 17 in training at the moment and it's all down to Johnny that I got involved. They're all very well-bred horses, bred to win St Legers and the like and Andrew (Tinkler, owner) is a fantastic man to train for."
McCullagh was winning his first Irish Classic and said: "This is what all the early mornings and hard work is for. My initial plan was to get cover and sit fourth but he ran keen and down the straight he came alive. I knew he'd finish well after riding him in the Ebor.
"He battled all the way to the line and he never flinched. I had an inkling that maybe I might have just got there and I was relieved when the result was called.
"I've ridden many Indian Classic winners but they're not like this one - this one is special."