View from connections of Kingman ahead of Saturday's QIPCO 2000 Guineas at Newmarket.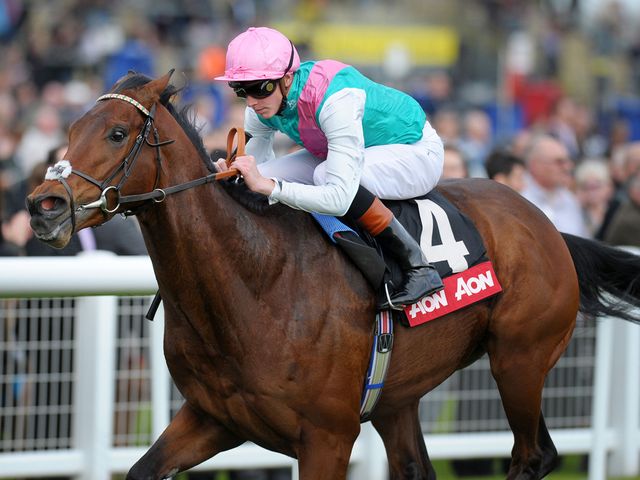 John Gosden is keen to keep a lid on the huge expectation surrounding Kingman as the exciting colt prepares to put his unbeaten record and huge reputation on the line in the QIPCO 2000 Guineas at Newmarket on Saturday.
The son of Invincible Spirit created a massive impression when winning a Newmarket maiden and Sandown's Solario Stakes last summer, but missed the backend of the campaign after having to have a chip in a joint surgically removed.
Any fears that setback would hamper Kingman's early three-year-old career were blown out of the water as the youngster produced a scintillating display in the Greenham Stakes at Newbury last month, catapulting him to Guineas favouritism.
As he carries the same colours of Khalid Abdullah, the leading owner's latest Classic hope is inevitably being compared to the incredible Frankel, whose Greenham romp three years ago was the pre-cursor to one of the most jaw-dropping Guineas performances of all time.
Gosden, who has never won the 2000 Guineas, is trying not to get overly excited about the prospect of breaking his duck.
He said: "If you like a horse going into any race there's a weight of expectation. You mostly try to keep it to yourself for fear of disappointment.
"We have been very up front about his injury - you have to be. When you start making horses favourite for the Guineas after a maiden win, you have no choice but to be open.
"He's done nothing wrong, from his maiden win at Newmarket; he wasn't overly impressive in the Solario Stakes, when he was inclined to look around, and he did well the other day (at Newbury).
"He's been in good form since the Greenham. I have been pleased with him between his races.
"He's a very genuine, honest horse who gives you everything he's got. So there should be some improvement. He just wants good ground."
Kingman will be tackling a mile for the first time this weekend, but Gosden is confident the trip will not be an issue.
He said: "You cannot realistically stage a strongly-run Guineas at home so we will only find out when he races. But he gives us every indication that he will stay.
"His draw in stall one is not a help. I would have preferred to be drawn in the middle or higher. Raven's Pass (who finished fourth in 2008) was also badly drawn and never got cover so we will just have to see how it pans out.
"As long as we get reasonable ground, we will be perfectly happy."
Talking about his record in the race, with Anshan's third place finish in 1990 the best he has managed to date, Gosden said: "It's an important race but you have to have the right type of horse, which I haven't in the past."
When jockey James Doyle was appointed as the new retained rider for Abdullah last summer, his first task was to guide Kingman to victory in the Solario at Sandown.
Now, preparing for the biggest ride of his life aboard the same horse, Doyle could hardly be in better form, having ridden a remarkable 12 winners since Sandown's meeting last Friday.
"I have no concerns about the trip at all. He was just starting to get going when he hit the line in the Greenham and it took me all the way round to the mile and a half start until I had him back to a steady canter," the jockey told Betfred TV.
"He settled great, he'd matured mentally and physically from two to three, he relaxes so well in his races that the trip shouldn't pose a problem.
"He's a short-priced favourite and on what he has done so far he justifies that.
"It's not a one-horse race. There's some good horses like Toormore, who won his trial and while he wasn't that impressive, arguably he never has been and there's Australia who is going straight there.
"It's certainly not a one-horse race."
The talk in recent days has been dominated by whether ground conditions would be suitable enough for Kingman to line up this weekend, but with rain falling on the Rowley Mile in recent days, connections are happy to let him bid for Classic glory.
Speaking on Friday morning, Abdullah's racing manager, Teddy Grimthorpe, said: "I think everyone is happy ground-wise. They've had a good bit of rain and hopefully everything will be fine for him.
"We've always said it was the intention to run if we possibly could, so it wasn't a question of if it's not perfect ground we're not going to go.
"That wasn't the case at all. It was really just to say we wanted it safe for him.
"He's pleased in everything he's done since the Greenham in terms of physique and the way he's worked. He worked really nicely on Saturday. It was a solid piece of work on the Al Bahathri."
Like Gosden and Doyle, Grimthorpe has plenty of respect for the opposition.
"It's the 2000 Guineas and it does look a really strong race," he told Racing UK. "I was impressed with Toormore (in the Craven) and I'd be pretty pleased if he was ours, as no doubt Richard (Hannon) is.
"There are plenty of horses you can make a case for, unfortunately! We don't know about Australia, but the vibes from Ballydoyle have been fantastic and there are plenty of horses you can make a big case for."