Weekend Review: Muk and magic
Our racing team reflect upon an eventful weekend of action and look ahead to Newmarket's July Festival this week.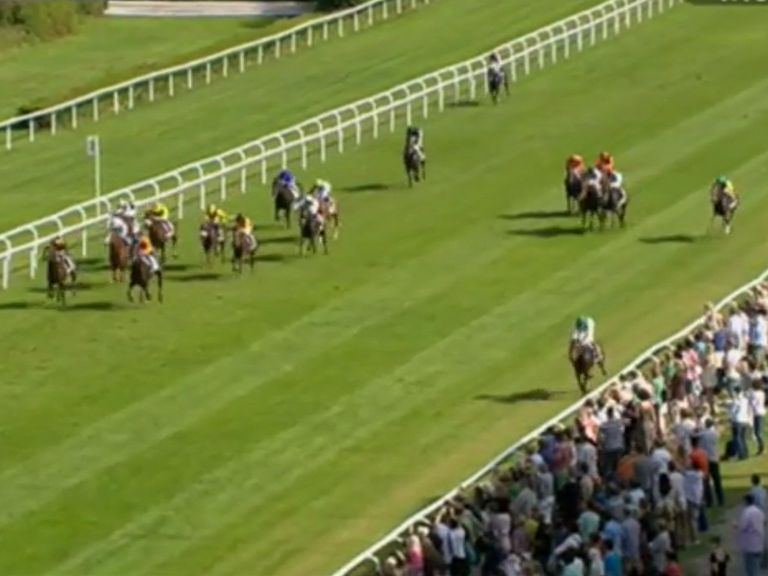 Sea The Moon is now vying for favouritism in the Arc in places after a stunning win in the German Derby. How do you assess his claims and the Arc market at present?
Ben Linfoot: I watched his efforts on YouTube after hearing all sorts of plaudits but I would be very wary of that form. Okay, he's beaten up a field of Listed horses at best and could yet be anything, but I would expect plenty of horses higher than him in the Arc betting to have done just what he did in Hamburg. And that switch off the home bend to the rail? Soumillon says it was all part of the plan but I'm not so sure. He's hung to his left a few times now and if he does that in the Arc he's got no chance at Longchamp. Clearly, the winning distance and style of his win were impressive. For that reason he's an interesting horse for the future, but I'd want to see him do it again, and against better horses too, before even thinking of backing him for the Arc.
Michael Shinners: You simply couldn't fail to be impressed by the performance in thrashing some very useful opponents. I don't know if he was running on the best ground, but either way he looks a major player in what is building up to be a fantastic Arc.
Will Hayler: Eh? Some very useful opponents? As Ben says, he could 'yet be anything', but it's ludicrous to see him shorter in the betting than established Group One performers.
Matt Brocklebank: When something looks too good to be true, then it invariably is. That old adage appears to apply perfectly here as while it's fair to say Sea The Moon is a seriously progressive three-year-old, I'd wager he'll never win another Group One by 11 lengths on the bridle again. That's not to say he won't go close in the Arc, but I'd like to see him run again before forming a clearer view, preferably in a French Arc trial. In addition, he clearly isn't the most straightforward animal in training having edged left under pressure on his second start at Cologne and I'll resist the 7/1 currently on offer.
Paul Hanagan rightly received plenty of plaudits for his ride on Mukhadram in the Coral-Elicpse but what was your take on the way that the race was run? Did the result flatter him and is he a player in the King George VI and Queen Elizabeth Stakes.
MB: Mukhadram had threatened to break through at the top level last year and a combination of circumstances allowed him to do so on Saturday. The race panned out absolutely perfectly for Hanagan as he was comfortably able to track the pacemaker Somewhat without wasting much energy himself and the result never looked in doubt from the top of the straight. I'd be surprised if he was able to win the King George on his first try at a mile and a half and envisage him dropping back for the Juddmonte International at York, where he won the Sky Bet York Stakes last July, albeit far from impressively.
BL: Mukhadram has always fallen short at Group One level in the past but Saturday was his day in the sun and it was a fine ride from Hanagan. Things did fall into his lap a bit as he was always prominent and kicked clear at the right time, while plenty of other jockeys in the contest weren't so great. There were a few milers in there that didn't stay, Kingston Hill needs juice in the ground and/or further and it could be that Mukhadram was one of the few 10-furlong specialists in the Eclipse who ran up to his best. The Fugue, for whatever reason (ride/Sandown/drizzle) – certainly didn't. I couldn't have him on my mind for the King George. I simply don't think he will stay.
MS: The race was run to suit Mukhadram and Paul Hanagan, who is riding superbly for Sheikh Hamdam, executed his tactics to perfection. There were excuses for The Fugue with the hound and Kingston Hill who appears to need further. Mukhadram has been knocking on the door for a while now and deserves his moment of glory. I think he deserves to take his chance in the King George but would personally be looking for an alternative to him.
WH: I don't think I'd be in a rush to put a line through him for the King George, simply because he has such a tenacious attitude and evidently plenty of class too. Certainly, horses inferior to him have won the race. As for 'the excuses for The Fugue', it was a mixture of a poor ride and the race not being run to suit - I simply don't buy the ground as being a factor. Two and a half furlongs out, Mukhadram is swinging away on the bridle in front and 10 lengths back, The Fugue was swinging away on the bridle in last. What did William Buick expect at that point? Perhaps I'm being over-harsh, and certainly Buick is a jockey who usually sets very high standards of consistently giving his mounts good rides, but this isn't the first time I've been left wondering whether The Fugue should have won even more Group Ones than she has.
What else has caught your eye in victory or defeat over the past week?
MS: The most impressive victory of the week for me was the John Gosden-trained Faydhan. He was well talked up prior to his debut and the way he pulled clear of some useful types marked him down as a very talented colt. It will be interesting to see where he goes next, however either way he is a horse with serious potential
MB: Away from the spotlight, Asyad won a fillies' handicap at Leicester in the manner of a horse on the improve. Sir Michael Stoute's daughter of New Approach was only winning off a mark of 84 and her Irish Oaks entry looks far-fetched, but it was a step up on her comeback effort at Newbury and there's more to come from her. Ten furlongs looks a minimum now and hopefully she'll be aimed at a Listed contest over a mile and a half next.
BL: Havana Cooler ran another cracking Ebor trial in the Old Newton Cup. Every man and his dog has seen his potential so he's not going to be a startling price but he certainly looks one of the more likelier winners even at this stage.
WH: I'd be more inclined to agree about Havana Cooler if he hadn't been carrying my cash on Saturday! Main Sequence will be an interesting runner in the Breeders' Cup Turf, presuming he now heads that way, after winning the United Nations at Monmouth. He still has some ideas of his own and swished his tail a couple of times under pressure, but the raw ability that saw him finish second in the Derby a couple of years back is also intact and he did particularly well to win going away off a pace brilliantly slowed down to a crawl at halfway by Jamie Spencer in front.
There's a huge week of racing ahead with one of the busiest Saturdays of the year and we can expect a few grumbles from trainers struggling for jockeys etc. What's your take on the fixture list?
MS: It's the busiest time of the year and therefore we are bound to have complaints about the fixture list. I'm clearly talking with my bookmakers' hat on, but I think it's great!
BL: I preferred it when the July Cup was in the week, leaving the spotlight to shine on York and the John Smith's Cup on the Saturday, but I can fully understand Newmarket wanting their July Festival jewel showcased on the weekend. There is certainly a feast of racing on Saturday, but what's not to like about that?! And the stretching of jockey resources will give a chance to some up-and-coming riders to shine in the spotlight on a big raceday.
MB: The shortage of jockeys is an interesting one as punters can sometimes be put off slightly by a so-called second or third choice rider in the plate. The key this weekend is to look beyond the man in the saddle to a certain extent and back your form study... Best of luck.
WH: Personally, I don't like putting all of the good stuff on one afternoon. I've watched the John Smith's Cup on a tiny TV screen at Newmarket, and the July Cup on the big screen at Newmarket, and neither felt quite right. But racecourses are in this game to make money, and I understand why it happens.
To get ahead of the game, you've no doubt got the 666bet Bunbury Cup, John Smith's Cup and Darley July Cup all sorted! It's time to share.. just one winner will do from those races or any other.
BL: Splinters in my backside I'm afraid as it's Monday and I've no idea! Due Diligence has been on my July Cup radar since he chased home Slade Power at Ascot, but Noozhoh Canarias commands plenty of respect too. We are all set for a cracking G1 sprint. As for the handicaps, I'll be leaving those until Friday afternoon…
MS: I'd be lying if I said I'd had a good look. However, Noozhoh Canarias showed tremendous pace at Newmarket and with that form being consistently boosted, I think he could be interesting.
MB: Glen Moss was my main eyecatcher from Royal Ascot after he 'won' in the far-side group in the Wokingham. He's been left on the same mark but should remain competitive back up to seven furlongs in the Bunbury Cup and I'll be hoping for a kinder draw. Slade Power will do for me in the July Cup.
WH: I don't have a great record in the July Cup and one or two bad experiences on horses who have turned out to have poor draws have left me a little bit cold on the race as a punter, but I think Clever Cookie looks to have a very obvious chance in the John Smith's Cup. That said, the last time I had a proper bet in that race, the horse got brought down. Maybe I should just take the hint...