Royal Ascot review
Our racing team look back at Royal Ascot and answer the burning questions that were thrown up after last week's action.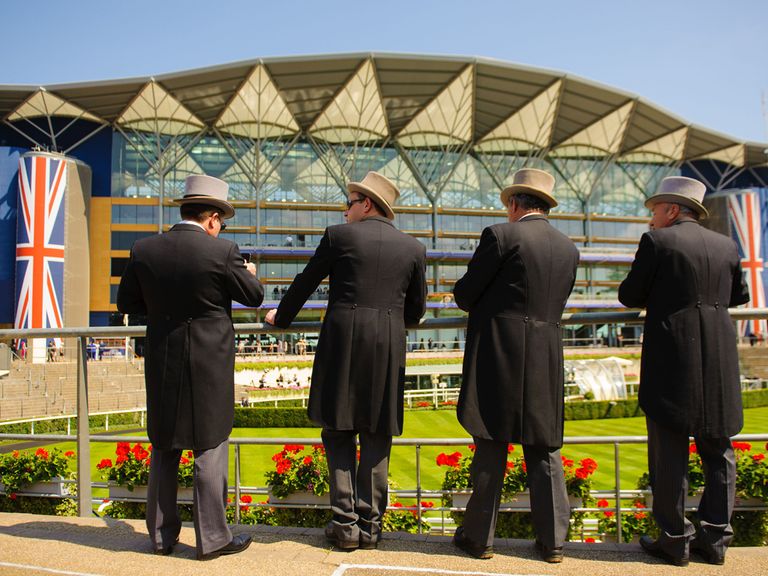 It looks like Toronado and Kingman are set to lock horns in the Sussex Stakes at Goodwood. Whose side are you on? And can you think of a better strapline than 'Duel on the Downs'?
George Primarolo: I'd go for Kingman. But then again, Toronado was quite impressive wasn't he? But no, Kingman is surely best. Toronado will have Richard Hughes on him at Goodwood though, which has got to be a big plus. Having said that, the form of the 2000 Guineas is rock solid isn't it? It's a tough one this one - I may just sit it out and enjoy the race. As we're so often told, it's a game of opinions. Well, I'm not playing this particular game - I hope that doesn't make me sound churlish but I've got no strong opinion either way as I'm guessing the market will have it spot on.
Will Hayler: It's a game of opinions but you don't seem to have one, George. Fortunately I do. Kingman wins every day of the week. Toronado impressed me with the pluck he showed in the Queen Anne but he no longer appears to have the cruising speed that both impressed and yet arguably proved his achilles heel last season. Kingman will just do for him toe.
Matt Brocklebank: I'd be with Will on this one. Kingman has speed to burn and Toronado's Guineas form just isn't up to the standard of this year's renewal, although I'd agree with the Hannon camp when they say he's improving with age. Toronado is also entitled to strip fitter for his Queen Anne run but the fact the Hannons always thought he'd make it at the top level over 10 furlongs leaves me in little doubt he wouldn't have the raw pace to live with Kingman. As for the strapline, I fear 'King and his subjects' might be more fitting.
Ben Linfoot: Toronado has two things in his favour - winning form at Goodwood and Richard Hughes. Nobody rides the idosyncratic track any better. In a game of inches those two things could be vital and even though I think Kingman is the better horse it's rarely quite as simple as that is it? If the John Gosden star is in my opinion over bet, which he probably will be, I can see myself siding with Toronado.
Can Treve bounce back and win the Arc? Or do you have another horse in mind for the first weekend in October?
WH: She could win the Vermeille without really proving anything, so I guess it will entirely depend upon what her price is on the day as to whether she rates lay or play material. Taghrooda is my idea of the best bet at the present odds.
MB: Treve certainly can bounce back to her best in the autumn although it's slightly concerning to hear connections running all sort of tests on her following a second career defeat. The Fugue and Magician clearly relished the fast ground at Ascot and Treve will be seen in a better light when back on her favoured conditions in France. The 6/1 available now will surely look massive come the first weekend in October.
BL: No, I don't think she will. She was brilliant last year, but that's when she had all the allowances as a three-year-old filly and even if she gets her optimum conditions in the autumn I'll be taking her on. I've no idea what with yet, but I do think we'll see the best of Kingston Hill in the latter part of the season when he gets his preferred ground. Whether he ends up good enough to even run in the Arc remains to be seen, though.
GP: I've always been of the opinion that Treve's optimum conditions are 12 furlongs on softish ground and with that in mind, I thought she ran a cracker in the Prince Of Wales's. It wasn't her fault she was so short as she was in the market and not her fault she bumped into The Fugue who had everything going for her. As long as she hasn't suffered too much damage, she's still the one to beat at Longchamp and looks a very fair price now.
The King's Stand and Diamond Jubilee gave us a fair idea of the pecking order in the sprinting division. Who is going to go on and win the July Cup?
MB: Slade Power appeared to win the Diamond Jubilee with something to spare and I'd thoroughly expect him to see off the same rivals should they all turn up for the July Cup. There doesn't appear to be much depth to six furlong the division at the moment but Spanish runner Noozhoh Canarias, sixth in the 2000 Guineas at Newmarket, could be a fascinating contender given how much speed he was reportedly showing on the gallops prior to his HQ outing.
GP: I thought Due Diligence ran a massive race and he'd be my idea of the July Cup winner. Not only was he inconvenienced by a drifting Slade Power in the dying strides, but he'd had to do all the donkey work on the 'wrong' side which wouldn't have been ideal. Given his relative inexperience, it was a big run and given the natural improvement he should show as a three-year-old, I can see him turning the tables on his conqueror at Newmarket.
WH: Not for me. Slade Power wins that race again and again, no matter how you run it. Considering the kamikaze pace set by Astaire and Gordon Lord Byron it was an astonishing achievement to be able to hold off the closing pack on Saturday.
BL: I agree with George. DD ran an unbelievable race on just his sixth start and he could be a new sprinting superstar. The race developed away from him and for him to get as close as he did was a remarkable achievement. I thought he was a great bet at 6/1 and I fully expect him to go off as favourite and win.
WH: You're wrong.
BL: No I'm not.
Looking to the future, which two-year-old would you take out of the meeting?
WH: At the risk of making myself look like a laughing stock, and in the knowledge that the Chesham Stakes is hardly a happy hunting ground for future winners in most years, I thought there was plenty of promise from Nafaqa, who stayed on into fourth in this year's race having forfeited easily half-a-dozen lengths at the start. It looked a brave shout to start him off at Royal Ascot and he's clearly had his issues, but there are races to be won with this son of Sir Percy.
GP: I'm not sure Cursory Glance got the credit she deserved for slamming her rivals in the Albany Stakes. She won it in the style of a really nice filly and one who would improve further for a step up in trip. Apparently, Wesley Ward thought Sunset Glow was his best chance of the week so expect the form to work out.
MB: Baitha Alga seemed to be totally underestimated going into the Norfolk but handled the drop to five furlongs with aplomb. Having won his three previous starts over six, I'd expect to see him go back up in trip and he looks a thoroughly professional performer who should make up into a smart performer next year.
BL: The Wow Signal was extremely impressive in the Coventry Stakes and at this very early stage he represents a good bit of value at 25/1 for the 2000 Guineas. He obviously has plenty of speed but he really pulled away from them in the final furlong and John Quinn has been keen to emphasize that he thinks the Starspangledbanner colt, out of a High Chaparral mare, will stay a mile - perhaps even this season. The Coventry has been a fine pointer to the Guineas in recent years thanks to Henrythenavigator and Dawn Approach and this fellow could be another one. How he can be bigger than Chesham Stakes winner Richard Pankhurst in the Classic betting is beyond me. Name me one horse that has ever won the Chesham and amounted to anything. It's a listed contest made all the the more peculiar by the race conditions that require the runners to have been sired by a horse that won over a mile and a half - no wonder you don't see Guineas horses in it. Richard Pankhurst was visually impressive but 12/1 for the Guineas - pure madness. He should be treble that to even line up. It's the equivalent of me beating Will, George and Matt to Greggs and then someone backing me for the 200m at the Olympics.
Any pearls of wisdom for the beleaguered Channel 4 team?
WH: As I've said before on this subject, I don't really have a problem with the programme as it is, although I accept that the viewing figures suggest there have been some sheep lost from the fold this year. I don't feel comfortable trying to teach my grandmother to suck eggs, but I do feel that if the analytical part of the content - much as I enjoy it when I catch it - is geared towards the racing connoisseur there's a risk that it crosses over too far into Racing UK territory. And when that happens, I'm always going to favour the channel that I have forked out 20 quid a month of my hard-earned for.
GP: I agree with Will on this one. There isn't anything wrong with it in the main though they will have to weather the PR storm that will naturally go with falling viewer figures. From what I saw personally, I thought their coverage of the Royal Meeting was quite entertaining.
BL: I'm probably not qualified to comment as I've hardly seen the production due to working at the track and then only concentrating on the races themselves in the office. But my Grandad misses John Francome - I haven't seen him since Ascot for his feedback on Gok Wan.
MB: You could understand a few people turning against the 'new' style of things but the trouble is it isn't new any more and figures have fallen. Personally, I'm baffled by the discontent and I'm certain the numbers will increase again with just a few minor tweaks.
And finally, what was your personal favourite moment from this year's Royal Meeting?
MB: The Coventry Stakes being won by John Quinn's The Wow Signal was a high point for me and it's great to hear the horse will remain in North Yorkshire. The son of Starspangledbanner has huge potential and is a horse I'll be following closely.
BL: That Gold Cup finish had the hairs standing up on the back of my neck and Joesph O'Brien's ride aboard Leading Light was the best of the week.
WH: Putting up a few winners on the live blog on the Tuesday, Ben Linfoot's 33/1 winning Value Bet on the Friday, and finding a new short-cut that avoided the worst of the morning traffic between Camberley and the track.
GP: Seeing Mike Read and Russ Abbot. The 80s are alive and well at Royal Ascot.