The 1000 questions
Channel 4 and Racing UK analyst Graham Cunningham answers the big 1000 Guineas questions.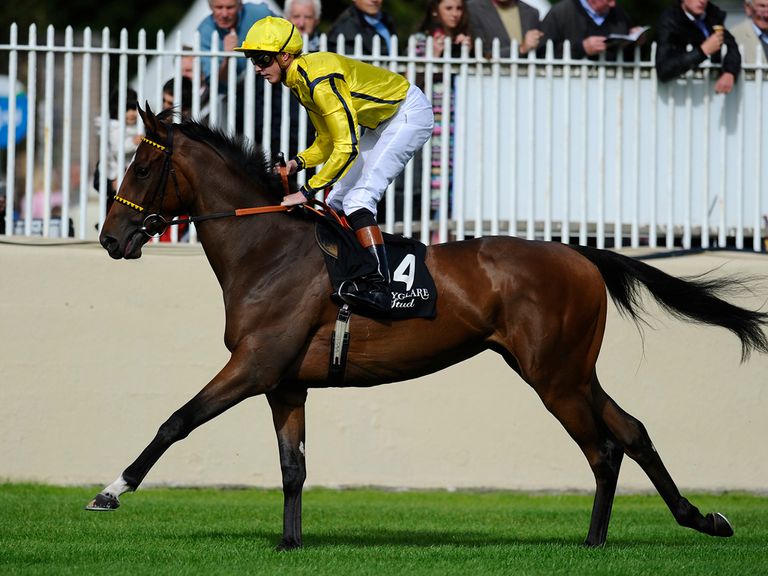 Punchestown parties on but Newmarket is front and centre for Flat fans this weekend as the Flat season bursts into life for the QIPCO Guineas festival. Kingman and Rizeena head the markets for the first two classics of 2014 but Channel 4 and racing UK analyst Graham Cunningham feels there are a host of others to consider as he asks the key Guineas questions.
QIPCO 1000 Guineas
Can Sandiva give Frankie his first British Classic success since 2011?
The percentage call is to say no.
Granted, Sandiva has clearly trained on well, but she did no more than her juvenile form entitled her to in a rough Nell Gwyn in which she enjoyed a much smoother passage than runner-up Euro Charline.
Dettori has endured a barren patch in British classics since he won the 1000 aboard Blue Bunting for Godolphin in in 2011.
Headline-hungry scribes would be more than happy to see him doing the flying dismount again, but Sandiva and Euro Charline both need to find a fair bit more for the step up to a mile to win a Guineas. And that seems unlikely.
How do we assess Frankie's former partner Amazing Maria?
It's probable the Italian will have a rear view of Ed Dunlop's filly for much of the race if last season's freewheeling tactics are adopted again.
And Amazing Maria is one of those dangerous floaters who looks hard to assess accurately.
Her long, raking stride came into its own once she was allowed to bowl along in 2013 and a runaway Goodwood maiden win was followed by an emphatic G3 success at the same venue in August.
On the minus side, the placed horses that day were far removed from Guineas standard. Still, Amazing Maria looks the sort who might run a belter to set herself up for a rewarding three-year-old campaign, especially if the HQ clerk Michael Prosser refrains from any major hosepipe action.
Can J Wonder confirm Fred Darling Form with Joyeuse?
She's no banker to do so even if she does head to HQ rather than for the French Guineas.
J Wonder keeps being backed like she's a good filly and she made it three from four under a canny tactical ride on her Newbury reappearance.
But she came up short when thrown in deep for Lucky Kristale's Lowther at York.
And Joyeuse might have fared much better in the Fred Darling had she not ended up with a lot to do from a wide draw once the race took shape near the stand rail.
The overall impression from Newbury was that there is probably precious little between J Wonder and Joyeuse.
But whether either of the pair is good enough to beat the very best is another matter altogether.
How valuable a clue is last year's Cheveley Park Stakes?
It might well prove significant, though not necessarily via the filly who won it.
Vorda came out on top fair and square that day and has clearly trained on based on her close second in the Imprudence, but she didn't fire over a mile at the Breeders' Cup and her pedigree raises serious doubts as to whether she can peak over a considerably stiffer mile at HQ.
Bracelet or Tapestry as the main Coolmore hope?
Both look viable contenders but Tapestry looks the brighter prospect and a clear place contender based on a decisive G2 success at the Curragh and a slighly unlucky placed effort at the same venue in the G1 Moyglare Stakes.
Tapestry was promoted to second having passed the post just behind Rizeena and Kiyoshi that day. She's more lightly raced than both that pair and her galloping style gives a broad hint that she will be coming home much more strongly than most up the hill.
How good is the gambled-on My Titania?
Very hard to say but the following points are well worth making.
First, it would be great to see gentleman John Oxx with another star on his hands after a 2013 which saw him endure his worst ever season with just 18 winners on Irish soil.
Second, My Titania has been notably strong in the market for much of the spring.
And third, the form she showed when driven right out to beat the useful maiden Chicago Girl in a G3 at the Curragh is useful and no better.
My Titania will relish the stiff mile at Newmarket and early signs suggest she digs in hard when it comes to a fight.
But, taken all around, is she a value bet at 8/1? The fan in me would like to see it. But the punting side isn't so keen.
Why should Kiyoshi find the necessary improvement to figure at Classic level?
Because Sunday's race might just provide her with the set of circumstances designed to bring out her very best, namely a truly-run race over a mile on a stiff track where the leaders begin to flag up the hill.
Granted, Kiyoshi has been beaten by several of her Guineas rivals, hindering her chance by hanging right when second past the post in Rizeena's Moyglare and then seeming to find six furlongs on fast ground on the sharp side when third in Vorda's steadily-run Cheveley Park Stakes.
However, cast your mind back to the Albany Stakes at Royal Ascot last June.
Click here to watch the replay of that race.
The Albany field contained a clutch of smart fillies headed by Sandiva and backed up by Joyeuse, Weedding Ring, Lucky Kristale and Princess Noor.
Yes, a couple of them had excuses, but Kiyoshi trounced them, travelling powerfully under restraint and quickening in striking fashion despite hanging right to win in the style of a potential Group 1 winner.
That tendency to drift right is clearly a concern but Charles Hills and Jamie Spencer have had a winter to work on it and all seemed to go to plan in a racecourse gallop at HQ recently.
I don't know whether the right wing tendencies will resurface when things get tough on Sunday. But I strongly suspect that Kiyoshi has as much if not more ability than several of those ahead of her in the market. And at 16/1 she represents one of the best each way options in either of this weekend's classics.
Why is Princess Noor trading at 33-1 and bigger in places?
In short, I'm not sure. Roger Varian's filly blossomed in blinkers at two, winning Ascot's Princess Margaret Stakes then finishing second in the Cheveley Park under an enterprising Johnny Murtagh ride.
I don't particularly fancy her for win purposes, but she's bred to stay a mile and her stable's runners seem to be peaking at a good time.
Which Miss France will turn up on Sunday?
It's more likely to be the one who left such a strong impression in Newmarket's Oh So Sharp Stakes than the one who failed to fire in the Prix Imprudence on her reappearance.
And if that's the case then this handsome looker is one to take very seriously.
Sunday's race remains the one British classic Andre Fabre has yet to win and Miss France was made favourite to end the drought after an impressive defeat of Lightning Thunder in the G3 Oh So Sharp Stakes at HQ last autumn.
A never-nearer reappearance sixth in the Prix Imprudence was anything but what her supporters were looking for, but an early crawl which produced a time over three seconds slower than the Djebel was all against Miss France and it's very tempting to put a line through that defeat.
"A never-nearer reappearance sixth in the Prix Imprudence was anything but what her supporters were looking for, but an early crawl which produced a time over three seconds slower than the Djebel was all against Miss France."

Even if you do that a bet on Miss France is still effectively a punt on potential and the genius of Fabre.
But perhaps that's no bad thing. Miss France showed a seductive blend of smooth travelling and acceleration on her previous visit to HQ.
A well-run mile will be vastly more suitable than the slow-slow-quick tempo of the Imprudence and at 9/1 or bigger in places she joins Kiyoshi at the top of my short list of value bets.
Ihtimal - synthetic star or genuine Classic contender?
Make no mistake, this filly has thived in Dubai over the winter and her opponents in the UAE Guineas and Oaks were brushed aside like second raters by three and a quarter and ten lengths respectively.
And therein lies the potential problem, namely that Ihtimal's Meydan rivals might just have been second raters.
Sunday's opposition provides an infinitely sterner test and Ihtimal has two lengths to find with Rizeena on their Fillies' Mile form.
I thought she got an ordinary ride in a slowly-run race that day and it's possible she has hit a new level in Dubai.
But the Guineas poses Ihtimal a different question. I think she'll run well. But perhaps not well enough to beat the very best.
How big are the stamina concerns over Lucky Kristale?
Now here's a ticklish one.
If Lucky Kristale does get the trip the potent turn of foot she produced to sweep clear in the Cherry Hinton on the July Course before defying a penalty in similar fashion in York's Lowther Stakes will make her a major player.
But will she truly stay a stiff mile in a big field?
The doubters will argue that her moderate winning half sisters were both sprinters and that her sire Lucky Story (though fully effective over a stiff mile) made his name mostly as a speed sire before his death in 2010.
However, Lucky Kristale has already outrun her blue-collar pedigree in one very important respect. She's a dual G2 winner who came into her own once patient tactics were adopted. And, given how well she settled for those two big wins, I certainly wouldn't want to lay her on the basis that she won't get the trip this weekend.
Can Rizeena give Clive a chance to show off his new dance moves?
The ageless Brittain has promised to throw some hitherto unseen shapes in the winner's circle if Rizeena can do what the mighty Pebbles and Sayyedati did in 1984 and 1993 and her busy juvenile campaign commands respect.
An emphatic Queen Mary win https://www.youtube.com/watch?v=7dueZ7jgFeU and a willing Moyglare success https://www.youtube.com/watch?v=3NUoCYHUmfA proved she was among the cream of the crop.
But placed efforts in the Cherry Hinton, the Prix Morny and the Fillies' Mile also showed she can be beaten fair and square when the opposition is strong.
Clive is adamant Rizeena has thrived since being outsprinted by the ill-fated Chriselliam in the Fillies' Mile last September and her physique suggests she should certainly hold her own from two to three.
But a few nagging questions persist.
Does it bother me that Rizeena is 0-3 at Newmarket? Not really.
Does it bother me that Clive is a meagre 3-117 on his home track in the last five years? Maybe a little.
And does it bother me that Brittain has trained just one solitary winner since last October? Well, it's hardly ideal.
The bottom line is that Rizeena has little in hand of a posse of fillies who seem set to produce career best efforts on Sunday. Perhaps she can find the necessary progress to give Clive the chance to boogie on down again. But she's 7/2 favourite at present. I suspect that price might lengthen rather than shorten.