Waley-Cohen: Long ambition
If it is a cliche to say the Crabbie's Grand National presents a test like no other, it is certainly true that some jockeys are unquestionably better than their weighing-room colleagues over the still-daunting Aintree fences - and that being an amateur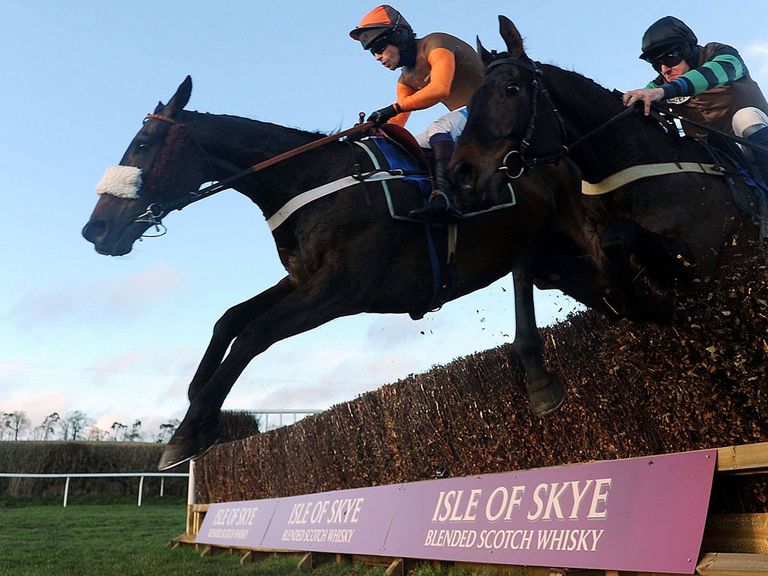 For every Ruby Walsh and Richard Dunwoody, who have both won the race twice with a completion record way above the norm, there is a John Francome or Peter Scudamore, multiple champion jockeys who failed to record a success.
Even Tony McCoy needed 15 attempts before Don't Push It won in 2010, so Sam Waley-Cohen must be doing something right.
Still very much a Corinthian, Waley-Cohen's record over the spruce fences is nothing short of phenomenal. He won the Fox Hunters' back-to-back in 2005 and 2006 on Katarino, trained by his father, Robert, and finished second on the same horse in 2008.
Given they were the only three runs the horse had in that four-year period it is even more meritorious.
In 2006 he pulled of a notable double by also winning the Topham Chase, another run over the National fences, on Liberthine. At the time Waley-Cohen had ridden over the National fences five times and won on three occasions.
Liberthine returned to Aintree a year later and finished fifth in the National itself.
More recently his Grand National ride has been the Martin Lynch-trained Oscar Time, runner-up in 2011 and fourth 12 months ago.
Perhaps we should not be surprised Waley-Cohen does so well at Aintree - in 166 runnings of the National the great race has been won 41 times by an amateur.
This year Waley-Cohen is riding the Nicky Henderson-trained Long Run, on whom he made history by winning two King Georges and a Gold Cup.
While Long Run may no longer seem the force he once was, he has been given a chance by the handicapper and is a half-brother to Liberthine so if he takes to the fences as well as her he has every chance of returning to his former glories.
"The Grand National, even riding in it never mind winning it, was an early dream of mine when I started out riding horses," said Waley-Cohen.
"It's a race that has been very kind to me and as Long Run has had such an impact on the life of everybody in our family, it would be amazing if he could win it. It's the greatest race in racing.
"We've no regrets about not going for the Gold Cup this year. There were a whole host of them with a chance at the last and we'd like to think he would have been bang there if he'd run, but it just felt right to miss it this year.
"I've been very lucky in the National but I'm sure my background in points helps a bit. Saying that, you must have the right sort of horse, otherwise you stand no chance.
"Just like in point-to-pointing there are horses here, there and everywhere and you need to think about the fences first and then tactics - in races under Rules tactics take precedent over fences, I think, but in the National it's the other way round.
"Katarino was the perfect horse for Aintree as he was so well balanced. He wasn't big, but was so athletic.
"He won a Triumph Hurdle and was a decent novice chaser, but then had loads of problems. He was only 16 hands but it was a real thrill to ride him over the fences.
"Liberthine was just a superstar. She won a Topham and a Mildmay Of Flete (now Byrne Group Plate) for us and to finish fifth in a National was great for a mare.
"Oscar Time was just an unbelievable ride around there, twice I thought I was going to win on him but it was not to be.
"The way he jumped - he wasn't very big, either - and travelled was great both times and gave me my biggest ever thrill in racing.
"The National still takes a huge amount of jumping and Long Run is essentially a good jumper, it's just when he loses concentration that he has made mistakes in the past.
"I think the size of the fences and the fact they are something he's never seen before will help with his concentration, I don't think he'll need any headgear.
"The way the race is framed now the premium is on quality and that helps us, you need to travel as they go a relentless pace over four and a half miles so you need lots of natural ability.
"Of the dangers Teaforthree has been given a chance after last year, I was next to him for much of the race and he ran a solid trial in the Gold Cup I thought. He's a worthy favourite.
"There's a whole host of chances behind him and any one of them that has a bit of luck on the day could win."