Twenty National questions
Channel 4 and Racing UK analyst Graham Cunningham is hoping that Rocky can deliver a knockout blow as he returns with a "20 National Questions" feature.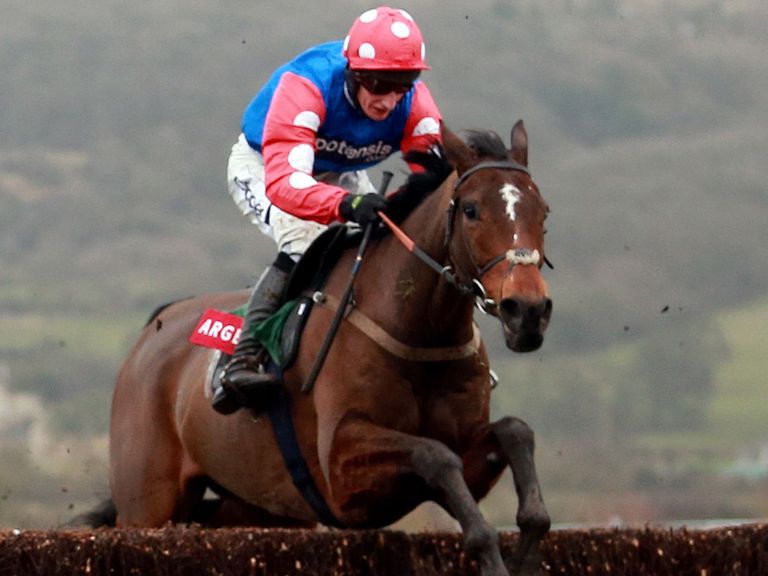 So many questions, so little time. The countdown to the first ever £1m Crabbies Grand National is gathering pace after Monday's six-day forfeits and Channel 4 and Racing UK analyst Graham Cunningham is hoping that Rocky can deliver a knockout blow as he returns with a "20 National Questions" feature.
..........................
1: How much difference have the changes to the Aintree fences made?
 The short answer is that it's still a little early to tell whether replacing the old wooden cores with synthetic inners will change the entire complexion of the National. 
 And the longer answer is that there were just two fallers in last year's race as against 11, 10, 11, 12, 11, 7 and 11 in the previous seven renewals.
 There were six unseated riders last year, which was bad news for the jockeys concerned but generally represents little risk for the horse involved.
 A total of 14 horses were pulled up (a vast increase on the norm) along with one refusal, while the fact that nothing of major note happened at 25 of the 30 fences was remarkable by any standards.
2: Is the National a safer race as a result of those changes?
 I hope it is. And I believe it is. But the chaos factor of having 40 horses jostling for position over 30 big fences means  the National will surely remain one of the most demanding challenges any chaser can ever face.
 Don't be surprised if you hear various observers telling you that Saturday's race is "just a glorified long distance hurdle" over the next few days.
 And if you do hear criticisms levelled against the Aintree fences levelled then it might be worth responding with the names of Little Josh and Plein Pouvoir.
 Little Josh was a fine jumper who had coped really well in two previous attempts over the National fences when he was killed in last year's Topham, while Plein Pouvoir was a grand old chaser who had fallen just once in 32 previous attempts over fences prior to sustaining fatal injuries in the Grand Sefton last December.
 What would the reaction have been had those two accidents occurred in the National as opposed to lower profile contests? On second thoughts, I doubt you need me to answer that. 
3: Critics say that softer fences lead to higher speed and therefore greater risk. Are those claims justified?
 Logic suggests that greater speed leads to greater risk. However, the fact that the fences were less demanding after radical changes last year didn't seem to lead to a stronger gallop and Auroras Encore got from the first to the line in a time that was 9, 15 and 12 seconds slower than the previous three renewals.
 The tactical shape of any race depends entirely on how hard the front runners are allowed to go and you only need to look back to the 2012 National for an example of some of the most experienced riders around helping force the sort of unrelenting pace they could never truly hope to sustain.
 But the fact that jockeys seemed more willing to pull up once clearly beaten last year has to be a positive step. And if the new fences lead to a decrease in the belief that "you have to be handy" then that's probably no bad thing, either.
4: What will happen if fatalities occur in Saturday's race?
 I hope I'm wrong but I fear I've seen this one before. 
 And it involves an undercurrent of resentment reaching full flow as those who are against the changes break ranks with a rousing chorus of "you should have left well alone"
 John Francome has already jumped in feet first to label the new National "a joke," while Ruby and Ted Walsh have both made it clear that they feel the National has suffered from implementing changes designed to increase safety.
 Others with significant standing in the sport might be tempted to jump aboard the anti synthetic bandwagon if worst comes to worst, but you don't need to look back far in racing's history to recall that important change seldom comes painlessly.
 Remember the whip crisis of late 2011 and early 2012? Many observers - including this one - were dead against such serious reductions in the number of times the whip could be used in a race. 
 But the BHA knew that it was time to take a stand on welfare grounds and, after a long and sometimes painful labour, the process gave birth to a radically altered whip rule which allows serious competition without compromising horse welfare in any way. 
 Few racing subjects divide opinion like the National, but I don't need to see horses taking fearsome falls to savour the race.
 I do still look forward to the day like very few others. And I have one plea for those who think the Grand National has lost its allure. 
 Cast your mind back to the spontaneous cheer that rolled down from the packed Aintree stands when all 40 starters cleared Becher's Brook last year.
 That was the sound of thousands of people who don't spend their entire lives inside the racing bubble welcoming what might just be a new era for the National.
 The old race isn't what it once was. And yes, the old dreadnought chasers who used to thrive in it might not shine at Aintree in the way they used to. 
 But the Grand National was under pressure like never before after a series of fatalities up until 2012. Change of some sort had to come. And, as with the whip, time might just show that the changes made represent change for the better.
5: Is Teaforthree a worthy favourite this year?
 Yes he is, though whether he represents great value in the win market at single figure odds is another matter.
 No horse in this year's field is more likely to jump well up with the pace from the off and be bang there swinging for home.
 And an old-style National would have been tailor-made for Teaforthree, but there is a nagging doubt as to whether he will prove vulnerable to a rival with more finishing speed again.
 There isn't a horse more likely to make the frame. But his current odds don't tempt me as a win proposition.
6: Can Tidal Bay roll back the years and tear the record books to shreds in the process?
 No teenager has won the National in almost a century and no topweight has prevailed since Red Rum in 1974.
 But Tidal Bay is no ordinary teenager and BHA handicapper has been kind in letting him race off a mark of 161.
 Victory would crown a remarkable career almost eight years to the day since he finished second in the Championship bumper here.
 And Tidal Bay remains a formidable chaser. The fact that his sole failure to finish came in this race three years ago is a slight concern, as is the likelihood that he will be dropped out in rear early.
 But this colourful veteran is clearly capable of coming swinging through to challenge with his old head carried high and proud if he fancies this challenge. In short, he's just too good to leave off the short list.
7: Can Long Run add a National to a CV that already includes a Gold Cup and two King Georges?
 Pass the creosote as it's hard to get off the fence on this one.
 On the plus side, Long Run is clearly well treated on his old form and the fence modifications are a plus for a horse who jumps long and a little low when on song.
 But the horse who was never out of the places in his first 26 starts at various elite levels has now failed to make the first three in three of his four starts this season.
 A Kelso win at 2-5 proved the zest is still there. But does it prove he can win a National off a mark of 160? Pass that Ronseal.
8: Royals and rugby players: The Monbeg Dude story would play well with Middle England, wouldn't it?
 It surely would, but has Zara Phillips worked her schooling magic well enough to stop Michael Scudamore's gelding making costly errors?
 On balance, I have some doubts. This former Welsh National hero chose the day I opposed him to put in his best round of jumping yet when winning impressively at Cheltenham in December only to run a dull race after all but coming down at the third in the Grimthorpe.
 It's 15 years since Paul Carberry swung from the rafters of Aintree's old winner's enclosure after winning on Bobbyjo. If anyone can persuade Monbeg Dude to enjoy the National experience he can. But this Dude looks sure to be well back early on. And from that position he simply can't afford to jump like he did at Donny.
9: Triolo D'Alene is a Topham and Hennessy winner with Geraghty aboard. What's not to like?
 Not a lot, as that great racing man Paul Daniels used to say. Spring ground is ideal for Nicky Henderson's chestnut and he was running very well in the Gold Cup until cannoned into jumping the second last.
 On the minus side, his jumping had been less tidy than normal prior to that and he lost a lot of ground on the principals up the hill even allowing that he wasn't knocked about.
 There is talk of a tongue tie being fitted on Saturday and spring ground would be a big plus. I'm hoping his Hennessy win proves a significant piece in solving this year's National puzzle. But I'm also hoping that clue revolves around more than just Triolo himself.
10: Can Prince De Beauchene make it third time lucky?
 Late setbacks ruled him out when well fancied in 2012 and 2013 and the money has come for him again recently in the belief that Aintree will bring out the best in him.
 PDB is clearly well in on his best form, but that form has a few whiskers on it now. And, because of that, he's harder to fancy than a few of those at similar prices.
11: Is the rejuvenated Pineau De Re just what the doctor ordered?
 A bold show wouldn't come as any surprise at all.
 PDR has had ten runs since joining Dr Richard Newland last summer but has looked better than ever on the last two by bolting up over fences at Exeter and coming up the hill like a train for third in a fiercely competitive Pertemps Hurdle Final at the Festival.
 The one 'F' against his name came on his sole attempt over these fences, but he schooled nicely over National fences in Lambourn last week and he was the first horse I nibbled at when the big prices were available two weeks ago.
12: What does Rocky Creek bring to the party?
 A great deal if I've read the signals right.
 Granted, with just seven chases behind him he doesn't have the traditional National profile, but he jumps beautifully and his form this season looks very solid indeed.
 His Hennessy second to Triolo D'Alene marked him out as a notably smooth traveller, while his Argento Chase second has been franked both by the winner The Giant Bolster as well as minor players like Harry Topper and Restless Harry.
 Can I put hand on heart and insist he's a guaranteed stayer over nearly four and a half miles? No I can't.
 But it's very rare to have every single box ticked in the National. And Rocky Creek ticks more than enough boxes for me to be firmly in his corner at 20-1 or bigger in an odd place.
13: Is Balthazar King as well treated as BHA juggler Phil Smith suggests?
 Yes if this was four miles over Cheltenham's cross country course. 
 And no over nearly four and a half miles at Aintree. Balthazar King is the sort of brave front runner it's impossible not to warm to and he looked better than ever when battling home at the Festival, but he had a tough race there.
 More importantly, his eyes lit up here last year to such an extent that his energy was spent once the race began in earnest on the final circuit. He might well last longer if the weather stays fine this year but I doubt he'll last long enough to see off the other early leaders and the second and third waves who come to call later.
14: Should AP choose Colbert Station or Double Seven?
 A tricky one. Colbert Station travelled keenly under restraint until parting company with AP at the Chair last year, but he's now fallen or unseated his rider on three of his last six starts and that's hardly ideal even if the National fences aren't what they were.
 McCoy has never ridden Double Seven over fences, but his trainer Martin Brassil has one National under his belt thanks to Numbersixvalverde and has handled this gelding with Aintree in mind ever since a winning spree last summer and autumn.
 I suspect AP might opt for Double Seven when he finally chooses. And I suspect he would secretly like to get back aboard Teaforthree but for the fact that he's contractually tied to ride one of JP McManus's pair.
15: Can Burton Port bounce back from a hard race under AP at Newbury?
 He might just run a belter if he can. For long enough this gelding looked as if he might have lost the plot. but he dropped more than 20lb in the weights as a result and the combination of a breathing treatment and cheekpieces saw him attack his work with far more zest at Newbury.
 Granted, that handicap was confined to veterans. This is vastly deeper, but Burton Port has never fallen and looks the sort to show up boldly for a long way again.
16: The Package or The Rainbow Hunter?
 Or possibly neither? They've both been here before without getting round and they both return on the back of fine efforts in good handicap company.
 However, The Rainbow Hunter has been raised 8lb for his Donny win. I'm not sure he's that well treated as a result, while The Package didn't seem mad about the job in the 2010 National and will need to show a lot more sparkle to shine four years on.
17: Give us a real longshot with a much better price than the market suggests.
 Big Shu appeals as a likely lad. It looks like Paul Carberry has deserted him to abide with the Dude and critics will point out that Peter Maher's gelding has done all his improving in the very different discipline of cross country chasing over the last two years.
 It's possible he won't be anything like so potent a force faced with the challenge of Aintree, but Big Shu is a smooth travelling holdup horse with bags of stamina and a jumping technique that has looked very sound over all sorts of weird and wonderful obstacles.
 Maher has been saying that "it's all about the National" with the star of his small Kildare stable for some while now. Dozens of others would doubtless say the same, but Silver Birch finished placed in Cheltenham's cross country chase before winning the National and I can't let Big Shu go unbacked at 40-1 in a couple of spots.
18: And a quick line on some of the other big priced contenders...
 Hunt Ball looks a suspect stayer, stablemate Shakalakaboomboom hasn't shown much of late, and Across The Bay hit numerous fences prior to fading here last year.
 The odds about Mountainous following up his Welsh National win will tumble if heavy rain arrives. Chance Du Roy's Becher Chase win makes him an obvious one to complete the course with honour again, but the one really wild one I've taken a chance on at massive prices is One In A Milan.
 For long enough it looked like Keith Reveley's gelding had little chance of making the cut, but he now needs just five   more defections after today's six-day forfeits.
 And if he does make the cut Night In Milan could be a real springer for the simple reason that he's very nicely treated after bolting up in the Grimthorpe Chase at Donny just after the National weights were published.
 Night In Milan's jumping was fast and fluent on Town Moor. It's clear that bowling along on a flat, left handed track is perfect for him. Dry weather would be an added plus and he's one to keep an eye on if he does make the final 40.
19: How will the race be run?
 Jockeys will be given the hard word in their annual pre-race briefing but there are too many natural front runners to suggest this will be anything other than a strongly-run race.
 Balthazar King will be bang there from the off again along with Across Bay, Shakalaboomboom, Teaforthree and Night In Milan if he gets in.
 Long Run and Rocky Creek are likely to be settled in midfield early, while Tidal Bay, Pineau De Re, Big Shu and Monbeg Dude are unlikely to be on the scene until well into the second circuit.
20: And the best bets for the 2014 Grand National?
 AP McCoy thinks the revamped fences will make shock results rare in years to come, but that view hardly squares with Auroras Encores's 66-1 success last year and logic suggests the National is now a more difficult punting problem than ever before.
 Look at the facts. Practically all the field are racing from right on or below their official BHA handicap marks; the handicapper keeps tempting Grade 1 chasers to run by reducing their burden; and, if the obstacles are less demanding, then those prone to getting low at the odd fence are much more likely to shine than in the old days.
 But the complexity of the puzzle won't stop millions of people settling down to have a bet with hope in their hearts this weekend and my wish list runs as follows:
 It goes without saying that I hope for a safe race. And it's also to be hoped that those who are happy to promote the event with gusto ahead of time don't turn on it if the fences do take a toll.
 I'd love to see Tidal Bay or Long Run strike a blow for the golden generation, while Teaforthree would provide a great story and Pineau De Re, Big Shu and Night In Milan would all make the 2014 National a winning one from a personal standpoint.
 However, my number one choice for the 2014 Grand National is lightly-raced horse from a top stable who jumps soundly and has the potential to prove better than his current handicap mark.
 Step forward Rocky Creek. Noel Fehily looks the ideal jockey booking in the absence of the injured Daryl Jacob and 20-1 or better looks very fair each way value in the most famous steeplechase of them all.