Legend Big Buck's retired
Big Buck's has been retired after finishing unplaced in the Ladbrokes World Hurdle at Cheltenham.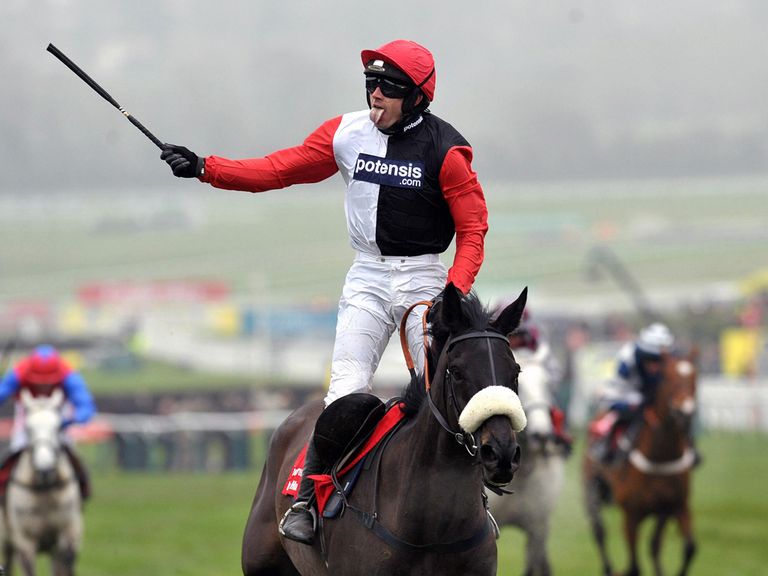 Paul Nicholls' brilliant eleven-year-old won the Grade One race a remarkable four successive times before missing last season's renewal following an injury setback.
He returned from a lengthy spell on the sidelines to finish third in the Cleeve Hurdle in January, his first defeat over timber, and the trainer was confident he was primed to run a huge race in Thursday's World Hurdle.
However he was in trouble three out before running on bravely to finish fifth behind More Of That and Annie Power.
Nicholls said: "This horse has been a legend and we don't want him to get hurt or something like that so we are going to end on a good note. We are mightily proud of him. He has run a good race today but just has not had the legs of old.
"We had to try it but you have got to be sensible and draw stumps at the right time. We are not going to ask him to do any more. He will have an honourable retirement. So it is a sad day. All the days he won were great, while his fourth World Hurdle was amazing.
"He is an amazing horse to have been involved in. Andy (Stewart - the owner) is such a sporting guy and it is the right decision at the right time. Rose (Loxton - who looks after Big Buck's) will probably end up keeping him and looking after him for Andy. He will be well looked after. He deserves to retire. Big Buck's has been a pleasure to train. We don't want to ask him to run again."
Stewart added: "Big Buck's has been one of, if not the greatest, modern-day staying hurdler. Now is the time for him to enjoy his retirement. The highlight would be his first Ladbrokes World Hurdle. I looked up Francois Doumen's horse - Kasbah Bliss - and rang Paul (Nicholls) up and said we are never going to beat that and Paul said Big Buck's will be all right and he won.
"He beat all-comers for the next three renewals of the World Hurdle as well. He is 11 years old now and he is now a retired 11-year-old. The public reaction has been very flattering. I received 22 Christmas cards, while Big Buck's received 174 - a reflection of why the horse is a lot more important than I am.
"We are going to buy a Polo factory to make sure he can have as many as he likes. We have had some fun with him, he is a lovely horse who I love to death and my grandson is here today dressed up in the Big Buck's colours - he is only nine weeks old. He is important and Big Buck's is important."
Sam Twiston-Davies, who rode Big Buck's on the horse's final two starts, said: "He's an amazing horse and it is a dream for me to have ridden him. As far as the race was concerned everything went as I would have liked, I was in the right place at the right time but obviously he is 11 now.
"Just when we turned in, he didn't have the legs. We hadn't gone mad early and we picked up nicely but there were young legs against us. Mr Nicholls was happy when we came back - as happy as you can be with an 11-year-old coming back after a long absence. He is back safely and in one piece and that is the main thing. I am as happy as I have ever been after finishing fifth."