Sergeant Hendo ready for battle
Ben Linfoot visits Seven Barrows and finds a pumped up Nicky Henderson ready for battle at the Cheltenham Festival.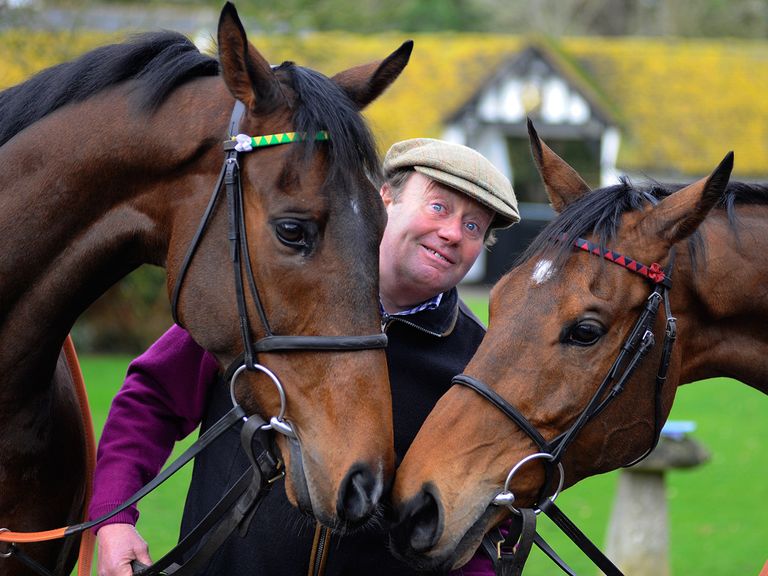 Nicky Henderson talks a good fight alright.
He's not feeling sorry for himself, as he might well do, after the setbacks that have ruled Simonsig and Sprinter Sacre out of the Cheltenham Festival. Far from it. He's slightly annoyed at a newspaper headline that suggested his outlook was all doom and more gloom, but that's about all. No, the Champion Trainer is happy with his troops and he's ready to send them out to battle.
He acknowledges the strength in depth of the armies from Ditcheat and Kilcullen ('Mullins and Mullins and Ricci and Ricci and Mullins') and he admits things are going to be tough without his two best soldiers, 'the bankers', that are Sprinter Sacre and Simonsig.
But Henderson is keen to emphasise that the SS will be ready for future battles. 'He's alive! Look! He's still alive!' the Seven Barrows sergeant exclaims as last year's brilliant Champion Chase hero is paraded before the press. The conspiracy theorists and the keyboard warriors may have got to him a little here, as he's clearly upset that anyone can think that Sprinter Sacre's absence is anything but a dreadful shame. And it is. He looks magnificent, and his presence in the Queen Mother, and at the event as a whole, will be sorely missed.
But let's not talk about that. The Black Aeroplane maybe missing from the battle, but in his absence there is a Captain going by the name of Conan that will be asked to step up to the plate, and Hendo's enthusiasm is infectious.
"We haven't run him since the Tingle Creek and he really looked as if he'd come to win the race two out but he didn't get home. He had a few issues and things that hopefully we've corrected and things have gone quite well since then - he comes in with a fighting chance. Sire De Grugy is now the horse to beat and this fellow has got the ability to do so."
The undoubted class act on show, though, is My Tent Or Yours. He's a lean, mean, fighting machine and though his aptitude for a battle up the hill could perhaps be questioned, especially when thinking back to last year's Supreme, you wouldn't think so by looking at him.
We bonded, myself and My Tent Or Yours, as I hid undercover from an incessant rain storm just outside his box. I stroked his nose, looked him in the eye and wished him all the best in the Champion. He looked back at me as if he knew I'd backed The New One, almost displaying a mixture of sympathy and contempt for my foolishness.
I must admit, after our moment, that I felt guilty asking his handler if he was concerned that My Tent Or Yours might be vulnerable in the Champion Hurdle to rivals with greater reserves of stamina.
It turns out he wasn't, or isn't. Not really, anyway.
"He's got speed, probably more than stamina and some people will say the Newcastle's and the Kempton's suit him better than Cheltenham, but I don't think that necessarily. Bobs Worth loves that hill, we don't know that he does - but I'm hopeful."
It could be that speed wins that particular war anyway, and he's another bullet to potentially fire in my own battle against the bookies.
Talking of bullets, here are five more to consider.
One - Grandouet. He wasn't really on my radar after his no-show in the Wayward Lad at Kempton, but Henderson purred about him today.
"He just seems to be bouncing back a little bit at the moment," he said, with a tinge of excitement. "A bit of good ground and a bit of sunshine and he's in the mix. He was a genuine Champion Hurdle contender last year when he fell and the year before, so he's got the speed and the last couple of times he's jumped very well."
Two - Vaniteux. You just got the feeling he's working very, very well.
"He's one that could be in the mix for the Supreme, he's on the periphery but is blooming at the right time. Originally the thought was to wait another year but he could run."
Three - Hadrian's Approach. Now he is an old favourite. I backed him for the RSA last year and the Hennessy, where his occasional jumping frailties let him down again. But he's got an engine, and he could be too good for them in the Festival Handicap.
Henderson visibly perks up at the mention of his name, saying: "I like him, very much so actually. I think he has a very realistic chance in the Festival Handicap Chase. He's a good, solid horse, he's a good horse."
Four - Dawalan. Fred Winter favourite. Nothing too revealing here, but confidence about his chances oozes out of Henderson.
"I like his chances, he's in good form. I'm pleased with him; he's done everything right, winning his last two at Newbury. It was always the plan so that's where we're going to go."
Five - Ericht. Ah, Ericht. I was only asking about his Grand Annual team, but Henderson was keen to give this fellow a positive mention ahead of the Rewards4Racing Novices' Handicap Chase.
"Ericht is in there, but I think he'll go for the two and a half mile race. I'd think he'd have a very good chance too, if it's good ground."
But if there is one horse that Henderson wants on his side in this battle, this bloody fight against the Irish and Ditcheat and all the rest, it's his modern War Horse and Gold Cup favourite Bobs Worth.
I ask him to consider how hard it is to win back to back Gold Cups, how much winning the race takes out of a horse and how history shows it's mighty difficult to achieve the ultimate consecutive double.
But Henderson smiles. He rocks back on his heels and shrugs his shoulders, rolls his eyes and says: "He tries and tries and tries and he loves what he does. He'd die for you." And in this war, you can't ask for any more than that.
---
New Sky Bet customers: Free matched bet up to £30
---