Sire pleases in Plumpton gallop
Sire De Grugy began Monday morning as the new favourite for the BetVictor Queen Mother Champion Chase in the wake of Sprinter Sacre's defection and the chestnut took another step towards assuming that position in a fortnight's time with a racecourse gallop at Plumpton.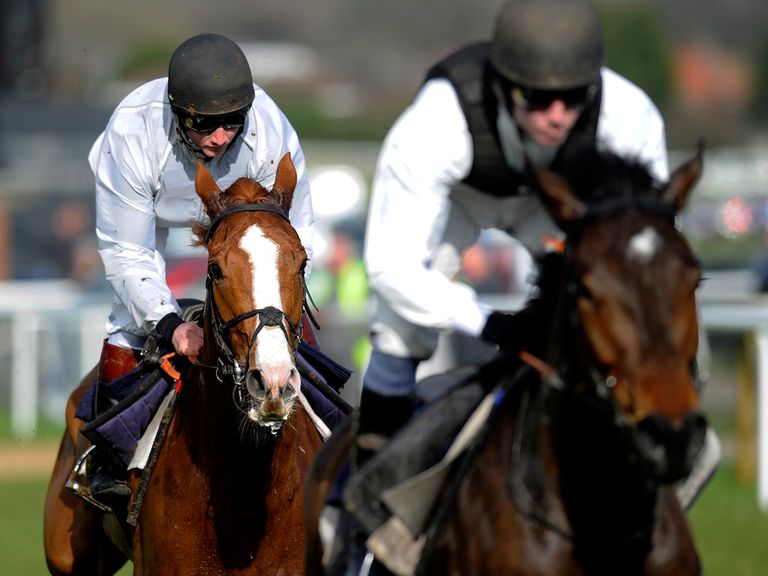 The news came on Sunday evening that Nicky Henderson felt his top-rated jumper Sprinter Sacre was not giving quite the right signs to defend his Cheltenham title, and it leaves the Gary Moore-trained Sire De Grugy playing a role he has filled through most of the season.
He picked up both his Grade One victories in events Sprinter Sacre had been forced to miss through his interrupted preparation - the Tingle Creek Chase at Sandown and the Clarence House at Ascot - and their only meeting at Kempton over Christmas saw Henderson's gelding pulled up with what was found to be an irregular heartbeat.
Sussex's star horse was given a red-carpet welcome at one of his home venues for his lunchtime session, where he jogged around a lap of the course with his ever-present rider Jamie Moore before picking up the speed for another mile and a half.
Sire De Grugy, who looked lean and trained-to-the-minute, was asked to stride on in the home straight and came well clear of his companion Light Well before receiving polite applause passing the line.
"I was more than satisfied - it's very tiring ground out there and you would not want to do more than he did," said Gary Moore.
"I just wanted him to get away - it puts an edge on them and I've always done it with a good horse. It definitely helps and it's very kind of Plumpton to let him come."
Sire De Grugy does have a nought-from-two Cheltenham record and was beaten by Kid Cassidy in a conditions event at the Open meeting - but Moore has already revealed he was accidentally fitted with the wrong shoes that day in a tactical race.
The lay-out of Plumpton was also factored in as useful preparation for a return to the Cotswolds.
Moore snr said: "It was good to go left-handed and down a hill, nothing too strenuous, but it brings them on.
"It's more mental, and saves galloping the life out of them at home. He'll need to do a bit more serious sharp bits of work at home and will probably work on Saturday now.
"He's light enough, I'd like to see a bit more condition on him, but you don't see fat athletes, do you?"
Jamie Moore said: "He's where we want him. He switches off nice, you get to turning in and, bang, he's on the bridle. He lights up when he sees a fence and I'm pleased with where we've got to with him.
"He is looking well, he is pretty fit, as fit as what he needs to be anyway. He would have needed that a little bit today and that should bring him on to be spot in a couple of weeks time."
Asked about Sprinter Sacre's absence, he said: "It's unfortunate for them and it's handy for us but we've still got plenty of other horses to beat; we're only worrying about our horse and hopefully we've got a good chance."
---
Sky Bet: NRMB on Big 4 Cheltenham championship races
---