Teaforthree has a 'lovely weight' - Curtis
Reaction from connections following the unveiling of the weights for the Crabbie's Grand National at Aintree.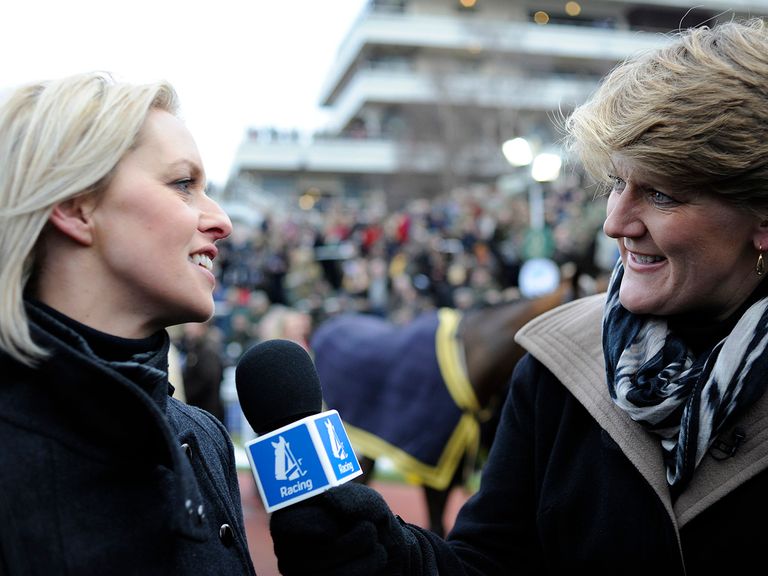 Enda Bolger - Mossey Joe (11st 1lb); Quantitativeeasing (10st 9lb); Quiscover Fontaine (9st 10lb)
"I think he (Mossey Joe) looks highly rated for a hunter chaser, but all his best form seems to be in the latter half of the season. We intend to give him a run in a point-to-point on Sunday week. He's settled in fine. I don't think he (Quantitativeeasing) is qualified to run in the race yet, so we are running out of time as the ground has been so heavy. That's a nice weight for Quiscover Fontaine. He'll probably go for the cross-country race at Cheltenham first."
Paul Webber - Cantlow (11st)
"He ran well at Cheltenham last time, but that sounds a bit of a hike. The aim with him, though, is to go to Cheltenham, but if the ground came up heavy we would have to think about our options."
Hilary Parrott - Wayward Prince (10st 13lb)
"It's a nice weight. I certainly won't run him in the mud beforehand because he hates it. If I did run him before Aintree, it would probably be in the Grimthorpe at Doncaster. If the ground isn't right, and I can get him fit enough, he will probably go to Aintree without another run."
Rebecca Curtis - Teaforthree (10st 12lb); Bob Ford (9st 3lb)
"I think that's a lovely weight for Teaforthree. I'm very happy. He's got 5lb less than less year so you'd have to be very hopeful. I do want to get two runs into him before Aintree so he'll probably run at Ascot on Saturday and then in something at Cheltenham. Bob Ford won't be going as we know he wouldn't stay."
Martin Brassil - Double Seven (10st 11lb)
"I was probably expecting something between 10st 10lb and 11st, but that's what I thought he might get off his mark. At least we know we will get a run and it's great to have a horse good enough for the race. He is a spring/summer horse, but he's fit as we can have him in this wet weather. Hopefully we'll try to get a race into him beforehand in mid-March and there's a chance he might come to Cheltenham for the four-miler."
Donald McCain - Across The Bay (10st 11lb); Kruzhlinin (10st 6lb); Real Milan (9st 6lb)
"It's a grand weight for Across The Bay, a good racing weight. He's in three races at the weekend, but I'm not sure where we'll go yet. That's also a decent weight (for Kruzhlinin) but it's going to be a struggle for Real Milan."
Thomas Gibney - Lion Na Bearnai (10st 10lb)
"I can't believe that. It's good in a sense that we'll probably get a run, but that's more than last year (he missed the race due to injury). I don't know where they got that weight from, but there's nothing we can do about that. The plan all along was the Bobbyjo (Fairyhouse) in two weeks and then Liverpool, so that's what we'll probably do."
Richard Rowe - Tatenen (10st 3lb)
"It's a great weight but I'm not sure Andy Thornton (regular jockey) will see it that way. I wouldn't be too pessimistic as a lot of horses will drop out between now and then. He'll probably go Cheltenham first, especially if there's any doubt about him getting in. His record round Aintree has been somewhat unlucky."
Jim Dreaper - Goonyella (10st 1lb)
"The weight doesn't concern me, the problem is how many horses are above him. The plan is the National, but we are well aware we face an anxious wait. He won't be going to Cheltenham, but we are keen to run him agan in mid-March somewhere."
Jo Hughes - Soll (10st)
"He's off the weight same as last year, but it went down to the wire last year so we might be sweating again. It would be nice to know if he gets in earlier this year, so we'll have to keep aiming him at the National. He's due to run at Haydock on Saturday."
Warren Greatrex - Tranquil Sea (9st 12lb)
"It's going to be touch and go. He's still got to qualify for the race by finishing in the first three over three miles before March 17. He will run next Wednesday at Doncaster in a three-mile veterans' chase. If he doesn't get in, the Topham could be an alternative. If he ran well at Doncaster, we'd obviously monitor the National."
Peter Maher - Big Shu (10st 8lb)
"That's a great weight. If he (the handicapper) gave me 11st, I wasn't going to go. It's now tempting to go back to Cheltenham (for the cross-country race). He's definitely a dark horse for the National, there's no question about that. Five National winners were bred on my grandfather's farm so we're no strangers to Liverpool."
Noel Meade - Pandorama (10st 2lb) "Obviously the big question is if he gets in, but it would be a grand weight if he did. He ran all right the other day, but the ground was probably not quick enough. The plan is to give him another run in a hunter chase and then we'll see where we are."
Malcolm Jefferson - Cape Tribulation (10st 11lb)
"That would be a grand weight. It's getting there. He had a blood blister after Wetherby and we've been struggling to get rid of it. It wouldn't bother us if he didn't have another run. I think he'd jump those fences all right."
Graham Wylie (owner) - Tidal Bay (11st 12lb), Boston Bob (11st 3lb), On His Own (11st 3lb), Prince De Beauchene (10st 10lb)
"I'm very pleased with that for Tidal Bay. The handicapper has given him a chance. Let's hope he's fit and well on the day and has luck in running and runs to his usual style. He gets four and a half miles and he'll not mind what ground it is. Boston Bob is an interesting entry because we had planned a hurdle campaign for him this year but we put him in just to see what weight he'd get. On His Own needs a bit of luck this time. He's been there twice and fallen twice so I hope it's third time lucky with him. He's on a nice weight. Prince De Beauchene's got a nice weight. I think he'll take his chance because we've never tried him in the National."
David O'Meara - Rose Of The Moon (10st 3lb)
"He's on 10st 3lb, so hopefully that's a good weight and hopefully he'll get a run. He won't be running before then. He'll go there a fresh horse."
Matt Sheppard - Ikorodu Road (10st 1lb)
"It's touch and go if he gets in. We are aiming to go for the race if we can. Hopefully we will get good ground on the day. We'll hope to give him another run, but we're not sure yet."