Lydia Hislop's Road To Cheltenham
Not much happened this week, I think we can all agree? It shouldn't take us long to whip through this review in time to settle down to the darts... on New Year's Day.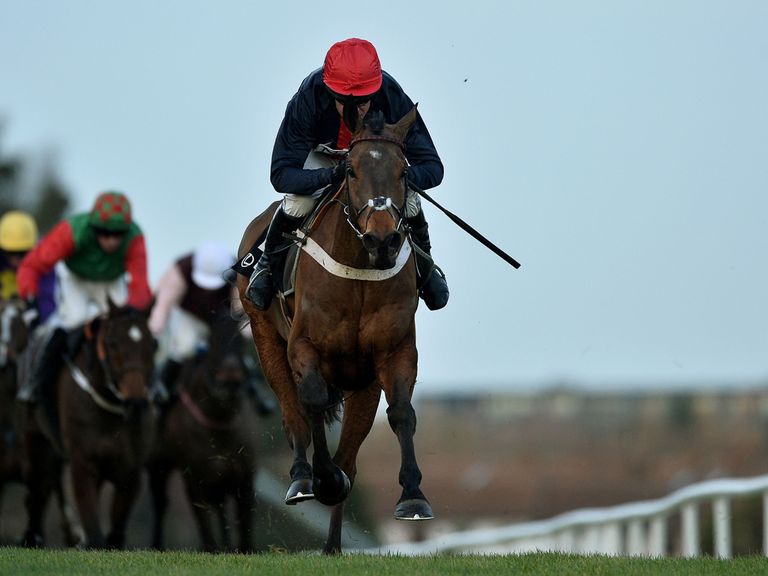 BetVictor Queen Mother Champion Chase
The most dramatic scenes of the week were those that followed Sprinter Sacre's uncharacteristically tame leap at the seventh in the Desert Orchid Chase last Friday. Jockey Barry Geraghty swiftly pulled him up and he was subsequently found to have "an irregular heartbeat" by the racecourse vet prior to being sent, via a night at home in his own box, for further analysis in Newmarket.
The latest news appears more positive, with trainer Nicky Henderson not ruling out running the horse again this season. The problem is reported to have righted itself, without the use of drugs, and Sprinter Sacre returned home yesterday from Rossdales veterinary practice.
Further tests will follow under the supervision of Professor Celia Marr, a partner at the practice and leader in the field of equine cardiology. Her previous patients include Denman, the 2008 Cheltenham Gold Cup winner. On Friday, she will attend a gallop in which Sprinter Scare will be fitted with an electrocardiogram, so we await more news.
In the immediate aftermath last Friday, At The Races presenter Matt Chapman posted an interesting link on Twitter, the implications of which should be weighed against Sprinter Sacre's specific diagnosis of "atrial fibrillation". Click here for that link.
For those who like their data potted, the key comment from Australian vet Dr Nick Cannigita is this: "... if it is an atrial fibrillation, then you need to be very cautious as a punter about following that horse because even if it has been treated and even if it makes a full recovery and it starts the race with a perfectly normal heart beat, there is no guarantee it will finish the race..."
Weigh that against what Professor Marr achieved with Denman's comparable problem, prior to that horse finishing runner-up in three Gold Cups and winning a second Hennessy in a performance that ranks not only as one of his best but also as one of the best weight-carrying efforts of all time.
Putting on your objective punter's hat, the shorter Sprinter Sacre "with a run" prices purport to remove a doubt that in fact remains and so are in no way attractive. The 11/10 with Sky Bet will rightly appeal to many people (not including me) on the basis he is the best horse in training and Denman did it. Or you may prefer to find an overpriced angle among the opposition.
The likeable Sire De Grugy was left to pick up the pieces at Kempton, not needing to be at his best, and is an improved horse this season. However, he didn't look as comfortable at Cheltenham when (admittedly conceding 10lbs) beaten by Kid Cassidy in November, so 4/1 doesn't thrill.
"He brushed aside two young pretenders in good style and appears to be as good as ever, rising ten. He just jumps so well, particularly under pressure, and has such responsive gears. He really is a brilliant hurdler, as this extending of his own record underlines."

That rival never got into it under those extreme waiting tactics at Leopardstown last Friday, quelled also by a couple of poor jumps. Instead, Benefficient won the Grade One Paddy Power Dial-A-Bet Chase, allowed to drift left after the last and inconvenience Hidden Cyclone, who subsequently rallied. The result stood, rightly.
The winner won the Jewson at last year's Festival and the ground will decide whether he goes for the Champion Chase or the Ryanair, soft being required for the former. Yet the doubt about Sprinter Sacre might swing the balance towards it anyway and perhaps correctly. This horse jumps well and might now have the framework with which to improve markedly at the shorter trip. He needs to progress again but loves racing left-handed and is still going the right way.
Hidden Cyclone is steadily improving but short of the top grade as yet. This was more grist to the Arvika-Ligionniere-must-go-right-handed mill. Age seems finally to have withered the mighty Sizing Europe. Baily Green was very much not knocked about and is better on a sounder surface, but needs to find a great deal of improvement on last year's Arkle second.
---
Watch a replay of Sire De Grugy's Kempton win
---
Bobs Worth immediately looked a lot happier at Leopardstown than he was on the tighter track at Haydock last time. He got mildly tapped for toe approaching the second last but responded with characteristic generosity to lead after the last and win going away at the line.
He is rightly back on the top of the pile in the ante-post Gold Cup market for a race staged at a track at which he is unbeaten. He is the most probable winner and won't be toppled from that spot, given he is unlikely to run again until Cheltenham.
First Lieutenant ran his best race of this season in second, although well positioned and on paper not yet up to the heights of last term, and is threatening to become Gigginstown's first string for the Gold Cup ahead of Sir Des Champs. He still has quite a bit to find with Bobs Worth but merits his place in the big one.
I still expect Sir Des Champs to run a great deal better at Cheltenham than when fourth to Bobs Worth here, when he would have been unsuited by a crawling pace over his minimum trip. He was returning from a mother-and-father of a fall at Punchestown last time, so this was in effect his seasonal debut and his training has always specifically revolved around his peaking at the Festival. He excels at Cheltenham, where he can usually rely (bar last year) on his ideal ground conditions. Even I must admit, however, Bobs Worth holds the aces right now but 9/1 each-way takes that into some account.
Rubi Ball, the third and a multiple winner in France, put up a far more substantial performance, returned to fences, than on his Irish debut, especially given he is thought to need deep ground.
Lord Windermere ran no better than when hampered in the Hennessy and Lyreen Legend was able to reverse the RSA Chase form on his seasonal debut. Unioniste was outclassed.
Instead, Silviniaco Conti threw down the biggest threat to the titleholder with an utterly convincing success in the King George. He now definitively shapes as though the Gold Cup trip will be to his advantage, rather than a doubt.
He outstayed Cue Card, which isn't to say the runner-up didn't get the trip because he seemed not to lose much ground once headed. It might be, as the balance of his form overall suggests, that going right-handed just shaves off those few pounds of ability that make the difference at this level. I hope his trainer Colin Tizzard keeps the faith and goes for the Gold Cup. They can always revert to the Ryanair next season.
Al Ferof shaped like a thorough stayer on his first proper test since his injury and first attempt at three miles under Rules, although connections believe a drop back to the Ryanair trip is what he requires. A sounder surface might well be the ticket, however.
---
Watch a replay of the Lexus Chase
---
There were a couple of proper races, one conducted at a more satisfactory pace than the other, in this division during the past week.
Hurricane Fly again confirmed that if he is not to retain his Champion Hurdle crown in 2014, his rivals will have to beat him rather than expect him to fall on his sword.
He brushed aside two young pretenders in good style at Leopardstown and appears to be as good as ever, rising ten years of age. He just jumps so well, particularly under pressure, and has such responsive gears. He really is a brilliant hurdler, as this extending of his own record to 18 Grade One victories underlines.
The second, Jezki, was legitimately boxed in by Our Conor's rider, Danny Mullins, approaching the last flight and found the winner had already attacked when free. He rallied well but may lack the winner's slickness and malleability. The Champion Hurdle remains the logical target, however, although he may be less effective at Cheltenham than his key rivals.
Our Conor fans have more to cling on to. He had missed at least one intended engagement after picking up some minor problems from a run on the Flat in October. So he was conceding fitness to the other two and, although the tactics were sound, would have been done no favours himself in battling to hold Jezki in. He tried to go with the winner and only faded from the last. He can build on that.
"At Fishers Cross is also owned by McManus. You will recall that another of his horses, Binocular, was scrutinised by a list of experts prior to transforming from a 999/1 chance into the Champion Hurdle winner within the space of a month in 2010."

Previously, at Kempton on Boxing Day, My Tent Or Yours had got the better of The New One in an exciting duel for the Christmas Hurdle. Sam Twiston-Davies opted for understandable but ultimately self-defeating tactics on the second, making the running in a pace-less race on a horse he has often said needs holding onto and delivering late.
That allowed My Tent Or Your to stalk him and also put a great deal of pressure on The New One getting the last hurdle right, but horse and jockey mistimed it and Twiston-Davies was forced to ride a finish against Tony McCoy with his right foot out of his stirrup.
Both horses emerged with their credentials enhanced for the Champion Hurdle. The winner proved he finds plenty under pressure from a long way out and the second only went down narrowly despite plenty of things going wrong. On balance, given all of those factors, I prefer the runner-up for Cheltenham.
Subsequently, the 2013 Prize For Thinking In Horseracing (not awarded annually) went to Twiston-Davies, who said of The New One's future prospects: "Although everyone says there will be lots of pace in the Champion Hurdle, that is not a given.
"In fact, nobody can actually name a horse you can guarantee will set a decent pace and, having gone through the main ones, I certainly can't see one. So it would make sense for us to throw one in to make sure there is a gallop on for The New One and so we will run a pacemaker."
Funnily enough, that might be a thought crossing JP McManus's mind, given the way the Leopardstown race panned out. Jezki needs a strong pace because he stays further than two miles and the strong-travelling My Tent Or Yours because he needs to settle. So why not run 2008 Supreme winner Captain Cee Bee, Sunday's reluctant leader, as an owner-companion pacemaker?
Team Twiston-Davies wouldn't want to forfeit their award by relying on that notion, however. Their problem is finding a horse of their own good enough to take the Champion Hurdle field along at a fast enough clip for long enough.
All in all, unbelievably, it looks like we're going to get the 2014 Champion Hurdle line-up that last season's Festival promised. At this stage, I like The New One best but I was too late in deciding and his current price does not factor in my doubts. What a belter of a race, though.
---
Watch My Tent Or Yours and The New One duel in the Christmas Hurdle
---
Perhaps the most significant news item for this division emerged on Saturday when Rebecca Curtis, trainer of At Fishers Cross, revealed on The Morning Line that the horse would be receiving treatment for some "physical problems".
"Thankfully, with his connections, he's going to be seeing the best vets now," she said. "He's actually going over to Ireland to be checked over [at] the beginning of next week.
"It's well known he's always had a bit of arthritis in his hocks which then... obviously causes a bit of back problems. I think the hocks are absolutely perfect now but there's obviously... a bit of a problem with his back.
"He did see a chiropractor who thought there might have been a problem with a rib slightly out, which has been fixed now, so maybe that will help a bit as well."
At Fishers Cross is also owned by McManus. You will recall that another of his horses, Binocular, was scrutinised by a list of experts (including John Halley, one of Ireland's leading vets who attends to the string of Aidan O'Brien) prior to transforming from a 999/1 chance into the Champion Hurdle winner within the space of a month in 2010.
That precedent could yet reverse the implosion in form suffered by At Fishers Cross and the physical diagnosis certainly tallies with his approach to hurdling this season. The difference between Binocular and At Fishers Cross, however, is that the former had already posted the level of form required to win a Champion Hurdle prior to his initially lacklustre 2009/10 season whereas At Fishers Cross needs to improve to reach World Hurdle-winning form.
On the track, Zaidpour managed to win Leopardstown's Grade One Christmas Hurdle without his recently applied cheekpieces, but he hasn't got on with Cheltenham in the past and isn't good enough. World Hurdle titleholder Solwhit was withdrawn, lame, prior to this race, meaning he still hasn't raced since June - not at all ideal.
---
Back 9/4 favourite Big Buck's for the World Hurdle with Sky Bet
---
Unexpectedly, Kempton's headline act last Friday was Dodging Bullets, who recorded a better time in winning the Grade Two novices' chase than Sire De Grugy managed in the Desert Orchid, carrying only 2lb less. He is already a better chaser than he was a hurdler and continues to progress.
He jumped out to his left on occasions but his form says Kempton suits him well so it's best to conclude he is versatile of track and ground. He ran about approaching the last but has always been said to idle in front.
Along with stablemate Hinterland, he is a strong Arkle candidate. His form tailed off last season, when a poor ninth in the Supreme and worse at Aintree. Nicholls can't account for that, bar for saying the horse subsequently had another breathing operation. On the plus side, Dodging Bullets did run well in the 2012 Triumph.
Grandouet received 6lbs from the winner yet found disappointingly little when challenged three out and was ultimately beaten 10 lengths. He put in some better leaps on his third chase start, but more often still spent too much time in the air. Returning to a left-handed track and better ground will help, although Kempton's ground was not as testing as the official description.
"The Tullow Tank got slightly outpaced at the second-last hurdle but, once switched, made his challenge most readily, jumped well under pressure and won going away. He shapes and is bred as though the Neptune would be an ideal target and is looking mighty long at 14/1."

On the same day in Ireland, the credentials of Arkle ante-post favourite Champagne Fever took a knock when beaten into third by Defy Logic in the Grade One Racing Post Novice Chase. The two had taken each other on in a marvelous spectacle of jumping until swapping an error in the latter stages, Champagne Fever's being the more significant.
It was disappointing that he was unable to stage some form of rally afterwards and even lost second. He jumped boldly prior to that, had made an excellent debut previously and is unbeaten at the Cheltenham Festival. This was undoubtedly a setback, though.
Defy Logic has never been to Cheltenham nor to the top table in a sparing hurdles campaign. He is already an improved version as a chaser and may yet deliver on the warm words that accompanied his talent as a bumper horse.
Notably, he also paid a compliment to Felix Yonger, who has been backed for the Arkle this week but is likely also to be entered in the Jewson.
He was beaten by The Paparazzi Kid at Limerick on Boxing Day but was conceding 6lb to the runner-up and his form suggests he would not have been at his best in ground that soft.
Among the stayers, Annacotty brought Martin Keighley and Ian Popham their first Grade One success when making all with a much-improved effort, in first-time blinkers, to win the Kauto Star Novices' Chase over the King George course-and-distance. Connections are justifiably leaning towards the RSA Chase over the Jewson, but he'll need to show he can replicate this performance in future headgear and when taken on for the lead.
The good-jumping runner-up, Green Flag, might be one for the 4m NH Chase but Just A Par's dismal run can't merely be explained away by the ground, given his past form and the times on the day. Perhaps Sam Winner might run in the RSA Chase after all......
Carlingford Lough took the Grade One Topaz Chase over three miles at Leopardstown, staying on strongly without being put under much pressure to win. He seems greatly improved in his second season chasing and seems best going left-handed. Bright New Dawn was the disappointment, jumping out to his right and finishing a well-held fifth at a track at which he put up his best hurdling performance.
The three-runner race that Many Clouds won at Wetherby last Friday could have been a weak affair but was not. The winner jumped well and beat another good jumper, but more of a stayer, in Indian Castle. Even the third, Pinerolo, might win a handicap provided his rating doesn't take this run too literally. The winner will have various Festival options and is not one to value lightly.
One performance that might get overlooked over the Christmas period is the four-year-old Djakadam's winning chase debut at Leopardstown last Saturday. Built to be a better chaser than hurdler - and he was no slouch over the smaller obstacles - he beat some decent rivals better suited to the day's task than he might prove to be. It would be typical of his trainer Willie Mullins not to overface him with a Cheltenham agenda this season but don't forget his name for the future.
---
Add Djakadam to your list of horses in 'My Stable' now
---
There was a lot to like about the victory of The Tullow Tank at Leopardstown last Friday. Philip Fenton, his trainer, was concerned that the horse preferred racing right-handed after his Fairyhouse win but this Leopardstown success was a career best and there was no obvious sign from his jumping that the left-handed orientation was a concern.
He got slightly outpaced at the second-last hurdle but, once switched, made his challenge most readily, jumped well under pressure and won going away. Although he is yet to race beyond two miles under Rules, he shapes and is bred as though the Neptune would be an ideal target. The way he moves suggests a sound surface will only be a plus. Victor Chandler is looking mighty long at 14/1.
Faugheen's progress continues unhampered by his tendency to make mistakes and he won a Limerick Grade Three event on Saturday, making all to win hard held. Connections may now prefer the Albert Bartlett, ahead of the Neptune, where he'd meet the slick-hurdling Kings Palace.
The Albert Bartlett could also be the target for improving Captain Cutter, winner of Newbury's Grade One Challow Hurdle last Saturday. Tony McCoy felt his jumping improved for the return to a left-handed track but the horse is not yet proven to such a degree on less testing ground.
Timesremembered was rallying at the finish but both he and the winner had been more patiently ridden than third-placed Oscar Magic, who got racing with two rivals halfway down the back straight and may be worth another chance.
After beating a good-looking field at Wincanton in a race that has worked out very well, Amore Alato went off at an inexplicably long price to win the opening race on Boxing Day at Kempton. Trainer Nick Williams is a lot keener on targeting his horses at Cheltenham these days and said that, because of this success, the Sky Bet Supreme is now on the agenda. The horse needs to continue to progress and will have another run in which to do so.
Secrete Stream was impressive in victory, in a good time, at Wetherby last Friday. He is an interesting novice to follow this season, even if Cheltenham is not ultimately on his agenda.
---
Add Secrete Stream to your list of horses in 'My Stable' now
---
Sadly, the Triumph ante-post favourite Analifet suffered a pelvic injury at Leopardstown on Boxing Day but trainer Willie Mullins has since issued an upbeat report about her prospects of returning to racing, albeit clearly not this term. Guitar Pete took advantage after she pulled up, but he has been exposed as lacking the class for a Triumph.
Nick Williams seems to have an embarrassment of good young horses this season and the latest of them, Le Rocher, popped up on his UK debut to win the Grade One Finale Hurdle at Chepstow last Saturday.
Post-race comments suggest Williams rates the horse highly but thinks he prefers soft ground. In his case, it seems Cheltenham is not a target this season, however.
Second-placed Kentucky Hyden ran well in second, perhaps better than at Cheltenham, and likes deep ground. Violet Dancer was disappointing, however, and Big Buck's galloping partner Solar Impulse made a muted UK debut. Chocala missed the race after reportedly scoping dirty, continuing the unease about the form of Alan King's yard.
The clock says Vicenzo Mio was a good winner of Kempton's juvenile hurdle last Friday, his time comparing favourably to those of older and more experienced horses in subsequent races. That effort puts him back in the Triumph picture after only a respectable UK debut at Cheltenham previously.
It's possible that soft ground is important to him, though, and Paul Nicholls also has Newbury winner, Calipto, under consideration for the Triumph. It's likely that one of them will run at Cheltenham on Trials Day - probably Vicenzo Mio, as the ground tends to be soft - and the other in the Adonis.
Both this Kempton form and the Finale seemed to compliment the unheralded Cheltenham winner, Ballyglasheen, it must be noted.
Kempton third, Raven's Tower, has also been beaten by Ballyglasheen and might be an Aintree type.
---
New Sky Bet customers: Free £30 matched bet
---