Twiston-Davies Double steals the show
Replay Ben Linfoot's blog from Cheltenham as Double Ross and The New One starred for Nigel Twiston-Davies.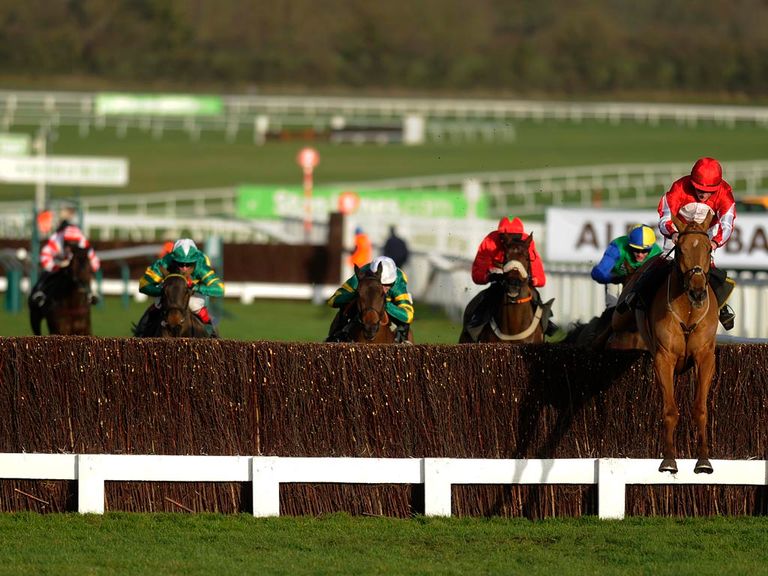 Click here for your free £30 matched bet with Sky Bet
*All times GMT
1600: The day belongs to Team Twiston-Davies who treble their Cheltenham tally for the season with a valuable double courtesy of The New One and Double Ross. Thanks for joining us, as ever it's been enjoyable and we'll be back blogging from a racecourse near you soon.
1550: Jonjo O'Neill says of the winner: "It's a big jump from a handicap but he's a pretty raw novice really and we're desperate to get more experience into him. We'll have to rethink things after that maybe. He's actually Eastlake's full-brother so it's nice for them both to win on the same day."
Sky Bet go 14/1 about More Of That for the Ladbrokes World Hurdle.
1545: AP McCoy holds More Of That together nicely and a vigorous shake of the reins up the hill sees him pull away from the long-time leader Salubrious who did all the hard work. Gemix didn't settle, Glens Melody folded tamely and Ruby Walsh's long journey for one ride doesn't prove fruitful for once.
---
1535 Result: 1st 3 More Of That (IRE) 11/4
2nd 4 Salubrious (IRE) 3/1
---
1532: So. It's come to this. A tantalising Relkeel to end with. Glens Melody is the token pick, but anything could happen here.
1530: Looks a very real possibility that The New One will take on My Tent Or Yours in the Christmas Hurdle at Kempton on Boxing day then. Wowsers. A festive treat indeed.
1525: Nigel Twiston-Davies says: "It's all hype and we've got to prove it and he proved it today didn't he? He's gone away up the hill well. We're looking at the Christmas Hurdle at Kempton next but it's only 12 days away. He'll tell us."
1515: Sam Twiston-Davies says: "I nearly messed it up, I had three handfuls and thought I'd let him bowl along and then had to go for him again but he's done it well. It's unbelievable. You know what Nige is like, he loves to go for the big ones so he might go for the Christmas Hurdle and then freshen him up for Cheltenham."
1510: The New One wins the races fairly easily in the end and it was a contest that was full of drama. Seabreeze d'Ho fell at the second and my eye was taken from the contest as he limped towards the finish line while the rest set off into the country. He was quickly attended to before the screens went up and I hope he's okay. In the closing stages, Brendan Powell looked to go for a gap that didn't seem to exist up the rail on Jumps Road, who ran a cracker, and he put Zarkandar off his stride for a moment or too. Still, he put that behind him fairly quickly and challenged The New One at the last, at one stage looking like he might reel him in up the hill. But The New One found more, and he's the outright favourite at 3/1 with Sky Bet for the Stan James Champion Hurdle.
---
1500 Result: 1st 1 The New One (IRE) 2/5 f
2nd 2 Zarkandar (IRE) 5/2
---
1456: Court Minstrel's got his ground and you would think Zarkandar will make it a good test, but this is all about The New One and there are going to be some long faces around here if he's beat. Unless Zarkandar wins, as I've had a few cheeky sheckles on him.
1455: It will be interesting to see how the French horses run against The New One and Zarkandar here. Albert Hall and Seabreeze d'Ho are the raiders in question and they are both 50/1, but I've no idea how good they are.
1450: That was only Nigel Twiston-Davies' second winner of the season here at Cheltenham, but he'll be hopeful of going back-to-back here with The New One a 1/2 favourite. That 11/4 about Zarkandar remains tempting though.
1445: It was a fine ride from Sam Twiston-Davies who sat off the ferocious pace set by Easter Meteor and Sew On Target. He said afterwards: ""Our fellow ran well the last day and Nige was confident, I was hoping for a bit of place money but it's nice to be proven right by the trainer again. He's a very good jumper, the mistake was totally my fault at the top of the hill and he was very good to stay on his feet. Heavy ground is his speciality so for him to run like this on good ground opens up more options for him."
1440: The winning distance was two lengths but Double Ross was idling up the hill so he's possibly value for a bit more.
1435: Double Ross wins the big handicap for the Twiston-Davies' and he dispels any ground doubts with an authoritative success. He was well-handicapped on his best hurdles form after just three runs over fences and proved he was the best-handicapped horse in the race today. Brave Sew On Target, who forced a tasty pace along with Easter Meteor, finished fourth, like all good each-way bets. The JP McManus pair of Cantlow and Colour Squadron were second and third and Choc Thornton says the runner-up wants three miles.
---
1425 Result: 1st 13 Double Ross (IRE) 7/1
2nd 3 Cantlow (IRE) 14/1
3rd 7 Colour Squadron (IRE) 9/2 f
---
1423: I'm off to cheer on Sew On Target, best of luck with your bets.
1420: Fantastic race this and Double Ross is being smashed up in the betting ring. I gave him long consideration but the lack of rain just put me off him, but he's into 8/1 now. He could be very well handicapped.
1416: Market opens with Colour Squadron the 5/1 favourite. Johns Spirit 6/1, Attaglance 7/1. The bell goes. Jockeys please mount, jockeys please mount.
1410: Fox Norton just holds on from Broughton at Doncaster. That shakes up the juvenile division a bit with Royal Irish Hussar well beaten.
1405: David Pipe said of the winner: "Tom got him in a lovely rhythm, he was the best horse in the race and he's done it well. It's onwards and upwards with him and he'll probably have another run somewhere before March."
1400: Well, that was impressive. He jumped fluently, galloped all over them and was much the best. Sky Bet go 5/1 about him for the main Albert Bartlett in March and it's hard to think of another staying novice who could keep up with him on the evidence we've seen so far this season. Perhaps Willie Mullins has got one (or two), but that was good. Milan Bound was a big disappointment, dropping to the rear fairly early and he was out of his depth. Oh well, to the next...
---
1350 Result: 1st 1 Kings Palace (IRE) 10/11 f
2nd 5 Masters Hill (IRE) 25/1
---
1345: Good little race here. If you trust that Kings Palace-Creepy-Monbeg Dude form the favourite's probably a good thing, but there are a few with potential in this including Milan Bound who carries my cash.
1335: AP McCoy says of Eastlake: "He's very consistent, he ran well here the last day. He's won as much as he's lost and he's very tough and genuine. That's very unlike him (mistake at the third last) but he's got a great old attitude and loves his racing."
1330: Jonjo O'Neill said of Eastlake: "This fellow is a grand horse, he normally jumps well and he battled away well. He's a lovely horse to have and he needs a good old gallop."
Nigel Twiston-Davies added of third home Astracad: "He won this two years ago and he's been paying the penalty ever since. We thought he was a good as he's ever been and he's run a good race."
1325: There looked to be a good pace early as Shooters Wood took them along at a good clip and though he paid for it by folding tamely, Eastlake travelled well into the contest and stayed on up the hill gamely under the McCoy drive. French Opera defied his advancing years to run an excellent race in second, while Astracad led well into the closing stages and this was very much a bounce back to form for him.
---
1315 Result: 1st 7 Eastlake (IRE) 5/1 f
2nd 2 French Opera 16/1
3rd 5 Astracad (FR) 6/1
---
1308: Lots of money for Astracad now, running in the colours of the Mould family who sponsor the race in memory of Jenny Mould, owner of Charter Party, Barton Bank, Tipping Tim and Bindaree. He would be a poignant winner, but this is a very tricky race and I must admit I can't get my head around it. What's going to make the running? I wouldn't like to bet on who will be leading at the first, never mind crossing the line.
1300: Shutthefrontdoor trailed in last and that was very disappointing. He travelled and jumped well until they turned the screw down the back and a couple of mistakes knocked him out of his rhythm.
1255: Good effort from Sam Winner there who jumped very well out in front and made it a real test. As far as the future is concerned, runner-up Le Bec is the one to take out of the race as he gave the winner 8lb and didn't jump as well as he could've. Sky Bet go 16/1 about the winner for the RSA Chase but there was talk of the four-miler straight afterwards.
---
1240 Result: 1st 4 Sam Winner (FR) 11/4
2nd 1 Le Bec (FR) 7/4
---
1238: Interesting to see if the form stacks up here with the three principals taking each other on again. Shutthefrontdoor your favourite, but Le Bec is proving popular.
1235: A few quotes from the jockeys after the first, who all report the ground as riding 'Good'.
Winning jockey Paul Moloney said: "He's quite similar to Barizan, he travels and he jumps so we'll see. But we'll enjoy today because it was a surprise, but racing is full of surprises."
Jack Quinlan, who rode Commissioned, said: "He travelled into that well and there's every chance he'll be back here in March either for the Fred Winter or the Triumph."
Barry Geraghty, who finished runner-up, added: "It rode a nice race, we went a nice clip and the winner did it well. It was a good run and I'm sure he'll go on to better things as well."
1225: A surprise in the first as Ballyglasheen wins at 33/1 for Evan Williams and Paul Moloney. Sky Bet introduce him at 33/1 for the Triumph and it'll be best to watch that again before making any judgements. Initial gut feeling is that it was a bit of a messy race and today was the day for the winner. Fair to say very few people saw that one coming.
---
1210 Result: 1st 5 Ballyglasheen (IRE) 33/1
2nd 2 Kentucky Hyden (IRE) 7/4
---
1200: Phew, card covered. It's tough isn't it? Stroll, parade ring, lunch and we're under way... Time to abck Commissioned in the opener. He'll love this good ground won't he? Best of luck if you're having a go this afternoon.
1155: Finally, the Osborne House Relkeel Hurdle concludes today's action and it's a four-runner race that has even the bookmakers baffled - some layers are going 11/4 about all four runners! Is Gemix the real deal after his win over Solwhit? Is Glens Melody yet another superstar mare for Willie Mullins? Can the unbeaten More Of That be as effective on better ground? Can Salubrious step out of handicap company and back down in trip to good effect? So many questions and I'm afraid you're going to have to wait until at least 1540 for the answers...
Value Bet Verdict: This is very tricky, but Team Mullins think plenty of Glens Melody and she's the tentative pick in a finale that is only for the bravest of punters.
---
Place your bets on the Osborne House Relkeel Hurdle

---
1145: We're going to find out plenty about the Champion Hurdle credentials of The New One in the StanJames.com International Hurdle this afternoon as Zarkandar is a serious rival. I'm a huge fan of The New One and I'm a believer when it comes to the Champion Hurdle, but 11/4 about Zarkandar makes some appeal. He loves this track and trip on the New Course being a Triumph Hurdle winner and the holder of today's title, while we know he acts very well on good ground. The blinkers are reapplied following his second to Annie Power at Ascot and you just get the impression Team Nicholls mean serious business today. The New One might have too much toe over this trip, but he was beaten by today's rival (albeit over two and a half miles) at Aintree and 8/15 versus 11/4 is a bigger discrepancy than I expected.
Value Bet Verdict: I'm a big fan of the favourite, but every horse has their price and 11/4 Zarkandar looks too big.
---
Place your bets on the StanJames.com International Hurdle

---
1140: Very little is being backed in the Stewart Family Thank You Gold Cup with Colour Squadron as big as 13/2, Johns Spirit 7/1 and Grandioso out to 8s (same price as Attaglance). Sew On Target is the Value Bet selection at 16/1 and he just appeals as a very solid, Cheltenham horse. His 16lb pull with Johns Spirit coupled with his good effort here over two miles last time (when he fared the best of those up with the pace) convinced me he was the best bet at the prices and he's my sole wager. Colour Squadron and Attaglance were my Paddy Power picks and ran blinders, but the cat is out of the bag with them. However, I expect both to run very well once again today, as should Johns Spirit who is bidding to defy a 19lb rise in the weights since his October win.
Value Bet Verdict: Sew On Target remains the each-way play.
---
Place your bets on the Stewart Family Thank You Gold Cup

---
1125: Kings Palace is 'all the rage' according to the bookmakers, but I'm not so sure. Looking at Oddschecker he's a fairly solid 5/4 favourite, but he's not being backed off the boards for the Albert Bartlett Novices' Hurdle by any means. After his last race Tom Scudamore said: "I've told the owners to go away and enjoy the video as I've seen a lot of bubbles burst," so make of that what you will. Bought for chasing, perhaps he's taken them by surprise and I just thought he was too short here against some likely types. Milan Bound was the one for me at 11/2 as he's looked very good on his last two starts and his Carlisle form has received a boost. Saint Roque goes up in trip in a bid to squeeze out some more improvement but he's taking on some potentially stronger stayers this afternoon.
Value Bet Verdict: Milan Bound is a bit of an unknown quantity but 11/2 is a fair price about him turning over the favourite.
---
Place your bets on the Albert Bartlett Novices' Hurdle

---
1110: I had a good look at the Jenny Mould Memorial Handicap Chase last night but nothing stood out in the market. Shooters Wood makes some appeal at 12/1 given his outstanding record at Cheltenham - he's won three from four starts here - but he's 8lb higher than when winning this race last year and Paul Nicholls was pretty negative in his Betfair column, saying he's only been back in three weeks and will come on for the run. If you take what trainers say with a pinch of salt, perhaps he's the one. There's been a bit of money for Astracad as he drops back down in trip for the first time since last May and he would be a fitting winner for the Moulds, while Eastlake is on the same mark he was when third here last month. Good ground is no problem to him. Drumshambo, who performs well in much softer conditions, is a big drifter. He remains on an upward curve, though, and ran well off a big weight at Ascot last time despite a couple of blunders.
Value Bet Verdict: Looking at the market this morning, Drumshambo looks a very big price strictly on form now he's touching double-figure prices. Perhaps too much is being read into his preferred conditions as he's won on good ground and he was a good fourth around here in the Grand Annual.
---
Place your bets on the Jenny Mould Memorial Handicap Chase

---
1050: The Ryman Stationery Novices' Chase features the three horses that contested the finish in the Roy Blandford 65 Years At Cheltenham Novices' Chase at the Paddy Power meeting here last month. Le Bec came out on top that day with Shutthefrontdoor second and Sam Winner back in third, with the former meeting the latter duo on 3lb worse terms this afternoon. The ground was slightly different that day (Good, Good to Soft in places), as was the track (Old Course), and the trip (a furlong shorter) but are any of those factors or the 3lb penalty for the winner enough to see a different result?
Value Bet Verdict: Le Bec shouldn't be underestimated but the extra emphasis on stamina this afternoon should suit Shutthefrontdoor who gets the vote to come out on top.
---
Place your bets on the Ryman Stationery Novices' Chase

---
1025: Right then, today's action. We open the card with the JCB Triumph Hurdle Trial at 12.10 and what better place to start than Kentucky Hyden who made such a big impression when easily landing odds of 1/3 at Sandown last month. That was in heavy ground so he faces very different conditions today but he's been backed this morning and is 5/4 at Sky Bet. Also backed this morning is John Ferguson's Commissioned who is 9/2 from 11/2. He was rated 97 on the Flat when trained by Mark Johnston and according to our Catching Pigeons column, he's been schooling nicely. Paul Nicholls gave a good word for his Vicenzo Mio in his Betfair column too, saying he impressed in a recent racecourse gallop. Having not seen Commissioned or Vicenzo Mio jump a hurdle in public, we just don't know enough to have a confident bet here. However, it promises to be an informative race.
Value Bet Verdict: The money for Commissioned is interesting following reports he's schooled well and he's a tentative selection in a race full of imponderables.
---
Place your bets on the JCB Triumph Hurdle Trial

---
1005: Non Runners: Just the three non-runners to report thus far. Champion Court is the obvious one after his gallant effort in the Peterborough Chase on Thursday while two are missing from the opener.
0950: Going Update: What a difference a year makes. It was heavy ground when Zarkandar won the StanJames.com International Hurdle on this day in 2012 and he'll bid to retain his crown on going that is officially Good all around this afternoon. The GoingStick gave a reading of 7.6 at 0600 hours and the forecast is 'dry and breezy'. What is not to like? If you are in two minds the message is come racing, don't be lured into that Christmas shopping malarkey - you've ten days yet.
0930: Good morning and welcome to a sun-kissed Cheltenham ahead of a potentially wonderful day's racing here at Prestbury Park. We've got a bit of everything today - a top-notch juvenile hurdle, an informative novice chase, a grade 2 novice hurdle, a recognised Champion Hurdle trial and some tough-looking handicaps including the day's feature, the Stewart Family Thank You Gold Cup.
It promises to be a cracker. I'll be going through the card this morning in an attempt to find a few winners, so if you've any questions or thoughts yourselves email ben.linfoot@bskyb.com and we'll try and crack today's action together.
---
New Sky Bet customers: Free £30 matched bet
---