Farhh's star shines brightest
Ian Ogg blogged live from Ascot on QIPCO British Champions Day as Farhh brought the curtain down on a fine career.
Ascot. Click here to bet.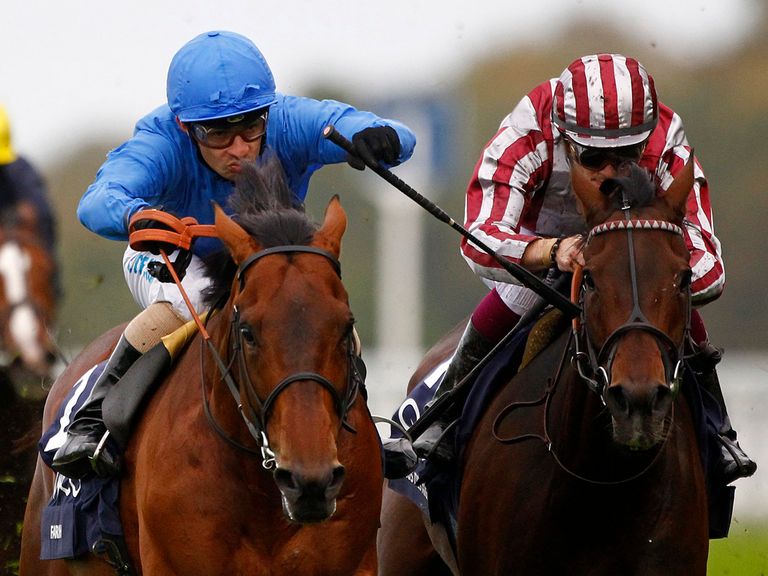 1710 Farhh has bowed out a Champion after winning five of his 10 career starts spread over four seasons. He never finished worse than third and twice finished second to Frankel as well as filling the runner-up's berth to Moonlight Cloud.
That's top class form in anyone's book and the son of the remarkable stallion Pivotal was a worthy winner of the feature contest on a day that went a long way to living up to its billing.
Not everyone is happy with the timing or the race programme and there were those that stayed away but first impressions from the course suggest that the day was a resounding success, even without the mighty Frankel.
1700 My day has been light on winners and, having just flicked over to the football scores, I see Coventry have claimed a late equaliser at Molineux but neither of those events can take the gloss off a terrific day's racing.
QIPCO British Champions Day may be in its infancy and it may not be everyone's cup of tea but the racing today has not only been of a high class but it's also been exciting.
There didn't appear to be many people here who didn't appear to be enjoying themselves and there's no doubt that Ascot has the space and the resources to put on a show to cater for the dedicated racing fans and casual racegoers alike.
1656 There aren't many folk around the winners' enclosure with the rain having started to fall just as the last runner went into the stalls but there were still plenty in the stands to cheer that winner home and I'm sure there'll be there for a little while yet before heading home.
1654 A trip to America beckons for Lewis Walsh, rider of winner Breton Rock (12/1).
He was followed home by Intrigo 20/1, stablemate Gramercy 50/1 (who appeared to be comfortably best of those on the stands' side) and Levitate 16/1.
1640 Confirmation from Saeed bin Suroor that Farhh will now be retired to stud.
He said: "He had to have a break after winning the Lockinge. He's been a miler in the past but he did it today really well over 10 furlongs, especially in that ground.
"He'd been on good to soft but it was heavy today. You have to look after him really well just to keep him sound. It wasn't really easy to train him, if you put any pressure on you know what will happen. He looked the best ever today and he ran his greatest race. He is a great horse and I'm so happy. He'll be retired now and he'll go to stud."
Trainer Corine Barande-Barbe said of the runner-up: "He's run a very good race, having come back for the third year in a row. But I felt because of his bad draw it meant he couldn't get out before Farhh, who had a bit of a start on him and you can't afford that against a horse like him.
"I hope he has silenced the doubters who have criticised him this year and hopefully he will come back next year. I don't know if he'll run again this year, it's up to the owners."
Aidan O'Brien said of Ruler Of The World: "He has run a tremendous race against older horses and he's another horse to look forward to next year over 10 furlongs or a mile and a half."
All in all there's plenty to look forward to; not least for Farhh!
I'm off out to cheer on George Buckell and Our Jonathan, best of British (Champions Day)!
1637 A word on the apprentice handicap while we wait for more reaction to a rousing Champion Stakes.
After early umming and ahhing, I've plumped for Our Jonathan and stuck with the original selection in the exacta.
Among the many I've reluctantly left out are One Word More and Breton Rock who are closely matched on their Doncaster form while Balty Boys and easy C&D winner Common Touch are two to note with top apprentices in the saddle.
No one said it would be easy!
1631 Time for some brief quotes from the connections with the threat of more to follow.
Silvestre De Sousa said: "He travelled like a dream, and like the winner, through the race. He's a marvellous horse and I'm delighted."
Saeed Bin Suroor said: "He's a great fighter - every year he has had problems. He's a great horse and I'm so happy."
1629 That could be it for Farhh one imagines with a career at stud beckoning, an option that isn't available for the gallant Cirrus who has proved his trainer's words to be spot on.
It's to be hoped, though, that we see Ruler Of The World back in 2014 especially given his half-brother, Duke Of Marmalade, got better and better at four.
1625 It appeared as though quite a few of the horses didn't settle with Hillstar notably pulling for his head but with Cirrus travelling strongly in the slipstream and Ruler Of The World rampaging down the outside it did appear as though Farhh might be swallowed up but the five year old answered every call to 'end' Sheikh Mohammed's troubling year on a high.
A word from Michael Shinners as the punters strike back. "The first reversal of the day for Sky Bet with punters getting one back with the well-backed Farhh taking the big race of the day. That gives them a few quid in their pockets for the five places in the apprentice handicap."
1620 You could run out of superlatives for that contest, from the training performance from Saeed bin Suroor, from the perfectly executed tactics from both Silvestre de Sousa and the equally important role played by Mickael Barzalona, not to mention the courage of the lion-hearted but fragile Farhh who has proved himself to be a top-class performer.
Not bad for a Thirsk Hunt Cup winner!
1618 A race befitting of the occasion and the contest itself as Farhh 11/4, edges out Cirrus Des Aigles (6/4f) and Ruler Of The World (13/2).
1604 The bell has just sounded for the Champion Stakes but first some reaction from the connections of the winner and placed runners in the Queen Elizabeth Stakes.
Richard Hannon jnr said: "It's a big shout to put blinkers on a good horse like him but he lost his concentration in Paris last time and he was disappointing after his run in the Marois.
"They went very fast today and that helped him - he travelled very well. He's always gone well on this ground."
Sheikh Joaan added: "Richard (Hannon) was confident in the horse and I think Hughesie (Richard Hughes) did a great job on him. Hopefully next year we have great stock to continue this great teamwork."
Brian Ellison was understandably delighted with the runner-up, saying: "That was no fluke, he took the race by the scruff of the neck - I just wish they hadn't put blinkers on the winner! That will probably be it for him for this year.
"I'm looking forward to next year with cut in the ground but I think he could go well on dirt."
Aidan O'Brien said of Kingsbarns: "That will probably be it for this season. He was our best horse last year but had lots of problems in the spring. He'll be some horse next year."
You have been told!
Best of luck whatever you're with in the feature. It's time for me to go out and watch this one.
1600 Having not had a wager in this contest, I'd be quite happy to cheer Cirrus Des Aigles home as it's quite a story for a seven year old gelding to still be around at the top level.
I couldn't quite understand the support for Ruler Of The World, even if I did like his Derby performance, but I haven't got a lot right today! I thought Hillstar might be the more interesting of the two at the prices as it would, surely, take a lot to get Ryan Moore off his Derby winner.
Triple Threat has been backed by some good judges with Morandi and Farhh others that are popular while Mukhadram could be tough to pass if handling the ground.
Given conditions are testing here, it wouldn't be a surprise if the pace were steady and that could just suit the French horses who are used to races being run at that sort of tempo.
1553 Time to concentrate on the future and the Champion Stakes and a word from Mr Shinners and the Sky Bet book.
"The money is fairly well spread in this race with support for Cirrus Des Aigles, particularly with the Price Boost, however the best backed horse in the race is Farhh who has been solid throughout the day and is currently 11/4."
1549 A word from a couple of earlier races with Declan McDonogh saying off Maarek: "He was pretty bad in the gates - we went in last in Paris. He lost a hind shoe as well, his off hind. He never travelled at any stage and he has run a stone below what he is capable of."
Rather more upbeat was Seal Of Approval's owner Tim Vestey who said: "That's our first Group One entry, let alone Group One winner. We offered this filly at Tattersalls as a yearling and didn't receive a single bid for her. We've had the last laugh now."
And there's not many that would begrudge them that victory either. One of the big stories of an enthralling day.
1546 Meanwhile, in front of me in the stands, four young ladies were sitting on the steps (it hasn't rained! Oh you doubters that stayed away on account of the forecast) with drinks in hand and seemed entirely oblivious to the action unveiling just yards away on the racecourse.
They did seem to be having a splendid time though.
1544 Sometimes you're just plain wrong and the die has been cast for my day with the apprentice handicap left to get me out of trouble as I'm going to resist playing in the Champion Stakes.
It seems I wasn't alone, though, as I saw one gentlemen forcibly hurl his racecard into the ground (I didn't point out that dustbins were available, it just didn't seem like the right time) as the field pass the post and storm off through the crowd. Except it's difficult to storm through a crowd. It must be really frustrating.
1542 Suggestions from the tv analysts that Dawn Approach may have run a little flat on this return to action but the blinkers certainly worked the oracle for the winner and that result should seal the trainer's championship for Richard Hannon as he and his team have enjoyed another terrific season.
A fine run, too, from Top Notch Tonto who has improved in leaps and bounds since joining Brian Ellison and more than justified connections decision to supplement him at the start of the week.
The winning time was 1.44.18.
1539 I think it's fair to say that race lived up to expectation as Olympic Glory (11/2) pulled clear of Top Notch Tonto (14/1) and Kingsbarns (14/1).
1523 This race is one where you can have strong opinions. As you'll know by now, I'm firmly in the Dawn Approach camp but I can understand where those who want to take him on are coming from with Maxios an obvious alternative.
Support for Olympic Glory on this site is slightly surprising in its absence (from what I've read) and he's certainly better than he showed last time when failing to handle the bend. He did finish strongly behind Moonlight Cloud earlier in the season but it's entirely feasible that flattered him.
I've barely mentioned Soft Falling Rain on the assumption that this ground will prove too soft for him and we all know what happens when you assume something......perhaps that was a mistake.
Kingsbarns and Top Notch Tonto are potential fly-in-the-ointment material for completely different reasons while Gordon Lord Byron and Gregorian, arguably, have place claims.
This is a really cracking heat.
1518 A little reaction to the Fillies and Mares and George Baker, who comes across as a very likeable fellow and certainly celebrated with delight said: "Once I got a bit of daylight, she picked up nicely. I almost got there too soon. I feel sorry for Hayley Turner, who is injured - it's her ride."
It was a first Group One success for Baker who doesn't get that many opportunities at the level to showcase his undoubted talent.
The winning trainer James Fanshawe commented: "I always felt she'd improve on this ground. It's great for the breeders, Tim and Tessa Vestey, who own her.
"The only sad thing is that Hayley got injured at Doncaster and couldn't ride her so I must thank Hayley for her help. I've spent three weeks looking at yearlings for next year and she's one you would never have picked.
"She's a great mover and her dad, Authorized, used to love soft ground. There's nothing like Ascot, it's been a lucky place for us. She showed real resilience as a lot of horses wouldn't have gone through those gaps after what happened at Doncaster."
It's certainly a timely win for Mr Fanshawe following the retirement (I think I'm right in saying) of both Deacon Blues and Society Rock this season. Everyone needs a winner on the big stage to remind people of their talents.
1513 It's a race I'm keen to watch again tonight as it seemed a fairly messy affair with the whole field there or thereabouts in the straight but I didn't notice any obvious excuses.
Talent appeared to have every chance and ran a solid race, she just lacked the turn of foot of the winner and didn't appear to have any excuses.
I wasn't close to getting that winner. Everything's so much clearer with hindsight.
I've just realised it's past three o'clock. I wonder if Wolves are beating Coventry? Focus! We've got the QEII next and this will decide the mood for the rest of the day!
1507 A word from Mr Shinners after another fine result for Sky Bet: "Talent was backed late after being weak in the morning and Hot Snap, who never travelled, also attracted plenty of support and the winner, Seal Of Approval, was another cracking result
"After three races we have little money from multiples going on to the next two favourites."
The support for Hot Snap was interesting as my paddock mole told me (before the race but after I'd abandoned the blog!) that she had regressed physically since he saw her at Newmarket on the day she won the Nell Gwyn.
It'll be interesting to see if connections keep her in training next season.
1503 We carried a snippet from Hayley Turner's exclusive Racing UK blog on the website yesterday where she said that Seal Of Approval would win and those who listened were rewarded at the handsome price of 16/1.
Spare a thought for Turner who would have been aboard but for the injury sustained when the filly clipped heels and came down at Doncaster. She appeared to be travelling well at the time that day and today went some way to vindicating those that held that view as she showed a great turn of foot to quicken clear of the field that were pretty much in a heap around two out.
Belle De Crecy (10/1) chased her home at a respectful 4 lengths with Talent (7/2cf) a further neck back in third.
2.39.09 the winning time.
1453 We're close to having co-favourites here as Hot Snap attracts support. She did look good at Newmarket and she would be a fitting winner with the Sir Henry Cecil exhibition today and the tributes to Frankel who lit up the first two Champions Days. I'm off to cheer the winner - whoever she is!
1448 Moving next onto the Fillies and Mares Stakes with Talent and Dalkala vying for favouritism. The Oaks winner has been surprisingly easy to back through the morning given her penchant for getting her toe in; heavy ground could be another matter entirely though.
We've seen a fair few of Notnowcato's progeny excel when the mud is flying which makes Waila of keen interest as an each-way option (well, for me at any rate) at 7s.
A fair fifth in the Ribblesdale on just her third start, that form received a shot in the arm when the fourth home, Winsili, won the Group One Nassau and Waila herself fairly dotted up in Listed company on her most recent start.
She is a half-sister to Crystal Star who is the dam of Crystal Capella who won this race twice for the same connections so she's certainly bred for the game.
She doesn't even have to improve as much as the prices might suggest as official ratings have her rated just 1lb lower than 4/1 chance Hot Snap.
The case for the defence rests your honour.
I'm still not entirely sold, even after all that. It's a right old puzzle this one!
1441 We have more from the connections of those involved in the finish for the Sprint Stakes with winning owner Sabina Power, who also bred the horse, commenting: "He stays in training, the breeders are chasing but we get a whole load of enjoyment."
Her son, Paddy Power, said: "We were pretty hopeful, but we thought Maarek would be hard to beat. Though we'd won on soft we didn't know how he'd handle it today. Wayne brought him over to the rail and that proved key."
"That was brilliant," said trainer Eddie Lynam. "He's a bit of a poser and when he hit the front he just pulled up a bit. He wants quicker ground ideally but does go on anything. The Powers bred this fellow and have the dam and all the sisters which makes it even more special.
"The Powers are very good to me and they are more than owners, they are friends as well. We like getting on planes and if we get the invite to Hong Kong we could go.
"Sole Power was a bit peeved that he wasn't coming today but he couldn't run on this ground. At least next season we will have Bill and Ben for all the big sprints."
Lynam also saddled third-placed Viztoria and added: "The filly is only three and it was a very good run, particularly as six furlongs is a little sharp for her."
Jim Goldie said of his runner-up Jack Dexter: "The six furlongs just stretches his stamina, he's getting like his dad (Orientor) and getting quicker as he gets older.
"He did everything right but had nothing to run with on this side. He's run a great race and we'll come back next year."
1439 Winning rider Wayne Lordan told reporters: "He's done nothing wrong all year, but he's met a few good horses. Every horse has their day and today is this fellow's day."
A word, too, from Michael Shinners who appears to be smiling from ear to ear after two terrific results for the layers: "After two results Skybet are flying! Jack Dexter was very well backed and there were run ups on Johnny Murtagh's runner so the result was perfect."
1431 The four year old has taken his form to a new level this season which is only to be expected for a sprinter; not many of them cut the mustard at three.
Third in the July Cup and second in the Sprint Cup, he was hardly winning out of turn and connections now have great options with Sole Power still very much on the scene.
He, of course, missed today as soft ground is no good for him but that makes it much, much easier for connections to keep them apart. If only they could predict the weather.
1426 Eddie Lynam has made no secret of the regard in which he holds Slade Power for some time now and his faith is vindicated with a first Group Two success.
In the firing line throughout, the 7/1 chance enjoyed the cut in the ground (as do many Dutch Arts) and battled on gamely to repel a determined challenge from the gambled on Jack Dexter (5/1) with the pair finishing over three lengths clear of Viztoria (5/1).
Maarek reared in the stalls and then missed the break but he's done that before and this just has to go down as a flat run from the favourite.
1418 Before I dash off to grab a spot to watch the second some going news with the consensus coming in at 'heavy' according to Silvestre de Sousa, Declan McDonogh and Cristophe Soumillon while most of the remainder settle for 'very soft'.
1415 Time ticks past at a frightening rate and the bell has just sounded for the jockeys to mount for the Sprint Stakes.
The multiple bets all proved wide of the mark in the opener as Estimate failed to make the frame leaving nothing (predictably) going onto Maarek.
Is it time to have a single? He's got so much in his favour surely. It's time to impose some rare self-discipline and take a watching brief only I think. Sirius Prospect at 20s is more my sort of play in this kind of race but I'll keep the readies in the pocket for Dawn Approach.
Good luck whoever you're playing.
1410 Johnny Murtagh is understandably tickled pink although I don't know what his wife will have to say when she learns that he said: "This is the best day of my life.
"I can't thank everyone enough for giving me the horse and trusting me with him. He's been a brilliant horse from day one. I'm privileged to ride so many great horses, but it's all about my staff and my team. He's all heart, this horse."
Reflecting on his dual role as jockey and trainer, Murtagh said: "I wouldn't have taken it on if I didn't think I could do it, and do it well. We have a good system at home, and today proves that I'm able to train and ride.
"The pace was slow and he was tanking along, but when they quickened up three furlongs out he responded very well and just got there on the line.
"It's a special day and I'm so grateful to so many people. You need good staff, good riders and my wife works in the office - it's a huge effort on their part.
"Royal Diamond is all heart and all guts - he's proved he stays today, so next year you could see more."
Owner Andrew Tinkler was also understandably proud of his trainer saying: "I think what makes him so good is that he's a workaholic and he gets into the horses' heads. He understands them, he rides them every morning and his confidence fetches him through.
"In horse racing this is the best day of my life. We had Dubawi Gold second in two Guineas but to win the first race at Champions Day with a horse we didn't think was going to be anything, well nothing can top that.
"We decided against the Melbourne Cup and brought him here and won - you can't beat that."
1407 Away from the racing you may well have seen that there are around 30 famous sporting trophies on display at the racecourse today.
I didn't track them down earlier but they've clearly gone down a storm with some racegoers with Diana Emery, who was visiting Ascot for the first time since the 1970's, said: "It is wonderful to see all this collection, I am a cyclist as well as being interested in horses and I was keen to see the Tour de France trophy also I have a friend who is interested in rugby, so I can now say that I have seen the Calcutta Cup."
BetVictor, meanwhile, have pushed Estimate out to 5/1 (from 4s) for the Gold Cup while setting the bar at a new low for Royal Diamond who they quote at 12/1.
Kings Palace wins well at Cheltenham. Why aren't I there instead?
1400 High Jinx and Times up were ridden more prominently than might have been expected but both dropped back into the pack while Pale Mimosa travelled well at the rear of the field for much of the way but failed to reach to the leaders as Baker noticeably increased the tempo approaching the turn for home with High Jinx one of the first off the bridle.
It was a fine piece of riding that almost won him the race only for the magical Murtagh to foil him on the line aboard Royal Diamond.
We should have some reaction from the winning connections shortly but right now we have another Gold Cup quote, this time it's from William Hill and they've gone in a couple of points shorter at 14/1.
1356 The SPs of the placed horses were 8/1 and 13/2 as the bookmakers get QIPCO British Champions Day off to a terrific start with Estimate being one of the best backed horses of the day.
It appeared that she just couldn't pick up off, what seemed to the naked eye, a steady pace. Indeed, my 'friend' (Mr Nicol) was concerned that Royal Diamond was pulling too hard at several stages in the race.
The winner has a first show of 16/1 for the Ascot Gold Cup from Sky Bet but that could change!
1353 I return to my chair slightly chastened, slightly poorer and significantly deafer having watched the race with my former colleague (who rebuked me for not referring to him as the friend which he is) who backed Royal Diamond
The winning SP was 20/1, the time 3.38.09 and the distance a nose as Johnny Murtagh's incredible season goes on.
An equally fine run and ride from Harris Tweed and George Baker with Eye Of The Storm in third.
1338 I've just glanced further down the page and Mr Smith's comments on Maxios are worth passing on too.
"It's very difficult to gauge just how good Maxios is after his victory in the Prix du Moulin as we got the distinct impression that his jockey nicked the race that day and he's currently on a mark of 123. He'll love the ground though and it will suit him a lot better than it did when he was well beaten at Royal Ascot."
Maxios has proved very popular today.
Runners about to leave the paddock for the first. I'll be back after the race. Are you supposed to doff your cap or throw it in the air when the queen has a winner? Immaterial really I forget to bring one but consider it thrown if Estimate wins. Come on my girl!
1333 A word too from Phil Smith, head honcho at the BHA's handicapping department, who says: "Although Cirrus Des Aigles showed a lot more sparkle at Longchamp last time he was beating second division horses and only posted a rating of 123.
"Farhh posted his best ever rating of 124 in the Lockinge in May and he'll need to at least run up to that mark to win today, though the trip should hold no fears as we think he's at least as effective at 10 furlongs."
Interesting. I wonder if handicapper's are good tipsters?
Smith goes on to say: "The Queen Elizabeth II Stakes is a cracking race and all the major players have turned up bar Toronado. Alhough Dawn Approach is our top-rated horse on 125 at the moment, several of his rivals are rated within a couple of pounds of the Guineas winner and a lot will come down to which horse copes with the conditions on the day."
There is more but that will suffice. The horses are in the paddock for the first; there's no rain at the moment. It's not long now.
1328 Info of all sorts flying in here at the moment; some of it more relevant than others.
The band playing were the renowned Friary Guildford Brass Band. I'm no expert but they sounded fine to me.
Going stick readings anyone?
Stands' side 7.2 (yesterday 7.4), Centre 7.9 (7.8), Far Side 7.6 (7.6) and Round Course 6.4 (6.4). Just don't ask me to explain it. The going's still soft.
1322 Having made a case of sorts for High Jinx earlier, I'd have to include Times Up in my considerations given that the pair have proved so closely matched over the past two seasons.
Christophe Soumillon takes the ride on the Doncaster Cup winner who was beaten under four lengths behind Fame And Glory the last time that he tackled this race in 2011.
He, of course, was trained by Aidan O'Brien who's represented by Eye Of The Storm. After his win at the Curragh, O'Brien said: "We weren't sure about the trip but he got it well. Joseph came back in and said he doesn't really need this trip, but we'll probably end it for the year with him now and maybe have him as a Cup horse for next year."
A change of plan has obviously been adopted; I've know idea whether that's a good thing or not but he looks priced up on potential rather than form and I'd be frantically pressing the red button if I were brave enough to do that sort of thing. Which I'm not.
1315 You'd expect Harris Tweed to take them along and he's had his confidence boosted by back-to-back wins at Goodwood but he's never won beyond a mile six and should set the race up for something else.
Aiken intrigued me at a price. He was only beaten half a length in last year's renewal and it was easy to forgive him his reappearance at Newbury. Harder to forgive (especially as he carried my money) was his run at Longchamp last time where he appeared to have plenty in his favour.
This C&D clearly suits and, if that French run was just a blip, he could be overpriced even if William Buick does ride Caucus. John Gosden has used Richard Hughes to good effect in the past, most memorably on The Fugue in last year's Nassau.
I couldn't though. Not the way he ran in the Prix Gladiateur.
1310 This has been a good race for market leaders too. Nine of the last 10 have been returned at 8/1 or shorter with five favourites taking the spoils.
Cover Up was the odd one out at 20/1 for Sir Michael Stoute and Kieren Fallon in 2005. Is the knight of the realm about to gain another success with a far more fancied runner?
1306 Estimate is a top price 9/4 at the moment. That's a price isn't it?
My resolve is going to be sorely tested today.
1305 Just over 15 minutes until the first of the day from Catterick.
The 0-80 mile and a half handicap may not have the same allure as it's more illustrious cousins in Berkshire but the race is not without interest and Villa Royale piqued mine.
A C&D winner off 73 back in May, she's got her ground for the first time since but I'd want to see some encouragement in the betting.
I don't know why. It just feels more comforting to know that someone else thinks your selection might win.
1252 There's no volume on the televisions in here (thankfully) but Rishi Persad and Oli Bell are currently talking to Jeremy Kyle. Do you think they're trialling a pilot for a spin off of his popular television show?
1250 It's really rather pleasant outside.
There's the odd drop of moisture in the air but it's not raining and the temperature is mild. Rather gratifyingly, there was a queue for the Sir Henry Cecil exhibition (although that did mean I couldn't see it) while there was also a queue for the Generous Bar which, I suspect, won't live up to its misleading name.
A band were playing, appropriately enough, on the bandstand and it was all rather stirring while the concourse in the stand was chock-a-block with a good crowd around the portrait of Frankel. There was an interview with the artist playing out on the big screen, he said he worked in the 'medium of light'. Does that actually mean anything? The portrait looked rather good at a glance though.
The atmosphere is building up nicely. It's all rather splendid at this time of day, full of anticipation and excitement before the dreams of drama and financial gain are, again, cruelly crushed by the bare face facts of reality.
There was a celebrity tipping board by the parade ring. Michael Owen and Jeremy Kyle both tip Estimate and Cirrus Des Aigles.
Do they know?!?
1228 Running through the races earlier, I missed out the apprentice handicap which isn't because I haven't got a clue (or at least don't think that I haven't got a clue which is a separate matter entirely) but because I got distracted.
As well as the money reported earlier for Fury, bet365 have cut Sir Reginald and Coral have slashed Boots And Spurs to 12s from 20s.
It's the latter that takes my eye along with Our Jonathan, Trail Blaze and Fils Anges. Leaning towards a single on OJ with the others joining in with a combination exacta. Simples.
If only it was.
A little more than an hour until the first race. I'm going to exit the underground bunker for a short stroll and see what is happening in the outside world.
I'll be reporting back shortly.
1220 Turning our attention to Cheltenham for a moment and a couple of market movers at Prestbury Park.
Paul Nicholls had a double in the Cotswolds yesterday and his Sire Collonges and Sametegal have both proved popular.
I confess to only having glanced at the fare on offer there but I did think that Kings Palace was a fair price in the opener, that bumper form with Captain Cutter is pretty smart isn't it?
1205 Striking out on a tangent from that and Mr Shinners reports that punters have been filling their boots on one of Sky Bet's price boosts.
The Shindog (as Mr Ord informally refers to the Racing PR Manager) informs me that: "Estimate is the first Price Boost of day, which looks dangerous as she has been extremely popular throughout the morning and is also the selection of Alex Hammond in her tip of the day."
There's a Price Boost from Sky Bet for every race at Ascot today as well as one for each of the other meetings and you can check them all out by clicking here.
1200 It must either be lunch or something is happening as the press room has started to thin out somewhat. The tv screens are showing pictures of an exhausted and red faced Rupert Bell riding one of the horse exercisers under the instruction of Carl Llewellyn. You don't want to overegg the countdown to the first race - there has to be some filler!
1158 Some news on the movers from William Hill and they've seen money for Jack Dexter in the Sprint Stakes, Dalkala, Morandi, Intrigo as well as Maxios while Rory Jiwani of Stan James says: "Cirrus Des Aigles is our worst antepost result on the card but we're happy to take him on today.
"Until 12, we're top price about the star gelding which is currently 7/4. Farhh is next best at 7/2 with Derby winner Ruler Of The World a 7/1 shot.
"We also bet without Cirrus Des Aigles with Farhh the 7/4 favourite and Ruler Of The World 3/1. French soft-ground lover has been a bit of an antepost each-way punt and he's 11/2 in this market and 11/1 outright.
"Dawn Approach has been a solid favourite leading up to the Queen Elizabeth II Stakes. We're 11/4 about Jim Bolger's colt and happy to lay him with doubts over the ground and his recent form. French raider Maxios is 4/1 having slammed Olympic Glory et al in the Prix du Moulin at Longchamp two weeks ago.
"Rite Of Passage caused something of an upset in last year's Long Distance Cup and we'll be hoping for another surprise in the opener with The Queen's Ascot Gold Cup heroine Estimate a strong 2/1 favourite and currently our worst result on the card. Aidan O'Brien's Eye Of The Storm is next best at 13/2 while 8/1 shot Ahzeemah has been backed for Godolphin."
1154 Michael Shinners of Sky Bet has arrived in company with Mr Ord and both seem in fine fettle having stayed locally last night.
The Sky Bet market movers have been passed across the desk and Eye Of The Storm has been backed to provide Aidan O'Brien with a new pretender to step into Yeats' shoes in the opener.
Investec Oaks winner Talent is weak at the head of the market in the Fillies and Mares having remained the same price despite The Lark's withdrawal.
Maxios has been backed to get the better of Dawn Approach et al in the QEII with Farhh popular to lower the colours of Cirrus Des Aigles.
I've been asked to remind you that it's a quarter the odds all races and five places in the apprentice handicap.
1144 The same could also be true of the Champion Stakes unless Cirrus Des Aigles continues to drift.
Even if he does, I'll be fighting the urge to back him having thought that he was one to take on at the prices. Always infuriating backing a loser that you had no intention of backing until getting sucked in at the last moment.
Simon Holt has been in fine form with his previews this summer and he's sided with Farrh. Perhaps I should just stop there.
The writing was probably on the wall having reckoned Mukhadram was a fair each-way price at the start of the week at 8s. He's now 14s.
Sometimes you just have to know when to pull up stumps and accept defeat.
1138 Moving on the Fillies & Mares Stakes where The Lark is an absentee having come into season.
That takes the field down to eight runners but it's still hugely competitive as we're not far off from having three co-favourites in places.
Dalkala just about heads it up following her late burst to collar Tasaday in the Prix de l'Opera but that didn't look a great race to me while I'm not convinced the comparatively short straight here will play to Talent's strengths.
Hot Snap looks priced up on her reputation and the impression she created back in April when winning the Nell Gwyn rather than anything that she's done on the track since then.
I'm struggling to find one I want to back, possibly Waila who won this race twice with Crystal Capella although at a bigger price, Hayley Turner was sweet on the chances of Seal Of Approval.
There's every chance that I'll be filing this race in the too difficult category.
1118 It's becoming a recurring theme for me but I'm struggling to see why Maarek should be opposed in the Sprint Stakes unless you're willing to do so on the grounds of price.
The winner of this race last year, he has his conditions and comes into the contest on the back of his win in the Abbaye. I have seen an argument that the lack of an obvious front-runner could count against him while it's been proved time and time again that there's not all that much between our top sprinters so, on those grounds, perhaps the 7/2 might not appeal to all but it's good enough for me.
I've been a Slade Power fan for a while now and he forms part of a three-strong attack from Eddie Lynam's stable with Scoop preferring Balmont Mast.
The claims of Jim Goldie's pair speak for themselves but at a bigger price I quite like the look of Sirius Prospect. Tropics has been shining for the Hertfordshire handler this season but this fellow's no mug and he's two wins and two thirds from four runs on soft ground plus he has course form to his name while this has always been his time of year.
He was only a couple of lengths off Maarek in third last year when a 12/1 shot and takes the eye at over double that price today.
1109 It's never as cut and dried as that of course and a couple of far better tipsters than me have put up Pale Mimosa, including our very own Ben Linfoot in his Value Bet column.
I had a brief conversation with a former colleague who was making a case for Royal Diamond at a big price while the likes of High Jinx and Biographer could tempt me in at 18s and 20s respectively.
Particularly James Fanshawe's runner, he looks a little quirky and was a little below his best at Longchamp last time but I could see him staying on into a place.
1100 Going back to the beginning of the day and the Long Distance Cup and Estimate is another favourite that I'm pretty keen on.
She doesn't have a great deal in hand on official ratings but it's reasonable to hope for further improvement after just seven racecourse starts while her perfect course record is a great plus.
Again the ground is a slight concern but the progeny of Monsun are renowned for being at home when the mud is flying and it will be surprising if conditions prove to be her undoing.
Incidentally, there was an interesting line from Andre Fabre in the Post about the progeny of Monsun (he trains Triple Threat who heads to the Champion Stakes) and the French maestro said: "He's by Monsun and those horses don't need the soft - it's a myth, they go on any surface."
1054 That's the first plug out of the way. Let's get onto the serious business about who you fancy or, given this is more of a monologue for the time being, who I fancy.
My day is built around Dawn Approach. I know the ground is a slight question mark as Jim Bolger acknowledged in the view from connections but his sire was good enough to win the Futurity Stakes on soft ground and you have to be hopeful that he can handle conditions, besides which the straight track reportedly tries very quickly here and the ground may not be that bad IF we miss the showers.
He's had a busy first half of the campaign and isn't the most straightforward as we saw at Epsom but Bolger is more than capable of bringing him back for the big day at his best.
Three year olds have won four of the last five renewals and I'm not convinced that the opposition are good enough to trouble Dawn Approach if he's close to his best and the 7/2 available in places is more than tempting enough for me to pay to find out.
This could all end in tears!
1045 A word, too, about our friends across the road at Sky Bet who are paying 5 places on the apprentice handicap while there's the full range of jockey specials including 6/1 about Ryan Moore riding a double and more besides.
1040 No doubt you've already done a fair bit of form study and have a decent idea who you're going to back today but if you're still wavering or considering a saver or two then don't forget to check out our full preview package where you can find the thoughts and comments of all our columnists and tipsters.
1036 Whether you approve of British Champions Day or not and whether you approve of the 'new' grandstand at Ascot or not, there is an undeniable crackle of excitement in the air.
The attention to detail at the course is staggering with men out with leaf blowers removing offending items from the turnstiles and gateways - heaven forbid there should be a leaf on the ground at Ascot in autumn - while teams were going around power washing the dustbins past the parade ring as I meandered past. It's the little things that make the day so special and this day is shaping up to be undeniably special despite the naysers.
There was a nice line from Timeform on the quality of the card for those that aren't convinced.
1030 Good morning all and welcome to the blog ahead of what should be a fantastic day's racing.
Some all-important going news to kick off with and the going at 07.30 was soft with Chris Stickels saying: "The straight is drying but there is no change in the going description."
The forecast is for showers, some of which might be heavy. The stalls are on the stands' side on the straight course and the inside on the round course.
Non-runners so far are The Lark and, in the finale, Brownsea Brink and Capaill Liath.
---
New Sky Bet customers: Claim free £5 bet every week
---