Lydia Hislop: It's Al Kazeem - no pressure
Lydia Hislop looks forward to Sunday's Prix de l'Arc de Triomphe and reckons Al Kazeem is "outrageously over-priced".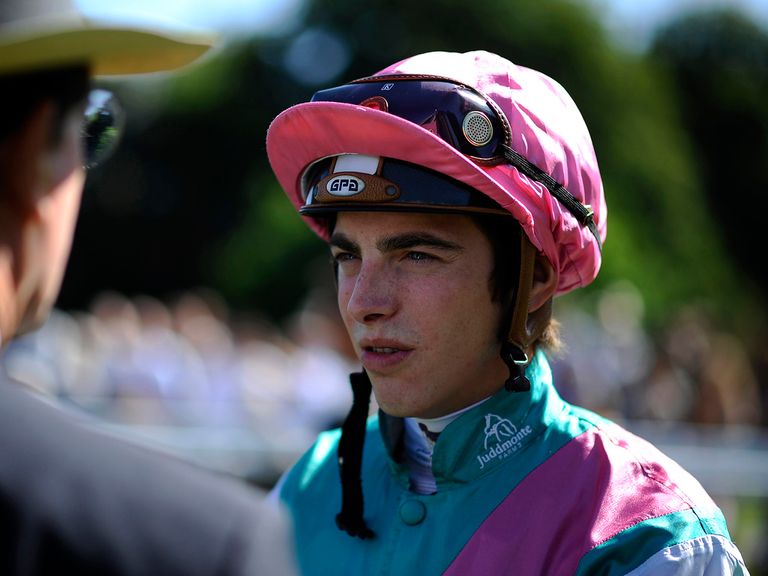 Dar Re Mi ensured William Buick's transition from outgrown apprentice at Andrew Balding's yard to stable jockey for John Gosden was as smooth as possible when they clinched the 2010 Group One Dubai Sheema Classic together, at the very start of the rider's prestigious new contract.
James Doyle, to outside eyes abruptly chosen as retained jockey to Prince Khalid Abdullah five weeks ago, enjoyed the steadying win of nascent star Kingman in week one of his duties. Although not in his owner's colours, victory on Al Kazeem in Sunday's Prix de l'Arc de Triomphe would solidify his position at the top table.
Take a moment to think about the situation Doyle newly occupies. Not the money - hopefully that's as rewarding as it should be - but the pressure. It's not just for tyres, as any human being (betting without Jim Bolger) would acknowledge in their more private moments.
Doyle wouldn't be the jockey he is had he not aimed for a position such as the one he now occupies. Aimed and expected, not in an arrogant way but because that's what hard work and talent should gain you. He didn't want to be a jobbing jockey. He was perfectly clear in his own mind about that from the start.
"His trainer has devoted himself to ironing out the kinks that saw his horse throw away last year's Arc. Those antics were not a one-off. He is a rare talent indeed: a horse with the ability to chuck international Group Ones."
Lydia on Orfevre
And he isn't a jobbing jockey. He's very good, clearly, and getting better - read more worldly and experienced - all the time. However, nobody should pretend that the transition from first jockey to Roger Charlton, the training byword for circumspection, to spotlight roving role is easy. There are complications.
Doyle has been parachuted, mid-season, into three of the highest profile yards in Britain, supplanting their stable jockeys on Abdullah's horses. Supplanting Buick at Gosden's, Ryan Moore at Sir Michael Stoute's and Tom Queally - Frankel's jockey, no less - at Lady Cecil's.
It's a development that could have all sorts of repercussions. For starters, it puts extra pressure (not just for tyres) on Doyle. Right now, he's going out to ride horses trained by Stoute when Moore is potentially kicking his heels in the weighing-room. Is he clearly a better jockey than Moore? He might develop to be, but it's hard to argue that currently. (Easier to be jocking others off when you're clearly the very best in the business: a Lester Piggott or a Steve Cauthen rather than a Michael Roberts.)
That also exerts pressure (not just for tyres) on Stoute, who needs to train enough top-class horses to keep Moore interested. You may be aware of Moore's self-styled attention span. Ideally, he doesn't do endless handicappers. Abdullah's horses at Stoute's yard comprise a significant number of the likely higher aspirants.
How long will Moore tolerate a pinch-point in his supply of good horses? It wouldn't be the wildest speculation to assert: for as long as Joseph O'Brien can starve himself to ride a quorum of horses for his father, Aidan.
With overweight a growing problem for a frame better built for jump racing, it's not hard to imagine O'Brien junior increasingly dovetailing with Moore and eventually being replaced by him. To outside eyes, Ballydoyle appears Moore's natural home. There is already an established bond between them.
Meanwhile, back at Gosden's (where pressure is not just for tyres), Buick must be reflecting on races like the St Leger - when he rode Godolphin's Libertarian and Doyle the Gosden-trained Excess Knowledge - and wondering whether there are more lucrative opportunities elsewhere.
And Queally - whose face was most readily associated with Abdullah's due to the racehorse of several lifetimes, Frankel, and who has been riding with increased stature this year - must be considering how things are going to pan out at Warren Place.
On announcing her decision to train on in her late husband's legacy, Lady Cecil (who must unfortunately become more conversant with pressure being not just for tyres) cited the support of an assistant who resigned four days later. It's possible that Queally might receive overtures that offer a less nebulous future.
It is against this backdrop that Doyle, dropped like a precocious kitten into Trafalgar Square, faces one of the most significant but mercifully least pressurised tasks of his burgeoning career: Al Kazeem for the Arc. He can win it.
As things stand, Al Kazeem is outrageously over-priced. This is a three-times Group One winner widely available, each-way a pleasure, at 16/1. He has beaten Camelot in the Tattersalls Gold Cup, Mukhadram and The Fugue in the Prince Of Wales's Stakes and Declaration Of War in the Eclipse.
I'd have some doubts about buying the "too many races on fast ground" story for his International defeat at York were it not for his roaring-back second to The Fugue in the Irish Champion Stakes. He was keeping on compellingly at the line, after that top-class filly had settled matters.
Although, on paper, Al Kazeem's best form is at ten furlongs because those are the races he's contested in his banner year of 2013, there is credence for him being better at 12 furlongs from his three and four-year-old campaigns. He improved for the step up in trip then; it's conceivable he might do again.
---
Back Al Kazeem now for the Arc de Triomphe at 16/1 with Sky Bet
---
Chief of the dangers is Treve, who has exuded star quality since serenely winning the Prix de Diane. I'd like to bet full-time with anyone who thinks a one-and-three-quarter-length and conceding-first-run beating of Wild Coco is somehow not top-class form. She is a serious candidate to become the first Vermeille winner to triumph in the Arc since Zarkava in 2008. (And what a devastating blow it is for Frankie Dettori, engaged in rebuilding his career, not to be riding her after breaking his ankle at Nottingham on Wednesday.)
Orfevre was silkily good when winning the Prix Foy, a steadily-run race against inferior opposition. His trainer has devoted himself to ironing out the kinks that saw his horse famously throw away last year's Arc. Those antics were not a one-off. He is a rare talent indeed: a horse with the ability to chuck international Group Ones.
On the plus side: he may not get the wide draw that inspired Christophe Soumillon to make a wide, sudden and precipitate move on him last year and the jockey will have learned plenty from that. On the negative: he's got previous, this is a far better Arc than last year (when the best horses were contesting the Champion Stakes instead) and he's around 5/2. No, thanks. He can win without me.
Andre Fabre is the master at conjuring an Arc winner but I can't have Intello improving for the step up in trip, as he'll need to do, and his presence (rather than a raid on a vulnerable-looking 2013 edition of the Champion Stakes) diminishes the argument for the likes of Flintshire. Yes, he was not given a hard time on ground too soft for him in the Prix Niel but, if he's so good, why is Intello running, too?
The leading Niel runners are fascinating. Japanese Derby winner Kizuna was returning from an absence when winning the race and may do better on a sounder surface. (If it is a sounder surface - the forecast seems to change by the hour.) If he doesn't improve, a resurgent Ruler Of The World will beat him, having been stopped in his run a few times when second in the Niel.
Three footnotes. First, a wide berth is considered by many a heavy impost. Frankly, it depends on your horse: a high number would be a bad thing for, say, Orfevre (whom Soumillon would prefer to bury) but a good thing, in my opinion, for Ruler Of The World and of no concern to Treve.
Second, there is no obvious pace. It might be that one of Fabre's runners makes it. But it's more likely, now supplemented, that St Leger winner Leading Light will lead because he stays further and is comfortable with racing prominently.
Third, with two credible Japanese contenders and the Longchamp pilgrimage of discordantly young and trendy compatriots that entails, betting British horses on the Pari-Mutuel might be advantageous. Remember Deep Impact's, er, impact on the French Tote? Exactement.
Verdict:
1: Al Kazeem
2: Treve
3: Kizuna
---
Sky Bet Free Bet Club: £10 free bet - £5 free every week
---