Lantern lights up Ascot
Replay Ben Linfoot's blog from the fourth day of Royal Ascot as Sky Lantern oozed class in the Coronation Stakes.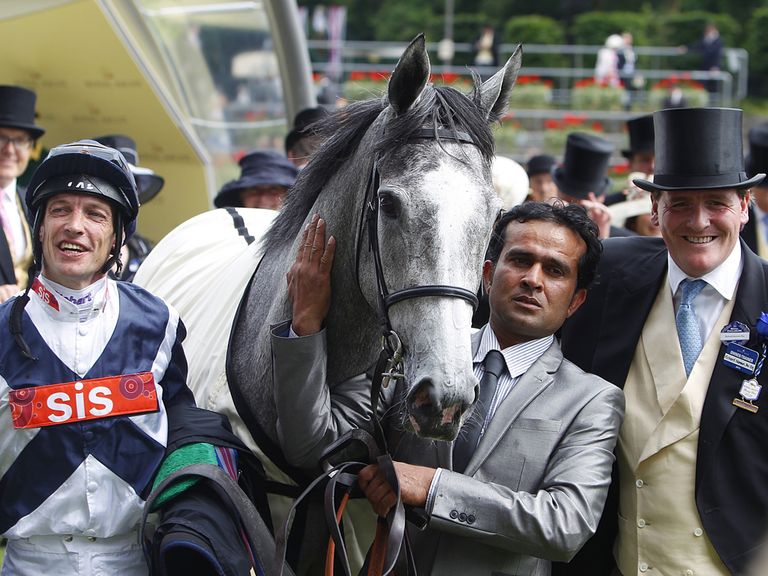 *Please refresh for updates, all times BST
*Click here to send your e-mails to Ben
1800: They're singing outside and I've done my conkers. It must be Royal Ascot. Four days just isn't enough. So we're here for a fifth and final day tomorrow - I'll be blogging bright and early, so get your thoughts over to ben.linfoot@yahoo.co.uk and we will, we will crack the Diamond Jubilee. And the Wokingham. Until then...
1745: Course specialist Lightning Cloud wins the finale for the North - a great result for Kevin Ryan. Two wasn't enough for me and guess what? My combo tricast failed to deliver the goods either. There's always tomorrow.
1735 Result: 1st 19 Lightning Cloud (IRE) 25/1
2nd 28 Dream Tune 7/1
3rd 10 Shamaal Nibras (USA) 33/1
4th 2 Santefisio 40/1
1725: Baccarat and Democrates carry my cash but two just isn't enough in a race like this is it? I smell a combination tricast bet. What a way to go into the weekend this would be. Talking of the weekend, I'm excited about tomorrow. The Diamond Jubilee and the Wokingham are just my cup of tea, though the latter looks as easy as ever.
1717: Just watching John Magnier and Michael Tabor picking up their prize after winning the last with Leading Light. Thinking back to all their winners this week, I haven't been on one of them. I'm an idiot.
1712: Sky Bet make Leading Light a 7/1 chance for the St Leger. He won't beat Libertarian though will he?
1710: There was to be no fairytale result here. Disclaimer pulled Tom Queally's arms out for most of the race and when he hit the front in the straight he soon had nothing more to give. Feel Like Dancing looked the likely winner as Jamie Spencer timed his run to perfection down the middle of the track, but Leading Light was game and found more. Boite scraped in the places on the line - fantastic shout Dan. Fancy doing tomorrow's Value Bet for us?
1700 Result: 1st 1 Leading Light (IRE) 5/4 f
2nd 10 Feel Like Dancing 20/1
3rd 4 Boite (IRE) 66/1
1658: A Disclaimer win would raise the roof. Again. The Queen, at her meeting, takes a backseat here. This year, it's Sir Henry's race.
1650: Dan N has a nugget. He says: "Ben, is it just the trip that has Boite at 66-1 - it beat Remote by 7 lengths over 10 furlongs staying on well. Given how well remote won yesterday surely if it does stay the trip its got to be a better chance than 66-1? Got to be worth a dabble..."
I like it Dan. Well beaten in Italian Derby but he certainly looks pretty big considering Remote's progress. I would be wary of that maiden form though, not to be taken literally. But, 66/1...
1645: So, the Queen's Vase run this year in the memory of Sir Henry Cecil. It's fantastic Royal Ascot have chosen to celebrate Sir Henry's astonishing contribution to the meeting - 75 winners, simply unbelievable - in this way. Disclaimer runs for Warren Place here and he's got a great chance on his Goodwood form, with his 1m6f winner for a dam giving hope he'll stay. If there is to be a party pooper, I fancy it to be Nichols Canyon, not Leading Light. The Gosden horse just looks like he wants a trip and today could be his day. But, like everyone else, I'll be cheering just the one horse home in this one.
1635: Andrew Balding's Bana Wu ran a blinder there from a wide draw, dropped out the back and racing wide under a confident Hughesie.
1630: Astonishing training feat here from Nicky Henderson who produces Forgotten Voice, fit from hurdling, to win the Wolferton three years since he last ran on the Flat. Another one for Johnny Murtagh, who is the leading rider of the week here now.
1625 Result: 1st 4 Forgotten Voice (IRE) 12/1
2nd 12 Sheikhzayedroad 8/1
3rd 16 Bana Wu 16/1
1620: The Godolphin filly Albasharah is getting absolutely smashed into. She'll be a popular winner of the Wolferton that's for sure. All about Fattsota for me. I need a pick me up and a win for him would do it for me. The coronation chicken sandwich, though topical, certainly didn't.
1605: Hogan is staying in a Premier Inn, like me, during his time here. Not the same one though. He thinks they offer excellent value for money and me and Lenny Henry both agree. Oh, he also fancies Some Officer in the closing bumper at Gowran on Sunday. Bumper tips in the Royal Ascot blog? You better believe it. Wolferton next.
1602: The feature race tomorrow is the Diamond Jubilee, a great race. Tom Hogan has brought Gordon Lord Byron over and he had a gallop on the track this morning. Hogan was delighted with him and he was glad to see William Buick ride Remote to victory yesterday too to get the monkey off his back.
1600: No excuses from the rest there, Sky Lantern was much too good. Big Break had the perfect run through the race from stall one but ultimately disappointed - perhaps the ground was too fast for her.
1555: Oh, she's good. Sky Lantern puts in one of the most impressive performances of the week with a runaway win in the Coronation Stakes. She looked the most likely winner a long way out and Richard Hughes is delighted with that one, punching the air after crossing the winning line.
1545 Result: 1st 15 Sky Lantern (IRE) 9/2 j
2nd 4 Kenhope (FR) 33/1
3rd 3 Just The Judge (IRE) 5/1
1542: Plenty of money for Big Break for master trainer Dermot Weld. She looks like she'll be going off favourite.
1538: Crikey, Just The Judge misbehaving in the parade ring. She's a right kick in the direction of Kenhope and nearly takes Thierry Jarnet's head off.
1535: Forgot to say, Hillstar is 10/1 for the St Leger with Sky Bet. He won't beat Libertarian, though, will he?
1532: Just been to have a word with Siyenica in the pre-parade ring so hopefully she'll listen and come home first. Sky Lantern looks a picture, but I've always been a sucker for a grey. I feel bad for deserting her after she did me a favour in the Guineas, but I think that race showed there's not a lot to choose between the best English fillies and she's not drawn well today.
1515: Hillstar wins the races under a good ride from Ryan Moore, who noticeably had him settled while a few of the others were lit up going to post. Did Joseph O'Brien go for it too soon on BOM? I'm just asking the question. Mutashaded ran well in third, he just didn't seem to have the tactical speed of those that finished in front of him.
1505: Result: 1st 6 Hillstar 15/2
2nd 1 Battle Of Marengo (IRE) 10/11 f
3rd 7 Mutashaded (USA) 11/2
1457: The bell rings in the parade ring. Jockeys please mount. Jockeys please mount. Mutashaded has to step up, but I want to take on BOM and he's the horse for the job, I hope.
1454: Dan N is also searching for answers after one race. "Come on Ben, tell me things will get better, please?!?!!?"
I believe D:Ream put it best ack in 1997, Dan.
1450: Tom simply asks: "What do we do know, Ben?"
It's a great question, Tom. With all bets placed I think all we can do now is hope and pray. And beg.
1445: That 8/1 looks pretty short but she could be very good judging by that performance. Charles Hills won his first Classic last month when Just The Judge won the Irish 1000 Guineas for Qatar Racing and the same connections will already be plotting further Guineas glory with Kiyoshi, a Japanese name that means 'pure' I think (Googled).
1442: A nod and a shout of 8/1 from Michael Shinners indicates Sky Bet's price about the winner for next year's 1000 Guineas.
1438: Admittedly, it's not a good start to the day. Sandiva is beaten fair and square by flying filly Kiyoshi who would've won by further had she not hung to her right in the final furlong.
1430 Result: 1st 7 Kiyoshi 8/1
2nd 16 Sandiva (IRE) 7/4 f
3rd 5 Joyeuse 6/1
1425: Right then, Sandiva. Over to you. I'm off to get a good perch.
1420: Joe Cosgrave says: "Alright Ben, just back from picking up a few quid from Spoilsports, don't you love it when they pay you more than you know you're due back. I didn't correct the young man so I'm now playing with bookies money that I didn't even win! Royal Skies and Democretes the 2 fancies today and hope to get beyond the 3rd leg of the Pot for the 1st time this week."
Best of luck Joe. I got money back yesterday after backing Royal Skies who was a non-runner. I haven't reinvested today so if he goes in I will be the bald one on my knees screaming WHY! at the sky.
1415: Happy and glorious.
1410: John Davies from just outside Atlanta in the US of A has just had emergency triple by pass open heart surgery but he'll be watching the action from afar today. He says: "Good morning sir, I am writing this from a very toasty Marietta Georgia USA, where at 9.00 AM it is 84F already. But there is nowhere in the world i would rather be than In Tats at RA. I have had a week like no other, Last Friday I had emergency triple by pass open heart surgery, the surgeon told me I could have died at any moment, and that I was a very lucky 64 year old man. While in ICU Saturday morning a old mate of mine sent me a email, it said that a horse he was in partnership with was running at Royal Ascot, I knew it was because I have been following it, he said if they were very very lucky i might be seeing him pick up the trophy, he had no idea I had had open heart surgery. I watched the race live form across the pond in my own house with my wife, and i cheered her on even though i did not have a penny on her, its illegal to bet in Georgia, even on US horse races. I should not have been cheering so loud but it was the best medicine I could have had, him and his mates were picking up the trophy, boy what a thrill. Will give you my tips for today, 15.45 Maureen I know sky lantern is the stable horse but Maureen is going to get luck one day, and at her odds today she must be a good EW bet. 17.35, my nap of the week especially if it rains, Loving Spirit, my brother in the UK took 20/1 the other day, look at its last race against excellent guest, and i backed excellent guest that day at 25/1. But this week I do envy all of you guys back home, Royal Ascot is the tops."
All the best in your recovery John, I'll allow you a small fist pump if Loving Spirit does the business.
1405: Ah, the Royal procession. Here she comes, handbag bulging after cleaning up yesterday. Her Maj is joined in the number one carriage by members of the Jordanian royal family this afternoon.
1400: As 'Thriller' blasts around the racecourse I'm desperately looking for a horse running here today with a Michael Jackson theme but I'm clutching at straws. Fantastic Moon (walk) the best I can find. Forgotten Voice seems a bit harsh, or just plain wrong, everyone remembers Jacko. Leading Light? Dashing Star? Feel Like Dancing? None of them do it for me. If only Billie Jean was running.
1355: Gerry Lennon wants the tide to turn in his favour today too. He says: "Hi Ben, I read your blog after dog walking. I know what you me about the struggle to find winners. I had blank day Tuesday, Okay Wednesday, Blank day yesterday. More hopeful today though: 2.30 SANDIVA - but only because it is the only one with a decent rating, but a lot I cannot rate. 3.05 BATTLE OF MARENGO - no value in it, but his to lose? 3.45 - I think SKY LANTERN will have too much tactical speed for the 'JUDGE. They may also be too busy fighting out their on battle, as I expect Spencer to try and keep Hughsie on his inside, and they let a surprise winner get away? BIG BREAK perhaps ? Viztoria will have going issues if it does not rain. 4.25 FATTSOTA is my top rated, but only by a couple of lbs. So I have gone for BANA WU as his rating came from two grades higher. 5.00 I could not be bothered researching this race, so I left it to 'market movers' , muddled because of non-runners though. NICOLS CANYON? 5.35 Here again I have deserted my clear top rated DREAM TUNE, in favour of the one in the next stall, CAMPANOLOGY. He is also dropping down in grade. Bertiewhittle could go well on the other side. They were my top three. I fancy Es Que Love will take them along on the stand's side, and with Murtagh in the saddle I make that my nap of the day. Have a good day yourself."
1345: Simon Foley is a last-race specialist which is a good knack to have. He says: "I've had a pretty good Ascot so far, one winner on Tuesday, War Command which enabled me to have doubled my stake money for the day. Wednesday was dreadful up until the last race, I had 1st & 2nd (Annecdote & Auction) which were backed at 18s and your tip for 5th Hint of a Tint at 9s plus I also had a reverse forecast. That really boosted the coffers and was the first forecast I have ever managed to get (I've narrowly missed a couple following your tips). I then followed the forecast fortunes up yesterday in the Gold Cup with Estimate and Simenon with a to win bet on Estimate at 11/2 also. So I seem to be a bit of a one race pony this week. My choices for today (chosen last night before I had a chance to read your column) : 2.30 Wonderfully, 3.05 Hillstar, 3.45 Viztoria, 4.25 Fattsota, 5.00 Ray Ward, 5.35 Dubawi Sound. All small each-way bets plus an e/w Lucky 63. As Paddy Power is paying 6 places in the last I've also backed Campanology and Redvers plus a reverse forecast. Judging on my previous performances I'm looking forward to the last race!"
All the best, Simon. Plenty on here like Viztoria today.
1340: You can do a lot in ten minutes. Michael Shinners and I have just cracked this afternoon's Placepot. 144 lines, no bankers, the way you should play the game. I went with three bankers in the first three races on Tuesday and paid the price, but I've learnt from my mistakes. It's all you can do in this game.
1330: Kris Chambers has a question: "Hi Ben, Godolphin have got a few outside chances today I think at reasonable prices. Do any of them take your fancy?"
Not really Kris, though it wouldn't be the biggest surprise if Tha'ir ran well in the King Edward VII. I'm keen to take on Battle Of Marengo (may prove foolish) and Tha'ir, who won the Chesham here last year, ran well on his reappearance. An each-way squeek in a good each-way race for punters.
1320: Here we go. Just over an hour to the first and Sandiva momentum is gathering. David Jordan makes some good points: " Hi Ben. Can't believe the price for Sandiva. There are no certainties in racing letting alone juvenile races but on form, Sandiva must be evens. Hasn't been mentioned much but the form of her Naas race has been franked by Fig Roll finishing 4th in the Queen Anne and only 3 1/2 lengths back. Sandiva beat her 6 lengths back. Furthermore, Fig Roll ran over her more suited trip of 6f at Naas. Heart Focus form at Naas is therefore much stronger than everything else (except Sandiva) so is massive at 25's at certain places for ew value. Gone big on a Sandiva win with a more optimistic reverse Tricast of Sandiva, Heart Focus and Wedding Ring. Good luck all!"
And to you DJ, and to you.
1310: I'm glad you're also on Sandiva, Hadley, she is a pivotal horse for the blog today and I would have to put her up as the best bet of the day, even though I've told some people it's Fattsota and others it's Disclaimer. Derren Brown, you had this game cracked. I've just had a quick drink with Richard Fahey on the Motivator Lawn and he doesn't look like a man who has got the 5/2 favourite in the first, but confidence remains pretty high.
1305: I return from lunch (salad - who would've thought it?) with an email from Hadley Fox who says: "Good afternoon Ben, I hope you're in rude health. The relief I had when Estimate crossed the line after 11 consecutive losses and the joy when remote quickly followed that which was mine and the Ord's nap today, we stuck it out together ORD if he's by your side today?? Today Sandiva and battle of Marengo to get us stood on our chairs in the office, just the judge is my LAY of the week so I will have Big Break and Pavlosk to down her, any thoughts Ben, what's your best of the day, can you influence the gods like ord did with Remote?"
12:30: I need to refuel so while I toddle off for lunch I'll leave you with Sky Bet's Priceboosts, courtesy of Michael Shinners:
We are sticking our chests out with the priceboosts today and taking on the first two favourites.
In the Albany Stakes Sandiva is rated the best filly in Europe and rightly so on what she has achieved so far. However, this looks a hot race and we are happy to lay her in the boost at 5/2
The King Edward VII features the Derby 4th Battle Of Marengo. We feel that although he has the best form in the book there is always that chance that the race might just have taken too much out of him. This is a risky one but we are going 10/11
The Coronation looks to be set up for a shock with the front two in the market both having terrible draws. We are therefore going 9/2 Just The Judge and 11/2 Sky Lantern.
The Wolferton Handicap features a number of interesting horses and you could make a case for 15 of the runners. We are taking on Sheikhzayedroad and go 8/1 in the boost.
The Queen's Vase has one of the buzz horses of the day with the well backed Leading Light heading the betting. However, we are taking on the O'Brien horse as he has a penalty to carry and is not certain to get the trip. We are hoping for a result here and go 15/8.
The final race of the day is the Buckingham Palace where we go 5 places in the race. We are taking on the favourite Enrol and go 7/1 the Sir Michael Stoute trained runner.
1210: McCalmont and Butler are in Carriage 4 during the Royal procession. 'Yes I do feel better, yes I do, I feel alright.' I used to be able to sing that falsetto before nature worked its magic. Oh hang on, it's Mr & Mrs McCalmont and Mr & Mrs BUTTER. Scrap that McCalmont and Butler nonsense. Another classic song though, what a soundtrack the blog is coming up with today.
1200: William (stuck at work while he should have been at Ascot ), says: "Hi Ben, I am one of your passionate value bet followers. I agree with you that best bet of today is that man, Martin Harley riding for Mr Botti on FATTSOTA. I am with you on that and I ve just lumped all my missus' savings she kept with me on it. Go on my babe, I'll be shouting when he romps home. Have a nice day Ben, hope we both bash the old enemy today - the bookies."
We live in hope, young Willy, we live in hope.
1155: More hard luck stories? Step forward John C who says: " Dear Ben, just been reading the blog and the tales of woe. My week so far: Tuesday picked the first 3 winners in Telegraph comp, but only backed the shortest price one. Small loss on the day. Wednesday one winner doubled with Camelot. Small loss on the day. Thursday 6 losers! Including 2 seconds one of which was to Lady Cecil's winner. Great emotion etc but when you have cold hard cash on in a losing run, it takes steely will to be magnaminous. Chasing is never good for the soul. To vent my frustrations I went on a long bike ride only to find my mate had texted me a winning tip from Leopardstown. Grrrr. When your luck is out etc. Still musn't complain! Going in again with Big Break (very much needed) and Albasharah. Happy punting to one and all!"
Best of luck JC. The only way is up, as Yazz once warbled.
1152: To be honest big G, the slight drizzle we had won't have had any effect at all and if it stays dry we should have genuine 'Good to Firm' ground following the watering.
1150: G Collins rocks up with a question: "How do you think the turf will ride out there Ben after watering then the rain on top? I'm on Mutashaded and Greatwood ew against BOM as I think he's totally overrated and not guaranteed to last home on this stiff track and the quicker ground the better for my two! The other one I like is Nicholls Canyon who I think will stay longer than Sir Alex Ferguson's chewing gum but he would much prefer some cut in the ground......."
1145: More Viztoria love, blimey. Campanology was on my longlist, Mark, but can he win off a mark of 92? A hell-for-leather gallop will suit him that's for sure.
1140: Mark from Cleckhuddersfax throws more spanners in the works. He says: "Good Morning Ben. It has been a very hard week but Johnny Murtagh has 2 winners and a second from 4 rides. Today he has a good set of rides which I have in a lucky 31 but my nap is 5.35 Campanology each way at around 16/1 (Paddy Power 6 places Bet 365 and Sky Bet 5 places). I think that the key to this horse is that the drop back in trip to 7 furlongs will suit and the added incentive of his first trained Ascot winner as a Trainer / Jockey will land us the spoils and recoup some losses in the process. I have also included 2 of his rides (Campanology + Viztoria in the 3.05) along with the memory of Henry Cecil in a lucky 15 whereby I like Joyeuse in the Albany and how fitting would it be if they could land the Queen's Vase in Memory of Sir Henry Cecil with Disclaimer. Win, lose or draw what a fantastic week's racing it has been with some magical racing. Good luck everybody."
1135: Lots of blog love for Viztoria. Hmmm, maybe I was hasty in ruling her out on stamina grounds. Please don't confuse me further, I have my bets placed today, bar Placepot. But now, I just can't get The Kinks' 'Victoria' out of my head, replacing that 'c' for a 'z'. 'Viztoooooooria, Viztoooooooria, Viztoria, Toria...' If I sing it enough, I fear I will back it. I'm that weak.
1130: Fergus McAllister loves the game. He says: "Seems a long time ago since Tuesday when last backed a winner courtesy of Johnny Murtagh, although he hasn't had much ammunition since then but today could change all that! Viztoria arrives here fresh & every drop of rain will help! Race hunter in the first must have a chance & Campanology later trained by himself! Top jockey bet still alive. Think Battle of Marengo will get beat, as I don't think he stayed 1m4f in slowly run Derby but by whom? Lot of the opposition stables are badly out of form or the horses are just not up to the standard. Maybe Th'air if you put a gun to my head! Mate tells me Santefisio in the last was unlucky a couple of days ago so hope Joe Fanning may make the differnce today! Everything crossed, painful as that may be!"
1120: Steve Wright's just emailed in. That Steve Wright? Love the show, Steve. He says: "Hi Ben, in the interests of keeping yesterdays victories "for racing" going, I believe that Disclaimer is a lively shout for the Queens Vase. Don't think there would be a dry eye in the house if that came in. And what if Joyeuse wins the Albany, I would imagine that the bookies will price her up very low for the guineas next year. My thoughts are that the Coronation could well be the race of the week, with Viztoria claiming the race ahead of Just The Judge and Sky Lantern back in 3rd."
There have been some poignant results this week, Steve, and a Disclaimer victory would top the lot. He's got a chance as well hasn't he?
1110: Just been outside for a weather update. It's not raining. It's fairly cold compared to recent temperatures but it's dry. For now. It's also grey and cloudy. More worryingly, I have a new suit on, Sartorial apparently, and I've forgotten to wear a belt. For comfort I've gone up a waist size and judging by my short shuffle between the press bunker and the parade ring, my pants could literally be around my ankles this evening.
1055: I knew it, Dan, I knew it. Sandiva is going to be the key horse for the blog today. Worryingly, perhaps, I totally agree that the presence of Joyeuse makes Sandiva a backable price, even at 5/2 in such a big field. I've heard rumours that Joyeuse hasn't been pulling up any trees in her work at home and Sandiva's form is head and shoulders above her rivals here. Go on the Diva. Do it for the good guys.
1050: Dan N is also struggling this week: "Ben, whilst it is a little comfort to me that you also have struck out this week, it is still an extremely painful week for my wallet and am in desperate need of some winners today and am looking for some angles. I have to say that I'm siding with you on Fattsota (although Botti's recent form is a worry) and Baccarat. Godolphin's runners have been doing well this week without lighting the place up so I wonder if Tha'ir might be the one to get its nose in front today. If Frankel wasn't mentioned everytime somebody said Joyeuse then Sandiva would be evens in my eyes and the current price still looks value to me. I think I might stick my neck out and say she's a banker. I'm also on Pavlosk and Hillstar with Moore having some making up to do after delivering Bold Sniper too late. Good luck Ben, maybe you should throw the Old Spice away if you attracting the more mature ladies with it."
1045: JP dips into the blog again quickly: "Well looks like you are a step ahead as it is National Music Day here in France, and hopefully the only mature thing encountered will be the cheese at lunchtime...but who was the happiest of the two, you or Shinners? We want to know..."
Judging by the laughter it was definitely MS, JP.
1040: Did you know our sponsors, Sky Bet, are paying FIVE places in the closing Buckingham Palace Stakes at 5.35? I fear it won't be enough. I've backed Baccarat and Democretes but it took me a long time to whittle down a shortlist of 10. But whittle I did, in The Goose in Camberley. When I stepped off the train yesterday, I saw her, The Goose, shining like a golden palace in the desert. All I wanted was a pub with free wifi, Royal Ascot on the TV and a wide selection of cold beverages. The Goose ticked every single box (granted, you would expect the last one). The Golden Goose.
1025: There are a few non-runners around today which you can check out here but there remains the slim possibility of slight easing of the ground from Good to Firm. Clerk of the course Chris Stickels said: "They are still forecasting the possibility of the odd shower, it looks a bit overcast but there doesn't seem to be too much on the horizon. I think there is maybe more chance of the odd shower tomorrow so we will have to see. There haven't been particularly accurate forecasts this week."
Bring back Michael Fish.
1020: The world of twitter tells us Ian Mongan has retired. His finest hour was, possibly, if memory serves me, when he won the Juddmonte International at York for the late Sir Henry Cecil aboard that old stalwart Twice Over.
1015: Well, Billy. Here you go:
1. Sandiva
2. Mutashaded
3. Siyenica
4. Fattsota (NAP)
5. Disclaimer
6. Baccarat
1010: Billy Torpey was here on Tuesday. He says: "Went down Tuesday to Ascot for the first time, thought it was a brilliant and made a fair bit of money. As a betting man, I like to see everyones opinions and thoughts. Where would you be sticking your money today race by race at Ascot?"
1000: I would just love one winner this week F, just one. I toyed with putting up Viztoria but ultimately couldn't pull the trigger because of those stamina doubts you talk about. This tough mile could find her out, but otherwise, like you, I like her. I hope you've got your punting boots back on soon, what a week to take a break!
0955: Falbrav strides into the blog like a peacock (do peacocks stride?) but what's this? He's suddenly deflated. He's, he's... he's not having a bet! He explains: "Morning Scoop. As blogged yesterday with Mr Ord, I am in self-imposed wagering exile following the disaster that was Aintree. Do you remember I kept topping up on Imperial Commander until I was teetering with insolvency? Well, it's just fantasy stuff for me until I get my confidence back, but I would have made a tidy profit on my two selections yesterday. Today's unbacked selection is Viztoria in the Coronation. Her dam is a complete speed influence but obviously Oratorio (sire) got 10F easily enough so hopefully the mile won't be beyond her stamina limitations. Her half brother (by Medicean who was predominantly campaigned at trips short of a mile) got 7F so there is definite hope that she can use her speed to devastating effect at the business end. She is also nicely drawn for a bit of early cover. I see that while I have been abstaining, your reputation has gone from strength to strength and you are definitely moving markets these days - keep it up!"
0950: Do you know JP, last night could be described as Ord-esque. After a Mexican me and Michael Shinners made our way to The Bear where Hustler were playing live. Good band. From Chuck Berry to Daft Punk with a bit of Paul Simon in between all enjoyed witha few soothing pints of Tribute. I was saved by the bell though. How can I describe her? I'll go with mature lady, dragged me onto the impromptu dancefloor late in the day and only seconds later Hustler had finished for the night. A relief for all concerned. She had looked me and Shinners up and down before plumping for me, though, clearly thinking I was physically more up to the task in hand.
0945: JP from Paris has the blog-chair situation summed up nicely. He says: "Good morning Ben, so is it like sprinting where they leave the last relays to the best sprinters? Hope you are in fine fettle after an Ord-esque training session last night...on to racing, where Roca Tumu means overall profit for the meeting, I forced myself not to chicken out, but that said the 5.35 is a test in itself at the end if 4 days of form studying... I have backed Lucky Kristale (would be very pleased if Sandiva wins though), Havana Beat for a bit of e-w fun, Pavlosk, Sheikhzayedroad, Baihas and siding with you on Baccarat in the lucky last...best of luck to all."
0940: Anyway, hopefully the technical demons are over so let's crack on with racing chat. The Coronation Stakes is today's feature with Guineas winners Sky Lantern and Just The Judge doing battle again. I just wonder whether the draw might have scuppered their chances? I don't think they're that far ahead of the rest of the best and I'm hoping Siyenica can step up to the plate today.
0930: I've just had to restart my laptop after it just shut down on me. The last thing I saw was a blue screen with the words 'crash dump initializing' flashing at me. It sounds horrific but what does it mean?
0915: Mike Vince promises me it's going to brighten up so perhaps we shouldn't be worrying about the ground. A quick stroll out to the winners' enclosure and the drizzle is fading, so maybe he's right.
0905: It's Good to Firm, they've watered and it's wet and gloomy. I predict a going change - watch this space.
0900: There was a sniffer dog in the press room not so long ago and he followed me up the concourse just now. I was speaking to Chris Cooper on Sky Sports News Radio and the hound's nose was nestling into my new Italian leather shoes. I must admit it put me off my stride, but I don't think it came across on the airwaves. Consumate professional. Anyway, the hound found nothing, much to my relief.
0840: Good morning and welcome to day four at Royal Ascot and I have breaking news - it's raining. I may have to risk the wrath of the RA stewards and unleash the burnt orange kagoul, but that's all for later. More serious form study first and it's needed after a brutal first three days (for me). Email me your thoughts, tips, general life advice to ben.linfoot@yahoo.co.uk and we'll see which horse is going to get the most blog love today. Could it be Sandiva?
---
Click here for completely free £10 bet with Sky Bet
---