A day to remember
Dave Ord fights a sore throat and blogs live from Ladies' Day at Royal Ascot.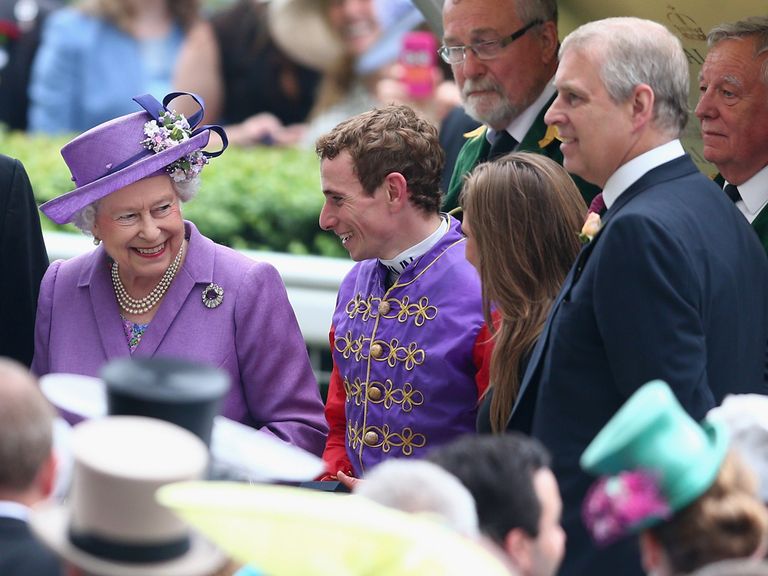 All times BST - please refresh for updates. Email Dave at daveord55@gmail.com

1755: While Dave hotfoots it north up the M1 (frankly I'd be amazed if he's even left the car park yet knowing what the traffic is like, and don't even get me started on the M25), the rest of us will pause to reflect a memorable day's racing. Sadly not memorable for financial reasons, but one mustn't be greedy as this was a good day for the game. The Queen seemed to enjoy it so much she might even forgive her racing manager John Warren for manhandling her quite so forcefully in the closing stages. Maybe she'll come back for tomorrow. I somehow suspect so. There will, however, be another change of personality at this end as Ben Linfoot takes over the blogging chair tomorrow. I hope Dave remembered to dust off the crumbs.

1745: It's Elidor who takes the finale at 20/1 under Martin Harley, with Space Ship second and no Royal double as Her Maj's Bold Sniper finishes only third. Plenty of hard-luck stories, as always seems to be the case in this race, but Pethers Moon is among the most prominent.

1715: I'm heading north now - Will will wrap things up. Thanks for your company and emails all day. Can someone text me if Cap O'Rushes wins the last? Oh and if Space Ship is second to him call me.

1705: The Pot is down but we have petrol money for the car. What a game this is. What it gives with one hand - it takes away with the other.

1700 Result: 1st 8 Remote 9/4 f
2nd 10 Shikarpour (IRE) 7/1
3rd 11 Van Der Neer 14/1

1700: Cheers GC. You live in a magnificent city - and have shown great stamina to see it through to the end!

1700: Hello to Gareth Cooley in Sydney who says: "Greetings, as I say, all the way from (Sydney) Australia/ downunder !

"I've been following your live blog today, as I did recently with Will Hayler's from the Dante meeting @ York, enjoying the pictures coming in on GBI, have the Sporting Life's "Live Odds" on constant refresh on the computer, trying my best to back a winner (Riposte the only one so far today @ Royal Ascot, had a couple salute at Warwick & Ripon though).

"or what it's worth, I like the look of the 10 saddlecloth in the 5pm race (Shikarpour), and what else but the 14 in the last - Carry On SYDNEY !"

1650: Ryan Moore, Johnny Murtagh and Mickael Barzalona all pick up bans after the Gold Cup. JM worst off - he gets four days.

1645: I've backed Remote but left him out the Placepot which is still running. It's up for grabs now. Elkaayed and Indian Chief need to hit the frame.

1635: I fully accept I use OMG too much, but here we go again. OMG. Tarikhi you nearly did it son, the life-changing Godolphin double. Voice now gone after another camp squeal. What a cruel game this is. Last year Bronze Angel is touched off, now the brave boy in blue. I need an appointment with the sporting gods.

1625 Result: 1st 7 Roca Tumu (IRE) 20/1
2nd 21 Tarikhi (USA) 33/1
3rd 11 Queensberry Rules (IRE) 16/1
4th 13 Wentworth (IRE) 7/2 f

1620: Royalty of a different sort in the media centre, DJ Mike Read. He's in a flag of St George waistcoat.

1615: Times like this you regret rushing your Placepot. Just discovered Shin Dog and I are relying on 11-16-22 here. 16 was mine.

1610: The winning owner may not be finished yet. Sea Shanty here and Bolt Sniper to come. The former is in the Britannia and that's next.

1607: Sheikh Mohammed and Princess Haya Of Jordan are among those to congratulate The Queen. Harry Herbert too. She seems loathe to leave the winners' enclosure, and who can blame her.

1605: Punters up and down our lands are celebrating. Michael Shinners of Sky Bet says: "What can only be described as a shocker! Estimate was very well backed throughout the day and especially in the show. Without a shadow of doubt the worst result of the meeting so far."

1603: Three cheers for the winning owner as she receives the trophy from her son, the Duke of York. High profile gig for Andrew.

1558: Terrific ride from Ryan Moore, right place throughout and strong at the finish. Simenon and Top Trip tried to pounce late but this filly was not for passing.

1555: Wonderful shots on the big screen of her Majesty applauding and willing her Gold Cup winner home. John Warren a tad more animated and for the second race in succession this place erupts.

1545 Result: 1st 18 Estimate (IRE) 7/2 f
2nd 9 Simenon (IRE) 5/1
3rd 17 Top Trip 7/1

1535: It would be an excellent result Shin Dog. A most excellent result.

1535: It is. Michael Shinners says: "After a small loss with Riposte winning the Ribblesdale we have a big position in the Gold Cup. Estimate for the Queen has been incredibly popular throughout the day and would put a huge dent in the day if she won. The Willie Mullins trained Simenon has had its supporters, but if there was a driving finish between the front two in the market, there is no doubt who we would be cheering for. Of the fancied runners Times Up would be an excellent result."

1530: The Queen is in the paddock for the Gold Cup. In the end I've gone with Times Up. Sense this is a pivotal race in the battle between punters and the layers. Estimate or bust for many.

1525: Two-day ban for Seamie Heffernan for careless riding aboard Ribblesdale runner-up Just Pretending.

1523; There are now four non-runners in the forthcoming Gold Cup. Out - along with Rite Of Passage - are Aim To Prosper, High Jinx and Biographer. Quick ground - and they could hardly have watered given the forecast.

1520: OMG as I believe the kids say. Brownie reports: "Dave, the US Speed horse touched 129/1 in running after the start!" He wasn't the fastest away B - and hindsight is a wonderful thing - but he was still in front after ten or 12 strides.

1519: Good luck to JC who has a bet running. He says: "Got 13/2 on The Yank flyer, now just need Maputo, Chopin and Altano to win for a life changing L15. It's my 1st winner this week, the drought ends."

1515: Lady Cecil speaks beautifully. Fighting back the tears she says: "That was for Henry, the prince and all the staff at Warren Place. I don't have the words to say what I'm feeling now. Henry was adored by so many people, people who'd never met him loved him. We hardly dare dream we would have a winner this week. At the beginning of the week I thought it was one of our best teams going to Ascot for some time and Henry would have relished it. He loved Ascot. What can I say. Keeping busy is keeping us all going."

1510: 75 winners for Sir Henry Cecil at the great meeting - and this filly will get a reception to rival most of them.

1510: Wonderful. Lady Cecil trains a Royal Ascot winner as Riposte shows a smart turn of foot to cut her rivals down. Tom Queally is jubilant on pulling up and says: "It's been a very tough week for everyone. I've been very emotional but I think someone was watching down on us there."

1505 Result: 1st 9 Riposte 9/2
2nd 8 Just Pretending (USA) 9/2
3rd 3 Elik (IRE) 9/2

1500: And long may the fairytale continue M. There are very few ailments hot whisky can't cure. I bravely croaked the opening winner home. From now in though gentle applause awaits my selections who are in the firing line.

1500: A very good afternoon to Mark In Dublin who says: "Nothing clears up a sore throat then a hot whiskey! Ingredients: 1 litre of Jameson, 2 lemons, boiling water and a bag of sugar and a handful of cloves. Mix well. Job done! Speaking of getting the job done: My "first preference" €1 lucky 15 Coulsty, Riposte, Wentworth and Eshtiaal. Followed by my €0.50c "our father" lucky 15...No nay Never, Altano, LLaregyb, Hoarding.....(1st one up)..the fairytale begins."

1459: Going down for the Ribblesdale. If Winsili wins the week could be turning for the better at last.

1453: Sadly Rite Of Passage is now a non-runner in the Gold Cup. Ground too quick. We continue to dodge the showers.

1445: USA, USA! New juvenile track record for five furlongs too - he blitzed them despite not hitting the gates. Wesley Ward talked a good game before the race - and he's talking a good one afterwards too.

1430 Result:1st 10 No Nay Never (USA) 4/1
2nd 2 Coach House (IRE) 9/4f
3rd 14 Wind Fire (USA) 16/1

1420: Heading upstairs to watch the opener. "USA, USA". Wish Bob Bradley had been in touch to talk up No Nay Never.

1418: Cheers for those chaps. I'm driving home after racing for an office shift tomorrow DH. Ben Linfoot currently on the train somewhere around Doncaster heading here. I'm relying on beef and horseradish sandwiches to heal the pain.

1415: David Howells says: "Afternoon Dave, seems that the rain is going to hold off for my jolly tomorrow, but is causing a right shake up in the markets today. Had a lovely price of 9-1 for Riposte in the Ribbesdale this morning and with the non-runners looks a great shout. I've had a decent Antepost of 12-1 on Estimate a month or so back, but I've started to talk myself into Altano as well. Coulsty, Maputo, Shikapour and Number One London in the rest. A nice ale would help your sore throat I'm sure."

1410: At least Jon Lahive has stopped gambling with the kids' inheritance. For now at least. He writes: "Greetings from the North. All about Cape Peron and Rite of Passage today ...SGLS and EW DBL.... will fund the wife's return ticket from France later this week.. Be careful what you wish for...ahem."

1405: Just put my own Pot on with the Shin Dog MS. It's yet another attacking perm from our team. Hope Winsili wins. Correction: Need Winsili to win.

1405: Michael Spring writes: "Let's remember that a value bet is only a value bet if it wins... and I've managed to avoid much of the value on the first two days. Placepot for me today, although one of my selections is already a non-runner (Alive, Alive Oh), so I'm now relying on Winsili in the 3.05, which looks dangerous, not to say stupid."1403: Yet again the hat gamble goes astray. They run a tight ship at Windsor Castle. Purple or mauve is the winner. Go collect if you were on.

1400: Fingers crossed newcomer Extreme Supreme runs a cracker in the opener for Derek Shaw. The trainer is in hospital having been trampled by a horse at home yesterday. Let's hope he's soon back to full health.

1355: My meltdown is complete. Just backed Cap O'Rushes in the last.Just need a 1680-1 Godolphin double then.

1350: Nearly time for the royal party to arrive - huge run of money on a silver or grey hat for Her Majesty.

1335: I've caused quite a stir with the Royal Carriage list so far this week...correctly informing GC that Peter Ridsdale, spendthrift football chairman, was once in carriage four. He's not today. John Warren is. But apparently another member of the party was captain of the Scottish Elephant Polo side that won the World Cup. For that I have to thank Mike Vince.

1325: No it can't have been the great man himself....but I do think we are about to get the aforementioned downpour.

1325: The latest email is from Dermot Weld who says: "There should be no problems with Rite of Passage he won his only Gold Cup to date on Good to Firm ground and with the heavens about to open i think we will be riding close to Good come Gold Cup Time. If you look back through the form books the horse has won 8 from his 12 starts and been placed on 3 of the other 4 occasions so at 9/1 i know here id be putting my each way money."

1305: Breaking news and the Ribblesdale is now cutting up. Alive Alive Oh is now a non-runner because of the fast ground.

1300: I've already labelled it John Gosden day FM. We can't rebrand. Unlike the Mini Metro.

1300: Fergus McAllister is struggling with the work-life balance. He says: "Afternoon Dave, very busy in work, shuda took week off, wont make same mistake next year!! Times Up for me in the Gold Cup & Chopin to waltz in later, amazed no-one's used that pun! Alive a live oh, now the lark is out looks good also! Get out stakes in the last at FFos LLas in the shape of Farley's Risk. Hoping for rain tomorrow. p.s. Jamie Spencer day today!"

1250: Time for a word from our sponsors Sky Bet and it's the Priceboosts.

Michael Shinners writes: "After 2 high profile winners for the Priceboosts with both Gale Forse Ten and Al Kazeem winning we go into ladies day looking for some better results.

"The Norfolk starts proceedings and we are boosting Coach House who has been very well backed throughout the morning. The rain seems to have kept away and the vibes are very strong for the Ameriacn challenger No Nay Never who will love the quick ground. We are going 2/1 Coach House and hoping to get a result.

"The Ribblesdale features Alive Alive Oh who has been really well backed this morning. The opposition looks strong enough for us to have confidence that we have enough running for us to take her on and we are 9/4 in the boost.

"The Gold Cup looks wide open with money for both Estimate and Simenon. With doubts over Rite Of Passage on quick ground, we have to take on the winner of the 2010 renewal. We are 9/1 which looks a big price but we are hoping that the ground fears that connections have come to fruition.

"We are paying 5 places in the Britannia and have decided that Cape Peron is worth taking on with doubts about the ground. We are 15/2 the Henry Candy runner which I think is sure to prove popular with each way punters.

"The Tercentenary Stakes features another very well backed runner, this time in John Gosden's Remote who looks to hold the best form and is still improving. However he's 11/4 and in such a competitive looking race we have to take him on. We are going 3/1 which I am sure is going to prove popular.

"The final race is the King George V which we think Pether's Moon is short enough with doubts at the trip. The Hannon yard have hit the cross bar a couple of times this year and we think that this son of Dylan Thomas is worth taking on. We are going 11/1 in the priceboost. "

1240: Despite Richard Fahey getting a stench of rain in his nostrils we haven't had any yet. USA, USA is my chant for the opener.

1230: Remote HF, Remote I repeat. It's all about Remote today.

1230: I sense the great game has broken Hadley Fox who says: "Dave the golden boy is no more, the golden festivals of cheltenham and aintree seem a long long way away after not having a winner all week and some of the crudest of luck with the likes of Toronado, Shea Shea etc....so after lucky boxers yesterday not working I am appealing to your better nature to help out a fellow yorkshiremen and bless my bets today.....Coach House win, Coulsty each way, alive alive oh win, i have coupled simenon and estimate in what for me has to be one or the other, I have always been a massive Wentworth fan either thought he would be a classic horse so hes one i am pinning hopes on, same sentiment for REMOTE as i was there when so impressive latest and form has been franked, bold sniper win and pethers moon each way in the last, any thoughts? any of my shouts stand out the most to you? best of luck dave either though i need more than half of the luck im sending your way!"

1220: It amazed me he didn't lose a finger with those prawn crackers KK. A truly brutal display.

1220: A very good afternoon to Neil from KK who says: "So almost halfway and just about standing - thank you Annecdote.Very misty on the South Coast today but those thunderstorms are only a few miles away and closing in so we are informed. Going for Coach House, Just Pretending, Rite of Passage (rain please), Llaregyb, Chopin and Greeleys Love - and a chinese later but no prawn crackers after your graphic description of Will Hayler eating them - now you see it now you don't!

"Good luck to all and remember still two more days left after today."

1210: Plenty of much better judges than me fell in love with that horse at York D.

1210: Blog history as I post our first SMS received. It's from Dave who says: "Forget the Gold Cup Dave too many variables , ground etc go for the best bet of the week Indian Chief, Dante form is the best 3yo form as usual."

1200: Best of luck JTW. Although I do fear you may have been hasty in ditching the mates after two winning days....

1200: James Taylor-Woodward says: "Been chewing the fat at lunchtime with some mates and have selected Dawn Approach and Al Kazeem as the main bets in the first two days. However I'm going it alone here. Todays main fancies are Winsili and High Jinx in the main two races followed with Soviet Rock in the last. Then stashing the winnings for a big play on Thomas Chippendale in the Hardwicke.""

1150: No you can't say that DN - so I'll cut your effort short DN - but wish you well with the selections sir.

1150: Dan N says: "I'd like to report the fact that my lucky pants are now clean and back on ready to face the bookies today. I was fortunate that I held a ticket for Annecdote in the lucky last so I have a few quid to play with today...

"I'm sticking with Fahey today on the basis that he has been unlucky so far and it is bound to change, Eccleston to do the biz.

"Alive Alive Oh looks by far the best form, or more accurately the rest of the form on the card doesn't look up to much - Banker for me.

"I'm on Estimate with a saver on Last Train that I think should prove good value for each way purposes

"Llaregyb - A few tipsters have put this one up to out run it's odds and I'm following suit - could we get a week without a win for Hughes?!?!

"Shikaropour with Lemaire looks an improver and I'll finish off with Bold Sniper - I've had a couple whispers in the shell like that this horse is the banker, slightly nervous about it but depending on how Alive Alive Oh pans out, I may well go ....Anyway, good luck."

1135: Fair to say if Hughesie could ride the race again MS it would go very differently but I have to congratulate you on the Placepot effort. Even I haven't managed that over the years!

1135: Ah, Stirring Balladgage...Michael Scrivener writes: "Still shell shocked from yesterday, had nightmares of Hughes riding in the Hunt Cup and not a horse placed in the pot can it get worse? Estimate is the second of my long range Ante Post bets so fingers crossed, also got 16/1 Soviet Rock which I think is bigger than it should be. Placepot the pin is out !!!!!!!!!!!!!!!! well it worked for my mum."

1125: We still don't know if the rain is going to arrive PD but Richard Fahey claims he can "smell it in the air". He's a better judge than I am. All I can say is the pollen count

1125: A very good morning to Paul D, another of the good guys. He says: "With the expected rain not coming have Sadlers Rock in the Gold Cup. And with the trixie of Alive Alive Oh Remote and Eshtiaal in the last should be a nice day. How the plans of mice and men go down the drain."

1115: To be honest Jen I've turned my back on the fashion scene after number eight (she was never named) finished unplaced in the Best Dressed Lady contest at Windsor on Monday night. She had wonderful orange sandals on. The game has gone.

1115: Another star turn is Jen From BSE who says: "Gale Force Ten made the most of his stamina yesterday but it was otherwise a bleak first two days for me. Today is all about Times Up for me. A true fast ground performer but there has to be a slight question about the extra distance. I'm sure you will put Chopin on the short-Litzt for the Tercentenary. We have not had too much in the way of fashion updates so are we to believe that you have foregone sartorial elegance in favour of the bacon sandwich?"

1100: Cheers F. Stay strong though sir. This game is all about self-discipline. As I show.

1100: Great to have Falbrav with us. He says: "I am in self-imposed wagering exile after the horror show that was Aintree 2013. This was preceded by a less-than-auspicious Cheltenham. With the coffers having receded enormously, I am trying to forget how much was in the betting bank in the first week of March so I don't make that fatal mistake of trying to win it all back!!

"I will doubtless succumb to a punt on a work-free final day, although I am toying with the idea of tackling my tax return instead!

"Anyway, if I was punting today, I would have a Riposte in the Ribblesdale and a Top Trip in the Gold Cup. The words of Doumen senior from a couple of weeks ago that his charge must have decent ground are ringing in my ears and a quick observation of the SL profile shows that the going description has included the word soft for six of his nine outings. This tells me to expect some big improvement today. I know he was much bigger earlier on but on official ratings he still looks well overpriced at 18s or so to me (and that is without banking on the anticipated improvement!). Have a great day old chap and thanks for keeping us posted."

1055: Wes Ward is very, very sweet on No Nay Never in the opening Norfolk Stakes but he's proving very easy to back. Out to 13/2 now. Would be surprised if he's as big as that when the stalls fly open IF we miss the showers. He looks a real speedball on the videos I've seen.

1040: Chris Stickels now on our going change (good to firm). "Chris Stickels, Clerk of the Course, said at 9am: "There is a chance of showers today but only a chance. I think that it is a similar theme for tomorrow - a chance of a few showers.

"On Saturday, the likelihood grows again of rain but I think that the forecast has been so volatile that we cannot really be sure. There is a chance we might water tonight. If it does stay dry today and if there is only a risk of small scattered showers tomorrow, then we will probably put a bit of water on after racing."

"GoingStick Readings at 8.30am. STRAIGHT COURSE: Stands' side 9.8, (9.2 yesterday & 8.9 Tuesday), Centre 10.1 (9.4 & 9.0), Far side 10.1 (9.3 & 9.1). ROUND COURSE Round 9.3 (8.4 & 8.3)."

1025: JP my top remained on throughout the meal. It was an ill-fitting number that apparently made me look like one of the Kids From Fame in 1983.

1025: I think JP in dreary Paris (weather wise today that is - otherwise magnificent city) has the wrong idea about last night's excesses.

He says: "Hi Dave, good to hear about your Roman like orgies last night, best way to avoid spending your winnings on an Ascot lunch I presume...still alive after two days thanks partly to Mr Fahey's excellent advice and some tasty each-ways...talking of tasty it is of course Ladies day so careful with the neck as your throat is already showing signs of weakness...no link with my first bet but I hope there will be a lot of horses behind the Green Door...I have sided with the other Dansili offspring in the 2nd, Riposte, sorry Mr Ord...and may opt for (off?) Colour Vision in the Gold Cup...as my bets after lunch were far more inspired than the one before I will stop here for the moment to try and find today's Baker double or James Doyle extravaganza who are bound to happen on Ladies day...good luck to all..."

1020: I tell a lie. It seems I've already had a bet in the Britannia as during the spare ribs and spring roll frenzy of last night I was talked into throwing a fiver each-way at Tarikhi. I need therapy. And a different diet.

1015: Interesting to see money for Simenon this morning. He's made an ever lengthening shortlist for the Gold Cup. I haven't even started with the Britannia yet...

0955: Best of luck with them JC. I still can't get to a selection in the Gold Cup. Times Up is the one I keep coming back to. I didn't see the Henry II though as I was up the Brighton Wheel at the time. And that is sadly a true story.

0955: John C is with us from the great city of Dublin. He says: "You cannot beat an "all you can eat" washed down with some decent beer. The bacchanalian image of the three of you almost put me off my breakfast! I say almost, but nothing will ever put me off eating! I am just about keeping my head above water after two days and here is hoping for a happy and glorious day today with Coach House, Just Pretending, Rite Of Passage and Indian Chief."

0950: Hope the boss doesn't read that one - or the finance team W! It was no day off sir - a day on reports and news duty I must stress. No winners to shout home either. Ended with Shin Dog and myself having a flurry of exactas in the Sandringham and Will Hayler putting a Kempton placepot together on the train. At least we gave it our all.

0950: Wilbert in merry old Huddersfield is the first emailer and says: "Good morning Dave hope you are well rested after you day off yesterday. Are you sure the sore throat was not caused by shouting home the winners.Can't beat a good all you can eat Chinese buffet unless it's an all you can eat Indian buffet. Have started off both days by backing the first winners @10/1 and 5/1 but managed to lose money on both days so today if i manage to get the first one it's off to the pub to watch the rest away from my phone and computer."

0940: Massive day coming up in the battle between layers and players - but is Cape Peron certain to run in the Britannia too?

0935: Is Rite Of Passage going to run in the Gold Cup if we don't catch one of these showers? It's a dilemma. So is the decision over whether to pretend I work for ATR to get a bacon sandwich from the canteen. Don't think the "I'm Richard Perham who's let himself go a little" line will work two years running.

0920: A significant early non-runner and The Lark misses the Ribblesdale.

0918: JHMG and John Oxx are two of the trainers to have walked the track this morning. Both report fast ground. To be fair to Chris Stickells he could hardly have watered with the weather forecast.

0915: It's officially Ladies' Day today. So I've been liberal with the Right Guard Sport. However I hope it's John Gosden day. I'm with Winsiliin the Ribblesdale and Remote the Tercentenary. Sadly my banker of the week, Brass Ring, is nowhere to be seen.

0900: Appearance on Sky Sports News Radio done. Despite a sore throat. I slept with the air con charging away and a croaky voice is the price you pay for such foolishness.

0845: Good morning and welcome to a dry, warm Ascot. The ground is quickening up all the time and the Armageddon forecasts of thunderstorms and plague of locusts has now been downgraded to possible scattered showers.

The going is good to firm and we are all set fair. Last night in Camberley was a treat - three soothing ales and then an all-you-can-eat Chinese banquet. It was like a scene from Ancient Rome as Will Hayler ate prawn crackers whole and Michael 'Shin Dog' Shinners found a new love for the food of the Far East.

I'm sad to report a burglary in the Ascot area. Racecourse MC Mike Vince has a cult following for his royal procession commentaries and his 'Happy And Glorious' catchphrase is as much a part of the great event as fascinators and high heels.

And what has happened...it's on the front page of the Racing Post today. Incredible. He'll bounce back - and so will I - so get your Ascot thoughts over to daveord55@gmail.com.
---
Click here for completely free £10 bet with Sky Bet
---