Canada and Ord rejoice
All times BST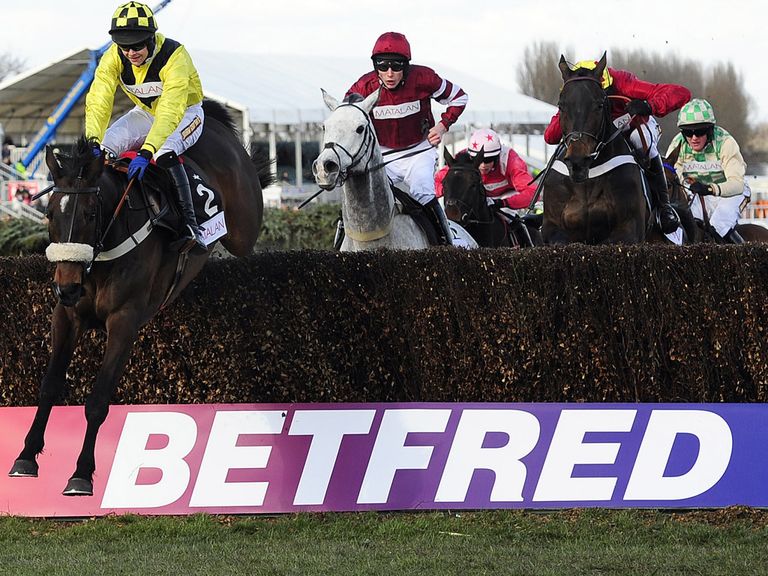 17:40 Well team that is that as they say. Cracking first day - I'm off on the trail of real ale, bit of poetry, but first a National update from our sponsors Sky Bet.
Michael Shinners says of their current Grand National market: "We've been busy since going five places and non-runner/no bet. At present Teaforthree is proving best backed, perhaps because of his Soccer AM connection with Sky Sports viewers.
"We've seen money for Colbert Station following confirmation that Tony McCoy has chosen to ride him but I still expect Seabass to start favourite on Saturday. Real momentum will build behind Katie Walsh's partner."
17:33 Two of the co-favourites fight out the finish...I was on the one who fell when tailing off. N'aer mind. Battle Group hoses in.
17:25 Result:
1st 22 Battle Group 8/1 c
2nd 5 Jetson (IRE) 8/1 c
3rd 3 First Fandango 33/1
4th 20 Connectivity (IRE) 14/1
17:15 I knew it was only a matter of time before I went global. The great Ken Wiener writes: "Word of your punting prowess has reached Canada. The entire country sends you our congratulations! Keep up the good work."
To you and your fellow countrymen and women I say thank-you KW.
17:10 Lienosus for me in the finale. One or two revellers beginning to show the strains of a long day outside. I may be in a similar state in my Premier Inn tonight of Evan Williams' charge obliges.
16:57 No signs of tired limbs here - Captain Conan is bold at the fences down the home straight and too strong for Tap Night. Fago tries to make all and jumps well in the main but is made to look a potential non-stayer.
16:50 Result:
1st 1 Captain Conan (FR) 6/5 f
2nd 8 Tap Night (USA) 8/1
16:40 No winner for NJH yet - Captain Conan may well change that here but he did finish awfully tired at Cheltenham.
16:25 Very sad news following the Fox Hunters and Battlefront collapsed and died after being pulled up at the 11th fence.
16:20 Second - and a spectacular - OMG. Ord 20/1 winner. Stop press. Ord 20/1 winner. I've more hair than Ben Linfoot too. I'm going to celebrate with a Guinness.
16:15: Result
1st 2 Oiseau de Nuit (FR) 20/1
2nd 3 Tanks For That (IRE) 20/1
3rd 18 Kie (IRE) 25/1
4th 12 Kings Grey (IRE) 20/1
16:10 Oisea Du Nuit for me here - can't have Kid Cassidy jumping well enough round here.
16:05 Many thanks to Thomas In Dublin who writes: "Great to see First Lieutenant win a big race this season. One of my favourite horses in training and deserved his day in the sun. To your Grandouet point I refer you to a piece published on this very site and quotes from Nicky Henderson which may explain all...http://www.sportinglife.com/racing/news/article/25510/8570021/grandouet-gunning-for-fly
"We need to do that to find out this year. I don't think he's a two-and-a-half-mile horse". For the rest of today, I look to Astracad to alter the going from good to spectacular. And on the subject of spectacular, looking forward to watching Flemenstar extend Sprinter Sacre over the extra half a mile tomorrow!"
16:00 The truth will always out on the blog! Ray Queeney writes: "Mark Finnerty isn't one of the good guys! But he is on his game today alright! Ballybough Pat in the Silver Cross is cracking value @ 33/1. We didn't see anything near like himself at Cheltenham."
Best of luck RQ!
15:54 Ah no, my mistake, I didn't. Paid £75,000 to your £1 stake.
15:50 Hang on, I think I've got the tricast up there.
15:40 Result:
1st 23 Tartan Snow 100/1
2nd 25 Cool Friend (IRE) 33/1
3rd 17 Rash Move (IRE) 40/1
15:37 First one over the Nash fences coming up. Rebel Du Maquis for me but that's very much a hit and hope job.
15:32 Finally on the Aintree Hurdle - and I need to see it again - but it seems Grandouet very much shaped like a non-stayer.
15:30 Agree with Mike in Cameroon re the last race who says: "Flame not the same horse today, think the long season has caught up on him. I only like to watch the Foxhunters but weakened and had an each way on Silver Story."
15:25 Don;'t say one of the good guys is going to get their day in the sun. Mark Finnerty says: "Wahay Davey boy!! Go Zarklander!! I'm from 2/2 with Toner D'Oudairies to go!! Unfortunately a non runner elsewhere on the card in Thurles has meant my lucky 15 is "toned" down a bit (sorry)....cant wait for 4.05.... On a side point, I'm liking Astrocad to place in the Red Rum."
15:22 Paul Nicholls confirms it will be three miles for Zarkandar next year. Perhaps Big Buck's needs to keep an eye on his next door neighbour now.
15:20 Gerry Kelly says of our Betfred Bowl-winning jockey: "He should have been given the ride on Sir Des Champs in the Gold Cup. Poor old Davy Russell is at home cursing the Aintree stewards."
Does seem strange that DR can ride in Ireland but not over here GK and i don't think BC will miss out on many big race rides in the future...
15:15: As my mole predicted, Countrywide Flame is held up and never a factor. Oscar Whisky looked in need of his summer break - anyone any views on Grandouet's performance?
15:10: Now that's a horse race. A farcical early pace apart. Ruby Walsh is inspired aboard Zarkandar - but The New One travels like the best horse for much of the contest. He has very big days ahead next season.
1505: Result: 1st 9 Zarkandar (IRE) 11/2
2nd 7 The New One (IRE) 11/4 f
3rd 8 Thousand Stars (FR) 10/1
15:00 Quick line on the ground - and both Bryan Cooper and Richard Johnson label it "perfect". Told you it walked well.
14:55 You have to have sympathy for Phil in sunny Nottingham who says: "Epic fail... just forgot I was in 15 mins delay on SKY+ before trying to get on First Lieutenant... All remaining hopes pinned on Silver Roque in the Red Rum Chase. Podcast excellent by the way. Delighted you didn't give a mention to my fancy "Across the Bay". I now read your blog in your voice, which makes it all the more entertaining." Cheers for your kind words P!
14:48: This Bryan Cooper is making some name for himself isn't he.
14:45 Crackerjack of a John Smith's Aintree Hurdle looming large but what will make the running? Not Countrywide Flame if my moles are correct. Oscar Whisky anyone?
14:41 Silviniaco Conti stayed on bravely for third but made mistakes at crucial points. He'll be a big player back in the top races next season.
14:40 We're on the board! Was hard work and I thought Menorah was going to spoil the party - what a race he ran - but First Lieutenant wears him down.
14:30 Result: 1st 2 First Lieutenant (IRE) 7/2
2nd 3 Menorah (IRE) 14/1
3rd 5 Silviniaco Conti (FR) evens fav
14:32 Cracking start to the week for our columnist Wayne Hutchinson. He tells Racing UK Radio exactly how he won the opener.
14:30: Hats back on for the Betfred Bowl. First Lieutenant a tentative choice for me. But confidence is low.
14:25: Hats off - if you're wearing one - to Mal Boyle who had the first winner at 10/1.
14:15 Mrs Lahive is pouring the pressure on poor Jon who says: "The wife is eyeing up an Ipad Mini so the childcare money is on these Fantastic four for a value L15: 305 The Flame 9/2, 340 Cloudy Lane 14/1, 415 Rebel Rebellion 7/1, 505 Sixty Something 14/1."
What's happened to the balmy days when petrol station flowers were the way to celebrate a winner with the other half?
14:12 That said Quito De La Roque is the fresh one in the Betfred Bowl - and I can't have him.
14:10 A timely reminder about fresh horses at Aintree.
14:07: A familiar start to proceedings - but pleased for Alan King and Wayne Hutchinson. Two of the good guys.
14:00 Result:
1st 10 L'unique (FR) 10/1
2nd 7 Runswick Royal (IRE) 20/1
3rd 4 Irish Saint (FR) 3/1
13:57 I am heading outside but I nearly missed this from Rich Lynn who says: "I feel your pain Ordster .... Chicken Curry for me as off to White Hart Lane tonight so required an early fill!!
"Onto the racing. Backed Oscar Whiskey for the last two years but have deserted him today - this looks a far hotter race than previous two with the 2 5 year olds in there. I've gone for The New One. Appreciate it has about a stone to find on ratings but it's time after the last to the line in the Neptune was exceptional so there's every chance he'll find it. In the pot with the Flame. I've deserted Rolling Star in the first having had 16/1 on him for the Triumph. Going with Irish Saint - missing Nam must give him a distinct advantage. In the pot with Flaxen. In the Bowl, like your good self, I've gone for the Lieutenant purely on price. So ew Trixie on those three before tackling the impossible races! On the all-weather Charlie Hills sends one to Wolverhampton and Mark Johnston sends one to Leafy. Interesting.
"Oh, and Bale to score first tonight - who else? In the Trixie with Messi and Ronaldo .... "
Now where do those last two run RL?
13:55 I'm a traditionalist. I like to watch the first at Cheltenham from the members' lawn, the opener at Aintree in the Sefton Terrace. So I'm heading there. If Vasco Du Ronceray hits the frame I'll skip back. If he wins...well there's a John Smith's extra smooth waiting for anyone who can catch me on the way back to the press room. And no that isn't a threat - but you will have to drink it.
13:50 Most pleasant outside in the sunshine. Horses look well ahead of the opener, especially Irish Saint.
13:30 I have remarkable news from the canteen. Owing to a shepherd's pie shortage I've had salad. Ham on it - but salad nonetheless, dressed leaves, tomatoes and red onion. The system is in shock.
13:20 Great to have Jen From BSE here. She says: "Even though I am no fan of the winter game, your rare appearance on the blog was enough to induce me to dust down the keyboard. The current Easter holidays means I am entertaining a 6 year old wise beyond her years. In between her tending to her Moshi Monsters, Rowan took time out to select First Lieutenant in the Aintree Bowl. I have long since learned the futility of questioning her on all matters so offer this selection with some degree of confidence.
"In preparation for your forthcoming visits to HQ and accompanying visits to this fair town, I can report that the Mason's Arms re-opened last week after a 6 month refit. Their intention is to offer 9 different real ales on draught, some of which will be pretty much exclusive to the town. Good luck with your selections today."
OMG as the kids say Jen. I'm there for the Craven. Masons regulars prepare to see something very special. And a tad unsettling.
13:10 Colin Stevens writes: "I'm backing Nicholls today, Silviano/Zarkandar double. What price for the trainer's title after that?
"As a Liverpool exile stuck in Reading I too recommend the Ship & Mitre as a place for real ale. Try a bowl of their delicious scouse while you're there. Only problem you'll have is dragging yourself away at closing time."
I always struggle to answer the bell CS! The Ship & Mitre has become the go-to place for the night too.
13:05 Don't expect the ground to ease this week. The only potential shower on the radar for the three days is Saturday afternoon...and could be sleet. What is happening to this great game.
12:55 G'day to Huw Edwards in Melbourne who says: "G'day from Melbourne. Aintree has got to be more lucky than Cheltenham this year (please!).
Oscar Whisky to win again today. The Giant Bolster too. Cappa Bleu to win on Saturday for Wales (on at 25/1 ante post) and Quiscover Fontaine each way!"
Now there's a yankee-and-a-half HE!
12:40 Update on Paul Carberry now and he's expecting to be fit to ride Chicago Grey in the Nash.
His agent Ciaran O'Toole says: "We were a little worried after his fall on Tuesday but he;'s just a little stiff now. He should be fine for Saturday."
12:35 Tom in Reading is singing from the same hymn sheet as yours truly. That's not always a good thing.
He says: "Llike you, I'm struggling to understand the disparity in price between Vasco du Ronceray and Rolling Star (who he beat) and Irish Saint (who he nearly beat). It's not as if he's got some dodgy 2nd string jockey on board either. 8/1 each way looks (famous last words) a solid 'bet to nothing'. And Zarkandar is a huge price at 5/1. Has always looked like he needed further to me, I think there's a mistaken belief that he didn't run his race at Chelts - he ran a far better race in the Champion this year than last, yet strangely people fancy him much less today than for the corresponding race last year (albeit he ended up falling). I'm confident he'll win, and I'll eat a large plate of hats if he's not in the first 2"
I think Zarkandar will hit the frame Tom - but I'm with the Flame.
12:30 The Matalan Fashion Show is yet again a triumph. Lot of hoops on the beach wear this year. Not good for those of us who have a few spares hopes of our own. One of the models - trunks and a vest - seemed to be feeling the cold a little. Or at least one or two cruel viewers suggested so.
12:20 Courtesy of Racing UK Radio have a listen to Tony McCoy explaining why he rides Colbert Station in the Nash. It's right here.
12:15 Very good afternoon to Hamish Thorn who says: "Got to say I've gone with Oscar Whisky, 7-1 on offer seemed to good to miss. The Aintree race was always the first choice rather than the World Hurdle. I'm hoping he does what Master Minded did in the Melling after an awful show Cheltenham."
He bounced back here last year too HT - it was just the Cheltenham run was so bad this time around...
12:12 As far as email titles go 'Lucky Pants' is right up there. It's from Dan N who says: "Now then Mr Ord, I hope you are well and have spotted your real ale tipple of the day.
"Weather looking good over in Yorkshire and hoping for more of the same over at Aintree. Like Mr Linfoot but somewhat less flukily I am looking for a bit of value today, I like Ruicana today, 9lb swing with Flaxen Flare and yet is more than twice the price. Thousand Stars is overpriced on the last couple of years and I think that swerving Cheltenham will have freshened the horse up against it's competitors today. I'm afraid I'm also following Linfoot today with Astracad - looks like good value to me over this trip. I have my lucky pants on again today so fingers crossed!
"May be venturing over to Aintree tomorrow as I want to see Sprinter Sacre in the flesh, fingers crossed the weather stays as it is. Let me know where the decent ale is!!"
DN the search goes on - but get yourself over anyway sir. Race of the season in prospect.
12:10 Peter Fernandez says: "hi dave,How i miss top class nh racing after cheltenham and what a week it's gonna be with great racing on.I really can't find bigger value than oscar whisky today.How can anyone knock his form over this distance when it clearly reads 111111.7/1 at the exchanges now is too good to miss.That will be my only bet of the day and there is one small thing that is being touted the race of the year tomorrow.Good luck with your bets and have a great weekend dave.Hope the value master does have a great week too."
So do I PF. He's the cavalry on Saturday morning too, possibly alongside Will Hayler. We could be back at near full strength for the big one.
12:05 Here are the thoughts for the day from David Andrew Ord, bearded, scalded hand and ample moobs.
I've already said Vasco Du Ronceray and Countrywide Flame are the each-way picks of the day and in a double of that ilk too.
I'm with First Lieutenant against Silviniaco Conti on price grounds alone in the Bowl while Rebel Du Maquis is the hit and hope selection in the Fox Hunters.
I'm sitting out the Manifesto with doubts over Captain Conan after he finished so tired at Cheltenham. Just can't see anything to take him on with.
Oiseau Du Nuit in the Red Rum - although he'll probably place rather than win - with a saver on Astracad. I'm now a Linfoot disciple.
Finally - and we will be sweating if nothing's on board by now - Lienosus looks to have been given a chance by the assessor in the lucky last. Good luck with your Placepots.
11:55 Mark Matthews says: "Better looking & wiser brother of David Matthews here. Stuck out in Prague so will be following from afar. Thousand Stars all the way for me today. Vastly over-priced and has been primed for this all season. Chased home by The New One for any exacta fans out there. "
I think I'll be the judge of who's the better looking MM. My own profile isn't that of a classic beauty - but in some baltic states three chins are welcomed warmly.
11:50 Jambo Woody deserves a good day. He says: "My first day off this year and looking forward to watching some competitive racing. Started the day with a nice healthy bowl of muesli and because i've been so good so far today i'm going for a bacon and sauage sandwhich for lunch. Ruacana has alreday been mentioned earlier and i think the bettwr ground will suit as well, i'm also sizing up The Giant Bolster who looks over priced to me abd should also come on for the better ground and Thousand Stars on the face of it not the best form this year but has raced well here the last two years and should be that little fresher than the rest. These three are all rapped up in an accumulator with Warne in the Fox Hunters who has good form at this trip.
"As for the National i'm heading towards Imperial Commander the class horse won last year and may well do again this year."
Would love to see The Giant Bolster run well JW - but his jumping worries me round here.
11:45 I hope Jason Hathaway and Dave Matthews are friends. JH says: "Today's Aintree! As I can't decide what to back I decided to throw money at trebles. Needless to say if Conti doesn't win, bang go the trebles, and I will be renaming him something else. Treble 1: Rolling Star, Conti, The New One. Treble 2: Irish Saint, Conti, Granduet I then got carried away, Treble 3: Rolling Star, Conti, Zarkandar
"My thinking is that the 4YO is between these two with Conti nailed on..lol...I can then back the other one in the hurdle that isn't carrying my treble. Although Zarkandar 1/4 @ 6s is now tempting me. I should give more money to charity. David Matthews has called my betting fantastically mental!"
My punting has been called far, far worse over the years JH. Including by a mortgage advisor.
11:40 Nigel J asks who's riding Chicago Grey in the National. Still Paul Carberry at this stage NJ but his chances of being fit were rated at just 50-50 this morning.
11:35 Mark Finnerty in the magnificent city of Dublin says: The sun is shining and I'm banking on todays lucky 15!!! First lieutenant, Zarklander (Aintree) Toner D'Oudairies (FR) and Berties dream, printing money. Dave....printing money....."
Run me off a few euro MF - I'll need it by Saturday evening. I'm with First Lieutentant sir - but we part ways after that race!
11:30 Mike S is undoubtedly in his shorts. He says: "Not sure how cold it is in Liverpool compared to Cheltenham but it's still bloody warm in Cameroon. Well after a very Cheltenham I've been looking forward to the Grand National meeting ever since, think the ground is the key in a very open year and told my wife even her pin has a chance it hit Acoss The Bay. I will wait and see what the jocks are saying after tomorrows Topham, today I'm on Countrywide Flame ( 2 1/2 miles+ must be his distanced) Captain Conan and Buthlezi who is well in."
Ah at last another Fame man! I like Captain Conan but he did have a very hard race at Cheltenham.
11:25 Another vote for Ruacana in the opener from Joseph Peters who says: "Ruccana in the first the our connor lepoardstown hurdle victory looks the pick of the form. Not sure flaxen flare will go second time up. Also like the other john ferguson horse in the last. His horses have been crying out for good ground and think over the aintree meeting he could saddle a few winners !"
Completely agree re the ground JP - very different ball game.
11:20 Good morning to Elliott Hirst who says: "I must say I'm excited for today. I think the banker double has to be Silviniaco Conti and The New One. Yes favourites have a terrible record in the bowl, epitomised by Denman losing to Nacarat, but these are usually favourites based on the highest finisher in the Gold Cup. Silviniaco's fall ensures he comes here fresher than all his opponents and we know he adores Aintree. The New One as well to me seems the only genuine two and half miler out of the big guns in the Aintree Hurdle, and his turn of foot will demolish these rivals. He had the highest finishing speed of any horse at Cheltenham, even faster than Hurricane Fly and this looks his for the taking."
I love The New One EH - just don't think he should be favourite this afternoon. I'm with the Flame.
11:15 Shout out to Si Adams as the kids say! He writes: "Welcome back to the blog-as-sphere!!! A wonderful days racing and I must admit im never as excited (or as lucky) at aintree as I am at Cheltenham.
"Must say after watching the triumph, I must think Vasco De Ron must be a big price but the ground is definitely coming for Rolling star he looked a good ground horse to me at Cheltenham. Hopefully he will thrive. A day for the favs I think and a chance to test the luck over the big fences. It over revolves around cottage oak for me....if he is fresh and well he wins I think. Hollow tree in the last looks a handicap sneak.... 33/1 is too big to resist. The other e/w value must be Tanks for that he will love the ground and wasn't given an undue hard time last time out. Really hope the new one shines today and and Conti proves none the worse for his Cheltenham spill....first 3 favs going in might just have the bookies running for cover again!
"Tips for the day: Rolling Star, Silvianco Conti, The New One, COTTAGE OAK, Captain Conan, Tanks for that, Easter Day/Hollow Tree (e/w)
"All the best to everyone and have a great day!"
And to you SA.
11:10 I'm getting breathless. I'm out of blog shape. No I'm out of shape. Anyway Andrew Wootton is in peak fitness and he has all the latest market movers from the Sky Bet trading room.
3.20 Taunton - Alasi 9/2 from 7/1
Away from the main event of the day at Aintree, Taunton stage a very good card and money has come for the Paul Webber trained Alasi in the feature race. Last time out she was well beaten behind the great Quevega in the mares hurdle race at Cheltenham but prior to that had put King George 4th Champion Court to the sword over fences. If she can return to that level of form she should run a good race in receipt of plenty of weight from the talking horse Hunt Ball.
4.15 Aintree - Astracad 9/1 from 14/1
Tipped up by Ben Linfoot, Nigel Twiston-Davies had a fantastic Cheltenham considering his yard were under a cloud heading into it and his Astracad has been well supported to give the Naunton handler another big race festival success. Astracad was one of those that was forced to miss the festival due to the bug and returns today with first-time blinkers on after not racing since December. He was 2nd in this race last year to a handicap snip and lines up today off a 2lbs lower mark today, so if he turns up I similar form then he must go close.
5.25 Aintree - Battle Group 7/1 from 14/1
Battle Group has performed with great credit at this festival in the last two years, taking this race in 2011 before just being run-down last year in the handicap chase. He returns to his beloved track off a 6lbs lower mark then when successful in 2011 and has been very well supported in this repeat bid in his first run for Kevin Bishop. He's not one that finds much under pressure, so you'd want him travelling well coming to the last, but he should go well for his promising young rider who also claims a further 3lbs.
1100: Best of luck to Brookie who says: "Sitting at home before an afternoon hospital appointment so will have to record this afternoon's racing - last hospital appointment Queen Mother Champion Chase Day - how unlucky am I!
"Fancy Oscar Whisky to bounce back & Lienosus in the last (looked like he was coming to beat Wonderful Charm on his hurdles debut before a bad blunder 3 out)
On the real ale front - jump the train towards Liverpool alight at Moorfields (about 15 mins) and try The Lion Tavern,Rigbys or Ship & Mitre."
Hope all goes well B and thanks for the advice re tonight. The Philarmonic is one of my favourite haunts in this magnificent city but you're advice will be followed.
1055: John Carus is another of the good guys and says: "Really looking forward to the next 3 days and will be there with my brother Terry and good friends Andy, Paul and Adrian. I had a very profitable Cheltenham and hope to continue with the following horses today. L,unique, Quito De La Roque, Thousand Stars, Gwanako, Pires, Captain Conan and Jetson.
I"f one of the above wins I will be a happy man. Good luck with the cask ale and pie hunt and here's to a great days racing!"
I'm not hopeful re the Ale JC. Any chance of Black Sheep replacing John Smith's as the sponsors next year? Knowing my luck Caffreys will get it. One pint of that and I wake up with a headache.
1050: Harry Moore writes: "Stuck in work, daydreaming out the window, awaiting patiently for 12.30 to roll around as I'm on a half day to watch the racing. (Daydreaming mainly about your bacon sandwich)
"My main bet today is Warne in the foxhunters - "Good Thing". Also Silv Conti, The New One, Captain Conan in a trixie Build the account up for Cappa Bleu come Sat..."
Ooh I can't have Cappa Bleu HM. Again don't take that as a negative.
1045: Carl L says: "Interesting an three days of racing in prospect with great depth of quality on show despite fears that the proximity to Cheltenham this year would effect the quality of Aintree.
"Fancies for today are Irish Saint - 14:00, Quito De La Roque (e/w) - 14:30, Oscar Whiskey - 15:05, Cottage Oak - 15:40 & Viva Colonia (e/w) - 16:15
"Looking ahead to the Grand Najavascript:collapseAll2();tional, I have backed Rare Bob & Ballabriggs and think both hold excellent chances. I was interested to hear NH's comments about Roberto Goldbeck having a good chance, he has never struck me as a good enough jumper, he's fallen/unseated four times and even with the better ground I think he is up against at the weights."
I can see Roberto running well CL and deadly Dave John is sweet on Rare Bob. Not sweat on Rare Bob as I put in a sportinglife panel yesterday.
1040: Hadley Fox is in Gods Own County and says: "I hope your in rude health, I am at Aintree tomorrow are you....Pint of ale on ice if you are Sire?
"Today going for Irish Saint, Coupling Oscar Whiskey ad Grandeout (6/4 coupled), Conti (Nap), Captain Conan (NB), easter day each way in the last, think Nicholls will bounce back after a poor chelts, thoughts please and will I be purchasing a cask ale for you tomorrow?"
Now I do hope they all win for you HF - as I have a pint of Theakston cask riding on it. I haven't backed any of the above - but please don't take that as a negative.
1030: Poor David Matthews. He says: "Am stuck at work today so will be turning phone off and trying to resist the default urge to surf the net when I get bored mid-afternoon to avoid the results. Looking forward to watching it later, Grandouet is the one in the Aintree Hurdle for me, he will definitely stay! Viva Colonia and Ericht should hopefully go well at big prices as well. Have a great day."
Amd you DM. Lot of love for Grandouet here. I backed him for the Champion but not with him today. I think we know how this ends.
1025: Damon In Selby says: "How can Aintree ever beat the last day of the Cheltenham Festival Dave when I backed 6 out of 7 winners on the final day,and yes even one of those should have lost as the poor girl in the foxhunters chases horse jerked violently unshipping her as you can imagine I was gutted for her understandably so until I found myself in the to pay out queue in the bookies that was.Onto today I have backed Silviniaco Conti at evens,Grandouet eachway at 9/2 and fancy Bold Addition,Rebel Du Marquis and Silverburn in the foxhunters Dave.On the Saturday after Cheltenham I only had one bet on Wales to beat England with a +2 start in the rugby Dave,it was a week to remember that dont come around too often as a punter."
It doesn't D - and I'm still waiting!
1022: And more breaking news. Seems my Topham gamble on Planet Of Sound has gone astray. He's not declared.
1020: Dunc Frae Scotland is very much one of the good guys. He says: "Hello Dave, Going against my Cheltenham selections of Zarkander and Rolling Star.
"Chance Flaxen Flare as his irish Our Connor form not bad and Gordon Eilliot string in form. Also Carlito Brigante gets his much needed good ground (good eway). Chance Oscarwhiskey at 6s as he wears the tshirt over 2mile 4f."
He does wear the shirt at this trip Dunc but not been convinced by him all season.
1015: Literally hot off the press I have the Nash runners. Out are Romanesco, Quinz, Poker De Sivola, Pearlysteps, Backstage, Cloudy Lane and Gullible Gordon. In come Viking Blond. Reserves are Pentiffic and Mortimers Cross.
1012: Breaking Nash news and Tony McCoy rides Colbert Station. I've yet to hear if I've picked up the spare aboard Sunnyhillboy.
1010: Hello to Karl Foster who says: "Think Gwanako will win if he gets round he has only managed to get round once mind you which tempers my enthusiasm slighty but got to be worth a punt at around 5/1. Really looking forward to the Aintree Hurdle, so many very good horses gets the heart racing. Fingers crossed The New One is the superstar i think he will be.
"Any Thoughts on the National? A few classey runners again this year."
I think Seabass will start favourite for the National and win KF. With Join Together, Chicago Grey and Balthazar King all placed.
1005: Wilbert in Huddersfield knows how to live life. He says: "Good morning Dave I must agree a bacon butty is a great way to start the day. Great racing today after the flat dross we have had since Cheltenham. Have to stick with Grandouet but will he stay. Should imagine Paul Nicholls will be desperate to have a good Aintree after Cheltenham. Plan for today is bets on up to the pub a few beers followed by a mixed grill or if things go wrong a packet of crisps."
You have the afternoon cracked sir. Mixed grill. The tea of champions. Not sure Grandouet will get home myself...
1000: A very, very good morning to Falbrav who writes: "Just wanted to begin by saying how much I enjoy the podcasts.
"And hooray for a bit of decent ground! Here's a horse that needs it...Toubab - the Falbrav nap of the day. And what's more, I see that it is one of Scoop Linfoot's two against the field in the 4.15 so let's hope his run of form continues.
"I don't have much of a gut feel on the opener...a mild hunch that Ruacana will run well on the better ground and an idiotic fantasy that the complete rag Zamdy Man might run into a place.
"Menorah is unpredictable but overpriced in the bowl. By Kings Theatre out of a Strong Gale mare, 3 miles on decent ground could have been just the ticket all along...we'll soon find out. And I can make an each way case for Raya Star at 33s in the Aintree Hurdle. Have a great first day and thanks for making it all seem real."
Cheers F - especially your kinds words re the much maligned podcast! The ground here should see the speed horses finally come out to play this year!
0955: A verity good morning to our first emailer Adam Robinson who says: "Ruacana looks a massive price in the 1st. He ran a lot better than the bare form at Cheltenham (did best of the prominent racers). On his win at Catterick, he beat Totalize by 2 and a bit lengths (quite easily), who since finished in front of him at Cheltenham, so I'm not sure he gave his running on a track that probably didn't suit. This flat track will suit a lot better, as will the ground, where he can use his flat speed to better effect. Flaxen Flare won that race at Cheltenham, but Ruacana previously smashed him 16 lengths at Leopardstown. Flaxen Flare is priced at 4/1 and Ruacana at 12/1, so Ruacana looks very good value at 3 times the price of Flaxen Flare. Denis O'Regan is also back on board today which is a positive."
Agree re Denis O'Regan AR. One of the very best riding right now - and it's a vintage generation.
0950: I do think Vasco Du Ronceray is a fair each-way bet in the opener. Wherever Rolling Star and Irish Saint finish, he has to be thereabouts and is twice the price.
0945: Second Sky Sports News Radio interview of the day in the can. Listeners there told Countrywide Flame will win in the Aintree Hurdle. You were told earlier - as were viewers of Sky Poker TV channel - dangerously close to the 900s. Oh yes the TV CV is growing by the week.
0930: Absolutely glorious day here - tad chilly but we're going to hit eight degrees. The track is in magnificent condition.
0915: There are many reasons to love Aintree. Many, many reasons. The press room bacon sandwich is towards the top of my list. Oh for all those who've asked how the hand is - ie no-one - the bandage came off yesterday following the Cheltenham burn. I'm the only man here wearing a single fingerless glove.
0900: A very good morning and welcome to Aintree. Owing to a number of factors, paternity leave, holidays in Dubai and the fact I'm in charge - it is I Dave Ord in the blog chair for the first two days of the meeting. Sadly then Ben 'did I tell you I tipped the Lincoln winner at 40/1) takes over.
The going is good, good to soft in places on the Mildmay, good to soft, good in places for the Nash races.
Today I will be mainly backing Countrwide Flame (each-way) and Vasco DU Ronceray (each-way), eating and trying to find a cask ale. Let me know your Aintree plays - or plans for the day - on daveord55@gmail.com
---
Click here for completely free £10 bet with Sky Bet & £5 free every week
---