Marti, Mick, Mike and Martin
Our man on the ground Will Hayler reflects on the action from York on the penultimate day of the Go Racing In Yorkshire Summer Festival.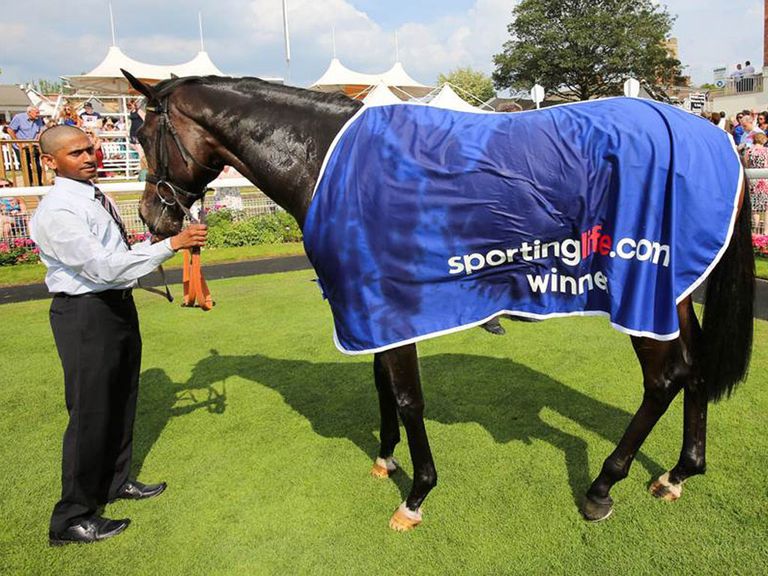 Back in my younger, angrier and more political days I used to turn up to racecourses deliberately without a tie, just to get into arguments about the sheer ridiculousness of having to wear one in order to gain access to my leisure destination of choice. True, that.
Most of my racing friends (perhaps I ought to say acquaintances just to be on the safe side) have heard the story about how I had to borrow a Stagecoach tie from a bus driver in order to get into Goodwood when I was working there on Stewards' Cup day about 15 years ago. That's true too.
Whether Mick Easterby turns up to York races without a tie a) because he is forgetful b) because he can't be bothered c) because he's crusading against the dress code or d) because he likes to expand his wardrobe by collecting a stash of free ones they keep for him at the owners and trainers entrance isn't clear, but it's not as if he can't afford to buy the odd tie given that he owns half of North Yorkshire.
Anyway, the kind people at the racecourse stepped in with their usual offer to dress him appopriately and his one shirt (his words, not mine) was supplemented with a smart tie, the obligatory braces being under the shirt but on top of the vest he never forgets to put on. (I hope to God there's more than one vest).
As such, he was able to go up on to the winner's enclosure to receive his prize when Itlaaq took the Skybet supporting the Yorkshire Air Ambulance Handicap under Kieren Fallon, the former champion rolling back the years with a ride of characteristic determination to get the better of See And Be Seen by a short-head, whose rider Renato Souza got a nine-day ban for his use of the whip. Fallon remained within the rules and yet still gave his mount the stronger ride. It's an art.
Also celebrating on the day were Michael Shinners, who extended his lead in the Sky Bet Magnificent Seven Tipping Challenge when selecting Muthmir to win the Sky Bet Dash at 4/1. Alex Hammond found the same winner too and with Tom O'Ryan and Dave Ord also recording profits, the coffers of the three charities being supported were pleasantly swelled.
Sporting Life editor Ord, at Ascot celebrating a family birthday, put up Olivia Fallow each-way at 11/1 in the concluding nursery but might have been left wondering what might have been when jockey Shirley Teasdale copped a three-day ban for weighing in 2lb heavy afterwards. Still, that won't have been the first time that the great man has been left screaming at the scales. It will be interesting to see whether the apprentice rider appeals given the exceptionally high temperatures on the day - there were, after all, announcements over the public address system reminding us every few minutes of the need to re-hydrate. If ever there was a day for leniency...
Martin Lane took the day's most prestigious event, the Sky Bet York Stakes, aboard the tricky Sheikhzayedroad. I was at Sandown when this horse just got turned over in bottomless ground in the three-runner Brigadier Gerard Stakes and the jockey was being incredibly hard on himself given that he had nearly given the horse a perfect ride in a race that quite clearly would not have suited his foibles.
He endeared himself to everyone even more when after giving the horse a perfect precision ride to win this Group Two, he chose to thank the York crowd for their enthusiasm and support. What a nice man.
Of course, having described that as the day's most prestigious event, I realise now that I overlooked the Sportinglife.com My Stable Tracking Service Median Auction Maiden Stakes, a contest whose value comes not in prize money terms but in the cachet offered by its title alone.
The race was won by Valley Of Fire under the excellent Andrea Atzeni. Connections are eyeing a valuable sales race back at the track at next month's Ebor meeting. I'd tentatively suggest that the Derby might be a more appopriate target. And the Grand National. And the London Marathon. The world is surely the oyster for the winner of 'the Sporting Life', as I believe the race should be known.
Oh and then it was Wet Wet Wet. Lead singer Marti Pellow's accent seems to become more Scottish each time I hear it, but they seemed to be having a good time, even if the photo that appeared on their official Twitter feed was clearly a stock group shot superimposed in front of a picture of the York crowd.
Never mind. General reaction on Twitter was hugely favourable, especially to the hundreds of local residents who were, according to what they were saying, enjoying the show from their back gardens or bedroom windows.
Sunday sees the final day of the Yorkshire Racing bandwagon at Pontefract and I'll be there, wishing I was lucky. See what I did there?