The Insider: Take the biscuit
Saturday's John Smith's Cup is a rare example of an old-fashioned battle of wits between punter and bookmaker.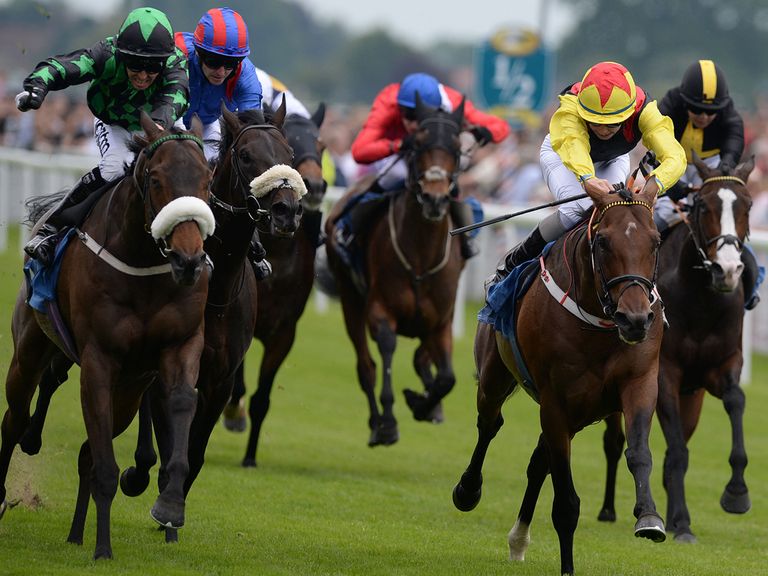 On the same day, the Darley July Cup takes place at Newmarket, but features a market which has been in development for some time and remained pretty immobile ever since the runners passed the post after the Diamond Jubilee Stakes at Royal Ascot last month.
Only the Spanish contender Noozhoh Canarias has hardened much in the market since his participation was confirmed, but there's still plenty of guesswork involved as to whether he can make the grade as a top-class sprinter despite showing obvious pace for such a long way in the QIPCO 2000 Guineas.
Frankly, boring as it might sound, the prices all look about right. Slade Power and Due Diligence both ran great trials at Royal Ascot, Sole Power has an obvious chance albeit with that ongoing nagging doubt that five furlongs suits him better, but the odds reflect just that.
The more adventurous punter should instead be looking at the John Smith's Cup, where the bookmakers have effectively had to start with a blank sheet of paper once the confirmations came in on Monday lunchtime. Yes, they've built themselves in a not-inconsiderable margin for error, but there's also room for hoping that there might be further value to be found.
Yuften, 10/1 second-favourite with most firms on the basis that he represents the same connections as 2012 winner Green Destiny, will surely not make the final line-up unless divine intervention wipes a number of North Yorkshire stables off the map before Saturday. The well-fancied Stomachion, trading at around the same price, himself needs a dozen withdrawals if he is to get a run.
Rain is forecast between now and Saturday afternoon, but not much if any in the final 36 hours before the race, and those looking for lots of cut in the ground seem unlikely to strike lucky with temperatures high enough to negate the effect of any heavy showers that do arrive, particularly at a track that dries out quickly since drainage work a few years ago. I'd be expecting good ground - good to soft at the absolute worst.
That's probably good news for favourite Bold Sniper, the best-backed horse since odds were published, and whose Royal Ascot second to Contributer stands out like a bit of a beacon in a race in which a number of the likely starters make fairly limited appeal on recent form.
However, at the risk of being sent to the Tower, this horse hails from a family of equine fruitcakes and appears to have some ideas of his own about the game, looking a particularly hard ride - even for a man as tough to get the better of as Ryan Moore - when third at Newmarket on 2000 Guineas day.
He's got plenty of ability, but I wouldn't want to rely on his resolution, and he tackles rivals here with plenty of northern - and southern - grit on their sides. On the plus-side, Moore heads north to ride him, sacrificing possible opportunities at Newmarket and/or Ascot.
Clever Cookie will need to be on the periphery of being a Group-race performer to win this off a mark of 107, but he might be just that and could be worth chancing at 10/1.
His trainer Peter Niven has had his eye on a big York handicap for this horse for some months - although admittedly, it was the Ebor rather than this contest which was on the radar until his latest start where both Niven and jockey Graham Lee were left with the clear impression that a mile and three-quarters had stretched his stamina beyond breaking point.
He nevertheless managed to maintain his unbeaten record on the Flat in that race, dead-heating with Ralston Road, and comes here as a horse on the top of his game, with proven track form, and likely to get the sort of big field and fair pace that bring out the best in him.
Lee is unavailable but the booking of PJ McDonald is by no means a negative.
He is one of three selections worth a small each-way bet at this stage, along with Tahira and Elhaame.
Tahira has proved a major eyecatcher in both of her two British starts, on neither occasion enjoying the run of the race, but both times showing that the potential she showed last season in Germany is likely to be realised now with John Quinn.
It was impossible to get a handle on the accuracy of her BHA rating of 99 up to now, but she certainly doesn't look over-weighted and gets a considerable swing for finishing only half a dozen lengths behind Clever Cookie on her first start for Quinn over this track and trip in May.
Connections believe some cut in the ground helps her and I don't expect her to line up if it's good to firm ground. But having said that, I don't expect it to be good to firm ground.
With a maximum field of 20 but four places to be had for each-way punters, I like the look of this contest from an ante-post view and I'm going to risk making myself looking three times as stupid by having three bites of the cherrry, admittedly all at double-figure prices.
I considered backing Saptapadi again, having regularly set fire to my money on him over the last two years, but he looked a shade reluctant to get his head down when it mattered at this track last time out, despite a persuasive ride from his able amateur. This is therefore the race in which he is likely to break his barren spell - and at 33/1 too - but it will be have to be without my cash.
Instead, I'll be supporting Elhaame, who ticks plenty of statistical boxes (according to colleague Ian Ogg) and who impressed me with the way he managed to throw down a decent challenge in the Duke Of Edinburgh Stakes on his latest start, despite appearing to pull far too freely in the early stages.
Andrea Atzeni found missing a Group-race in order to maintain a relationship with his retained owner a surprisingly profitable move last weekend when Kingston Hill blew out in the Eclipse shortly after he'd partnered a tidy double up at Haydock and perhaps leaving the stakes-race action at Newmarket and Ascot behind in order to ride in this very-valuable handicap might again pay a cash dividend. And a cash dividend for him will be a cash dividend for us, because I can definitely see the move back to 10 furlongs seeing him return to his best form.