Mal Boyle's Placepot picks
Our Placepot expert Mal Boyle reveals his analysis ahead of Thursday's meeting at Hamilton.
Hamilton. Click here to bet.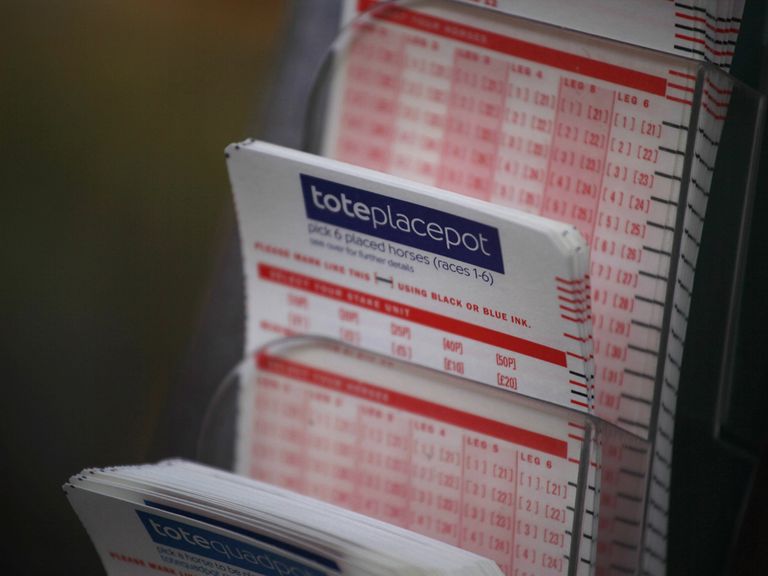 Each day Malcolm Boyle, the author of 'How To Win at the Tote Placepot' and a former odds compiler, will give his unique analysis of the feature meeting from a Placepot perspective.
 
His general preview for the following day's racing will appear at around 1700 BST the day before with the actual selections available around two hours before the first race on the day of racing so factors such as non-runners and going conditions can properly be taken into account.
Sign up for our free video form service!

CATTERICK - AUGUST 27

HAMILTON - AUGUST 28

Last year's corresponding toteplacepot dividend:

2013: £27.00 (6 favourites: 2 winners--3 placed--1 unplaced)

4.45 A tough opening event with the 'dead eight' runners all making their respective debuts. As far as sires are concerned, the trio I am homing in on at the time of writing are RISEN SUN, GO DAN DO and BAPAK ASMARA. Don't get sidetracked regarding Donald McCain's runner FORTUNA GLAS, because although the National Hunt trainer has only saddled 10 juveniles during the last five years (without success), five of his relevant representatives have secured silver medals with two more claiming two of the bronze variety.

Favourite factor: All five winners have been returned at odds of 11/4 or less thus far, statistics which include two successful (6/4 & 5/6) market leaders.

5.20 The last seven winners have carried a minimum burden of 8-13 and six of the 12 runners qualify via the weight trends on this occasion, given that a claim will take Raise A Billion below the 'superior mark' in all probability. Ann Duffield is saddling plenty of winner just now whereby Toboggan Star could return to form, though more logical winners include CAHAL, PRINCESS ROSE and NELSON'S PRIDE.

Favourite factor: Two clear market leaders and one joint favourite have prevailed via eight contests thus far. Seven of the nine market leaders have secured toteplacepot positions.

5.50 The three winners to date have carried a maximum burden of nine stones whereby three low weighted raider are offered up, namely BERBICE, HAYEK and TORRIDON. I confess that I would not back the trio from a win perspective but in a race that should not take a great deal of winning, we should secure a toteplacepot position or two. BENIDORM slips into the mix via the jockey's claim and with Richard Guest's inmates going well just now from a win and place perspective, the Bahamian Bounty gelding could yet sneak into my permutation come sun up.

Favourite factor: Two of the four market leaders have claimed toteplacepot positions via three renewals, statistics which include one successful 7/2 (joint) favourite.

6.20 Four-year-olds have secured five of the last 11 available toteplacepot positions, whilst vintage representatives have won two of the last three renewals. Four relevant thoroughbreds have been offered the green light on this occasion, the pick of the quartet hopefully proving to be Epsom's recent winner COINCIDENTLY and HENPECKED from the opposite end of the handicap. Somewhere in between, course and distance winner I'M SUPER TOO also makes some appeal, completing my three selections against the other nine contenders. COINCIDENTLY won in a hack canter on the downs under soft conditions on Tuesday and it is no surprise to witness Alan Bailey going to the well again just two days later.

Favourite factor: Three of the seven favourites (one winner) have secured toteplacepot positions thus far.

6.50 Horses carrying a minimum burden of nine stones have secured nine of the 12 available toteplacepot positions to date, statistics which include four of the five winners. Just the one declaration falls foul of the trend this time around and even then, only via a pilot's claim. Last year's winner ST IGNATIUS catches the eye first and foremost as Alan Bailey's 13 time winner was withdrawn from a similar event the other day. Others to consider include TRIPLE EIGHT and HARRISON'S CAVE.

Favourite factor: Five of the six favourites have finished in the money, statistics which include three (6/4--10/3--5/2) winners via five renewals thus far.

7.20 Three-year-olds have secured eight of the 11 available toteplacepot positions thus far, statistics which include four of the five winners of the contest. Linda Perrett has entered nine horses on the card and one of her best chances is with BANNOCK TOWN here, with BIFOCUL and four-year-old SHOWTIME STAR expected to offer most resistance.

Favourite factor: Two market leaders have prevailed, whilst all five winners were returned at odds of 11/2 or less. Three of the five favourites have secured toteplacepot positions.

Trainers with their relevant number of runners on the Hamilton card on Thursday

9--Linda Perrett
5--Jim Goldie
4--Alan Berry
4--Keith Dalgleish
4--Ann Duffield
4--Richard Guest
3--Mark Johnston
3--Kevin Ryan
2--Eric Alston
2--Alan Bailey
2--Stuart Coltherd
2--Tim Easterby
2--Marjorie Fife
2--Phil Kirby
2--Jedd O'Keefe
2--Ian Semple
2--Bryan Smart
2--Alan Swinbank
1--Karl Burke
1--Emmet Michael Butterly
1--Mark Hammond
1--Donald McCain
1--David Nicholls
1--Ann Stokell
1--James Tate
1--Nigel Tinkler
1--Frederick Watson
1--John Weymes
1--Alistair Whillans
1--Lisa Williamson

68 declared runners

2014 average toteplacepot returns thus far (964 meetings):
Favourites failing to reach the frame in all six races: £25,039.47 (3)
1 race with at least one favourite in the frame: £977.31 (23)
2 races with at least one favourite in the frame: £1,086.06 (108)
3 races with at least one favourite in the frame: £470.41 (255)
4 races with at least one favourite in the frame: £195.14 (284)
5 races with at least one favourite in the frame: £68.14 (206)
All 6 Placepot races with at least one favourite in the frame: £15.36 (85)

All references to placed horses on these pages are based on an exact science regarding general place terms offered by bookmakers and totepool.com

Biggest toteplacepot dividends in 2014:
Cheltenham--£44,616.30--Friday March 14
Pontefract--£26,272.90--Tuesday April 8
Sandown--£20,601.40--Saturday July 5
Warwick (NH)--£6,946.60--Sunday March 9
Ripon--£6,876.30--Saturday August 16
Doncaster (flat)--£6,810.90--Saturday August 16
Redcar--£5,730.00--Wednesday July 30
Wolverhampton--£5,122.30--Friday April 11
Southwell (NH)--£4,820.20--Thursday January 22
Hamilton--£4,433.40--Friday August 22
Doncaster (flat)--£3,701.90--Friday April 25
Lingfield (Mix Turf/AW)--£3,620.50--Saturday June 28
Wetherby--£3,148.90--Thursday May 29
York--£3,065.20--Friday August 22
Bath--£3,032.20--Friday August 1
York--£2,892.80--Saturday June 14
Wincanton--£2,871.50--Thursday May 8
Yarmouth--£2,868.90--Monday April 21
Newmarket--£2,867.90--Thursday July 11
Fontwell--£2,743.60--Tuesday June 10
Stratford--£2,571.90--Saturday March 22
Uttoxeter--£2,507.80--Thursday June 12
Newmarket (July)--£2,433.40--Saturday August 2
Cheltenham--£2,414.40--Thursday April 17
Windsor--£2,390.20--Monday August 4
Fontwell--£2,374.70--Friday May 2
Lingfield (A/W)--£2,320.10--Saturday March 22
Yarmouth--£2,176.60--Sunday August 24
Stratford--£2,142.70--Tuesday July 1
Catterick (NH)--£2,105.50--Wednesday January 1
Bath--£2,090.60--Wednesday June 25
Brighton--£2,008.10--Thursday August 7

Doncaster (Flat)--£2,002.40--Sunday March 30

Flat Turf venues:
Total Flat Turf meetings (£481.11--426 meetings)
Ascot (£268.57--14 meetings)
Ayr (£320.93--12 meetings)
Bath (£526.12--14 meetings)
Beverley (£448.85--15 meetings)
Brighton (£271.07--15 meetings)
Carlisle (£370.83--10 meetings)
Catterick (£184.07--12 meetings)
Chepstow (£143.95--10 meetings)
Chester (£177.00--11 meetings)
Doncaster (£892.90--17 meetings)
Epsom (£105.88--9 meetings)
Ffos Las (£671.92--4 meetings)
Goodwood (£151.87--16 meetings)
Hamilton (£480.85--13 meetings)
Haydock (£331.80--17 meetings)
Leicester (£119.78--15 meetings)
Lingfield (£877.00--1 meeting)
Musselburgh (£327.88--13 meetings)
Newbury (£201.06--13 meetings)
Newcastle (£196.65--13 meetings)
Newmarket (Rowley Mile) (£155.70--8 meetings)
Newmarket (July) (£539.74--22 meetings)
Nottingham (£293.46--16 meetings)
Pontefract (£2,758.29--11 meetings)
Redcar (£855.36--12 meetings)
Ripon (£568.69--15 meetings)
Salisbury (£266.50--11 meetings)
Sandown (£1,923.39--12 meetings)
Thirsk (£330.64--12 meetings)
Warwick (£58.70--6 meetings--only two races contested at the May 20 meeting)
Windsor (£258.65--23 meetings)
Yarmouth (£493.20--20 meetings)
York (£863.79--14 meetings)

Mixed Turf and All-weather venues:
Lingfield (£358.34--12 meetings)

All-weather venues:
Total A/W meetings (£205.30--200 meetings)
Kempton (£100.68--48 meetings)
Kempton NH Bumper (£134.05--2 meetings)
Lingfield (£167.78--58 meetings)
Lingfield NH Bumper (£27.70--1 meeting)
Southwell (£142.79--39 meetings)
Southwell NH Bumper (£17.00--1 meeting)
Wolverhampton (£253.59--51 meetings)

National Hunt venues:
Total NH meetings (£466.19--334 meetings)
Aintree (£565.72--5 meetings)
Ascot (£144.23--3 meetings)
Ayr (£360.01--8 meetings)
Bangor (£237.91--7 meetings)
Carlisle (£522.96--6 meetings)
Cartmel (£126.89--7 meetings)
Catterick (£375.36--7 meetings)
Cheltenham (£5,553.28--9 meetings)
Chepstow (£197.61--7 meetings)
Doncaster (£290.41--7 meetings)
Exeter (£332.49--7 meetings)
Fakenham (£160.26--7 meetings)
Ffos Las (£312.36--11 meetings)
Fontwell (£606.08--10 meetings)
Haydock (£817.85--4 meetings)
Hexham (£336.10--9 meetings)
Huntingdon (£143.91--9 meetings)
Kelso (£297.68--7 meetings)
Kempton (£133.63--6 meetings)
Leicester (£382.19--5 meetings)
Ludlow (£93.57--8 meetings)
Market Rasen (£92.33--14 meetings)
Musselburgh (£372.37--6 meetings)
Newbury (£209.60--6 meetings)
Newcastle (£454.85--6 meetings)
Newton Abbot (£211.80--13 meetings)
Perth (£253.19--12 meetings)
Plumpton (£267.18--8 meetings)
Sandown (£205.02--4 meetings)
Southwell (£510.09--13 meetings)
Sedgefield (£226.24--11 meetings)
Stratford (£440.21--12 meetings)
Taunton (£144.18--9 meetings)
Towcester (£112.88--10 meetings)
Uttoxeter (£332.53--13 meetings)
Warwick (£1,287.67--6 meetings)
Wetherby (£387.17--10 meetings)
Wincanton (£439.67--10 meetings)
Worcester (£192.75--14 meetings)

Mixed Flat and NH venues:
Ffos Las (£168.90--1 meeting)

Haydock (£311.40--1 meeting)

The average toteplacepot dividend in 2014 stands at £423.03 (964 meetings) up to and including Tuesday August 26
New customers: Free £30 matched bet!