Richard Fahey: English lesson
It's a busy Saturday for us with 22 runners up and down the country and keeping tabs on them all will be a feat in itself! We've got several in with a good shout though so hopefully we'll be able to get a winner or two along the way.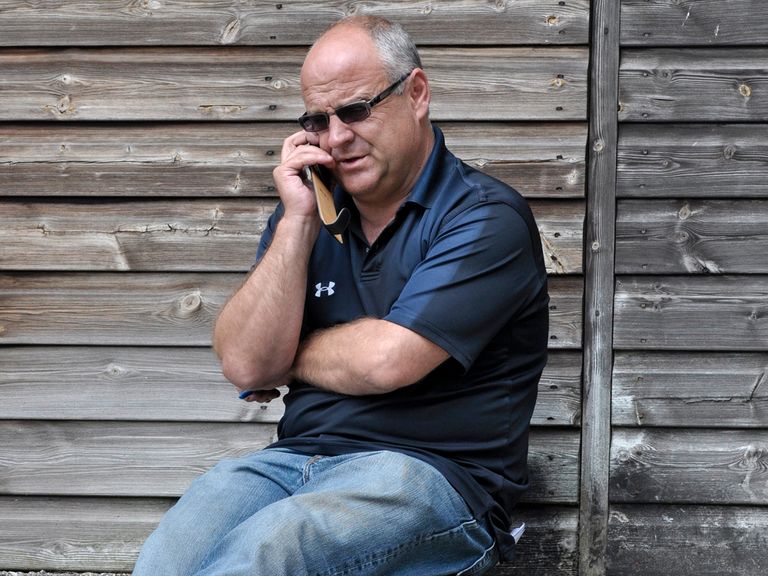 Angel Gabrial runs in the John Smith's Northumberland Plate at Newcastle and it sounds a bit silly in a race as far as this but I'm delighted with his draw.
You need to be drawn low in the Plate, unless it's bottomless, and I've been really happy with him since Chester. I don't think it was the trip that beat him on the Roodee but more the fact that things just didn't pan out for him that day. He's in good order and goes there with a live chance. Obviously the race has been made a little easier because Pique Sous is missing but it's still very competitive and we go there with a fair shout.
I was delighted with Al Gomry's first run at York as I think it was a good race. He's definitely come on for it but I'm just a little worried that he'll need another furlong before too long. There's plenty of improvement in him though and I'd like to think we can turn the tables on Short N Sweet in the Betfred/Irish Stallion Farms EBF Maiden Stakes. He was second that day and we face him again here.
Tatlisu ran ok last time out at Nottingham but we made plenty of use of him that day and we'll try and hold him up and produce him late in the Betfred Half Time In Play Boosts Handicap. It's a competitive race though so we can only be hopeful. Conditions should be fine for him so we'll switch him off early and see what happens.
Farlow has got two ways of running and we never really know which way it's going to go. I'm taking a chance running him in the Betfred World Cup Double Delight Handicap as the ground may not suit but Paul Hanagan rides and I think that could be the key as he gets on so well with him. He's definitely better with a bit of cut in the ground and if it turned up very soft, I'd be quite confident as I think Paul could make all the difference. He's well in himself at home and I'm hopeful he can do himself justice.
Dakota Canyon in the sales in two weeks' time so this could be our last chance to get a win out of him in the Betfred World Cup Bet In Play Handicap. He was disappointing last time out at York but ran ok the time before when second at Hamilton. Paul is going to ride him so we'll see if he can work his magic.
Over at Windsor, we run Doctor Kehoe in the New Horse Racing Odds At unibet.co.uk Maiden Stakes and I was quite happy with his run first time out at Haydock as he'll come on for the run. It's difficult to tell sometimes but he could win if it's an ordinary race. I'd say he's probably more of a horse for nurseries a bit later though.
I think Mica Mika is the handicappers' favourite horse as they seem to handicap everything else around him. He's so consistent but never really gets dropped because of it and then creeps up a couple of pounds every once in a while. He's one of our favourites at home and I hope he wins because he deserves to get his head in front in the Daily Unibet Early Prices From 9am Handicap.
El Viento isn't ideally drawn but he's come back well from his last run and we're hopeful of a big run in the Rohlig Logistics UK 30th Anniversary Handicap. I thought he ran really well at York and he's definitely handicapped to win so I'm hoping it's this weekend.
We've got a few running over at Chester and I thought Steve Prescott won really well the other day at Haydock and he's a horse we really like. There is always a danger that the Injured Jockeys Fund 50th Anniversary Novice Stakes will come too quickly for him but he is so laid back, he seems to have taken everything in his stride. You never know for sure whether a horse will handle Chester but he's got loads of pace so should be able to get a good position early. He's quite a nice horse.
Dr Marwan Koukash, of course, has named him after Steve, who was a wonderful rugby player and inspiration to so many people. Hopefully the horse will raise awareness of – and money for – the Steve Prescott Foundation.
Withernsea made a pleasing comeback at Ripon the other day and he's back down to five furlongs this weekend in the Chalice Handicap as he's still got plenty of pace. He's definitely come on for the Ripon run as it was his first for a year and he's got a good chance.
Tiger Twenty Two didn't stay the mile and a quarter last time out but there was nowhere else for him to go and his owner likes having runners at York so we thought we'd give him a crack at the longer trip. It didn't work and he's back down to seven in the £25 Free Mobile Bet at corbettsports.com Handicap on Saturday. This will suit him a lot better and I hope he gets back on track.
Roachdale House runs in the same race and we liked him a lot when he first arrived but he's probably the most disappointing horse in the yard now. We've had him gelded and he ran a bit better last time but he needs to produce more in the . I hope he shows it in time but we don't really know what to expect this weekend.
I was delighted with English Summer's last run as I thought we came up against a good winner in Spice Fair at Sandown. Take him out and our fellow would have won it really well. He's quite well handicapped now so I'm hopeful of a big run in the Smiles and More Handicap.
Tango Sky is a difficult horse to get a handle on as he doesn't show a lot at home. He ran a sound race at Chester last time out. He came back fit and well from that race and we're hoping for more of the same again in the Stella Cidre Handicap.
I thought Nashville was unlucky at Musselburgh last time out as he didn't really handle the bend turning for home which unbalanced him. He'd run a cracker previously at Newcastle and I think he's well handicapped. He's got a good chance this weekend in the Becks Handicap.
We run two at Newmarket this weekend and I'm hoping the forecasters are right as they are expecting quite a bit of rain which will help our pair.
I've finally relented and put the blinkers on Garswood as I just feel he needs sharpening up in his races. He so laid back that he just maybe needs a bit of focus nowadays. I'm hoping they can bring him back to his very best. If they do, he'll go very close in the bet365 Criterion Stakes.
Dutch Courage came back well from her run at Royal Ascot (in the Listed Sandringham Handicap) and we're hoping she can pick up a bit of black type in the EBF Stallions bet365 Eternal Stakes. She's got a couple of pounds to find with the main contenders but she'll give a good account of her if this doesn't come too quickly for her.
Joseph O'Brien rides Alben Star in the Paddy Power Scurry at the Curragh and we're hopeful of a good run. I thought he ran really well in the Wokingham last weekend when fourth behind his stable mate Baccarat as he was actually second in the group he ran with. The ground will suit and six furlongs is definitely his trip in these sort of conditions.
We've got a few running at Doncaster on Saturday evening and Royal Connoisseur has a chance in the M & G Services "Asbestos Abatement & Surveying" Maiden Stakes. He was a bit disappointing last time out and his run was a bit ordinary. This looks a match though between our fellow and John Gosden's horse (Makhfar) but I think we'll probably come off second best. We've got a chance but I think we've got around six pounds to find on the form book.
Loom Of Life is a nice horse who was bred by Channel 4's Jim McGrath and who runs for his Inner Circle Thoroughbreds syndicate. He's very laid back at home but he's ready to have a run. He'll be good in time but I think he'll come on a bundle on whatever he does in the Jordan Road Surfacing EBF Irish Stallions Farms Maiden Stakes.
What can I say about Extraterrestrial? He's older than me! He's a grand horse and the family pet but he seems to like finishing second a bit more than he should. He should run another honest race though and I hope he comes back in one piece after the AFI Group Handicap as we all love him to bits here.
Canyari is a little inexperienced and had a few problems last year but he gets an outing this weekend in the Panelcraft Quality Access Panels Handicap. We've had him gelded and I hope that helps him. He needs to bounce back from a disappointing run at York last time out but I still like him and hope he can win a race or two.