GC: More Royal Ascot questions
Twelve down and 18 races to go. Punters have been firmly on top on the first two days of Royal Ascot but plenty can happen between now and Saturday. Channel 4 and Racing UK's Graham Cunningham looks both back and forward in the first half of his second 20 Questions feature for the Royal meeting.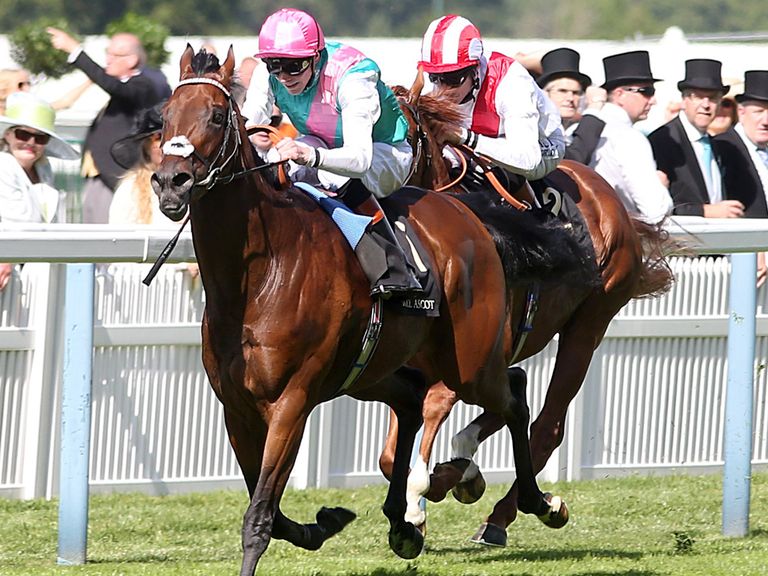 1: How good was Kingman in Tuesday's St James's Palace Stakes?
He was world class both in terms of style and substance. John Gosden's colt was ridden with jawdropping confidence by James Doyle and cut down high class rivals in devastating fashion.
He's unlikely to take up his entry in the July Cup but there's little doubt he would be fully effective back at six.
A riveting tactical battle awaits in the Sussex Stakes and Breeders' Cup regulars are already licking their lips at the prospect of Big John Gosden holding court with his latest star when the Mille comes around at Santa Anita in November.
2: What's the latest on the Gold Cup?
No prizes for originality but I've come round to the idea that Leading Light might just have all the aces here.
I was hoping the ground would be easy enough to let Tac De Boistron shine but the weather has turned against him and he's now out.
By contrast, Leading Light is fully effective on fast ground and the way he dismissed Royal Diamond and Pale Mimosa under a penalty on his Navan reappearance was most impressive.
That success suggests that Leading Light has added some speed to the stamina and appetite for a battle which won him last year's Leger.
Well-placed sources suggest Aidan O'Brien feels he might well have found his new Yeats. And if that's the case then last year's winner Estimate and the rest of this field could be in for a very tough shift indeed.
3: What did we learn from Sole Power's latest G1 triumph in the King's Stand?
First, we learned that there isn't a sprinter around capable of matching Sole Power's ability to quicken when the ground is fast.
And second, we probably learned that Hot Streak remains a sprinter with a very bright future. He wasn't good enough on the day but he'll get another crack at Sole Power on different ground at some point and a softer surface might just help him turn the form around.
4: Is The Great War a day three banker in the Norfolk Stakes?
Some judges are sceptical on the grounds that he hasn't beaten much at Tipperary and the Curragh.
But the impression a horse creates is a vital part of the juvenile puzzle and The Great War did a good impression of a potential Group 1 colt in sauntering clear on both occasions.
He's trading at a shade of odds-on. But I thought he would be more like 4/6. In short, he's going to be very hard to beat indeed.
5: Can Toronado fend off the threat of Kingman if they clash in the Sussex Stakes?
The fact that he's proven on the Sussex Downs is a plus and he's clearly returned in good fettle after mastering Verrazano in the Queen Anne.
The hoopla over Kingman could cause him to drift come the day, but can he really be backed with confidence to give 8lb to a peak-form Kingman? On balance, I doubt it.
Verrazano was no match for Toronado in the final furlong but it looks like Aidan O'Brien is gradually getting to grips with him. But the final piece of the jigsaw might involve a change of tactics. Hard galloping is The Big V's forte and I'd love to see him bounced out and ridden more aggressively, possibly over a slightly longer trip.
6:  Does Inchila's Oaks fourth make her the one to beat in the Ribblesdale?
BHA figures certainly give her a good chance but I'm not convinced that she will peak again just 13 days after her taxing workout at Epsom, especially if Jamie Spencer opts to drop her right out in rear again.
It's tempting to oppose her and come at this Group 2 prize with a pincer movement comprising the French raider Vazira and the superbly-bred Wonderstruck.
Vazira has no fast ground experience but she is a proven Pattern race filly and I doubt there is anything of the calibre of her Longchamp conqueror We Are in this line-up.
She tries hard and looks bound to go well, while Wonderstruck takes a major hike in class but is highly progressive and the form of her Newmarket maiden win was given a strong boost when the runner-up Forever Now bolted up at Donny.
7: What does the future hold for The Fugue and Treve after the Prince of Wales's Stakes?
Now here's a ticklish one but I'd be tempted to suggest that it's rosier than ever for The Fugue if the dry summer continues and questionable for Treve whatever the weather.
The Fugue moves like a dream on fast ground and granted such conditions it now looks clear that she's simply too good for Magician and Mukhadram.
The fact that she's been to Ireland, California, Hong Kong and Dubai in the last nine months proves that she's durable as well as brilliant and connections can afford to be very adventurous again now that she's back on peak form again.
If The Fugue moved like a ballerina then Treve moved like Miranda Hart in tight shoes both on the way down and in the race itself and, unless a physical issue comes to light, it seems safe to assume high summer conditions were against her.
Don't be surprised if she's treated gently with another Arc bid in mind now. But do remember that her aura has been dented not once but twice this year. And it's also essential to be aware that she will be giving 5lb to the three-year-old colts in October as opposed to receiving 11lb from the older horses last year.
8: What's going on with the draw on the straight course?
Who knows is the the short answer, but switching from the far side to the centre did those drawn low to middle no good whatsoever in the Hunt Cup and the Sandringham, with the first four in each race drawn 33, 14, 23 and 29 and 22, 18, 24 and 20.
Logic doesn't always play heavily when it comes to jockey tactics, but those drawn low in the Britannia Handicap will surely take their chances on the far side rather than electing to lose ground by angling left for the first half mile.
It wouldn't be surprising to see there is no draw bias whatsoever if they do, but the pair who catch the eye most are Idea in stall 18 and Bilimbi in stall 30.
Idea simply isn't bred to shine short of a mile so the fact that he could blossom and run away with a Kempton handicap over seven at Kempton is highly encouraging. A 10lb hike to a mark of 89 still makes him of major interest, while Bilimbi is another to have on your side for several reasons.
First, the form of his Musselburgh win looks very solid; second; he ran well for a long way in a hot Haydock handicap on a day when Ryan Moore felt he went for home too early; and third, cheekpieces are fitted for the first time here.
9: What's the best angle into a wide open King George V Handicap?
A high draw isn't necessarily a barrier to success and that's good news for several of the more interesting horses such as Stars Over The Sea, Captain Morley, Windshear and Arab Dawn.
Captain Morley is a relentless galloper and might not be quite quick enough from his very wide berth, while Stars Over The Sea is almost as wide and will need to break much better than he did at Epsom.
With that in mind, Arab Dawn and Windshear could be the two likely lads. Windshear is bred for this trip and his Newbury form could get a boost from Cannock Chase earlier in the afternoon.
Arab Dawn has come from humble beginnings but just keeps doing the job with a likeable efficiency. He's up another 10lb now but his smooth travelling style could be a big asset when things get tough off the final bend.
10: Finally for now, who have been the stars of the first two days?
The equine stars pick themselves, with Kingman, Sole Power, Toronado and The Fugue heading the parade and The Wow Signal and Anthem Alexander giving Starspangledbanner a fantastic week from his first crop as a stallion.
Edward Lynam is right up there as leading trainer after producing Sole Power and Anthem Alexander at concert pitch, while Pat Smullen enhanced his reputation as one of the most clinical riders around with wins on Mustajeeb and Anthem in the Queen Mary.
On a more personal note, the Ascot experience continues to impress and the presence of a superb public WiFi system has set the standard for all other major festivals to follow.
The absence of Turftrax sectional times is to be regretted on such a high profile occasion, but that's a topic for another day. For now, it's off to the C4 studio with the remaining ten questions in this feature to follow just before the mighty England kick off against Uruguay at 8pm tonight.