Jockeys in breach of rules
Thirty-nine jockeys were found in breach of a rule relating to the controversial start of this year's Crabbie's Grand National - but were given no more than a caution at a British Horseracing Authority disciplinary panel hearing.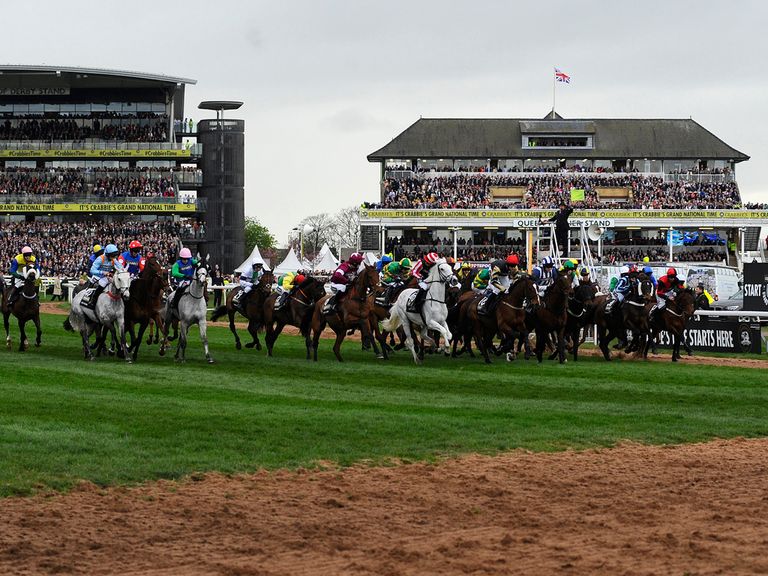 It was an outcome that raised as many questions as it did answers, with the jockeys feeling they were able to salvage something of a minor victory by escaping without punishment, but it appears that it will have implications on future starting procedures of the famous race, and the relationship between riders and their governing body is not at an all-time high.
Five of the 39 riders accused - Tom Scudamore, Aidan Coleman, Brian Hughes, Sam Twiston-Davies and Tom O'Brien - attended BHA HQ at High Holburn in London but only the first three were actually called to give evidence as to whether they were in breach of rule (D)44.4, in the light of rule (D)44.5, in that they "attempted to line up and/or take a position for the start before being instructed to do so by the starter."
There had been an abortive attempt to start the race, during which time assistant starter Simon McNeill was knocked over by several of the field as they approached the tape, and then one false start.
An initial inquiry had taken place afterwards, it was broken off and reconvened following the last race but the jockeys had refused to take part in something of a mutiny. The panel, though was inquiring into the start, and not the aftermath.
The jockeys were represented by Graeme McPherson QC, while Professional Jockeys Association chief executive Paul Struthers, his Irish counterpart Andrew Coonan, and solicitor Rory Mac Niece were present.
Barrister Louis Weston was working on behalf of the BHA in front of the three-strong panel chaired by Timothy Charlton.
After viewing replays from various angles, the starter Hugh Barclay appeared in front of the panel before McNeill and William Jordan, another starter who was part of the five-strong team, were questioned.
Central to the argument concerned what was referred to as a 'goggle warning'. It is common practice for starters to tell the runners words along the lines of "30 seconds, goggle shout" to allow the jockeys time to pull down their goggles, check their reins and start to get ready.
Barclay said this was "not an invitation to line up". He said that there can then be an invitation for jockeys to start making their way on to the course, or to line up, but admitted this was issued "not every time - sometimes".
Barclay did not give any warning, and McNeill, who was walking around with the horses, answered a question from one rider, taken to be Denis O'Regan on Our Father, about how long to go before the start, to which he replied "about 30 seconds".
The majority of jockeys did not hear this but word spread that this was the 'goggle warning' and they began to proceed towards the starting line. McNeill told them it was too soon to start, and then Barclay said over his microphone "no, it's not time yet".
The field stopped in front of him, but there was then a false start before runners were recalled and the race eventually got under way.
The three jockeys interviewed, though, said that they are never given any instructions between the 'goggle warning' and the actual time when the race starts, apart from when there is an issue. Coleman said: "Unless there's a problem, we don't get anything until they say 'come on'."
He denied lining up prematurely, but said: "You're looking for a position, like everybody else. There has to be some sort of organisation. I've got to get organised before the start of the race...I don't understand what more we can do. When they told us to stop, we stopped. We can only go on what we hear."
Scudamore said in his history of riding in the race: "As far as I'm aware, that was the most controlled we've got to the start."
Charlton, explaining the panel's decision, said: "There was a breach, as the riders were not instructed to line up, nor do we accept that there was anything equivalent to a goggle shout. All (McNeill) did was answer a question."
After considering possible penalties, Charlton then said: "We do recognise primary problems have occurred here, which are from actions which are not theirs (the jockeys)."
Struthers spoke for the jockeys, and suggested further clarity was required.
He said: "We're clearly pleased the jockeys have come out of today effectively without a punishment. They were cautioned. But did we need to come here? No.
"I was there, and there were clearly numerous mitigating factors. The jockeys were trying to do what they do ever day of the week and they were told no differently. We're pleased there were no punishments, but bitterly disappointed that it had to come to this.
"The starters here today were placed in an invidious position, and it would be a scandal if any of those involved had to pay any sort of price. The first thing that jumps starts need is a proper review. It works well in eight-, nine-, 10-runner races, but in big fields there are problems.
"We've got away with it, but there are problems. We'll work together, but it's a shame we've had to go to all this expense and I think discussions will take place in a different atmosphere than they might have done.
"Some clarity from the BHA (at the start) would help. But it wasn't that bad."
Coonan, who was representing the 10 Irish-based jockeys, said: "I'm singularly disappointed at the manner in which this has been handled. Today's situation will be regarded as an own goal. Common sense could easily have remedied the situation."
There were some interesting asides during the hearing, which lasted for more than five hours. It was revealed in the transcript of the stewards' inquiry held at Aintree that Paul Carberry had attempted to extricate himself from punishment by saying he had stopped his mount, Monbeg Dude, earlier than the rest. He had been laughed away by his colleagues, and found no sympathy from the panel.
McNeill was also asked by Weston to give an impression of how he would carry out a 'goggle warning', and when initially reluctant, he was asked if he would like any time to get into character.